Lime Chicken Loaded Burrito Bowls
Published 12 days ago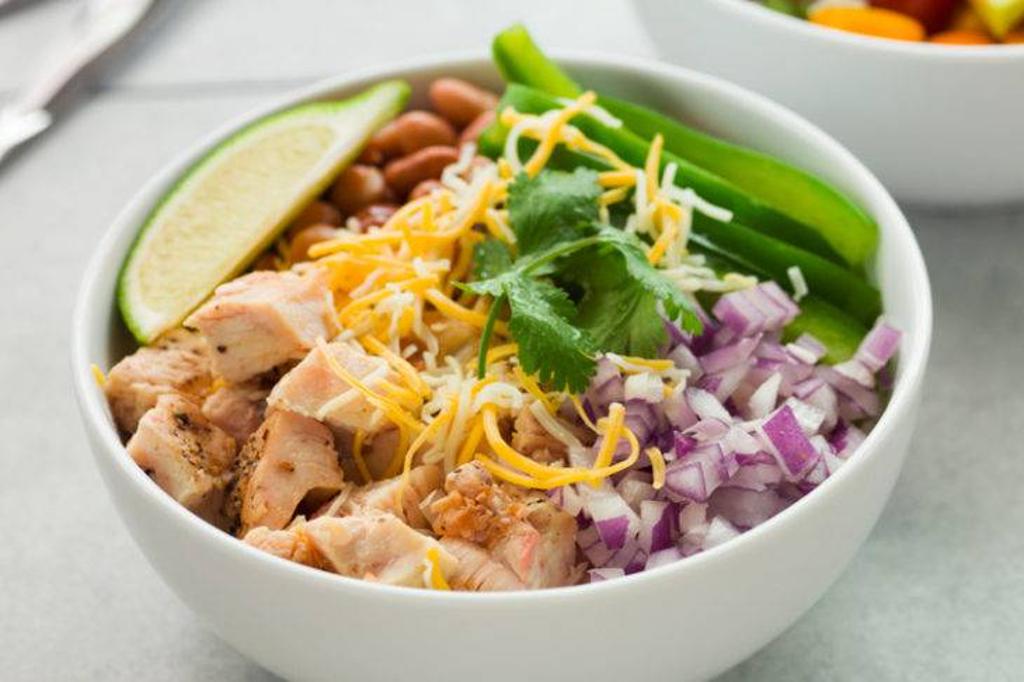 Mexican food is one of my favorites. If I could toss black beans, chopped tomatoes and taco seasoning on everything, I think I would! This time, however, I'll just stick to adding those ingredients and more in to these Lime Chicken Loaded Burrito Bowls.
What's appealing to me about these is their savory and slightly tangy flavor. Plus, they're just fun to eat.
The chicken, marinated in lime juice and taco seasoning, would be great on its own, but for this recipe it's cubed and served with black beans, bell peppers and corn. It's all the goodness of a burrito, in a bowl. You could probably think of these as a deconstructed burritos.
For cutting the cooked chicken use a sharp utility knife. Cutco's Trimmer is a terrific choice since its Double-D® cutting edge smoothly slices without ripping or tearing the chicken.
When dicing the onions, slicing the peppers and cutting the green onions the 7-5/8" Petite Chef knife easily handles all those jobs. Watch our short video tutorial to learn how to slice the peppers for these burrito bowls.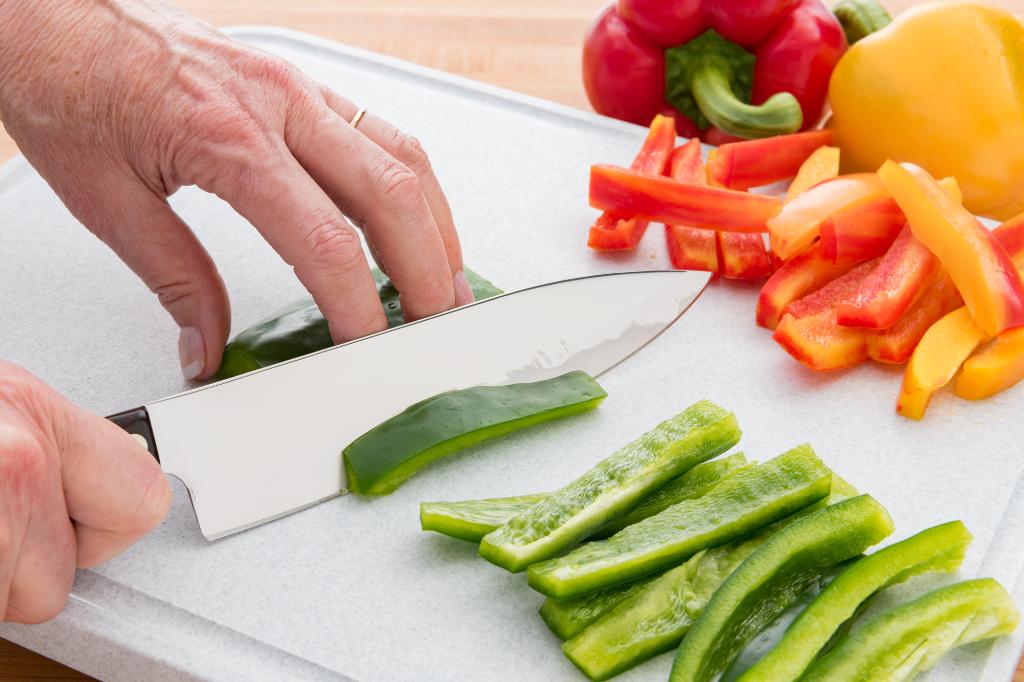 In addition to all those yummy ingredients, the recipe calls for making a cilantro lime rice as the base for the burrito bowl. Not a fan of cilantro? Replace it with some minced parsley instead.
You've heard me say before that I love recipes that are adaptable. This one is a perfect example since you can leave out whatever ingredients you don't like and add in others that you do like. Consider tossing in some slices of avocado, minced jalapeños or tortilla strips. You could also easily swap out the chicken for pork or flank steak.
The recipe calls for layering in the ingredients, but when I build my burrito bowls, I sometimes like to get a little fancy and, after placing the rice in the bottom of the bowl, add the rest of the ingredients in sections around the bowl, for a fun presentation. Regardless of how you build them, they're sure to be a hit at the dinner table.
Load them up and serve with a dollop of sour cream and sliced green onion.
Ingredients
Burrito Bowls:
1/4 cup plus 2 teaspoons olive oil
1 pack taco seasoning mix
1/2 lime, juiced
4 boneless, skinless chicken breasts
1/2 cup diced onions
3/4 cup sliced bell peppers, green or red or a combination of both
1/2 cup canned black beans, drained
1/2 cup diced tomatoes
1/2 cup canned corn, drained
1 cup Romaine lettuce, chopped
1/4 cup sour cream
2 green onions, chopped
Cilantro lime rice:
2 cups long grain rice
3-1/2 cups water
2 tablespoons butter
Bunch of cilantro, minced
2 teaspoons salt
Juice of 1/2 lime
Directions
Mix 1/4 cup olive oil, taco seasoning mix and lime juice in a medium bowl. Add the chicken, toss to coat and marinate in refrigerator for at least 15 minutes or up to 3 days.
After the chicken has marinated, heat a skillet or griddle and coat with 1 teaspoon of oil. Cook the chicken for 5 minutes per side, remove and allow to rest for 5 minutes before cutting into bite-sized squares. Add the other teaspoon of oil and the onions and peppers to the pan and cook for 2 -5 minutes.
Wash rice in a large bowl under cold water for 2-5 minutes until the water runs clear. Allow to soak for at least 5 minutes. Boil water in a large sauce pan, pour in rice and let simmer on low heat for 10 minutes or until the rice has absorbed the water and is soft.
Remove from heat and add butter. Cover and set aside. When the butter has melted, toss the rice with minced cilantro, salt and lime juice.
To serve, layer ingredients in small individual bowls as follows: rice, beans, tomatoes, corn, chicken, onions and peppers, chopped lettuce, sour cream and chopped green onions.
Recommended Tools