Knife Sharpening & Repair
is Currently Unavailable
These services are still a very important part of our company promise we made to you to provide outstanding customer service. We hope to have these services available soon, with an expected reopening of September 2, 2020 or earlier. We understand your frustration and truly apologize for this inconvenience. Thank you for your patience.
Please notify me when sharpening and repair is available.
Frequently Asked Questions
How much does sharpening cost?
Sharpening your knives is free. If you choose to send your knives for factory sharpening, there is a return shipping fee to ship items back to you.
| Quantity of items sent | Return shipping fee |
| --- | --- |
| 1–5 products | $9 |
| 6–10 products | $11 |
| 11–25 products | $13 |
| 26–40 products | $16 |
There is a limit of 40 products per service order.
How long does sharpening or repair take?
Once we receive your knives in Olean, NY, we'll sharpen the blades, polish the handles, and get your knives back to you within one to two weeks. In order for your knives to be returned, you must include your return address information inside the package.
How do I package my knives to return?
For the safety of everyone who will handle your shipment, please package your knives carefully. Tape can leave a residue that is unsafe for our team to remove. Due to this safety hazard, knives received with tape on the blade will be returned with residue still on the blade.
Please make sure to clean your knives thoroughly before returning them for sharpening or service.
Do not use tape directly on the blades and handles.
Cover the entire blade with cardboard. Cardboard from cereal boxes works well.
Do not use padded envelopes.
Place your knives in a cardboard box with extra packing material to keep them secure during shipping.
Loading video ...
Can my vintage products be sharpened or repaired?
If you have vintage products, in most cases we can still service them. If we can't, we'll replace them. If you don't want your vintage products replaced, you can choose to have the original items returned to you when you request service.
How often should I send my knives to be sharpened?
With proper use and care, the edge on your straight-edge and Double-D®-edge knives should last years. When you notice they aren't performing as you expect, send them for free sharpening and we'll get them like new.
Sharpen your knives in-home
Repair Service
Under the Forever Guarantee when a product needs repaired, we'll do everything we can to make it right, or replace it.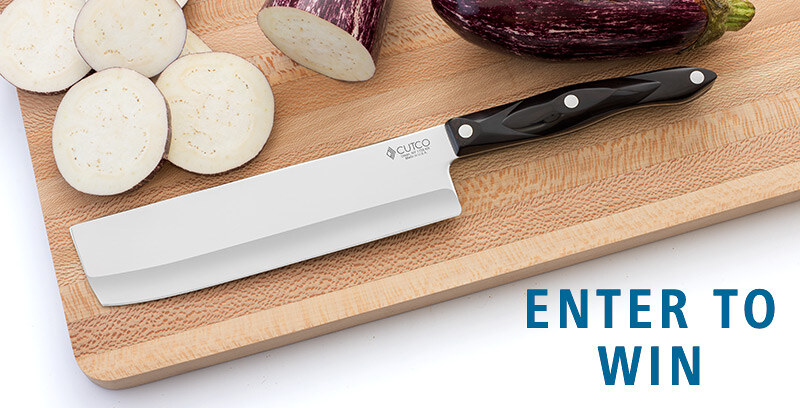 Enter to Win a Vegetable Knife
This month, we're giving away a Vegetable Knife so you can prep with power. Slice and chop your way through all that your garden offers up this summer.
By entering this giveaway, you agree to the giveaway rules.