Cutco's Exclusive Double-D® Edge
The Double-D® edge is super-sharp and uniquely designed to cut easily, whether moving the knife forward, backward or straight down.
What makes the Double-D® edge better?
The blade stays sharper longer.
The Double-D® edge features a series of three distinct small recessed cutting edges that run along the length of the blade. The design creates points along the blade that prevent those sharp edges from coming in contact with surfaces that can dull knives. When the knife needs a fresh edge, Cutco will sharpen it as part of The Forever Guarantee.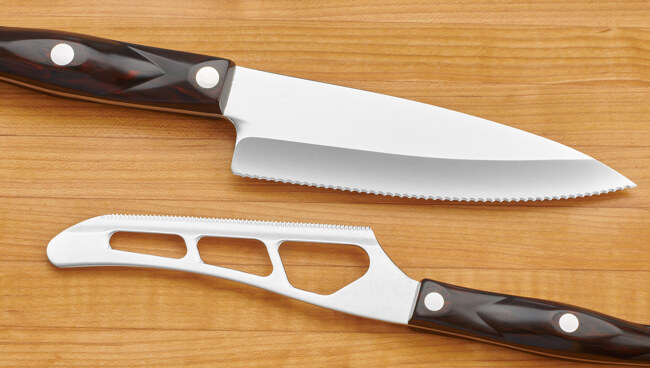 The Micro Double-D™ Edge
Found on Cutco Cheese Knives, the Micro Double-D™ edge is a smaller version of the Double-D® edge. It's just as sharp and aids in cutting soft and dense cheeses.
Straight Edge vs. Recessed Edge
Both types of edges are equally reliable at cutting. Depending on the type of food, you will want to choose the right knife for the job.
Knives with a Double-D® or Micro Double-D™ edge