Zucchini and Chicken Lasagna Dinner
Published 30 days ago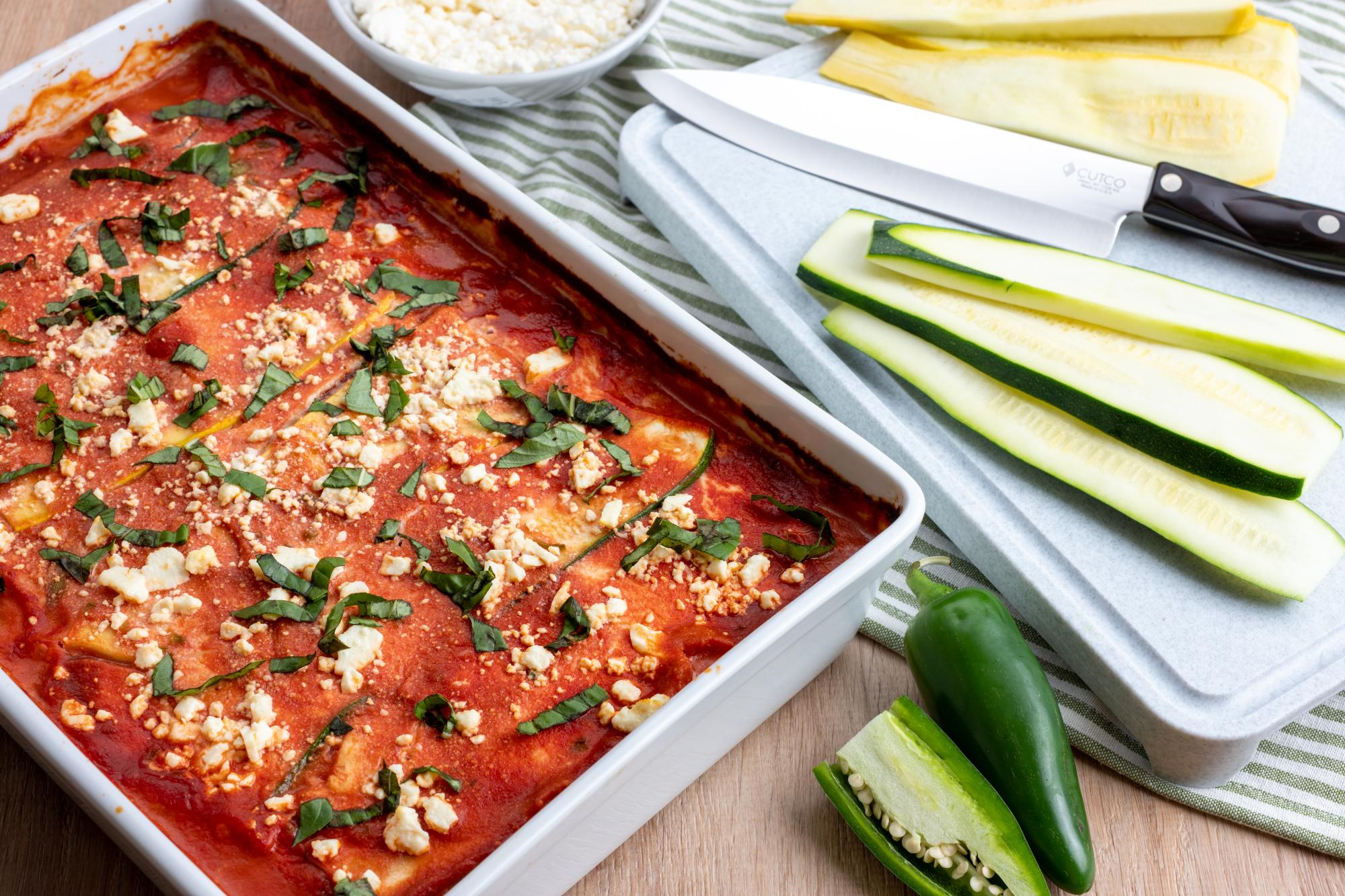 It's that time of year when there seems to be an abundance of zucchini everywhere I look. It is also that time when there is an aroma of homemade red sauce being made in my kitchen that smells so tasty. I normally spiralize zucchini to take the place of spaghetti, but I really wanted to try something different and automatically thought of another great dish – lasagna.
Lasagna is always that good comfort food that I never turn down, but it is loaded with carbs. So I thought, why not replace those noodles with some of that zucchini and yellow squash sitting on my counter?
This Zucchini and Chicken Lasagna Dinner is pretty easy to make and I bet you'll end up going back for seconds. To cut the squash into slices, I used my 7-5/8" Petite Chef knife. With the zucchini resting on the cutting board, I trimmed off the ends and made thin slices lengthwise.
Lay out the slices and sprinkle them with salt. This helps draw out the moisture from the zucchini to help make the lasagna less watery. I set mine aside for about thirty minutes while I prepped the chicken and sauce. Once thirty minutes have passed, using a paper towel, make sure to wipe away as much moisture as you can before you begin layering.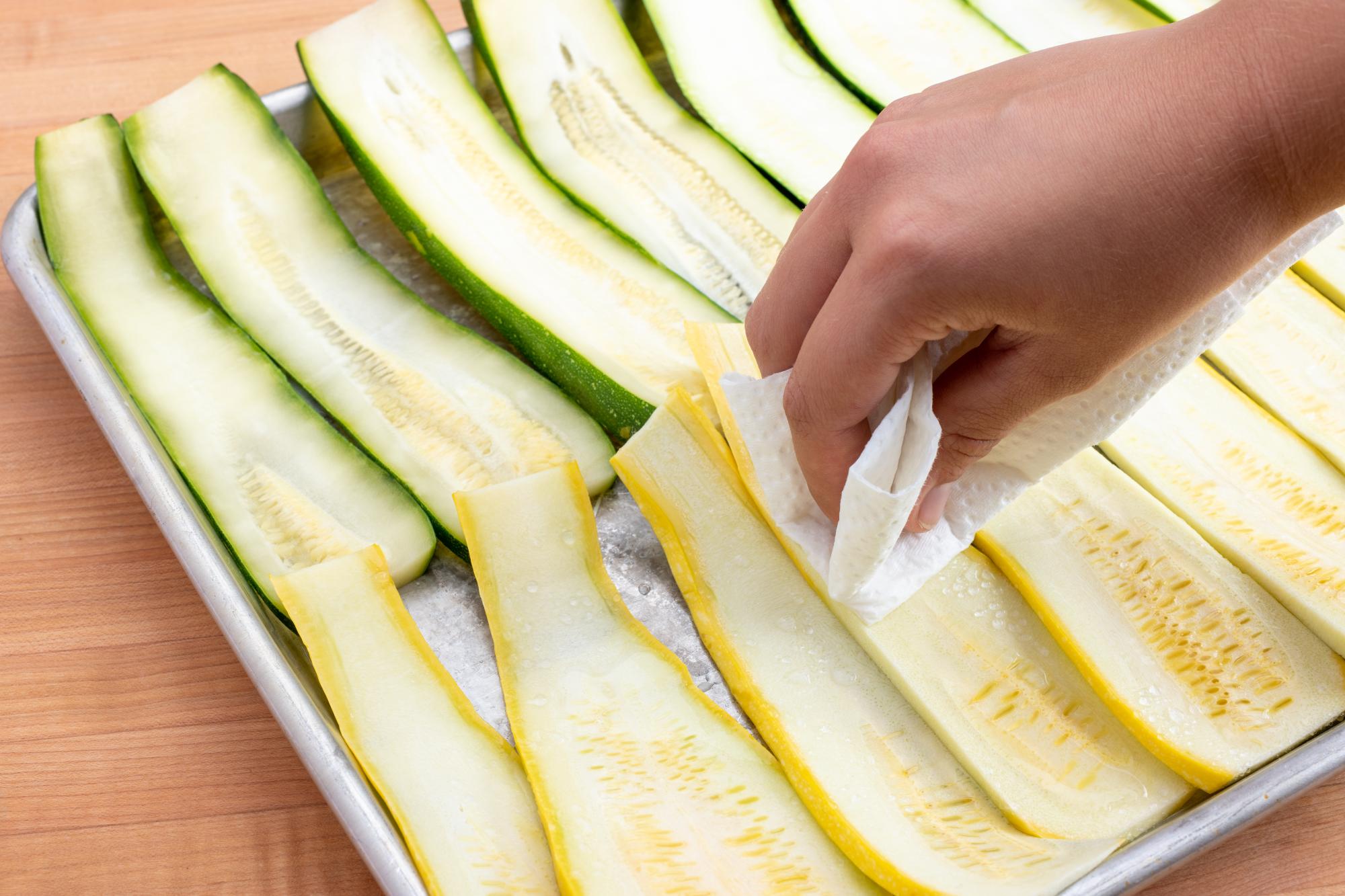 I know you might be thinking – chicken in lasagna? Yes! I wanted to add a source of protein and you can never go wrong with chicken. For this recipe, the raw chicken tenderloins were coated in an olive oil seasoning and cooked in a skillet. I then transferred the chicken to a cutting board to cool and, using two forks, shredded it and set aside.
That led me to experiment further with adding in minced jalapeño and taco seasoning to give it a little extra kick. For mincing the jalapeño grab a 4" Gourmet Paring Knife and follow our easy step-by-step tutorial.
Once everything was prepped, it was a simple process to layer the ingredients. I recommend starting with the tomato sauce and then the zucchini, followed by the ricotta mixture, shredded chicken and spinach. I finished the dish with some more tomato sauce and feta cheese.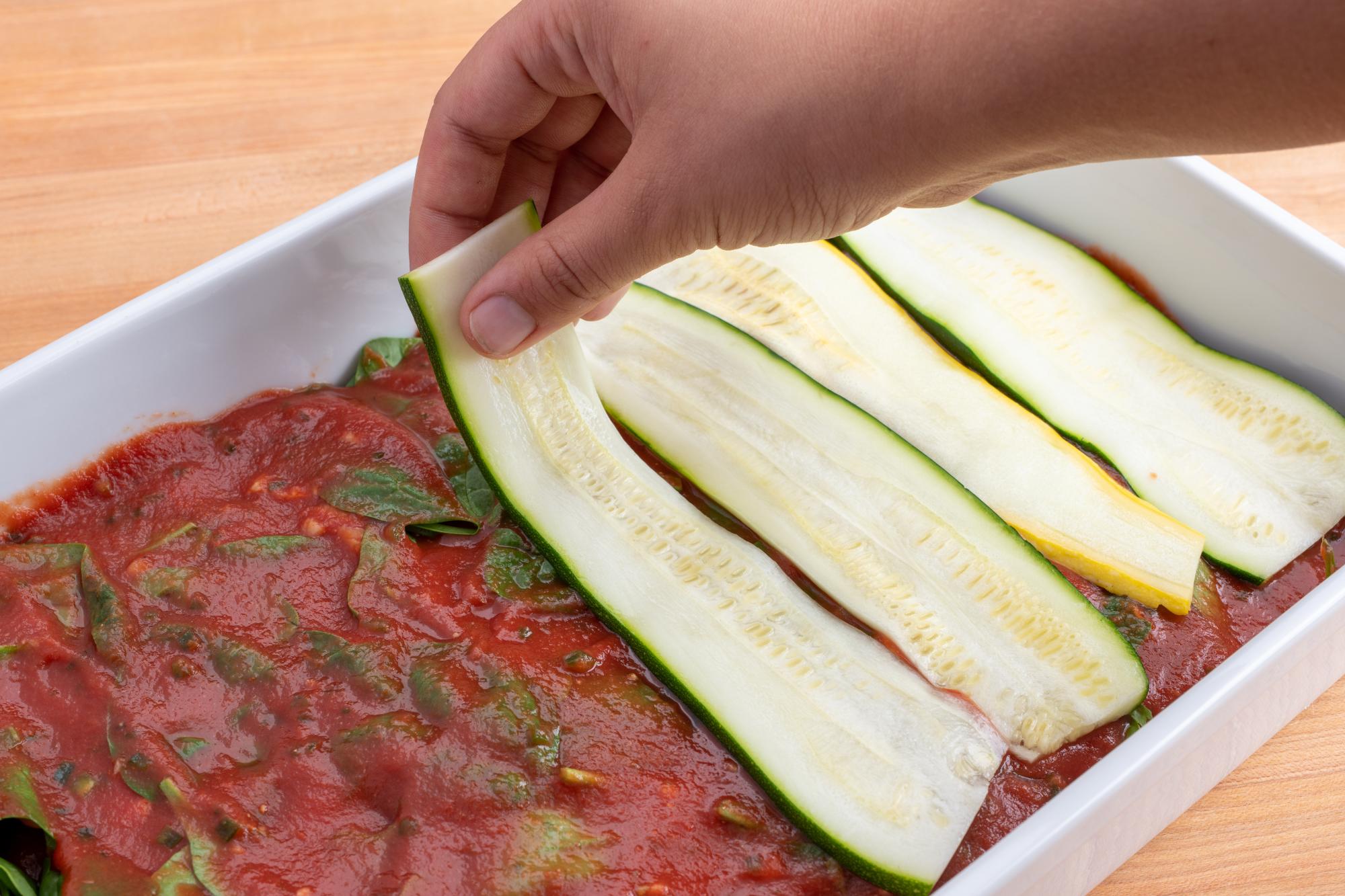 I'm always that girl that likes to make anything, especially food, look aesthetically pleasing. So once the dish was cooked, I went out to my garden with my Cutco Super Shears and cut off some basil leaves. I rolled the leaves up together and snipped them into strips to sprinkle on top.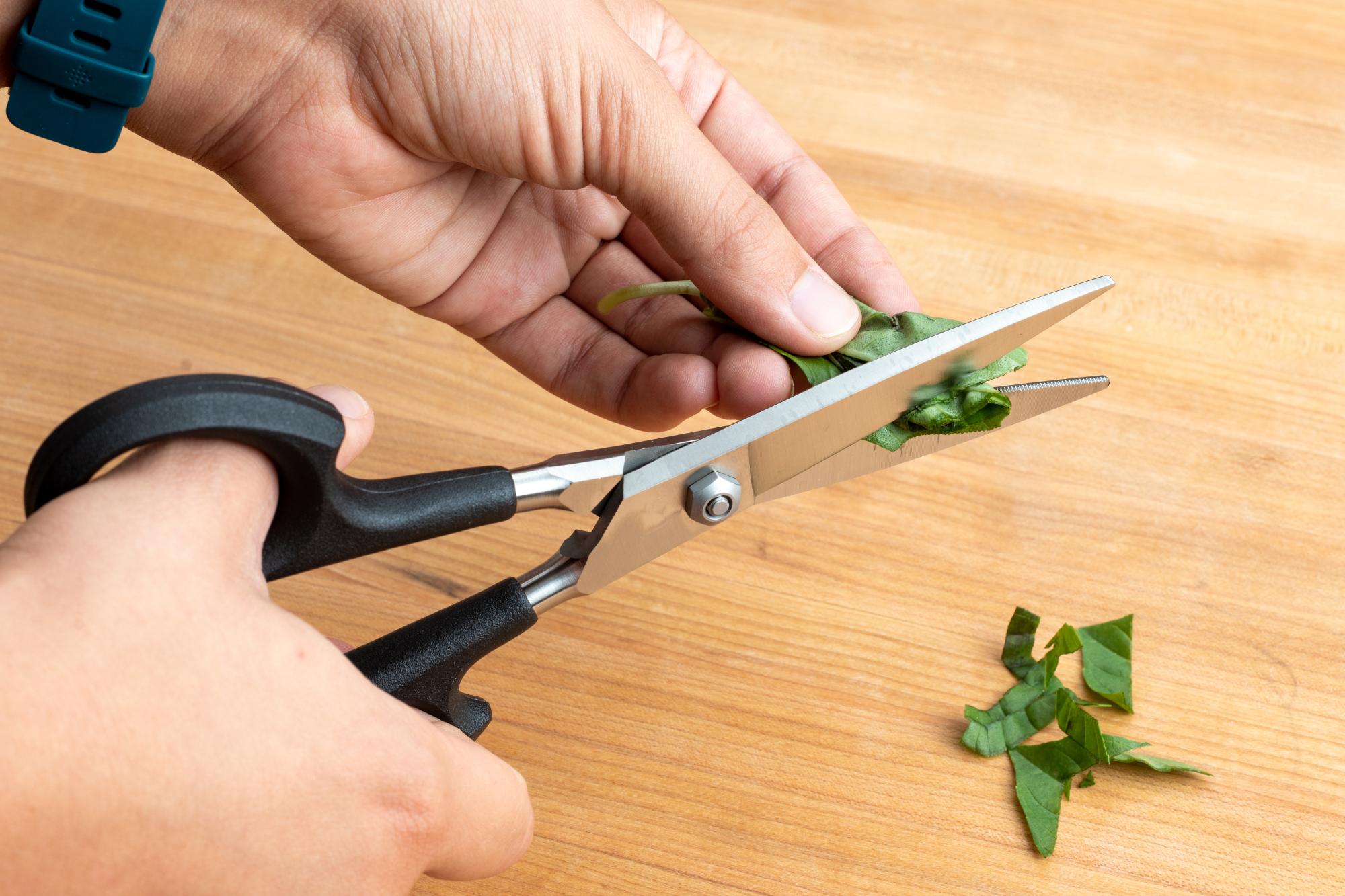 Let's just say I don't think I will ever go back to traditional lasagna again!
This dish is best served hot, but it also tasted great the next day when I had a piece (or two) for lunch. About 30 seconds in the microwave is all it takes to reheat this dish. Don't be alarmed if the lasagna is a little sloppy when you go to serve it – that comes with replacing the noodles with zucchini. I hope you enjoy it as much as I do!
Ingredients
2 pounds zucchini or yellow squash, cut into 1/8" thick slices
2 tablespoons olive oil
3 teaspoons low sodium taco seasoning, divided
1 pound boneless, skinless chicken tenderloins, cooked and shredded
28 ounces tomato sauce
1 large jalapeño, minced
2 teaspoons honey
1/2 teaspoon ground coriander
1 teaspoon garlic, minced
1/4 teaspoon salt, plus more for zucchini
1/4 teaspoon black pepper
16 ounces ricotta
2 cups spinach leaves
Feta cheese for topping
Optional: basil for garnish
Directions
Heat oven to 375 F.
Place sliced zucchini and/or yellow squash on a baking sheet and sprinkle with salt. Set aside for at least 30 minutes to allow the moisture to be drawn out from the squash.
Mix olive oil with 1 teaspoon of taco seasoning. Heat large skillet on medium heat. Coat chicken in olive oil mixture and cook for about 10 minutes or until cooked thoroughly. Transfer to cutting board and using 2 forks, shred the chicken and set aside.
Mix together the tomato sauce, the remaining 2 teaspoons of taco seasoning, minced jalapeño, honey, ground coriander, garlic, salt and pepper in a large bowl and set aside.
Using paper towels, pat dry zucchini/yellow squash layers to ensure you have absorbed as much moisture as possible.
In a 9 x 13 baking dish, spread a few tablespoons of the tomato sauce mixture on the bottom of the pan.
Place 1/3 of sliced zucchini/yellow squash in the baking dish to create a single layer. Spread 1/3 of the ricotta cheese over the zucchini/squash layer. Top with 1/3 of shredded chicken. Add spinach. Start again with the tomato sauce and repeat these layers for a total of three times. Finish with a bit of tomato sauce drizzled on top and sprinkle with feta cheese.
Bake covered with aluminum foil for 30 minutes. Uncover, and bake for another 20 minutes. Sprinkle the basil on top and let stand for 20 minutes before slicing. Serve hot.
Recommended Tools