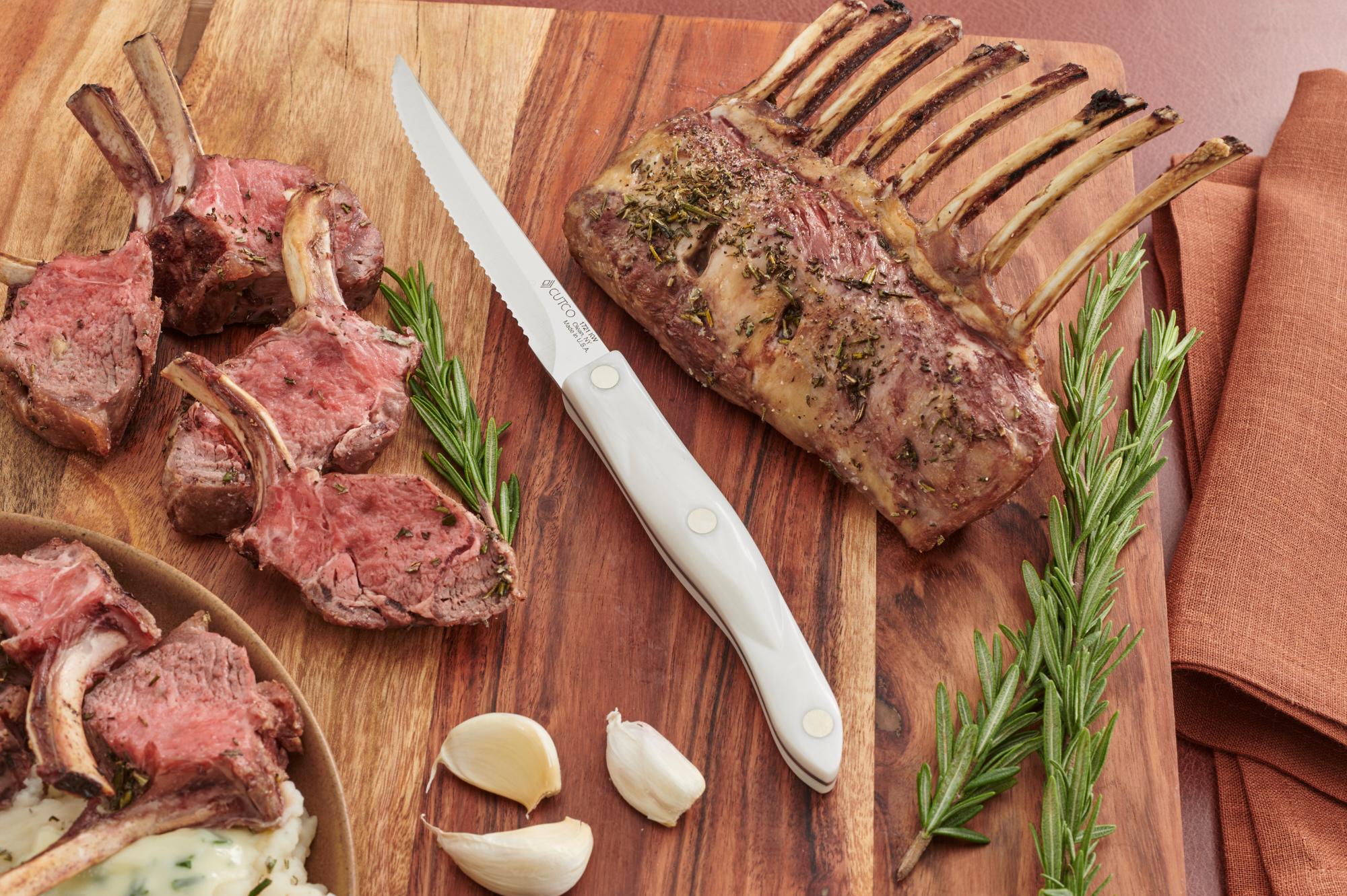 This is my second daughter's birthday recipe request that is on repeat. It is Oven-Roasted Rack of Lamb, which is simple in its execution and impressive in its presentation. You can have it on the table in under 45 minutes.
Preparing the Lamb
Make sure to buy Frenched lamb chops or ask your butcher to French them for you. It is the process of cutting away the fat and meat from the bone-end of a rib. It's done for aesthetics, but also creates a "handle" for easy eating.
Before cooking, remove the rack of lamb from the refrigerator and let it sit at room temperature for about 45 minutes. This will allow the meat to cook more evenly.
To allow flavor to infuse into the meat, insert pieces of garlic into it. Cut three cloves of garlic into quarters, using a 2-3/4″ Paring Knife.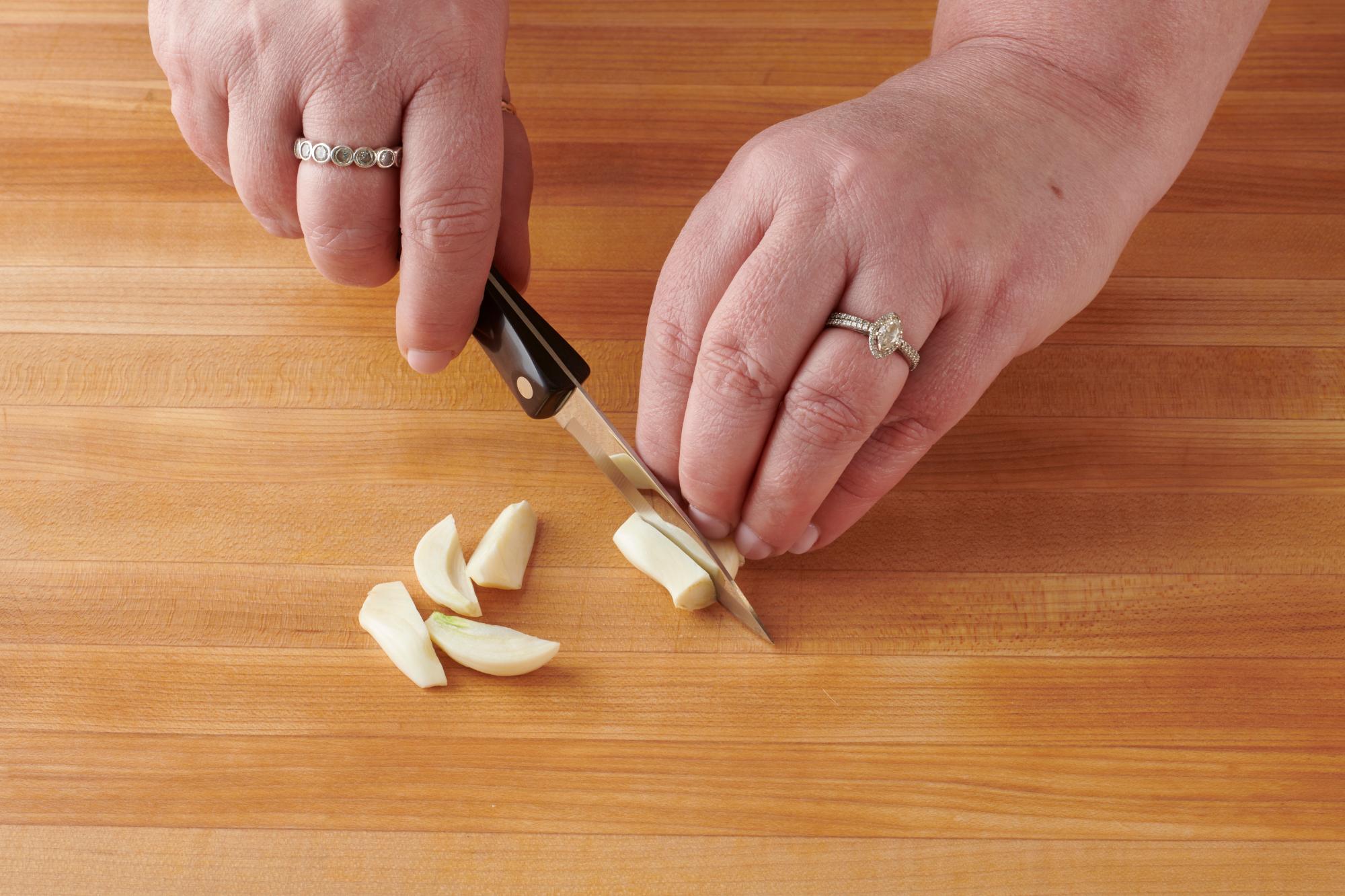 Using the same knife, make several slits into the thickest part of the meat, using the tip of the knife.
Insert the garlic pieces into the slits, and while the lamb cooks, its flavor will release into the meat.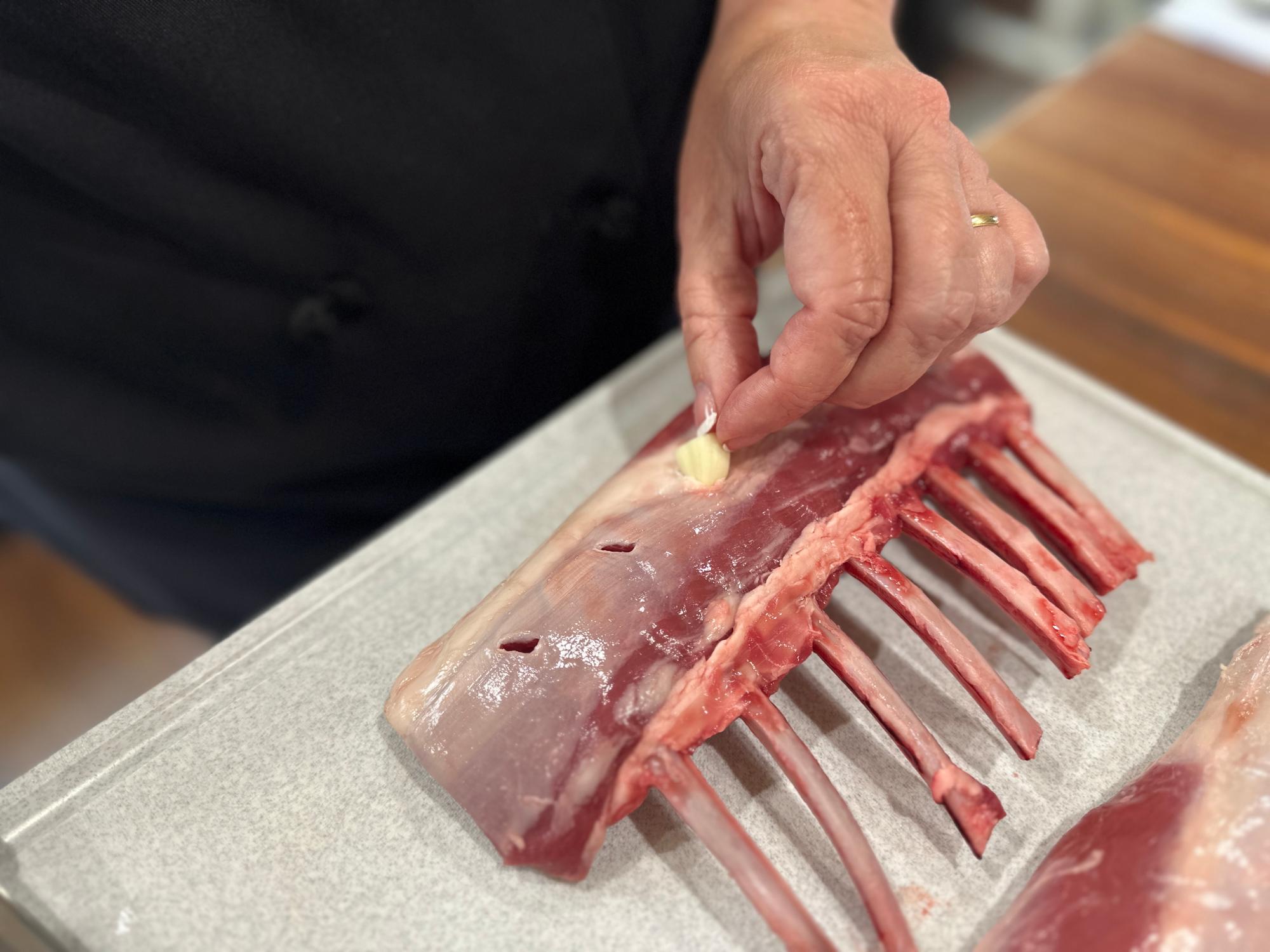 You can use more or less garlic according to your preference.
Cooking the Lamb
To begin the cooking process, the lamb is placed in a large saute pan over medium heat to be seared on all sides until brown. It is then seasoned with sea salt, pepper and fresh rosemary before going into the oven.
To mince the rosemary, use a 7-5/8″ Petite Chef and rock the sharp blade over the leaves on a Cutting Board.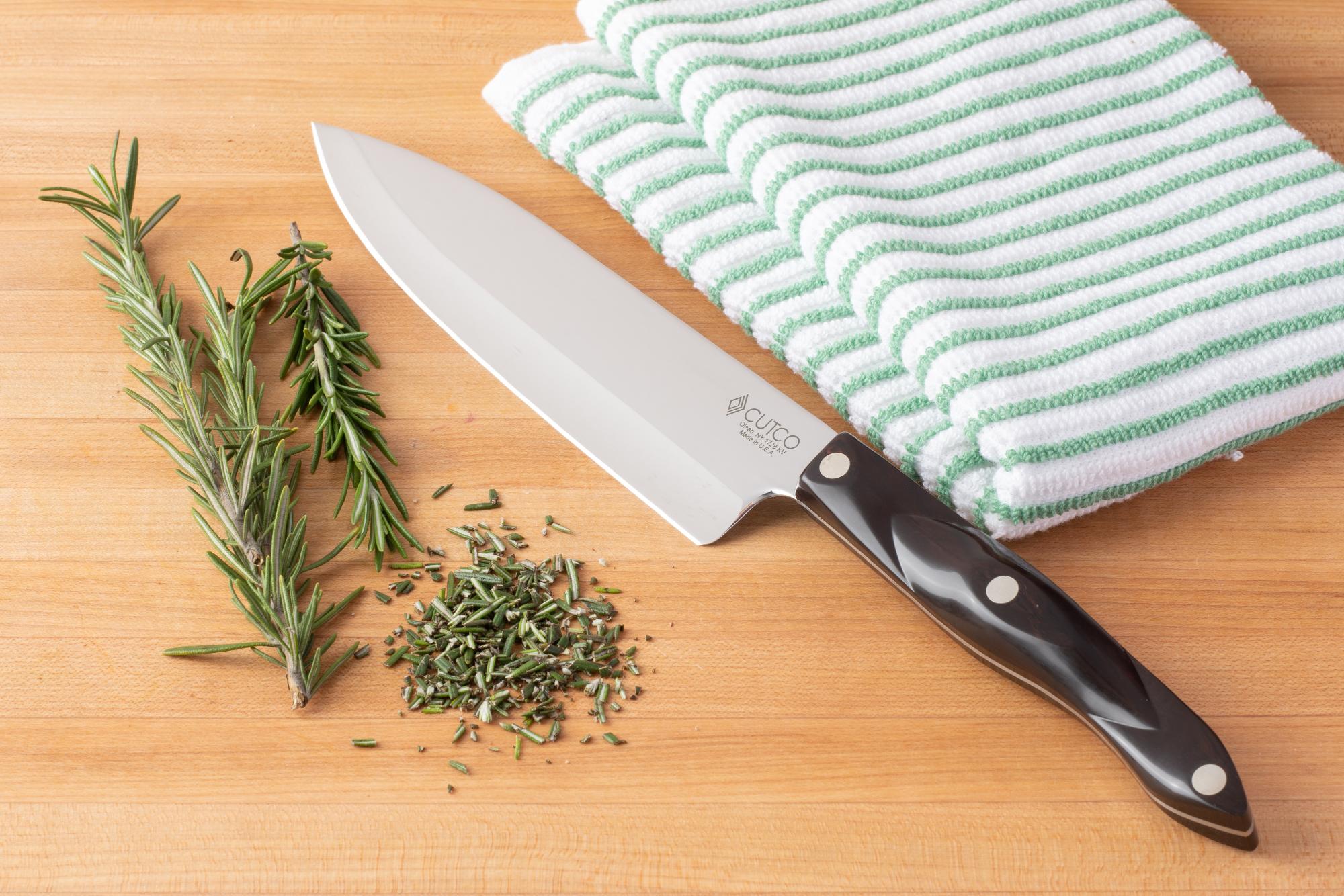 Place the rack of lamb into a 425 F oven to roast for 20 to 24 minutes or until an instant-read thermometer reads 120 F for rare. The temp will rise another five degrees as the meat rests.
To serve, slice in between the bones of the lamb to separate the chops. Cutco's Trimmer is a great knife for this with its sharp Double-D® edge, which smoothly cuts through the meat.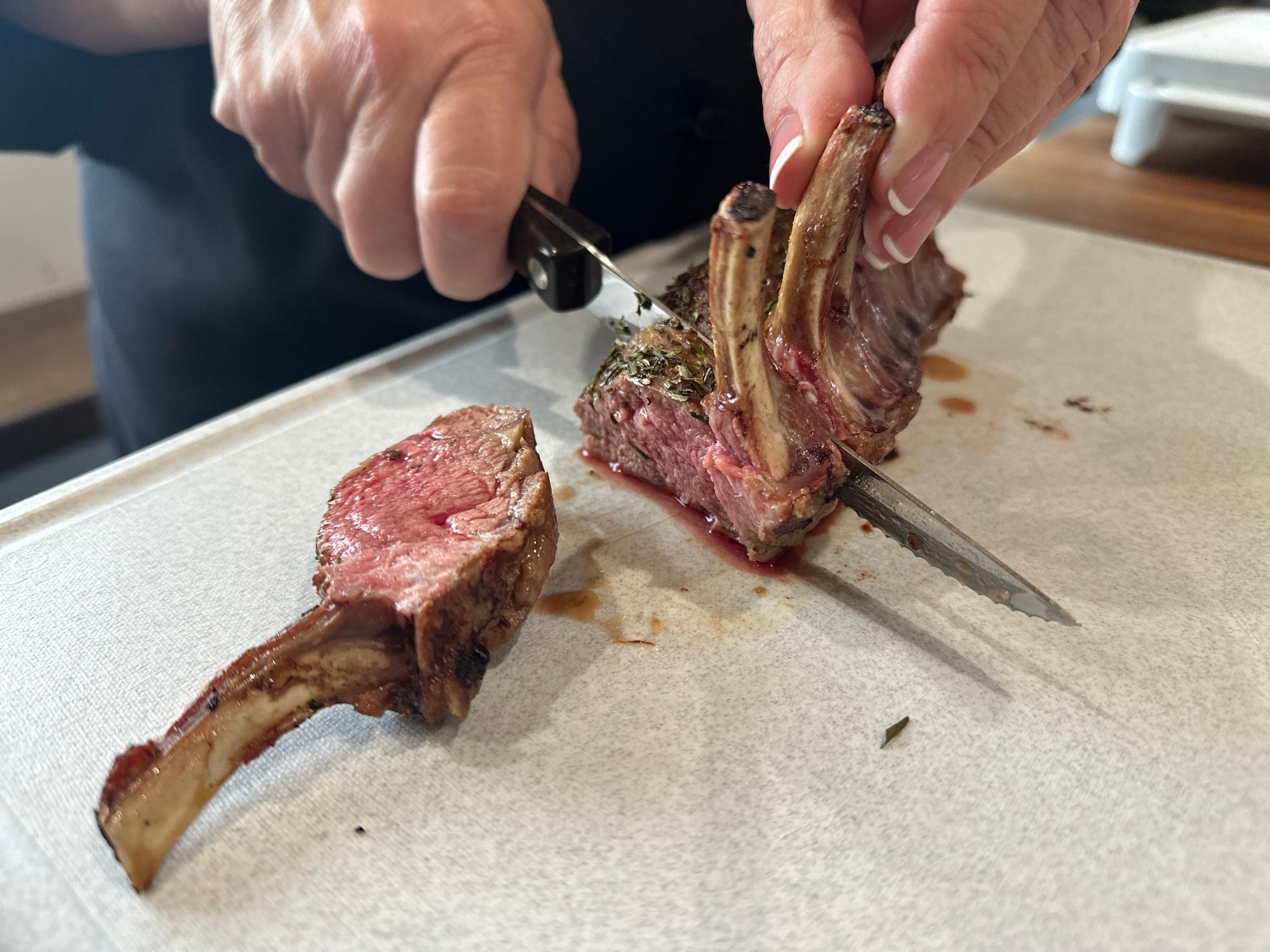 With just a few ingredients this Oven-Roasted Rack of Lamb results in juicy, complex flavors.
I plan on one whole rack for my daughter to devour on her own and two racks for the rest of the family to share.
Marianne Brand, chef and former restauranteur, is the director of food and beverage education at New York Kitchen in Canandaigua, a center that showcases New York State's agriculture through cooking classes, beverage pairings and other programs.
Ingredients
2 pounds Frenched lamb rib racks (ideally 2 racks)
3 garlic cloves, cut into quarters
2 teaspoons coarse sea salt
1 teaspoon black pepper
2 tablespoons fresh rosemary, minced
Directions
Preheat the oven to 425 F.
Remove the lamb from the refrigerator about 45 minutes before cooking and set out at room temperature. This will help the lamb cook evenly.
Line a half-sheet pan with foil.
Using a 2-3/4″ Paring Knife, make slits in the thick part of the lamb and insert garlic pieces. Note: If the lamb is not a thick rack, cut the garlic clove quarters in half.
Heat a large sauté pan over medium heat and place lamb meat side down and allow meat to sear until brown. Turn lamb so all sides are seared.
Place the 2 racks on the lined sheet pan so they are making an arch. Sprinkle with sea salt, pepper and rosemary.
Roast for 20 to 24 minutes for rare to medium-rare. Using an instant-read thermometer, it should be 120 F for rare as it will raise another 5 degrees as it rests.
Tent the lamb with foil and allow to rest for 10 minutes before serving.
To serve, cut between the bones to separate into individual lamb lollipops.
Recommended Tools