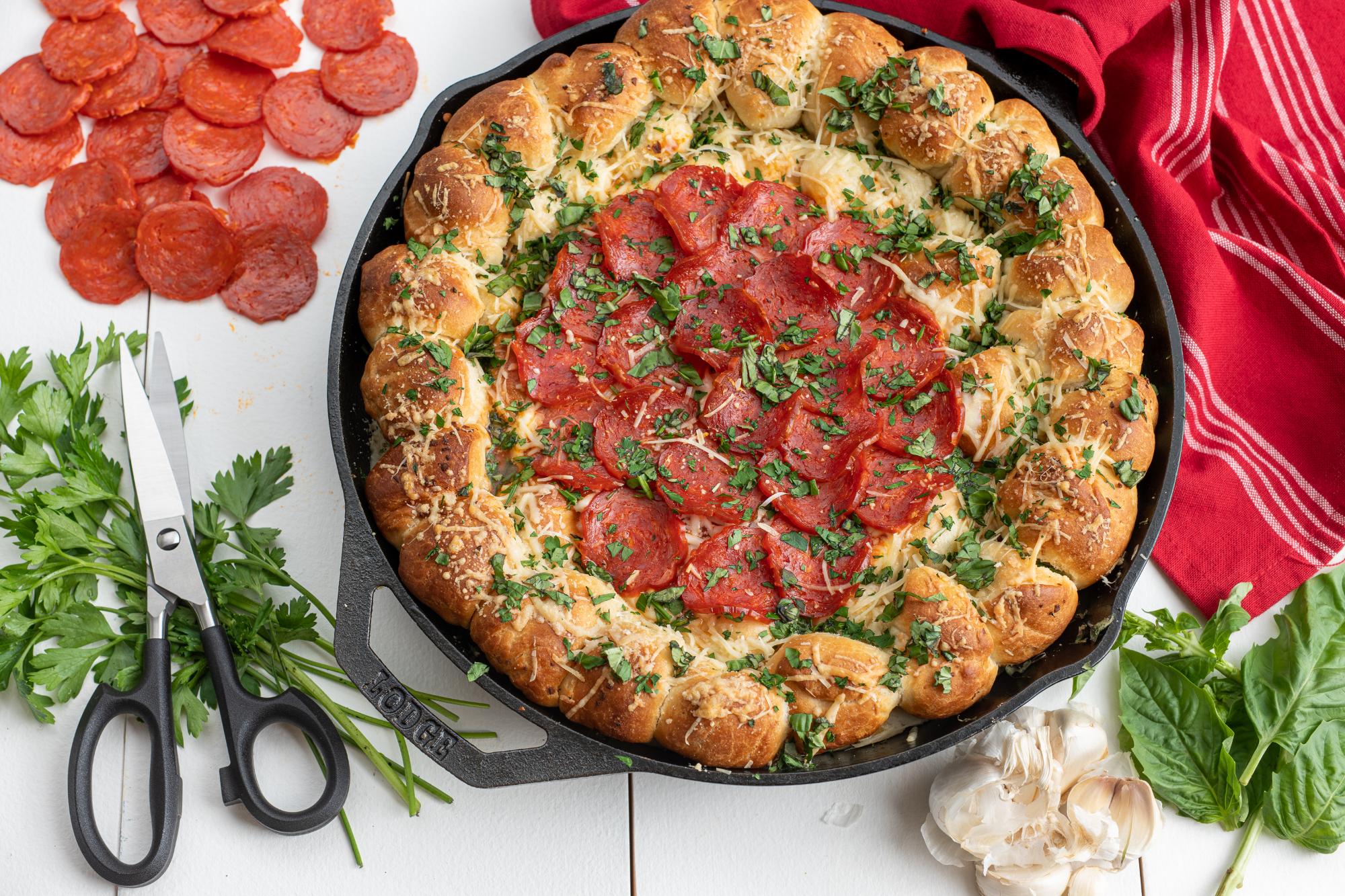 Who doesn't love pizza, especially for an easy Friday dinner or during a big game? It's that one meal that almost everyone can appreciate, especially with the variety of toppings now available. I've even attended a pizza-making class, hosted by Alfred State College and our culinary partner, Chef Keith Glover, to further my pizza education and learn more about wood-oven pizza baking. You could say I have a pizza fascination.
So it shouldn't come as a surprise that I wanted to tackle pizza, but in appetizer form. My husband and I used to host a large gathering at our house and there was one person who would bring a sheet pizza to the event as his appetizer. Now don't get me wrong – the kids at the event loved this idea but there had to be something better from a presentation perspective.
Why not reimagine this fan favorite into an easy appetizer, a pizza dip, and make it an all-in-one dish? We're talking dough balls rolled in garlic butter, baked to golden brown and then dipped into a center creamy cheese mixture topped with pepperoni and fresh herbs. This is the perfect appetizer to bring to your next gathering. Even the colors give off a holiday vibe (although this dish could be served anytime).
We started by using frozen dinner roll dough that we had thawed overnight in the refrigerator and then covered with a towel to allow the dough to expand at room temperature. Once the dough was completely thawed, we cut them into quarters with the Super Shears and rolled them into a ball. Depending on how large you want your bites to be, you could cut the dough into thirds or quarters.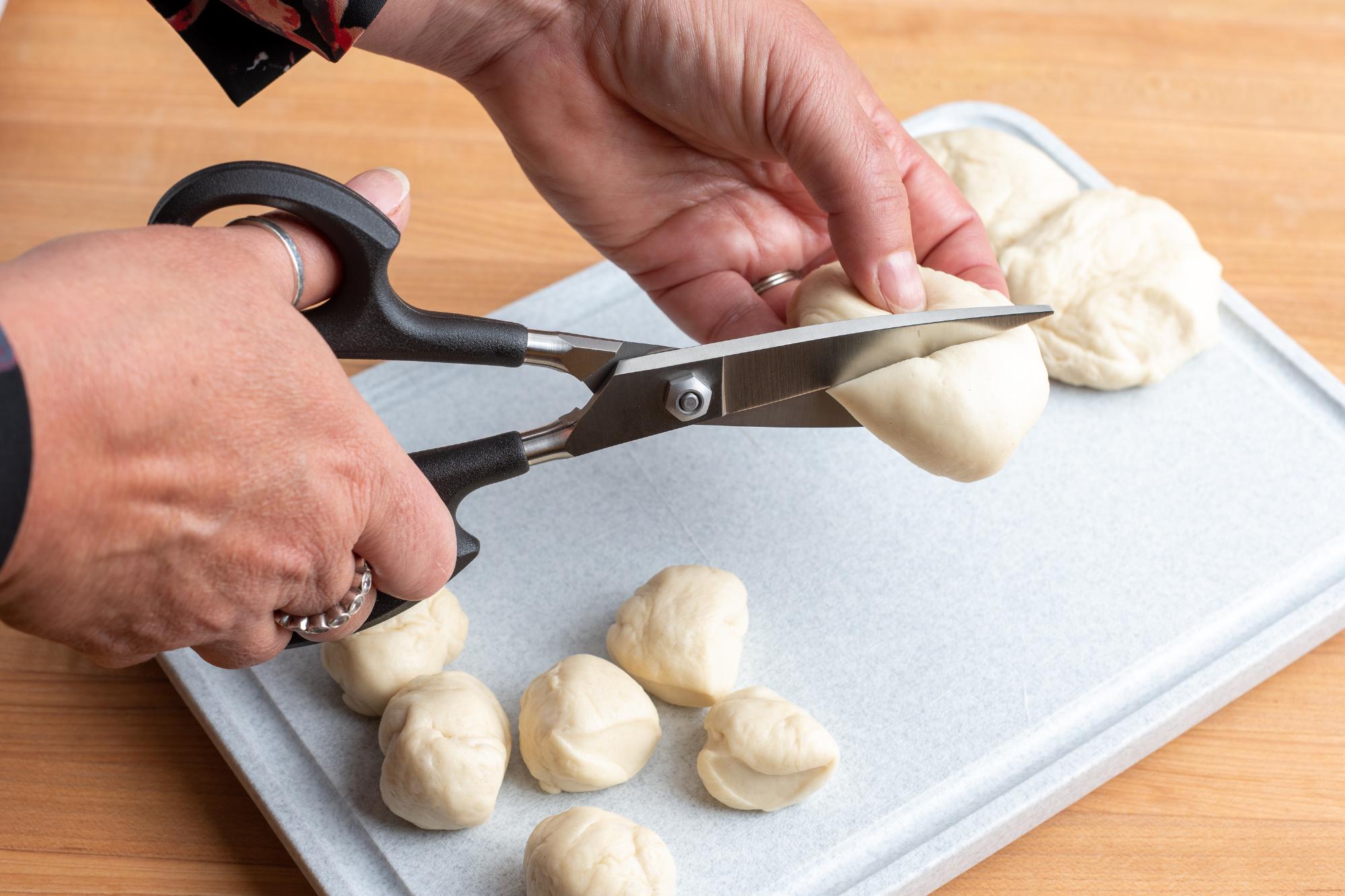 After dipping the dough balls into a butter and garlic mixture, we worked on placing them around the outside of our skillet, stacking them in layers. One tip we can give is don't do too many rows, as once you allow the dough to rise again and then bake, the balls expand significantly and won't leave you enough room in the center of the skillet where you'll add the pizza dip. We ended up removing one of our stacked layers after we baked the dough to leave us room for the dip.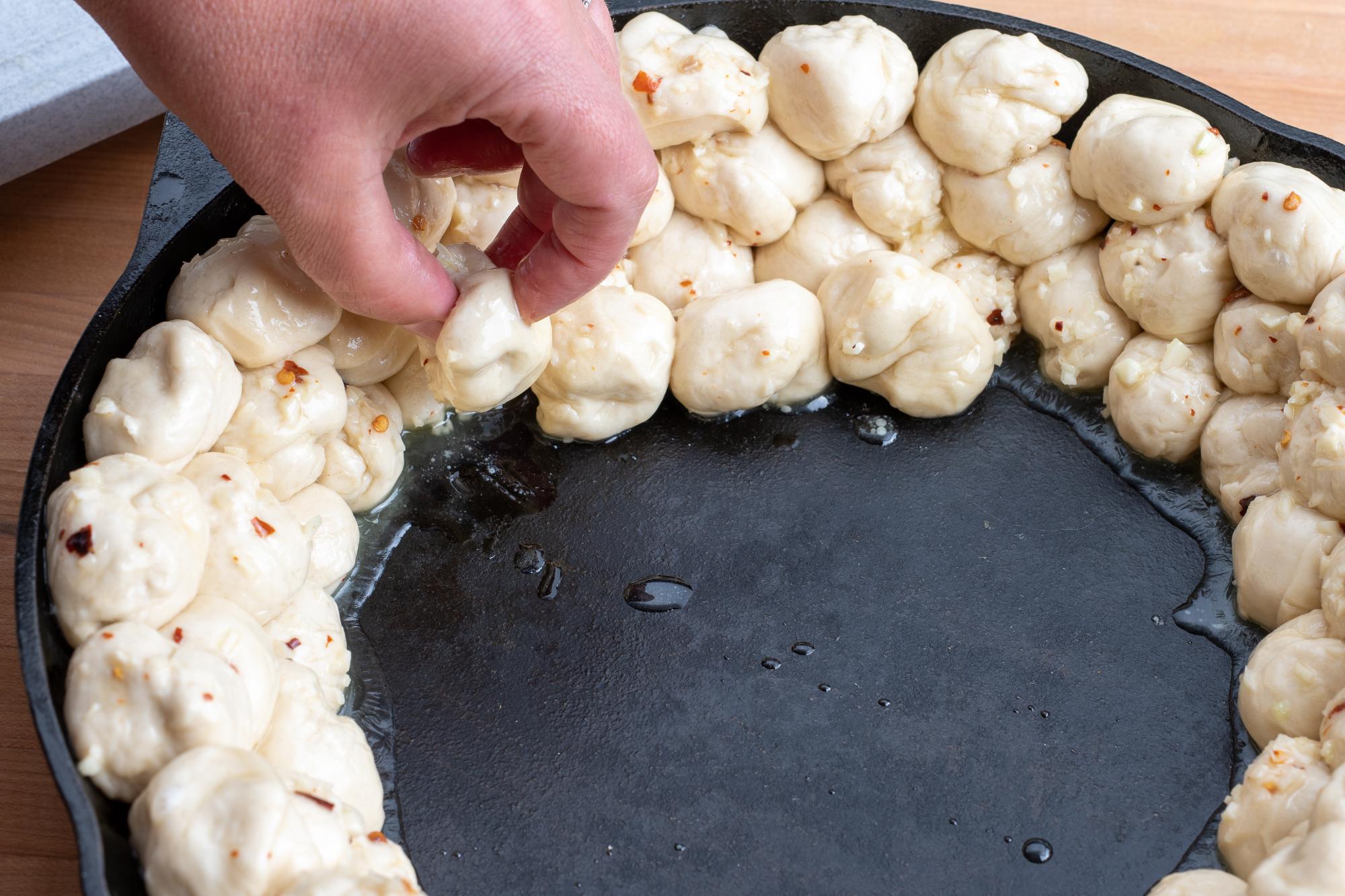 While the dough balls were baking, we prepped our fresh herbs using the 7-5/8" Petite Chef knife to mince both the basil and parsley.
Then we mixed together our softened cream cheese, mozzarella cheese, mayonnaise, dried herbs and fresh garlic until all of the pizza dip ingredients were completely combined.
Once the dough was out of the oven, we spooned the pizza dip mixture into the center of the skillet, spreading it evenly up to the dough. Then we layered the additional mozzarella cheese, the sauce and more cheese, and finished with the pepperoni. A final touch was brushing the rolls with any leftover garlic butter and sprinkling the dough with some Parmesan cheese.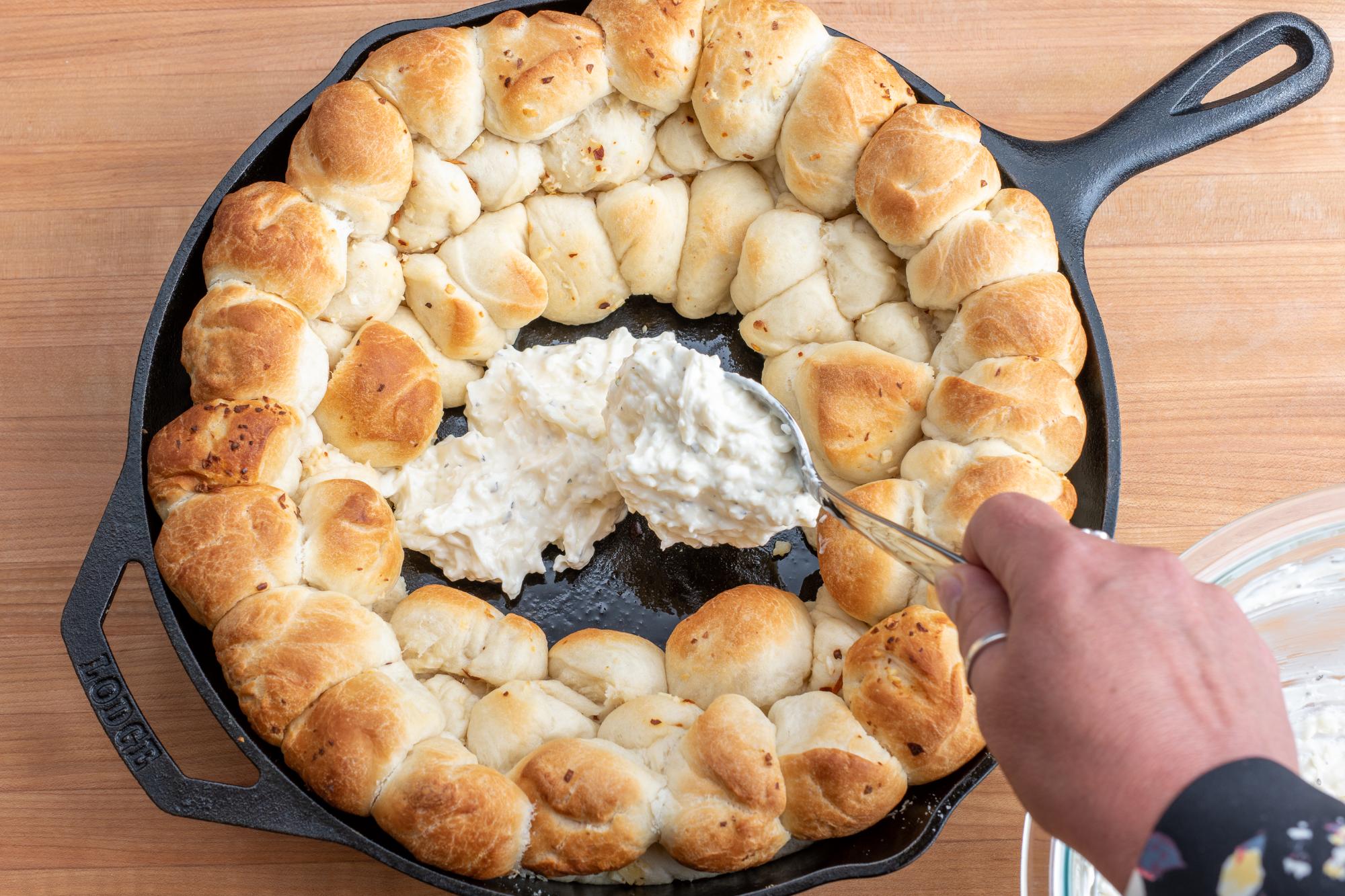 The entire thing went back into the oven for a final bake. When it was done we sprinkled this easy appetizer with fresh herbs and served it immediately.
This pizza dip is everything you love about eating an actual pizza. All the flavors are there, but in a cheesy dip that we couldn't stop eating. It is so easy to pull apart a piece of dough and then dip it into the cheese and pepperoni mixture. We also spooned some of the dip onto a plate with some of the dough balls for a less messy eating experience. Either way, I think you'll agree that pizza dip may become your new go-to easy appetizer recipe. Yum!
Ingredients
6 tablespoons unsalted butter, melted
4 cloves garlic, minced
¼ teaspoon crushed red pepper flakes
2 packages of refrigerated dinner rolls in tube OR 16-ounce package frozen dinner rolls dough
1 package (8 ounces) cream cheese, softened
1-1/2 cups shredded part-skim mozzarella cheese, divided
1 cup olive oil mayonnaise
1/4 teaspoon dried oregano
1/2 teaspoon dried basil
1/4 teaspoon dried rosemary
1 clove garlic, minced
1/2 cup marinara sauce
1/4 cup sliced turkey pepperoni
3 tablespoons shredded Parmesan cheese
1 tablespoon fresh basil, minced
1 teaspoon fresh parsley, minced
Directions
Heat the oven to 400 F.
In a bowl, mix together butter, garlic and red pepper flakes and set aside.
Separate the dinner rolls and cut into bite-size pieces and then roll each piece into a ball.
Dip the dough balls into the butter mixture and put along the outside edge of a 10-inch skillet (cast-iron is ideal) but leave the center area of the skillet open.
Continue stacking the dough balls onto the bottom layer. Loosely cover the skillet with a towel or plastic wrap and allow the dough to rise for approximately 30 minutes, until it has doubled in size.
Bake the dough balls for approximately 20 minutes or until they begin to brown.
While the dough is baking, mix together the cream cheese, 1 cup of mozzarella, mayonnaise, oregano, basil, rosemary and garlic.
Once the dough is out of the oven, spoon the cheese mixture into the center of the skillet. Sprinkle ¼ cup of mozzarella cheese over the cheese mixture and then pour the marinara sauce on top. Sprinkle the rest of the mozzarella cheese on top and top with pepperoni.
Brush the cooked rolls with any remaining butter mixture and sprinkle the rolls with the Parmesan cheese.
Bake for approximately 15 minutes until the dip is heated through and the rolls are a golden brown. Cover the rolls with foil if needed so they do not burn.
Sprinkle the entire dish with the fresh basil and parsley – serve immediately.
Recommended Tools