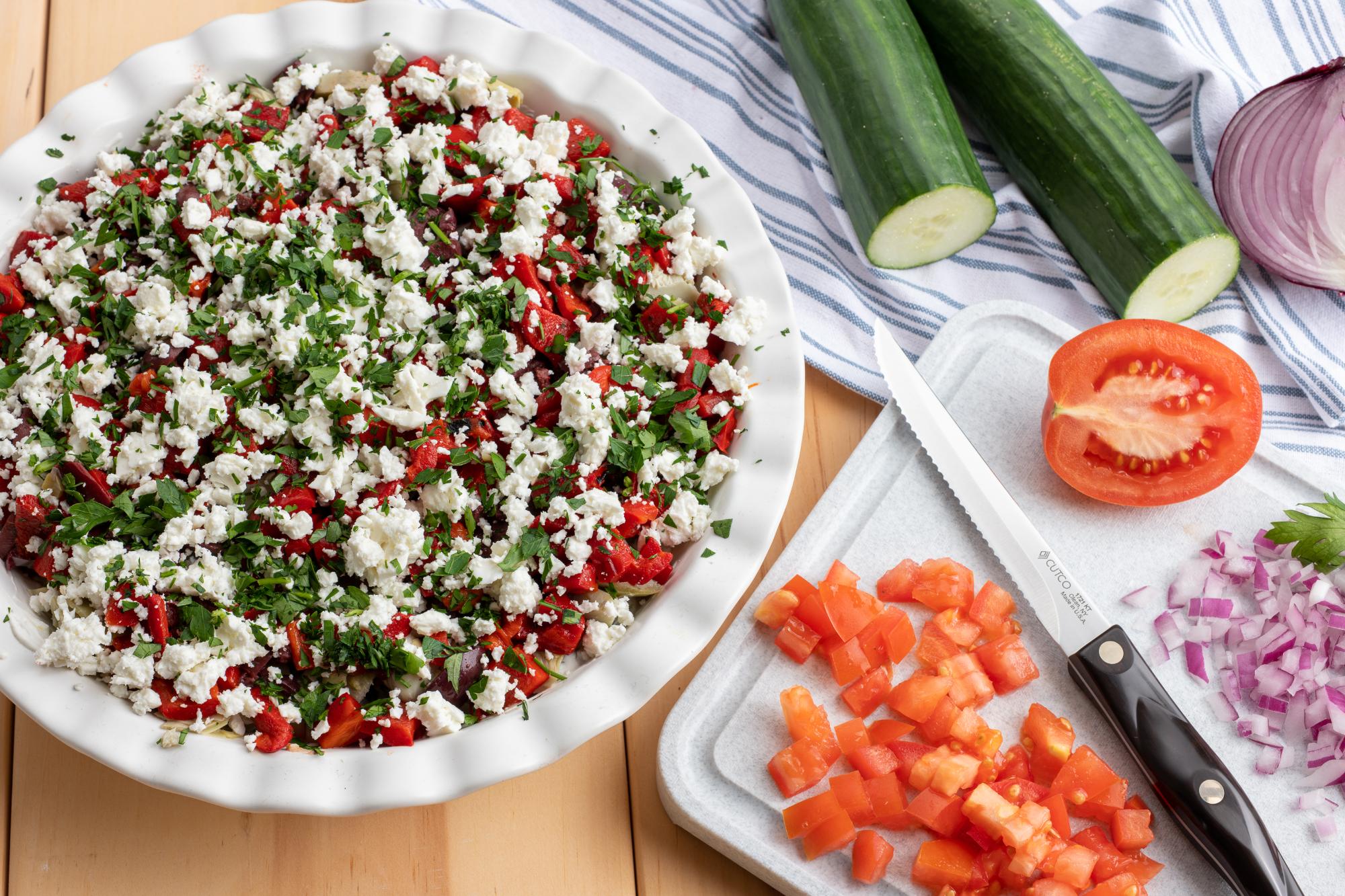 Dips are a wonderful dish to bring to a party or simply to brighten up your own weekend dinner. There are so many variations you can go with but I know that I personally prefer bold flavors with a healthy twist. This layered Greek dip has all of my favorite things – cucumbers, tomatoes, artichoke hearts, sweet red peppers, olives and feta cheese, as well as fresh herbs that really make the flavor pop in your mouth.
What I really love about this dip is how easily it comes together and the overall final presentation of the dish. It's festive and fresh – the perfect easy appetizer. A quick tip is to make sure you are using a seedless cucumber and if you have the time, sprinkle the cucumber with some salt to let it sweat out some of the excess liquid to blot away with a paper towel. Otherwise you can end up with a watery dip.
I really do recommend using full-fat Greek yogurt for this recipe rather than a low-fat or non-fat version. The full-fat yogurt gives the dip some thickness and holds the cucumbers and mint together.
The first layer of ingredients (after spreading the hummus) are the red onion and plum tomatoes. To dice the red onion, I used the 7-5/8" Petite Chef knife and to dice the plum tomatoes, I used the Trimmer. Check out this handy video of How to Cut Onions 3 Ways for some useful tips.
Layer number two is a combination of the full-fat Greek yogurt, diced cucumber and fresh mint. To dice the cucumber, I used the 7" Santoku knife, cutting the cucumber in half, then into planks and then diced.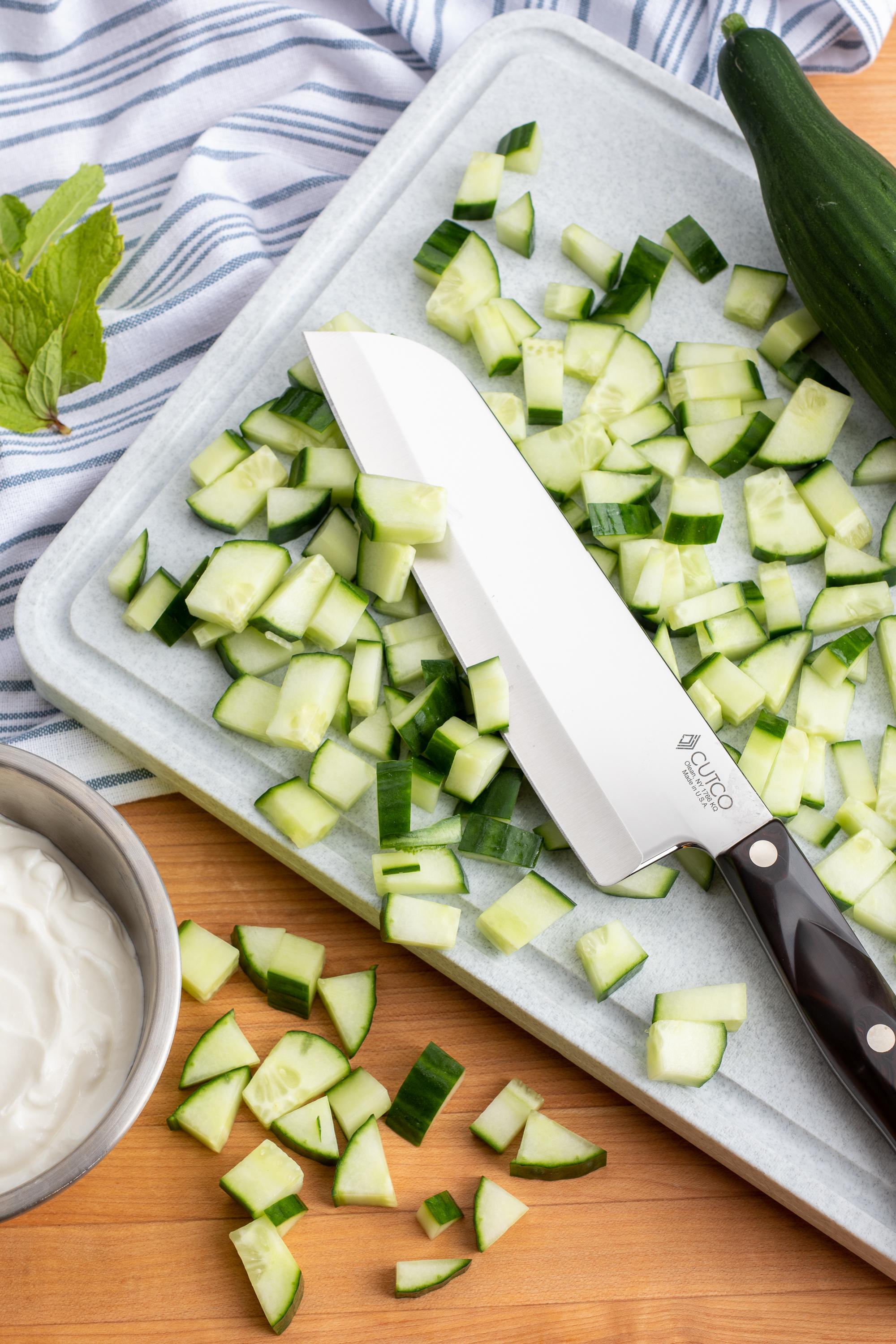 The third layer of this Greek dip includes the artichoke hearts, sweet red peppers and olives. To chop these ingredients, I used both the 5" Petite Santoku knife and the Trimmer.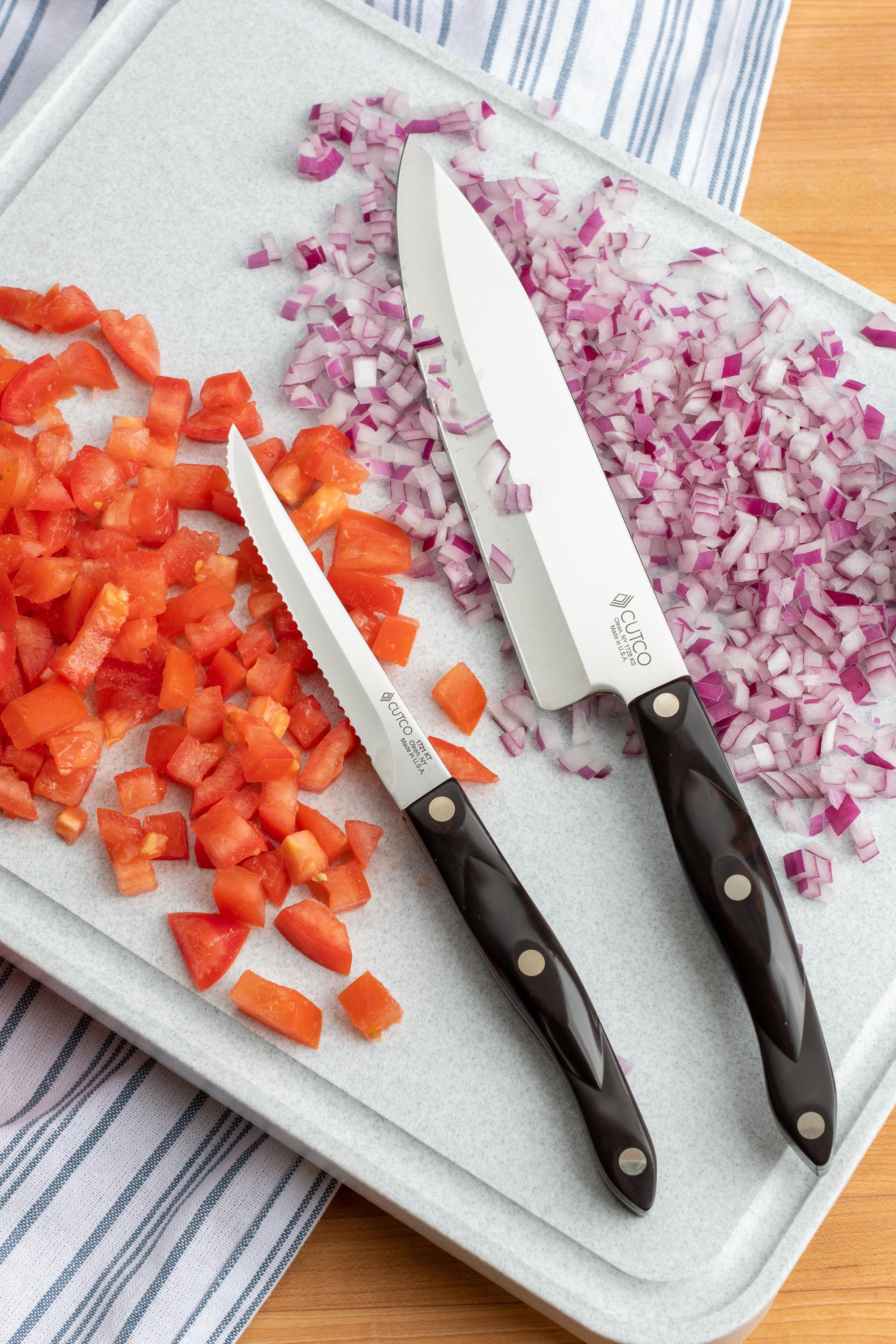 To finish it off, we sprinkled some feta cheese and fresh parsley over the top and chilled it until we were ready to serve. Once the layered Greek dip was chilled through, we put out some pita chips and gave it a taste. Wow – so many wonderful ingredients combining together for an overall flavor explosion. I would recommend serving this easy appetizer with plain pita chips as you really don't need any additional flavors competing with all the ingredients in this dip. We also found it easier to scoop the dip out with a spoon onto a plate, guaranteeing you had all of the ingredients combined.
We hope you'll give this layered Greek dip a try. It was definitely a hit in our kitchen.
Ingredients
1 cup plain full-fat Greek yogurt
1 medium seedless cucumber, diced
1 teaspoon fresh mint, chopped
1/8 teaspoon kosher salt
8 ounces hummus
3/4 cup red onion, diced
2 plum tomatoes, diced
1 can artichoke hearts, drained and chopped
1 cup roasted sweet red peppers, drained and chopped
1/2 cup pitted Kalamata olives, rough chopped
4 ounces feta cheese, crumbled
1-2 tablespoons fresh parsley, chopped
Directions
Mix together Greek yogurt, cucumber, mint and salt and set aside.
Spread the hummus on the bottom of a 9" x 9" deep-dish baking pan or a 9" deep-dish pie plate.
Layer the red onion and tomatoes over the hummus.
Spread the yogurt mixture over the onion and tomatoes.
Layer the artichoke hearts, sweet red peppers and olives.
Sprinkle the feta cheese and parsley over the dip.
Chill and serve with pita chips.
Recommended Tools