Healthy, Budget-Friendly Lentil and Sweet Potato Stew
Published 459 days ago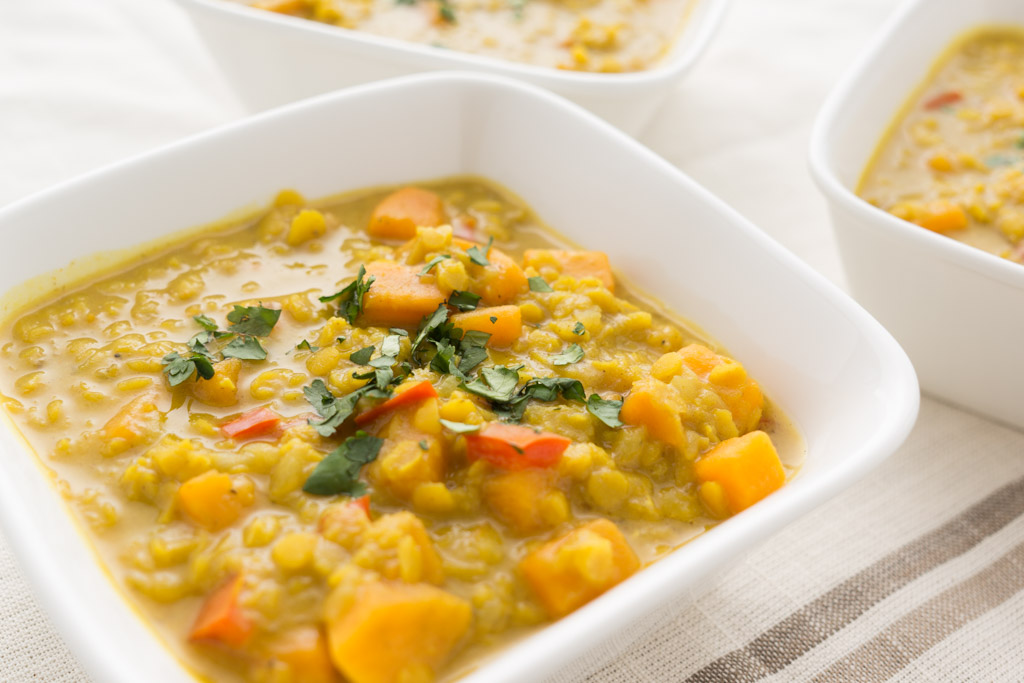 You know what they say, "Fail to plan – then plan to fail." For that reason, Sundays are for meal planning at my house.
I love a good hearty stew I can cook up on the weekend and enjoy all week or throw in the freezer for a busy weeknight meal. This vegetarian Lentil and Sweet Potato Stew is packed with flavor, fiber, protein and heart-warming goodness. It's a great alternative to the usual heavy comfort foods we are all craving during these colder months.
Serve this with a beautiful mixed greens salad, and you've got a well-balanced lunch or dinner, that's healthy and budget friendly.
Nutrition Info: Per serving (6 servings) Calories: 271kcal , Fat: 24.9g, Protein: 5.7g, Carb: 9.7g, Fiber: 2.7g, Sugar: 4.3g, Sodium: 523mg
Ingredients
2 tablespoons olive oil
1 teaspoon ground cumin
1 teaspoon ground turmeric
1 tablespoon red curry powder
1 diced large onion
Coarse salt and freshly ground black pepper
4 minced cloves garlic
2 tablespoons minced fresh ginger
2 peeled and diced sweet potatoes
1 diced (stemmed, seeded) red bell pepper
1 1/2 cups rinsed red lentils
4 cups vegetable broth
2 cups coconut milk
Chopped fresh cilantro
Directions
Heat oil in a large pot over medium heat. Cook cumin, turmeric and curry powder until fragrant, about 1 to 2 minutes.
Add onion with a few pinches salt and cook, stirring, until tender, about 6 minutes.
Add garlic and ginger and cook, stirring, until tender, about 2 minutes. Add sweet potatoes and bell pepper and cook 1 minute.
Add lentils, vegetable broth and coconut milk. Bring to a boil, then reduce heat and simmer until lentils are tender, 20 to 25 minutes.
Season with salt and pepper. Top with cilantro before serving.
Recommended Tools