How to Cut a Sweet Potato
682 days ago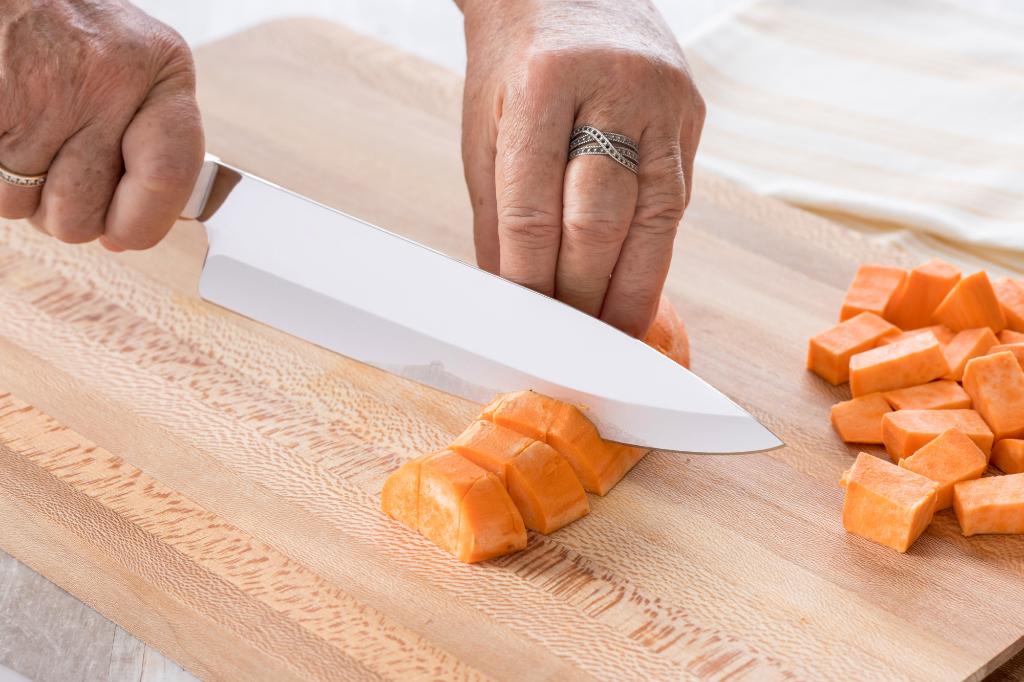 When learning how to cut a sweet potato, first understand that when cutting any "wobbly vegetable," having the right knife and bringing the food to a flat surface are the keys to success.
Because sweet potatoes are dense, you'll want a knife that is big enough and sharp enough to make a smooth cut, like a 7-5/8" Petite Chef knife. After peeling the potato, find a place on it where it can rest on the cutting board without too much roll or wobble. Then, after the first cut, lay pieces flat on the board for safe, even slicing and dicing.
When it comes to peeling the sweet potato, it's really up to you. The skin is completely edible and adds to the overall health benefit of sweet potatoes. If you leave the skin on, make sure to scrub the potato with water to remove dirt and debris. However, if you're using the sweet potato in a dessert, it is best to remove the skin using a Vegetable Peeler.
The steps below lead you to a diced sweet potato, but you can also leave the potato in stick form to make roasted fries. Just toss them with olive oil, salt, pepper and your favorite seasonings and roast in a 425 F oven.
Whether you're making sweet potato fries or dicing them for roasting, make sure you cut the potato to a uniform size so all the pieces cook evenly.
Once you've mastered cutting a sweet potato, try these easy recipes: Sweet Potatoes with Crumb Topping, Roasted Sweet Potato and Kale Hash or Sweet Potato, Apple and Quinoa Salad.

How to Cut a Sweet Potato
Peel the potato with a Vegetable Peeler
With a 7-5/8" Petite Chef knife, cut the sweet potato in half lengthwise.
Lay the halves flat on the cutting board and cut them into sticks.
Rotate and cut crosswise to dice the sweet potato.