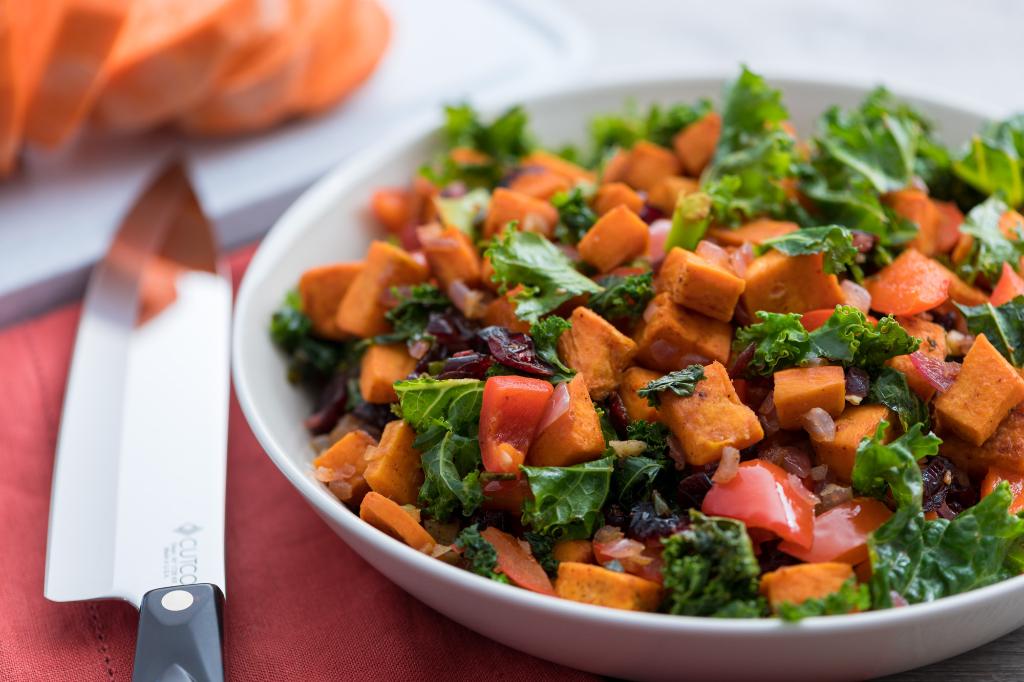 Say farewell to marshmallow-topped sweet potato casseroles this Thanksgiving. Instead, make way for a more savory sweet potato creation in your side-dish spread. There are limitless opportunities for making sweet potatoes, a delightfully fresh part of your holiday feast.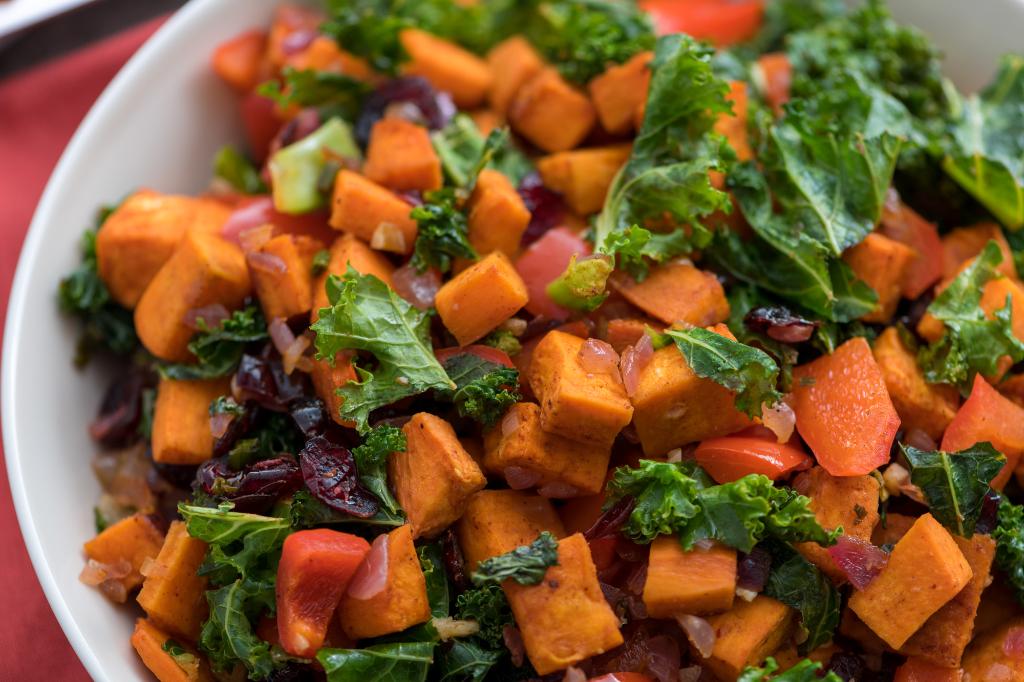 Not only is this Roasted Sweet Potato and Kale Hash a delicious choice for a sweet potato side on Thanksgiving (or any of the other 364 day choices), but once the diced sweet potato is roasted (easily a day or two before), it becomes a one-pot stovetop wonder that is delicious (and safe) even at room temp for the feast. Moreover, this colorful dish is satisfying and nutrient-packed. Kale, sweet potatoes, red peppers and cranberries are a super group of wellness-boosting nutraceuticals.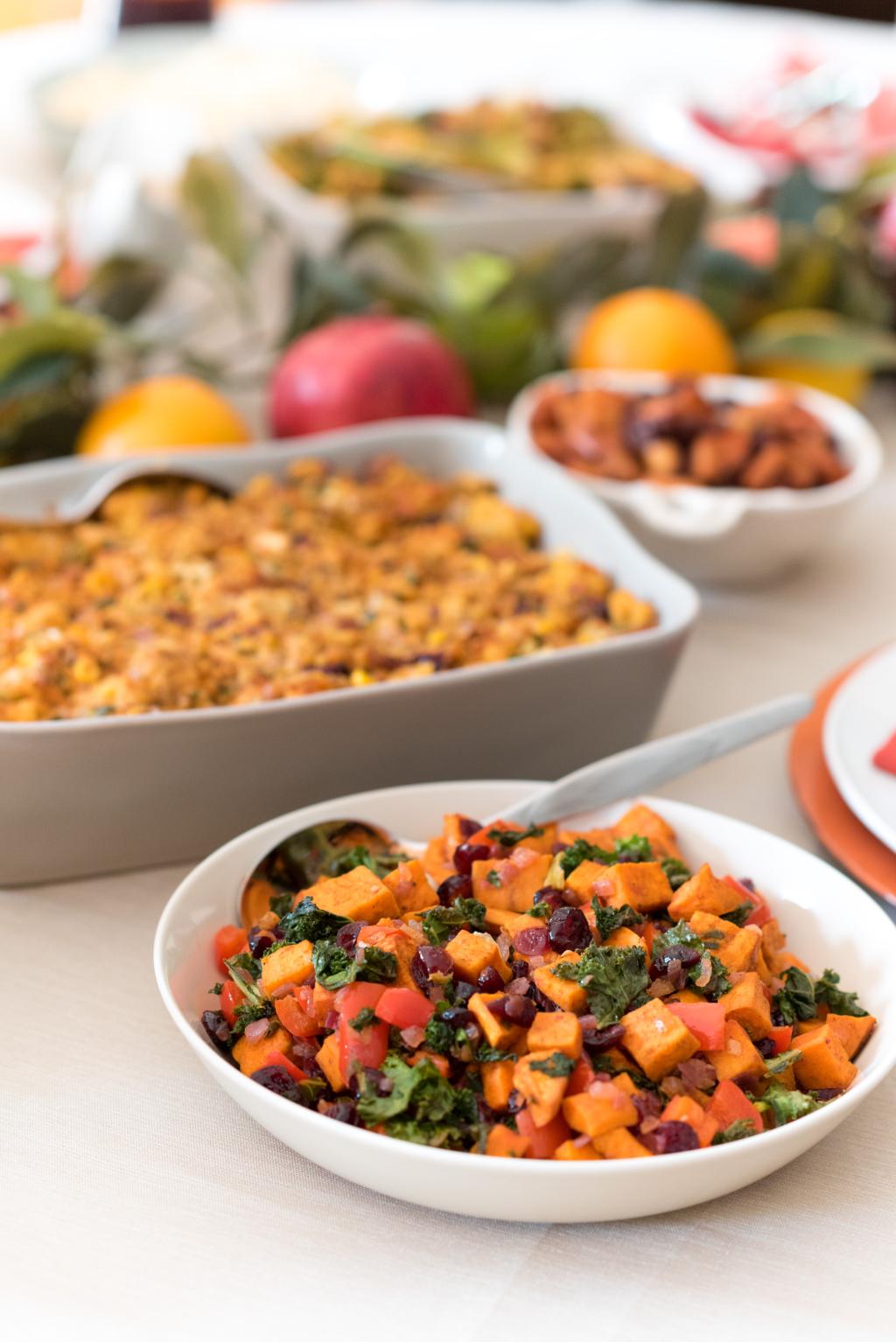 Use a chef knife to cube the sweet potatoes. The blade length of Cutco's 7-5/8" Petite Chef is the right length to slice through potatoes. When cutting them, try to make the cubes as uniform as possible so they cook evenly.
Ingredients
2 large sweet potatoes, peeled and cubed into 1-inch cubes
1 tablespoon extra-virgin olive oil, divided

1 tablespoon

P.S. Flavor!™ Chili Lime

(or use 1 teaspoon salt, 1/4 teaspoon pepper, and 1 teaspoon chili powder), divided

1/2 red onion, chopped
1 red bell pepper, chopped
2 cloves garlic, chopped
1/4 cup green onions, sliced
1/2 cup dried cranberries
2 cups kale, shredded
Directions
Toss sweet potato cubes in 1 teaspoon olive oil and 2 teaspoons seasoning. Heat a heavy sheet pan in 400 F oven and add sweet potatoes. Roast for 15 minutes or until tender and browned.
Add remaining oil to a large skillet over medium-high heat. Add the red onions, red peppers, green onions, and garlic, and sauté until tender and lightly golden, 5 to 6 minutes; season with remaining Chili Lime or alternative seasoning.
Add roasted sweet potatoes, dried cranberries and kale, sautéing until the kale is just wilted. Serve.
Recommended Tools