Festive Pumpkin Gingerbread Trifle
Published 1232 days ago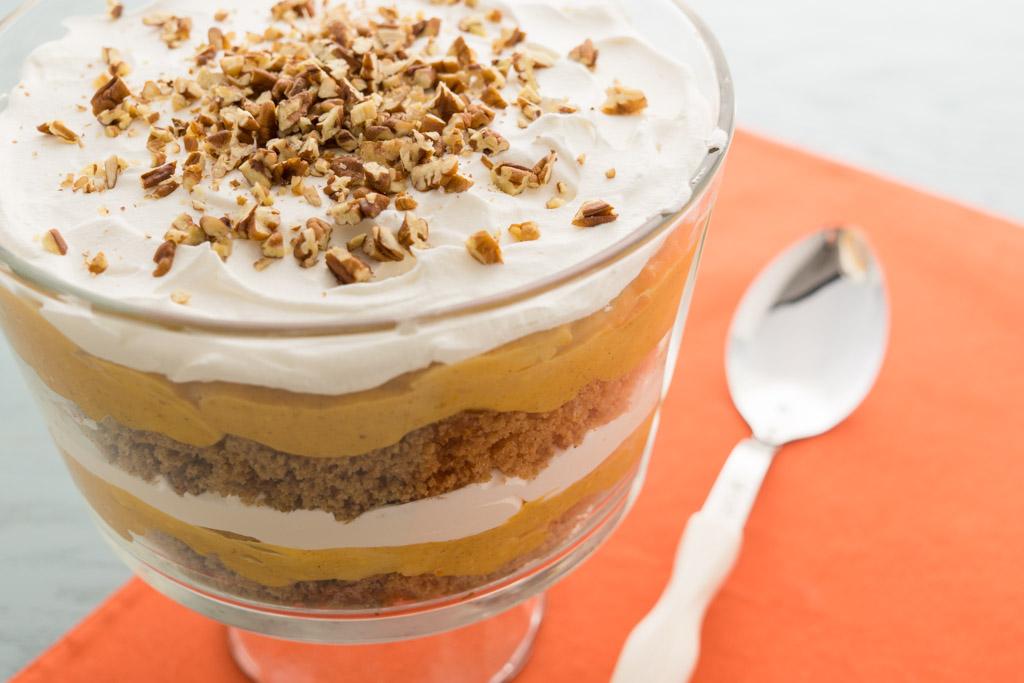 Thanksgiving is a time to gather with family and friends from near and far to share a meal and give thanks for all the blessings in our lives.
One of my favorite meals of the year is Thanksgiving dinner. With its turkey, stuffing, mashed potatoes and everything in between, it's no wonder we need a nap after dinner. In my family we usually do some cleaning up after we eat and then have dessert.
Research shows that pumpkin and apple pie are the hands down favorites for Thanksgiving dessert. I certainly can't argue with that. However, if you're looking for something lighter to satisfy your sweet tooth, you might want to try this Pumpkin Gingerbread Trifle.
Using sugar free pudding, fat free milk and reduced fat whipped topping reduces the calorie count. I know what you're thinking – after that huge dinner, what difference does it make? Probably not a whole lot, but this dessert is light and airy and almost melts in your mouth. It also looks elegant when presented in a trifle bowl.
Ingredients
1 package (14 1/2-ounce) gingerbread cake/cookie mix
1 1/4 cups water
1 large egg
4 cups cold fat-free milk
2 packages (1 ounce each) sugar-free instant butterscotch pudding mix
2 packages (1 ounce each) sugar-free instant vanilla butterscotch mix
1 can (15-ounce) solid pack pumpkin (not pumpkin pie mix)
1 teaspoon ground cinnamon
1/4 teaspoon ground ginger
1/4 teaspoon ground nutmeg
1/4 teaspoon ground allspice
1 carton (12-ounce) frozen, reduced fat whipped topping, thawed
1/2 – 3/4 cup chopped pecans
Directions
Preheat oven to 350°F. Combine cake/cookie mix, water and egg and beat on low speed 30 seconds. Increase speed to medium; beat 2 minutes. Pour mix into an ungreased 8-inch square pan. Bake 35 – 40 minutes or until a toothpick inserted in center comes out clean. Cool 10 minutes, remove from pan, place on wire rack and cool completely. When cake has cooled, crumble and set aside.
Whisk milk and pudding mixes together until thickened, about 2 minutes. Stir in pumpkin and spices until blended.
Use half of the cake crumbs and layer them in the bottom of a trifle bowl or 3 1/2 quart glass serving bowl. Spoon 1/2 of the pudding mix over the cake crumbs, spoon 1/2 of the whipped topping over the pudding mix. Repeat layers. Top with chopped pecans. Serve immediately or refrigerate.
If you can't find gingerbread cake mix, a spice cake mix can be substituted.
Recommended Tools