Buffalo Chicken Dip With Tortilla Chips and Celery
664 days ago
Skip to recipe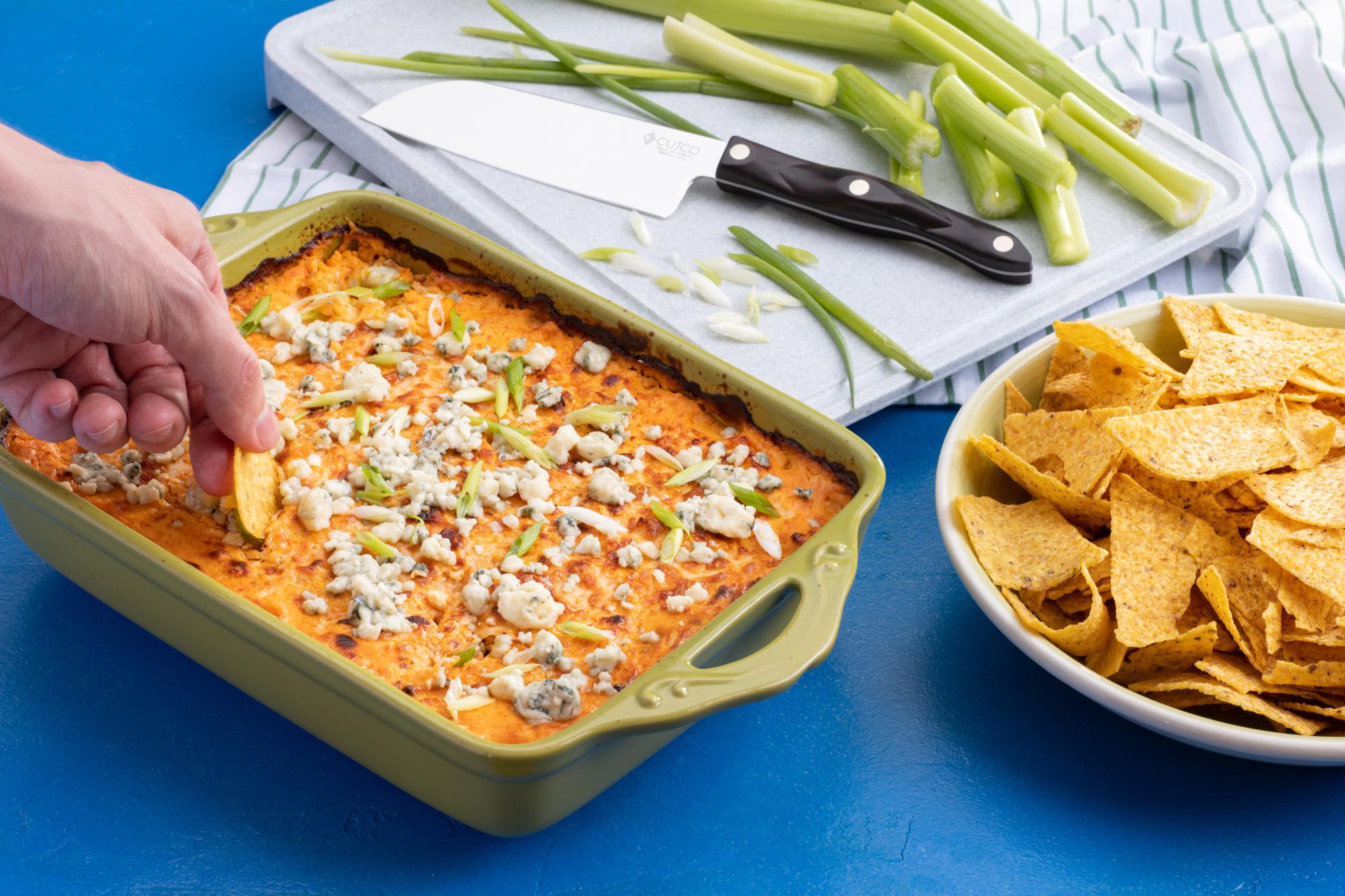 We're always looking for new recipes to try in the Cutco kitchen and many times, we look back on recipes we've done for some inspiration. Imagine our surprise when we realized that we had never done a Buffalo chicken dip. Why were we surprised? We live in Olean, New York, which is about 90 minutes south of Buffalo. Our home football team is the Buffalo Bills and chicken wings are a staple food around this area. There is even a national chicken wing festival held in Buffalo every year, complete with chicken wing hats. A variation on wings that is always served at tailgates is a dish that combines the spiciness of chicken wings with the creaminess of blue cheese in a dip. Yum!
This Buffalo Chicken Dip With Tortilla Chips and Celery is a nod to the tradition of the Buffalo chicken wing. Apologies to the ranch lovers in our audience but we had to keep the original flavors intact, which means we're using blue cheese in this recipe. This is so easy to put together, especially if you keep shredded chicken around (I always have shredded chicken in my freezer). Basically, you mix everything together and bake. That's it. Did I mention that this dip is delicious?
Prepping the Ingredients
The most difficult part of this recipe is shredding the cooked chicken, which isn't difficult at all if you follow our Prep-Ahead Shredded Chicken recipe. If you don't have shredded chicken stashed away, just bake some chicken breasts (three should work for this recipe, depending on thickness) with some salt and pepper and, while still warm, use two forks to pull apart and shred.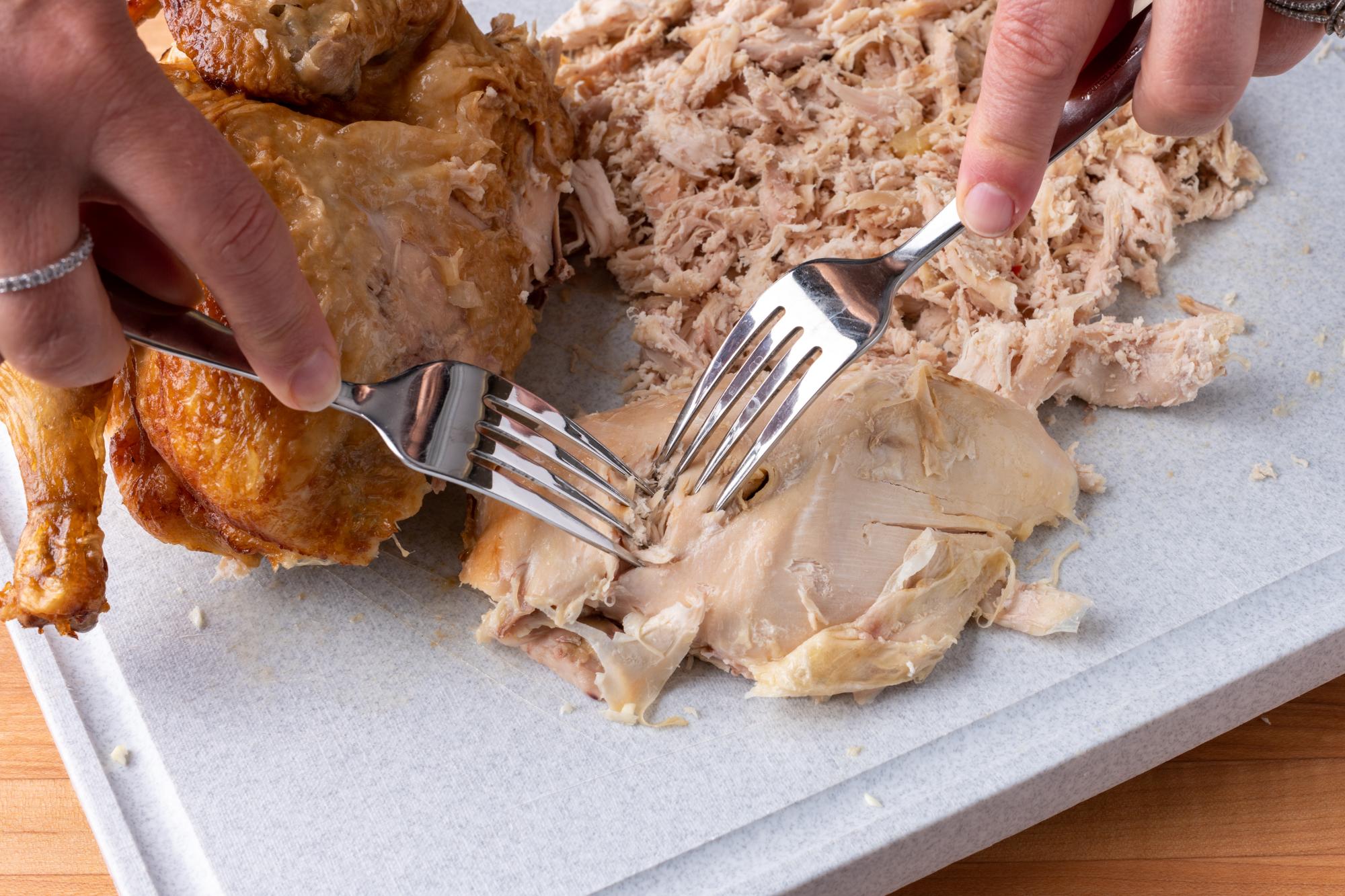 The only other prep work for this dish is thinly slicing green onions with a 5" Petite Santoku.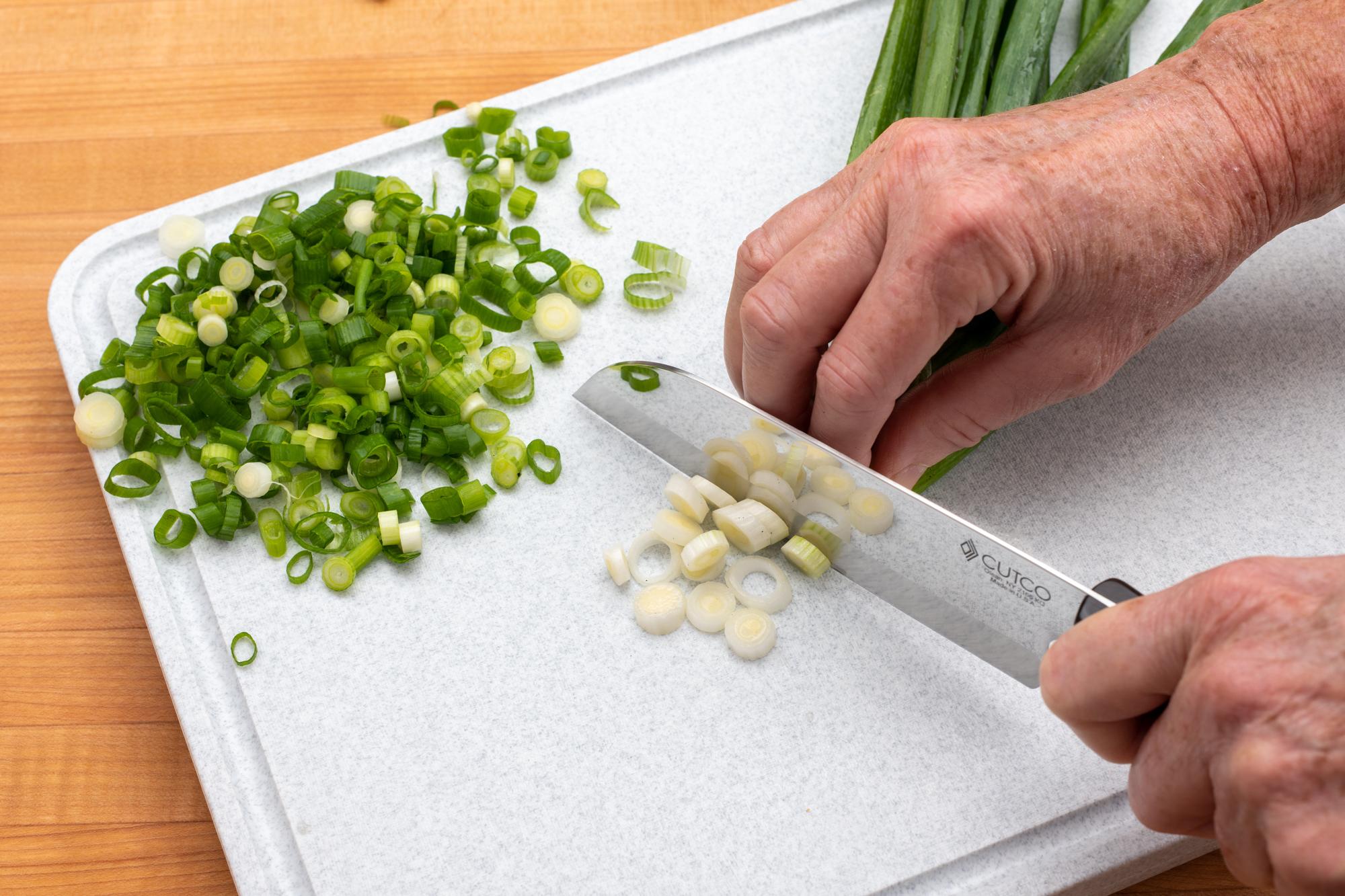 For tips on cutting the onions, take a look at our quick How to Slice Green Onions video.
Finishing the Dip
Once the chicken is shredded and the green onions are sliced, put all the ingredients into a large bowl and mix thoroughly. A quick tip is to make sure your cream cheese is at room temperature so that it combines easily with the other ingredients. We also recommend using Frank's Original RedHot® Sauce, which can be bought in grocery stores or online. This sauce has great flavor and adds the perfect kick to the chicken dip, meaning it's not too hot. If you can't find this product, look for something similar that is specifically for wings.
Once all the ingredients are mixed, put into a baking dish and bake for 20-25 minutes at 350 F until the dip is bubbly and slightly brown on the edges. I've even 'baked' this dish on the grill, so if you're tailgating, that is also an option. Because the chicken is pre-cooked, it's really a matter of tossing everything together and warming it up.
Garnish the dip with additional sliced green onions and serve with tortilla chips and celery.
Buffalo Chicken Dip With Tortilla Chips and Celery is everything you love about wings, but as an appetizer in dip form. Easy to bring along to any event and trust me, it will disappear quickly. I mentioned previously how delicious this dip was, as evidenced by a colleague sitting at the end of the counter and eating a quarter of the dip in one sitting. It's that good.
Ingredients
2 cups cooked chicken, shredded
1 package (8 ounces) cream cheese, room temperature
1 cup white cheddar cheese, shredded
1 cup part-skim mozzarella cheese, shredded
1/2 cup sour cream
1/2 cup plain Greek yogurt

3/4 cup Frank's Original RedHot® Sauce (or similar hot sauce)

1/2 cup crumbled blue cheese
1/2 cup green onions, thinly sliced (more if garnishing)
Tortilla chips and celery for dipping
Directions
Heat oven to 350 F.
In a large mixing bowl, stir together all ingredients until they are thoroughly combined.
Spoon the mixture into a large casserole or baking dish (9x9 dish or 2-quart baking dish) and spread evenly.
Bake until the dip is warmed through, approximately 20-25 minutes. The dip should just start to brown around the edges.
Sprinkle with additional green onions if desired and serve with celery and tortilla chips.
Recommended Tools