Beet, Grapefruit and Watermelon Radish Salad With Citrus Vinaigrette
781 days ago
Skip to recipe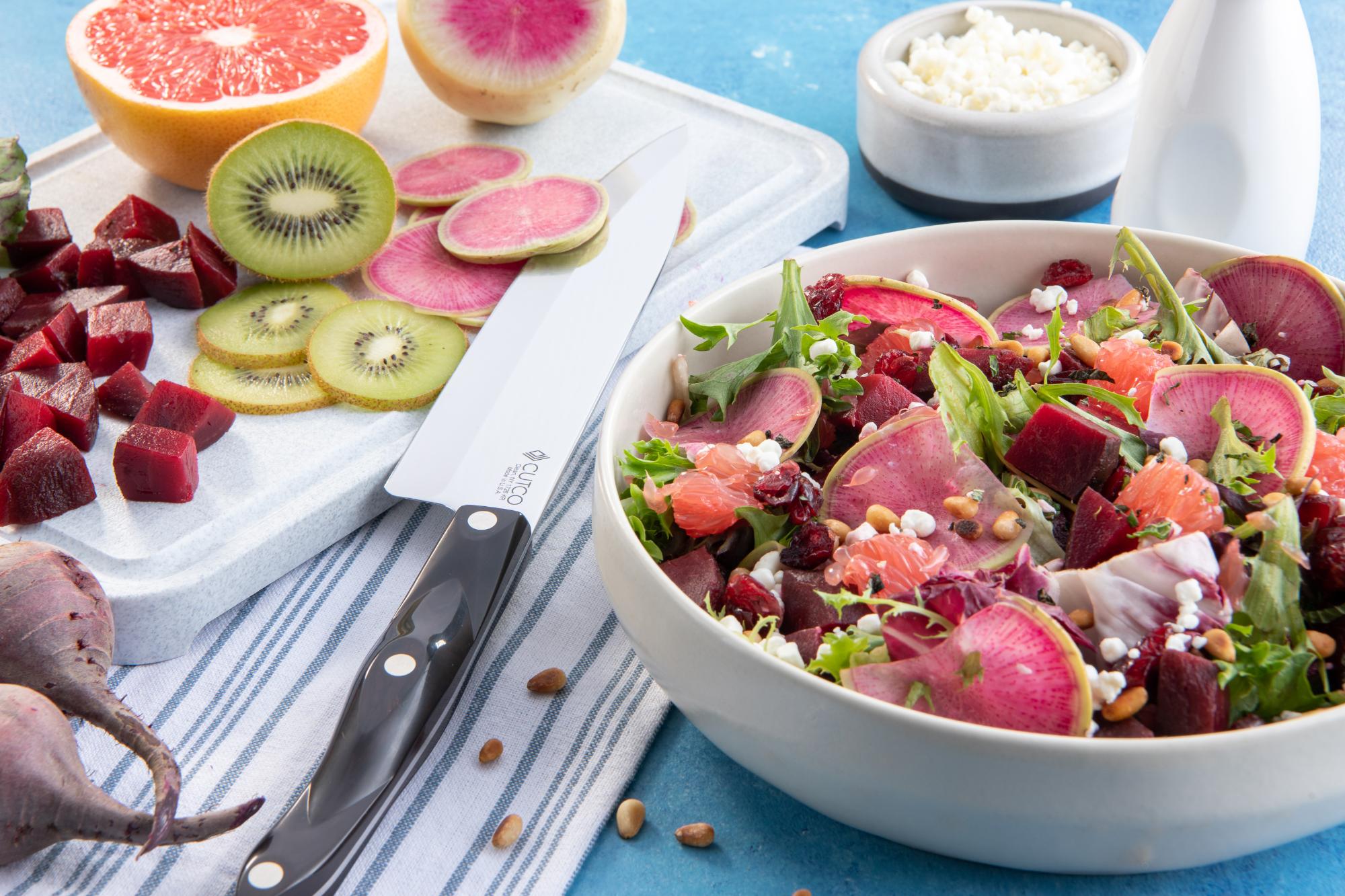 Growing up, beets were not a vegetable that appealed to me, probably because my experience with them was directly from the can. As I got older and visited farmers markets, I discovered the many varieties of beets and all of the wonderful creations you could make with them. Beet, Grapefruit and Watermelon Radish Salad with Citrus Vinaigrette is a perfect example of creating the unexpected with not only beets, but grapefruit, watermelon radishes and a secret ingredient in the dressing – kiwi. Nope, I'm not kidding, but more on that later.
For this recipe, we used love beets and you may ask, what are those? Love beets are organic cooked and peeled beets that are ready-to-eat and trust me, much better than canned beets. You should be able to find them in your refrigerated produce section of the grocery store. We used this type of beet in the recipe purely for simplicity sake but if you want to cook fresh beets that is also an option. For some tips on prepping fresh beets, check out our handy How to Cut Beets tutorial.
You might also ask what is a watermelon radish? Basically, it's an heirloom variety of daikon radishes that can be served fresh or cooked hot or cold. A watermelon radish doesn't taste like a watermelon, rather it gets its name from the inside color of the radish, which has a lovely watermelon hue. For this particular recipe, the watermelon radish adds even more color to the salad, making it very appealing to the eye.
To make this recipe, start by preparing the citrus vinaigrette, which features that secret ingredient of kiwis. Kiwis are a wonderful addition to any diet and, for this vinaigrette, adds a perfect combination of sweet and tart flavor to the final dish.
To chop the kiwi, first remove the skin. Start by cutting off the one end with the Mini Cheese Knife and then cutting around the root end and pulling the root out. Cut the kiwi in half and using a spoon, scoop out the flesh, staying very close to the skin. Repeat this process with the other half and then chop it into smaller pieces. Check out our How to Cut a Kiwi tutorial for further instructions.
Once your kiwis are prepared, put them in a blender with the vinegar, lemon juice, orange juice, shallot and mustard and blend at high speed. Gradually add the olive oil and the seasonings and set aside.
To section the grapefruit, I recommend following the steps in this How to Section a Grapefruit tutorial. Once you have the grapefruit sectioned, cut the slices into chunks to complement the size of the diced beets.
For the watermelon radish, you do want to have very thin slices. I found the 7-5/8" Petite Chef knife to be perfect for this task and I was able to cut razor thin slices. You do not need to peel the radish, but I would recommend washing them thoroughly before cutting.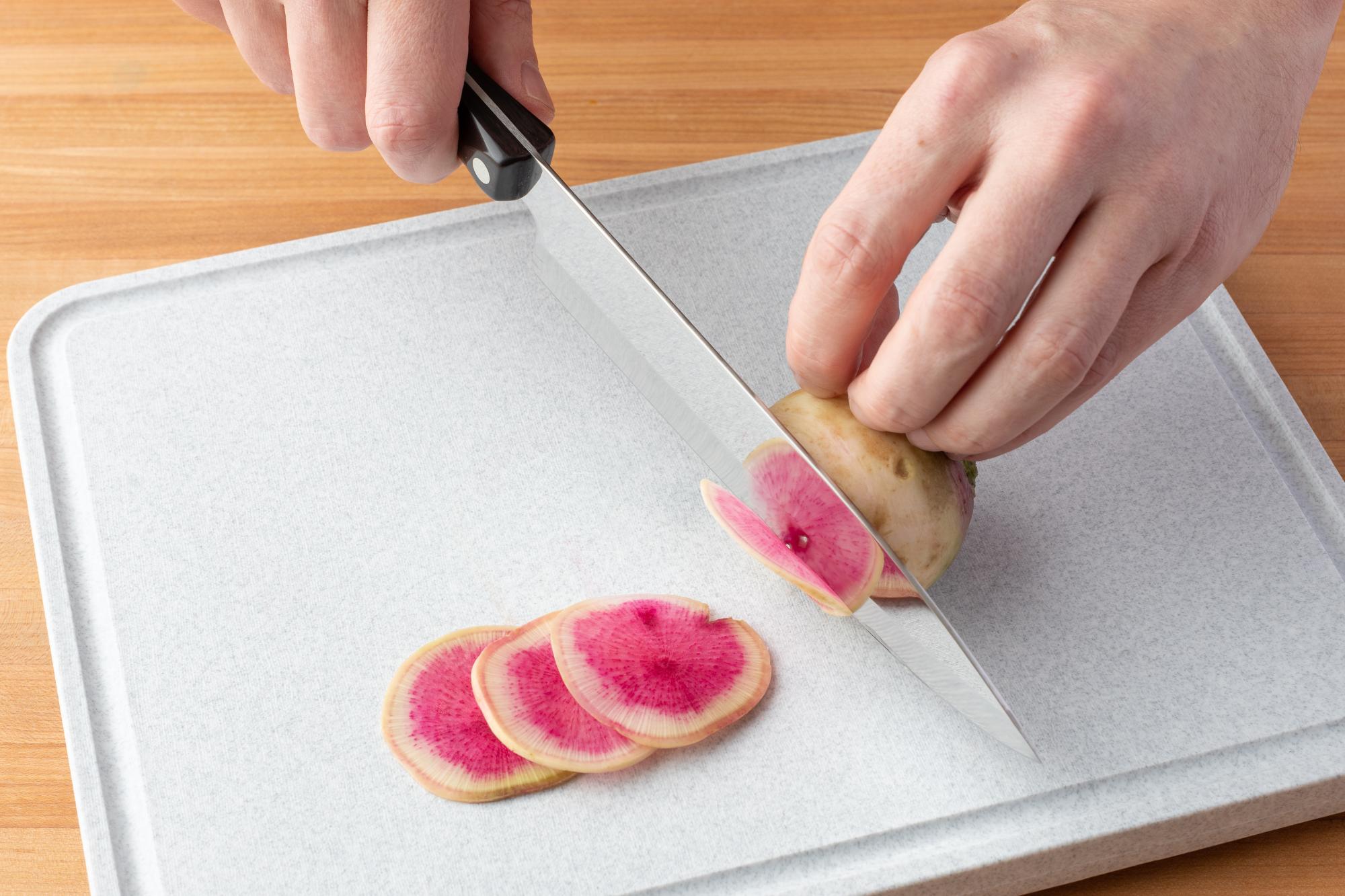 To chop the mint, I once again used the Petite Chef. Stacking the leaves allows for similar size pieces of mint to be cut.
Once all of your prep work is complete, layer the salad in the order of the ingredients, drizzling some of the vinaigrette over the completed salad. It is best served fresh. Just make sure to keep some of the vinaigrette on reserve to add as needed.
To say that this Beet, Grapefruit and Watermelon Radish Salad with Citrus Vinaigrette is beautiful is an understatement. It's a colorful salad that reminds me of spring. That said, it's also quite tasty with the blend of sweet and tart flavors that are complemented by the creamy goat cheese and fresh mint. Give this salad a try, you may be surprised by how much you like it.
Ingredients
For the vinaigrette:
3 tablespoons white balsamic vinegar
2 kiwi, peeled and chopped
1 lemon, juiced
1/4 cup orange juice, no pulp
1 small shallot, chopped
1/4 teaspoon Dijon mustard
1/4 cup olive oil
Kosher salt and fresh ground pepper to taste
For the salad:
3-4 cups mixed spring greens
2 love beets, diced
1 grapefruit, sectioned and cut into chunks
1 watermelon radish, thinly sliced
2 tablespoons dried cranberries
1/4 cup pine nuts, toasted
2 tablespoons goat cheese, crumbled
1 teaspoon fresh mint, chopped
Kosher salt and fresh ground pepper, to taste
Directions
Prepare the vinaigrette by placing the balsamic vinegar, kiwi, lemon juice, orange juice, shallot and Dijon mustard into a blender and puree until smooth. With the blender running, slowly add the olive oil to create a creamy vinaigrette. Add the salt and pepper to taste and pulse to blend.
Layer the salad mixture in the order of ingredients and drizzle some of the vinaigrette over the salad mixture, reserving the extra as needed. Serve immediately.
Recommended Tools