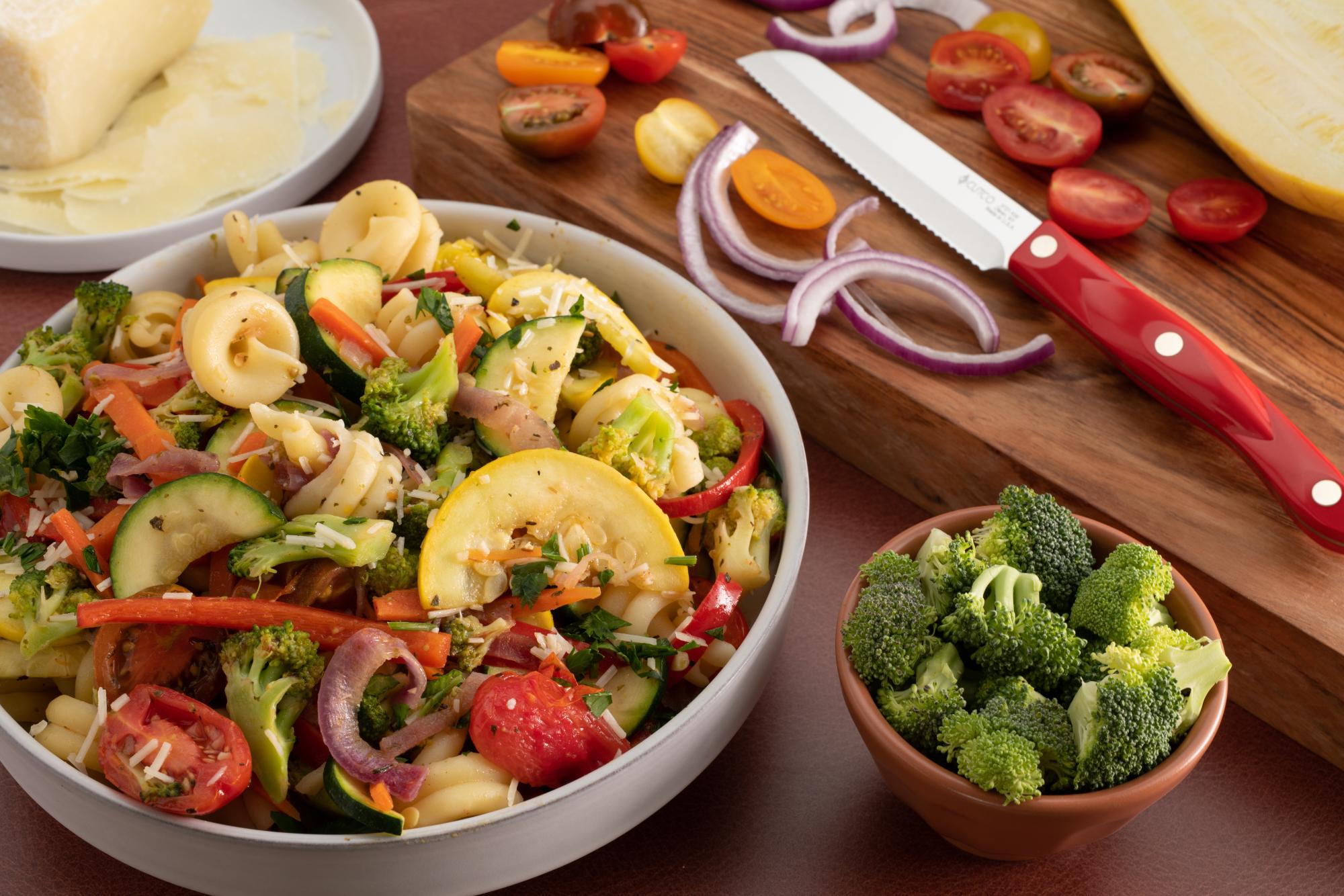 I like recipes that are easy to remember and are easily adaptable with other ingredients. This one for All Year Pasta Primavera is simple, but the variations are endless since you can change up the vegetables.
Cutting the Vegetables
For this recipe I always use red onion and carrot, but if I don't have red peppers I will just use more broccoli or tomatoes. As long as there is close to six total cups of veggies, this recipe works.
For all the vegetable prep, Cutco has you covered. Use the 7-5/8" Petite Chef knife to slice the red onion.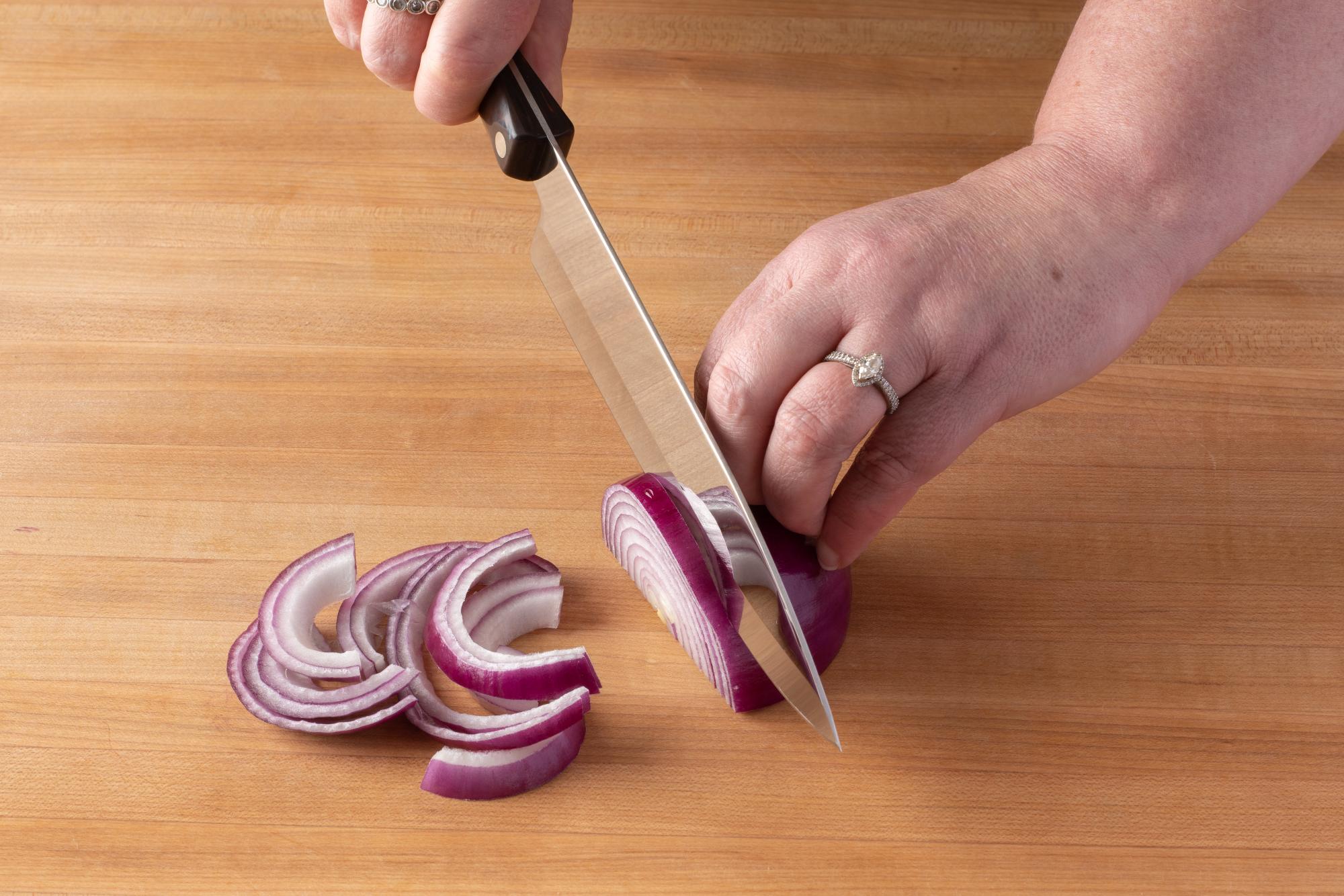 You can use the same knife for cutting the broccoli florets and slicing the bell peppers.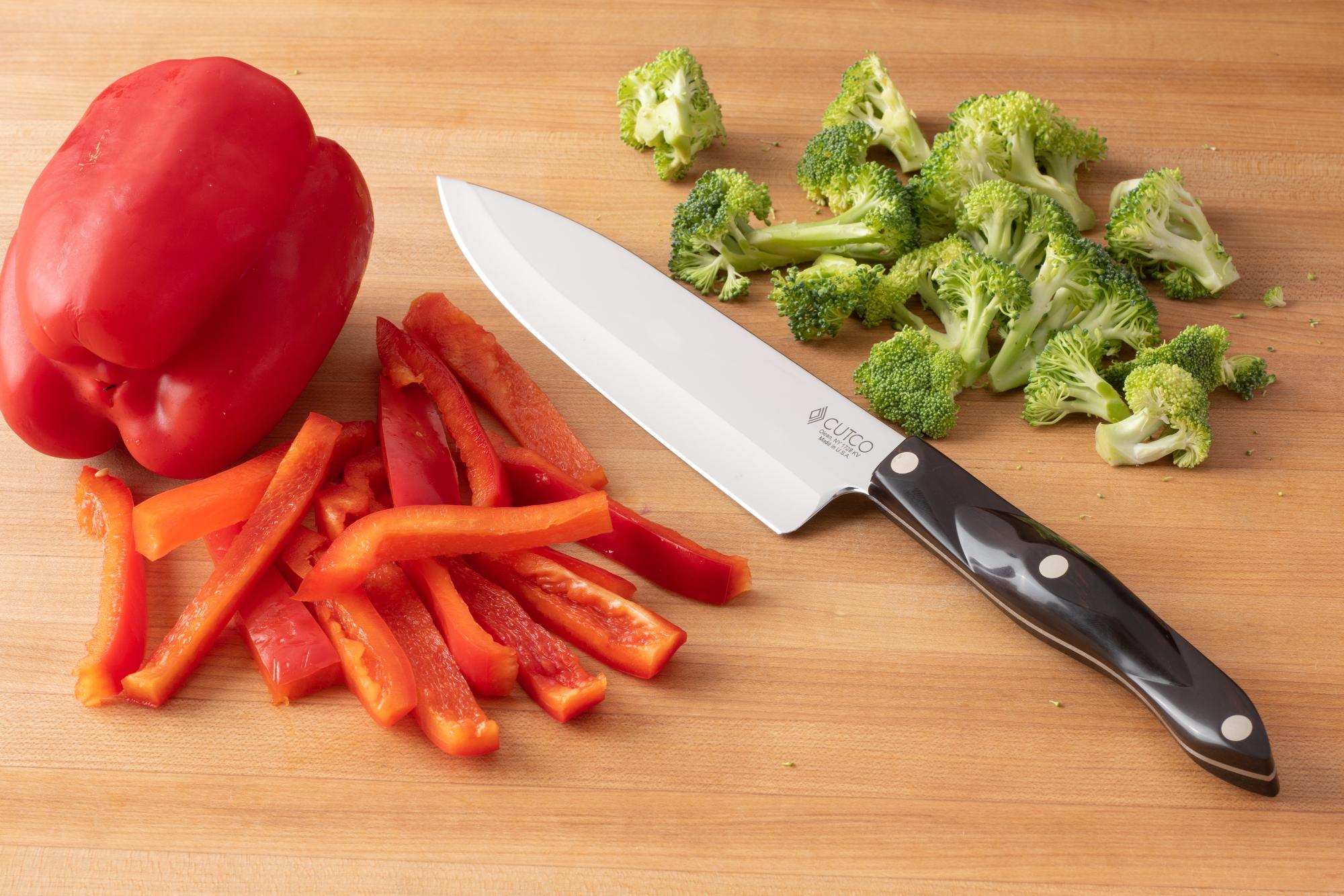 Another wonderful vegetable prep knife is Cutco's 7" Santoku knife. Use it for cutting the carrots into matchsticks.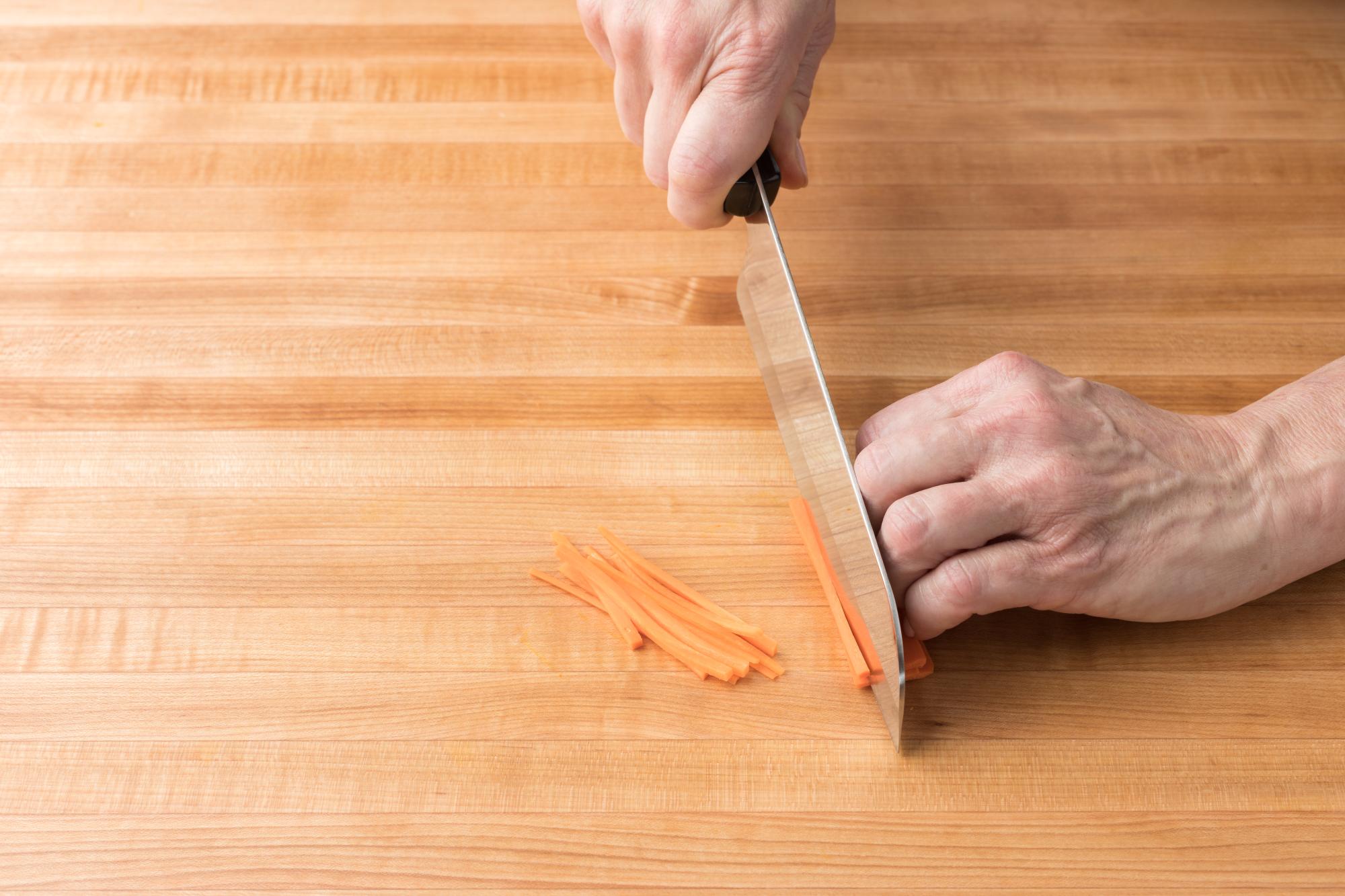 To learn how to cut a carrot into matchsticks, take a look at Cutco's step-by-step tutorial in its Learning Center.
For the squash, use the Santoku-Style Trimmer to cut them into half moons. The sharp Double-D® edge easily slices through the tough skin and through the soft flesh.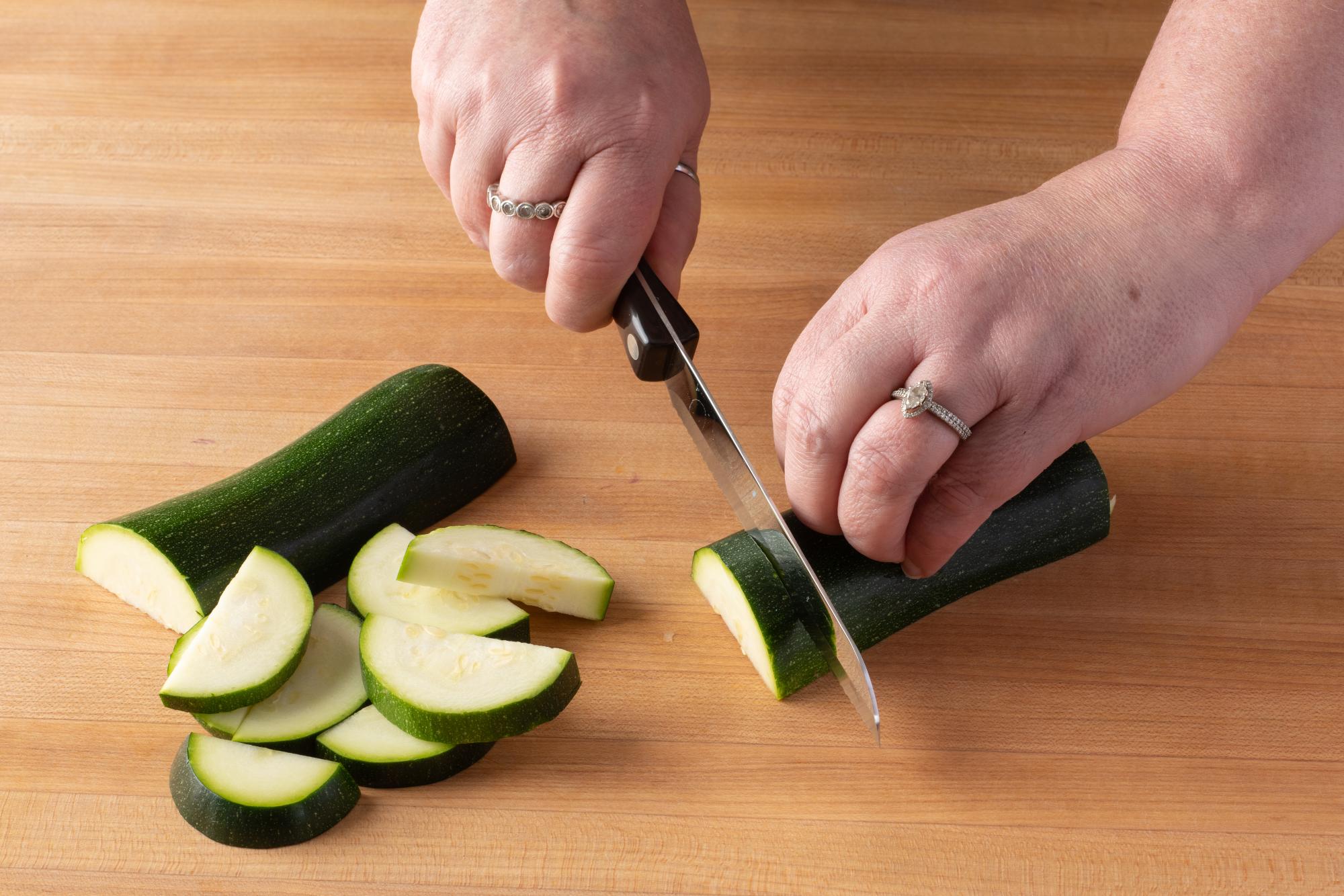 When cooking the vegetables take note that it is better to slightly under cook them rather than overcook them.
How to Serve It
All Year Pasta Primavera is good served warm, but is also great cold the next day for lunch. Just add a quick squeeze of lemon juice, an an extra splash of olive oil and maybe a sprinkle of salt right before eating.
This is a great recipe for those days when you don't know exactly when your family will be eating dinner. Prepping the veggies early in the day and putting them in individual zip bags in the refrigerator makes this dinner fast when everyone finally arrives home.
Ingredients
10 ounces uncooked penne pasta
Salt to season the pasta water
1/4 cup extra-virgin olive oil
1/2 medium red onion, cut into quarter-inch slices
1 large carrot, peeled and sliced into matchsticks
2 cups broccoli florets, cut into quarters
1 medium red bell pepper, sliced into quarter-inch slices
1 small yellow squash, sliced into half moons
1 medium zucchini, sliced into half moons
3-4 garlic cloves, minced
1 cup (heaping) grape tomatoes, cut in half lengthwise
2 teaspoons dried Italian seasoning
1/2 cup pasta water
2 tablespoons fresh lemon juice
1/2 cup shredded Parmesan, divided
2 tablespoons chopped fresh parsley
Can add sauteed shrimp or grilled chicken
Directions
Cook pasta in a large pot of boiling salted water according to package directions. Before draining pasta reserve about 1/2 cup of the pasta water (this is in case you need to thin the primavera later).
Heat the oil in large, deep skillet (12-inch is good) over medium-high heat. When oil is hot, add red onion and carrot. Sauté for 2 minutes, stirring as necessary. Add the broccoli and bell peppers to the pan. Sauté for 2 minutes, stirring as necessary. Add the squash and zucchini to the pan and again, sauté for 2-3 minutes or until the vegetables have almost softened.
Add minced garlic, tomatoes and Italian seasoning, and sauté 2 minutes longer.
Be careful not to overcook the vegetables.
Place veggies into a large serving bowl, add drained pasta and gently mix. If pasta is sticking together add some of the reserved pasta water as needed. Drizzle lemon juice over pasta and add half of the Parmesan and toss to gently to mix. Finish by sprinkling the remaining Parmesan and parsley.
Serve warm.
Recommended Tools