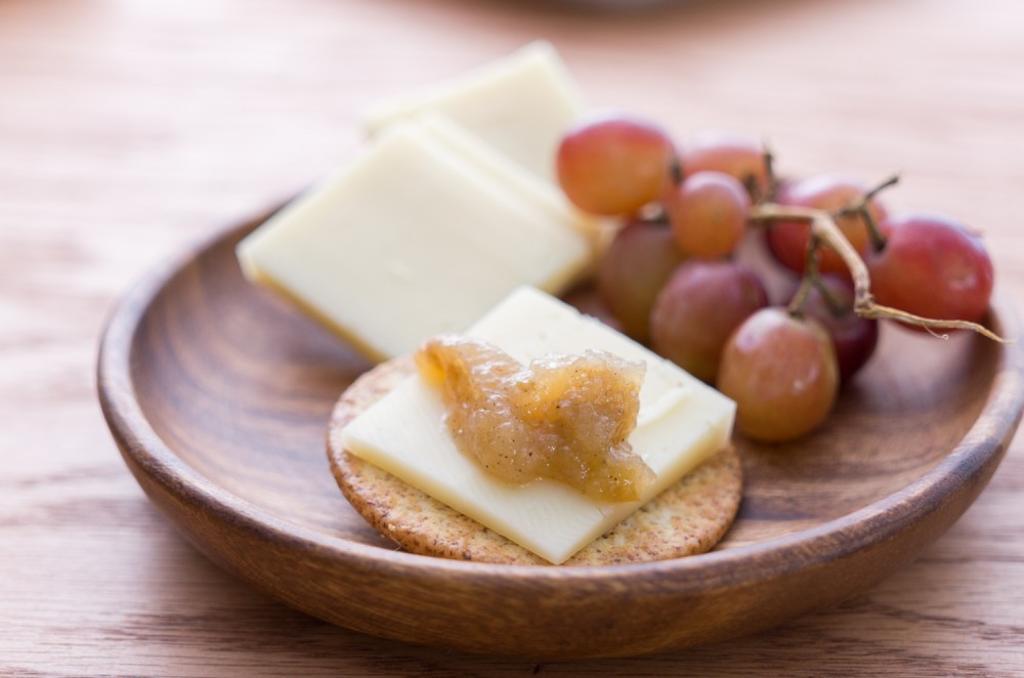 A friend and I recently toured Johnson Estate Winery, the oldest estate winery in New York, located in the town of Westfield on a 300 acre farm with 120 acres of vineyards. Fred and Jennifer Johnson are third generation owners of the winery and led us on our tour. They live on the grounds in a lovely brick farmhouse that was built in 1822.
As we moved from station to station, Mr. Johnson gave us an overview of the varieties of grapes and fruits used in each wine while Jennifer filled our glasses and passed delicious trays of appetizers that paired well with the wines we were sampling.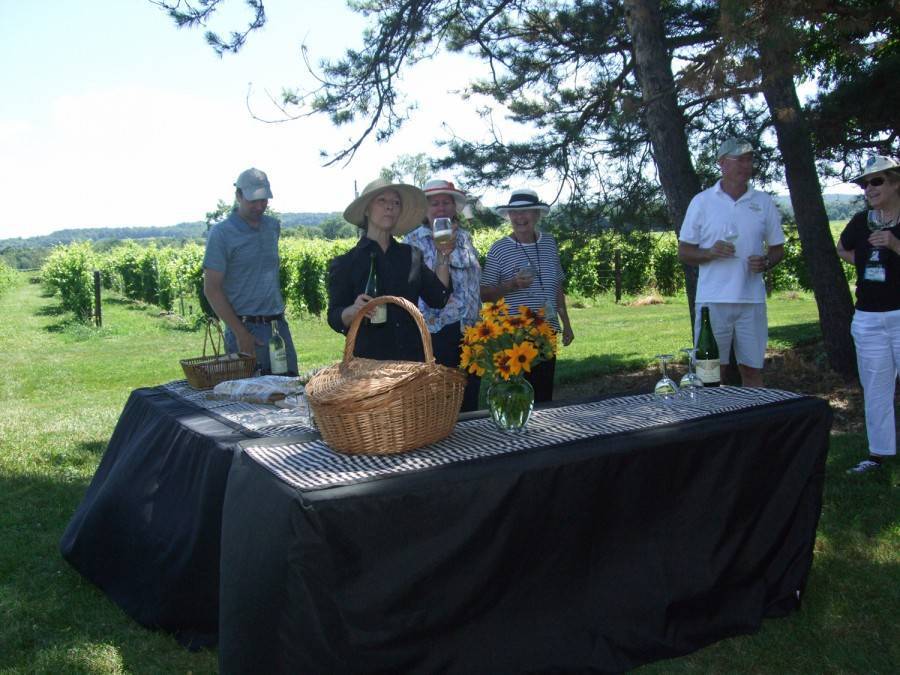 Our samplings included both red and white wines, sweet, dry and semi-dry. The recipes for the food we had are available on the winery's website. I particularly enjoyed Jennifer's Pear Cardamom Butter served with extra-sharp cheddar cheese on a plain cracker. With her permission, we are sharing the recipe with you. This tasty treat was paired with a Seyval Blanc, a citrusy, crisp white wine.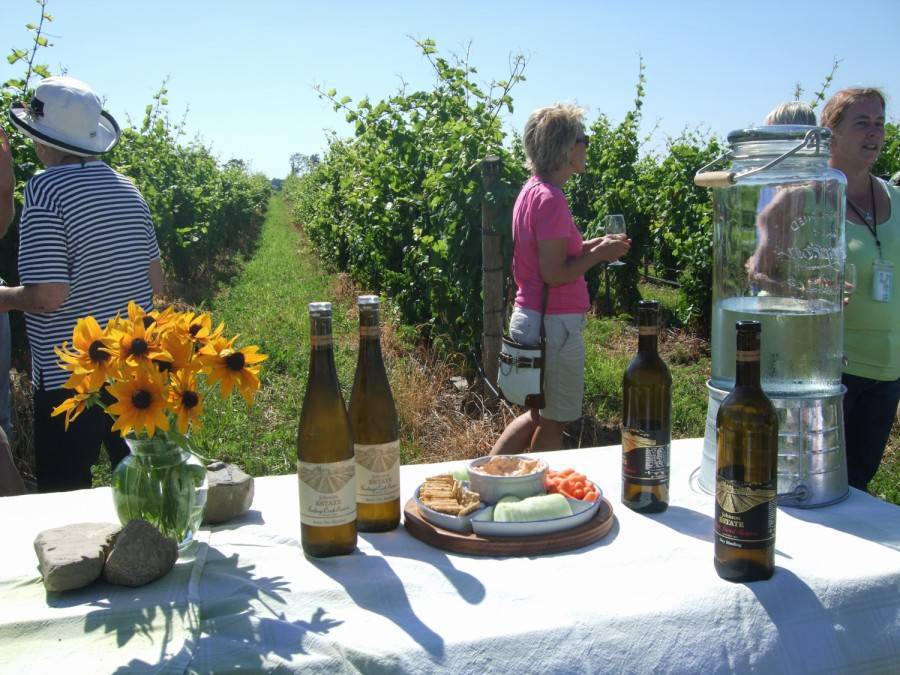 A long walk up a slightly steep road within the vineyard offered us a beautiful view of the green hills, the perfect rows of grape-ladened vines with the blue waters of Lake Erie in the distance. The well-drained soil and the climate-moderating effects of the lake offer the perfect environment for grape growing.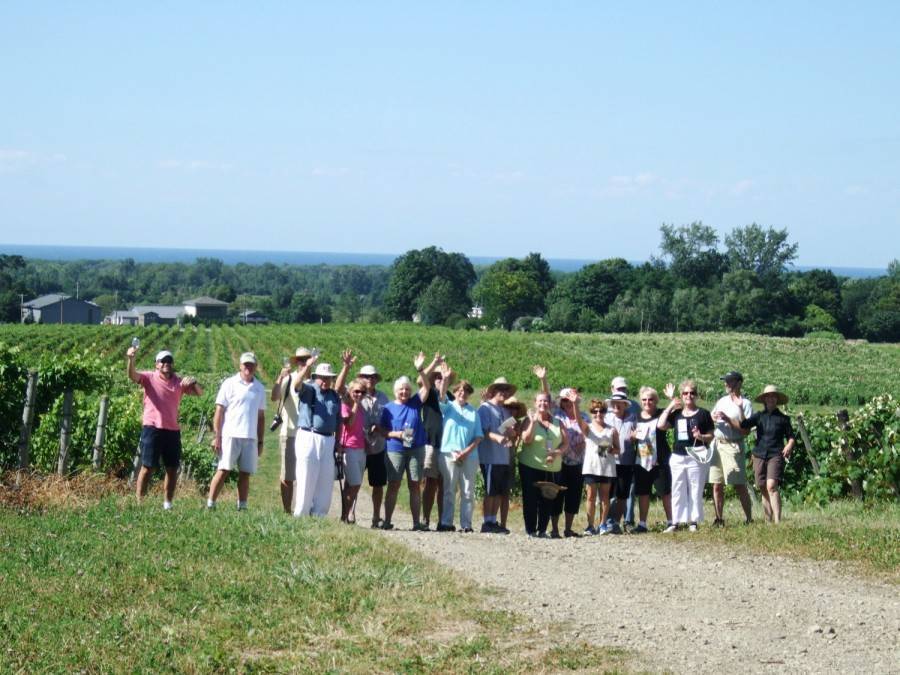 Our last stop was dessert. Here we sipped Vidal Ice Wine which is made from grapes frozen on the vine and contains a high concentration of sugar. It's very sweet which explains why it is served in a small glass. Ice wine should be sipped as a dessert wine and paired with chocolate, berries or shortbread-type cookies.
We also our walked through the warehouse where cases of the many varieties of wine are housed before shipment to customers, stores and restaurants. We completed our tour with a stop at the tasting room where we were invited to taste any of the other wines produced there. I tried a Sparking Rose Ice Wine that, when released in 2011, was America's first sparking ice wine and the only one in North America to be fermented in the bottle. Like other ice wines, it was sweet but tasty.
Ingredients
3-1/2 cups of pear puree (see below)
1" fresh ginger, peeled and finely diced
1 cup sugar (or less, to taste)
1/2 to 1 teaspoon ground cardamom
1 teaspoon nutmeg
2 teaspoons lemon zest
1 teaspoon ground ginger
Directions
Clean the pears thoroughly in water. The pears should be ripe enough to have at least a little juice. Very ripe pears work just fine. Slice and quarter them, removing seeds and core (peeling the pears is optional). Place pears in a large saucepan, turn the heat to low and let the pears simmer until they are very tender and falling apart. You may add water if you think they're too dry, but they tend to make a lot of juice. Remove from heat and let cool slightly. If there is a great deal of liquid, pour some off so that the reduction time is not so great. Puree with a stick blender.
Mix 3 1/2 cups of puree, diced ginger, other spices and zest. Let simmer, watching to make sure that the mixture does not stick, and stirring frequently. When the puree is as thick as you would like, take off the heat. Let cool before serving as a topping for Cheddar cheese and crackers.
Recommended Tools