Saturdays With Barb: Philly Cheesesteak Soup
1683 days ago
Skip to recipe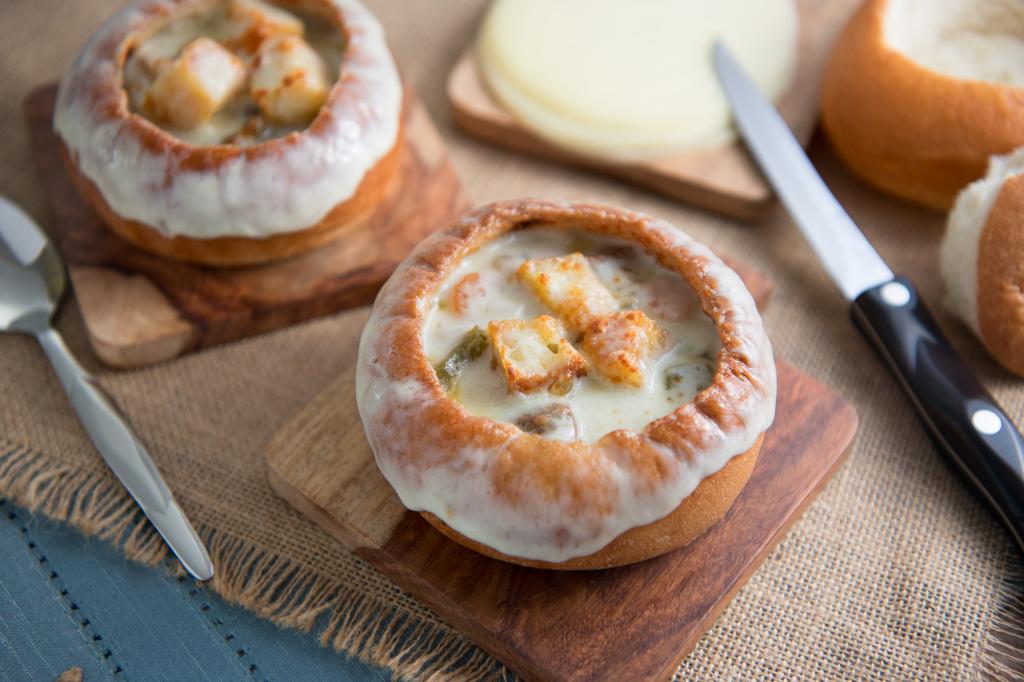 Like so many iconic foods, the Philly cheesesteak sandwich was the invention of a small business owner in South Philly. The story goes that Pat Olivieri owned a hot dog stand in the 1930s. One day, he decided to grill some steak and put it on an Italian roll and have it for lunch. There was no cheese on the sandwich at that time. A cab driver stopped in for what Pat thought would be a hot dog but instead he asked for the steak sandwich. Word spread and soon Pat's hot dog stand became Pat's King of Steaks.
Cheese was added to the sandwiches in the '40s and there's been hundreds if not thousands of versions of the sandwich since with the addition of green peppers, mushrooms, and onions.
Another take on this famous sandwich is Philly Cheesesteak Soup. This is a hearty soup loaded with juicy steak, peppers, onions, garlic, carrots, and mushrooms simmered in a chicken broth and beef consommé base. Add in a combination of three cheeses, top with seasoned croutons and you have a flavor explosion. It's like eating a sandwich with a spoon.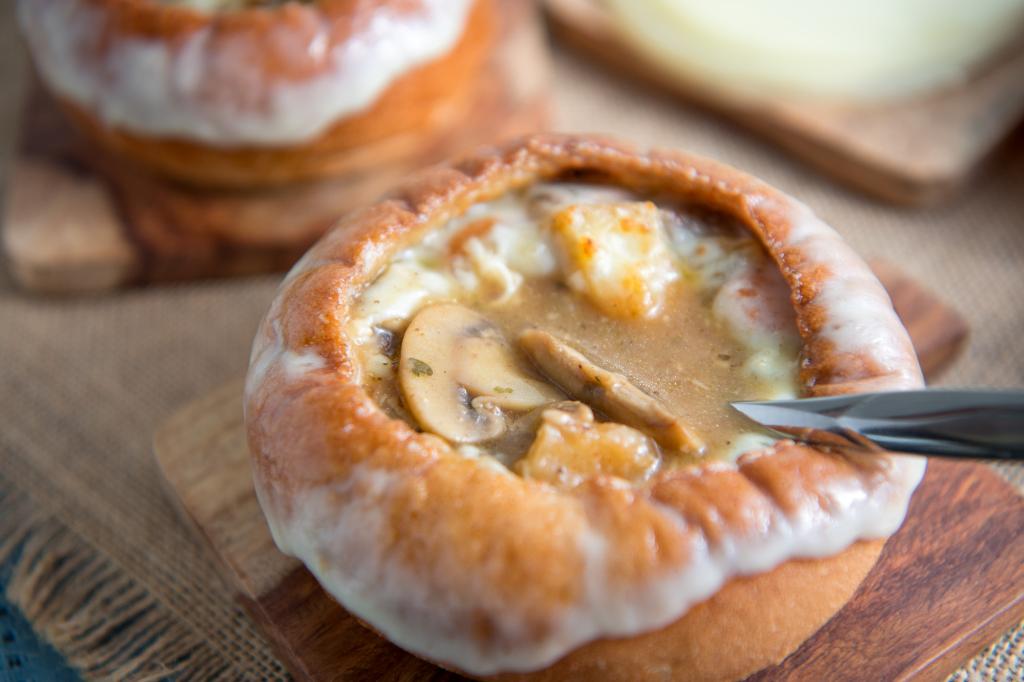 Let Cutco knives be your assistant in the kitchen to easily prep the meat, vegetables and even the croutons for this soup.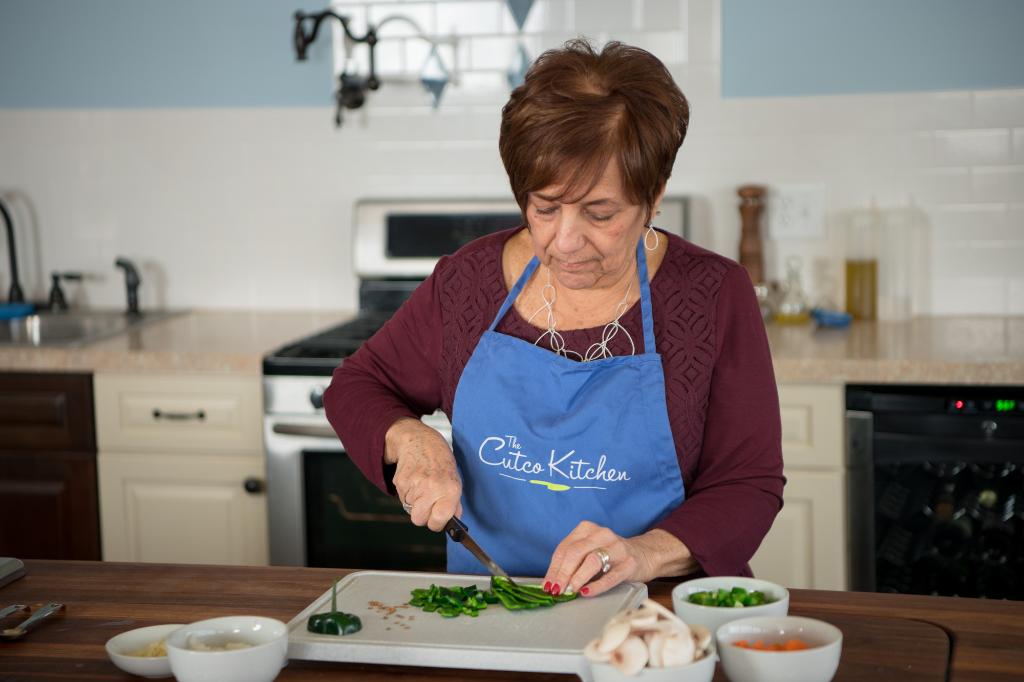 This can be served as a main dish for a Saturday night supper, just add a salad to round out the meal.
The credit for serving the soup in small bread bowls goes to Brett, our photographer. Instead of using large bread bowls, he purchased some oversized Kaiser rolls, hollowed them out and used them for the bread bowls. We all thought they were the perfect portion size.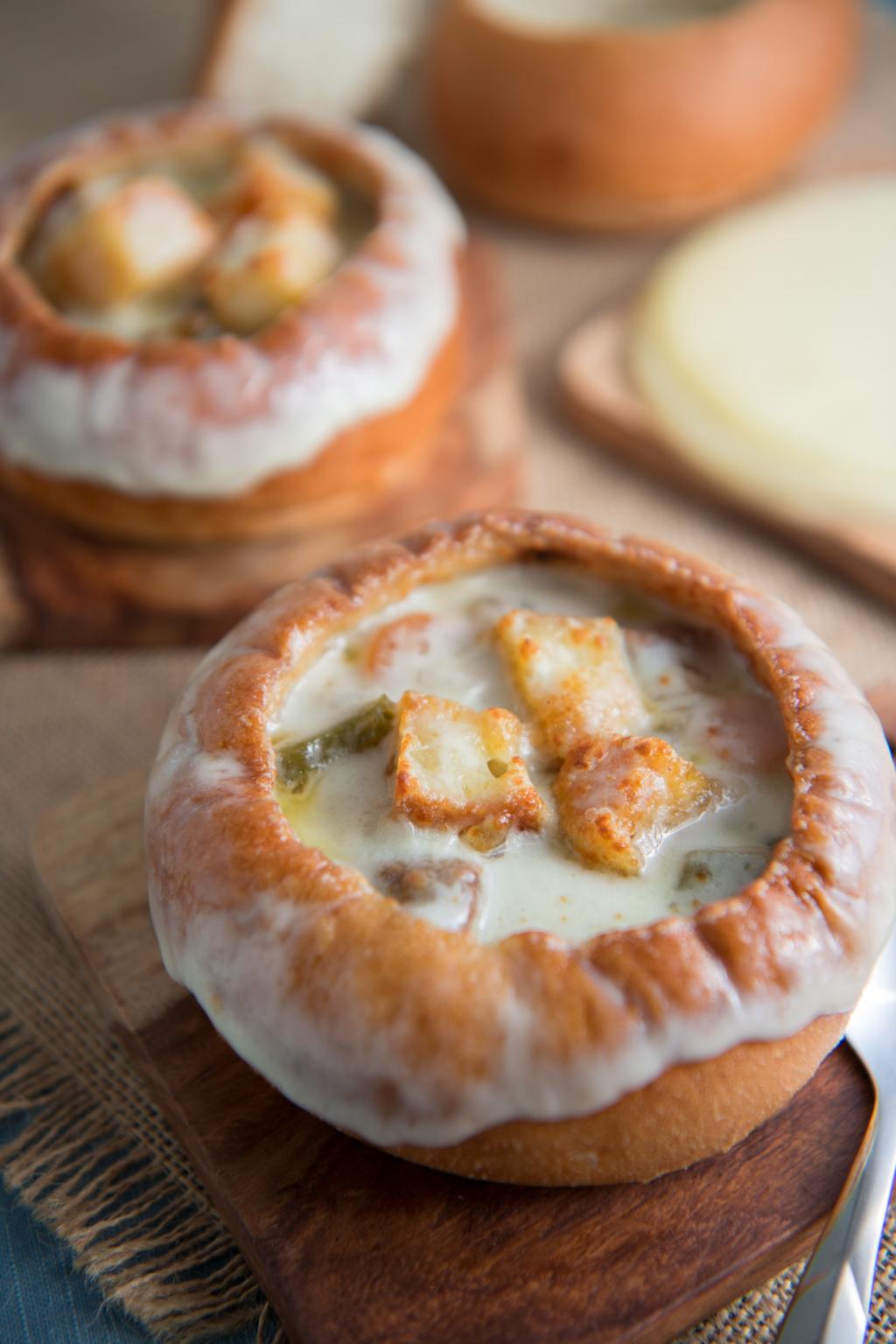 Everyone here gave it high marks. We have one person who doesn't like mushrooms but said she liked everything else and would make it without the mushrooms. That's the beauty of making a recipe like this. You can customize it to your taste.
Ingredients
Soup
1 1/2 pounds sirloin steak, cut into bite-size pieces
1 teaspoon salt
1/2 teaspoon pepper
3 tablespoons olive oil, divided
2 tablespoons butter
1/2 large onion, chopped
8 ounces mushrooms, sliced
2 carrots, thinly sliced
1 green pepper, chopped
1 poblano pepper, diced
4 garlic cloves, minced
1/3 cup flour
4 cups chicken broth
1 10.5-ounce can beef consomme
2 tablespoon cornstarch
1 teaspoon dried parsley
1/2 teaspoon each dried oregano, paprika, ground cumin
1 cup shredded sharp Cheddar cheese, plus more for garnishing
1 cup shredded provolone, plus more for garnishing
1/4 cup freshly grated Parmesan cheese, plus more for garnishing
Fresh parsley, finely minced
Croutons
1 baguette cut into 1/2-inch cubes
3 tablespoons olive oil
1/8 to 1/4 teaspoon each garlic powder, paprika, and salt
Finely shredded cheddar cheese (optional)
Directions
For the soup:
While meat is still on the cutting board, toss with the salt and pepper.
Heat 1 tablespoon olive oil in a large Dutch oven over medium high heat. Add beef and cook undisturbed for about 2 minutes or until seared on one side. Stir and continue to cook until beef is browned but not cooked through. Remove to a plate.
Using the same pan, melt butter in 2 tablespoons olive oil over medium high heat. Add onions, mushrooms and carrots. Sauté for 3 minutes. Add green and poblano peppers, cook and stir for 3 minutes. Add garlic and cook 30 seconds. Sprinkle in the flour, cook, stirring constantly for 3 minutes.
Turn heat to low, slowly stir in chicken broth. In a separate bowl, whisk the cornstarch into the beef consommé and then add to the soup. Add the rest of the herbs and spices.
Bring to a simmer, stirring often until thick. Add the steak, cover, reduce heat and simmer gently for 25 minutes.
Remove from heat and stir in the Cheddar, provolone and Parmesan cheeses. Add salt and pepper to taste.
For the croutons:
Heat oven to 400 degrees F.
Toss bread cubes with olive oil. Sprinkle with spices and toss until evenly coated. Spread in an even layer on a baking sheet. If using, sprinkle with Cheddar cheese. Bake for 7-10 minutes or until golden brown.
Serving suggestions
Hollow out small bread bowls. Ladle soup into bread bowls. Top with croutons and then a slice of provolone cheese. Place under broiler and broil until cheese is melted and lightly browned.
Ladle soup into bowls. Top with croutons and sprinkle with shredded Cheddar, provolone, grated Parmesan and fresh parsley.
Recommended Tools