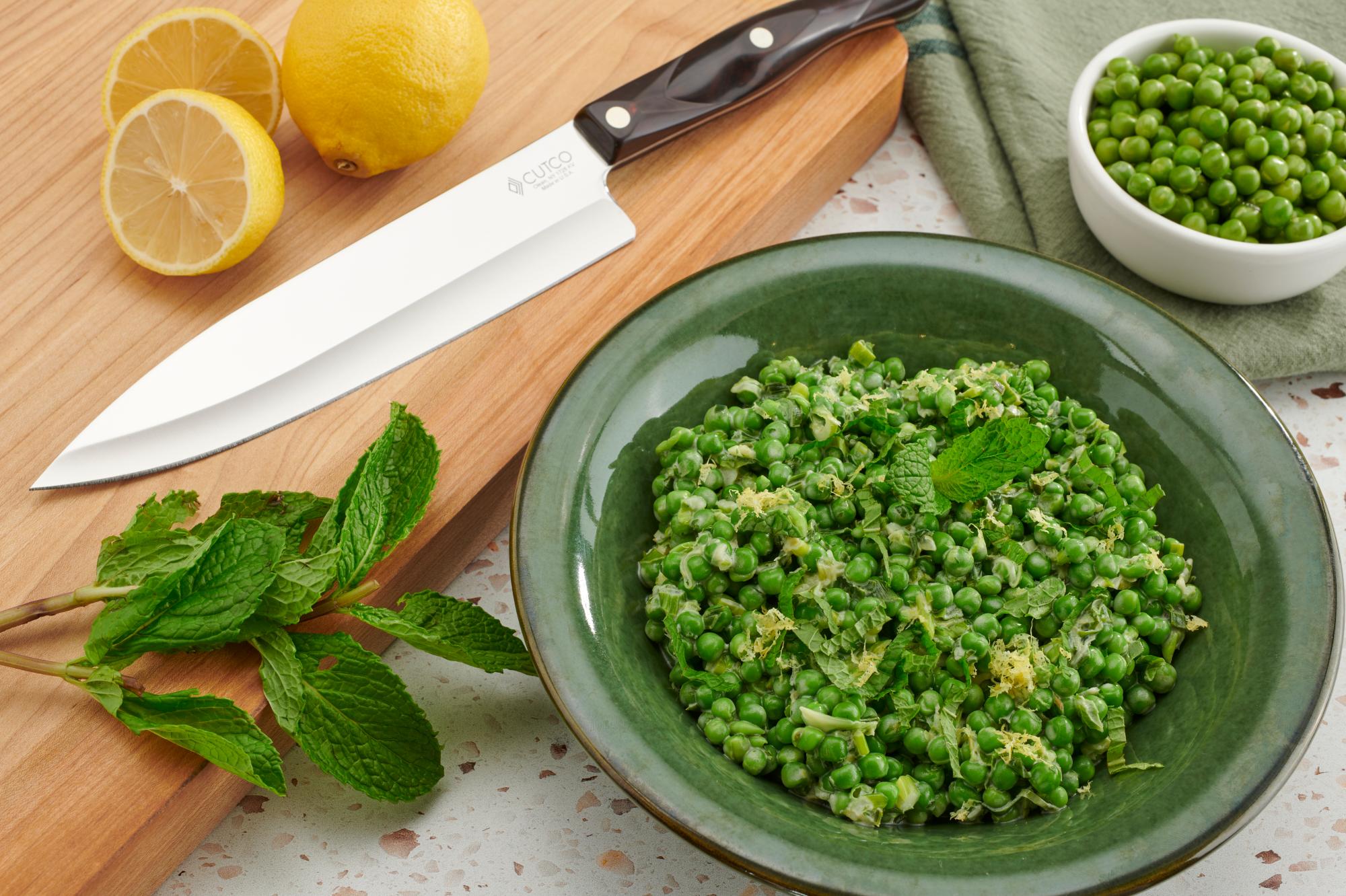 Many people turn up their noses to peas, but even people who don't like them will like this Peas With Lemon, Mint and Scallions recipe. Well, most of them will anyway.
Finding a bag of peas in the back of the freezer sends me to the internet searching for a new recipe. After checking several sites, and doing some tweaking, this recipe is the winner. It is incredibly easy to make, using just six main ingredients.
Preparing the Ingredients
Because this recipe is so simple, there isn't much prep work to it at all.
It calls for frozen peas, which are thawed and patted dry. Make sure that they are completely dry before using.
When cutting the scallions (also known as green onions), gather them all together to make the job quicker. A sharp prep knife like the 7″ Santoku will easily slice through them.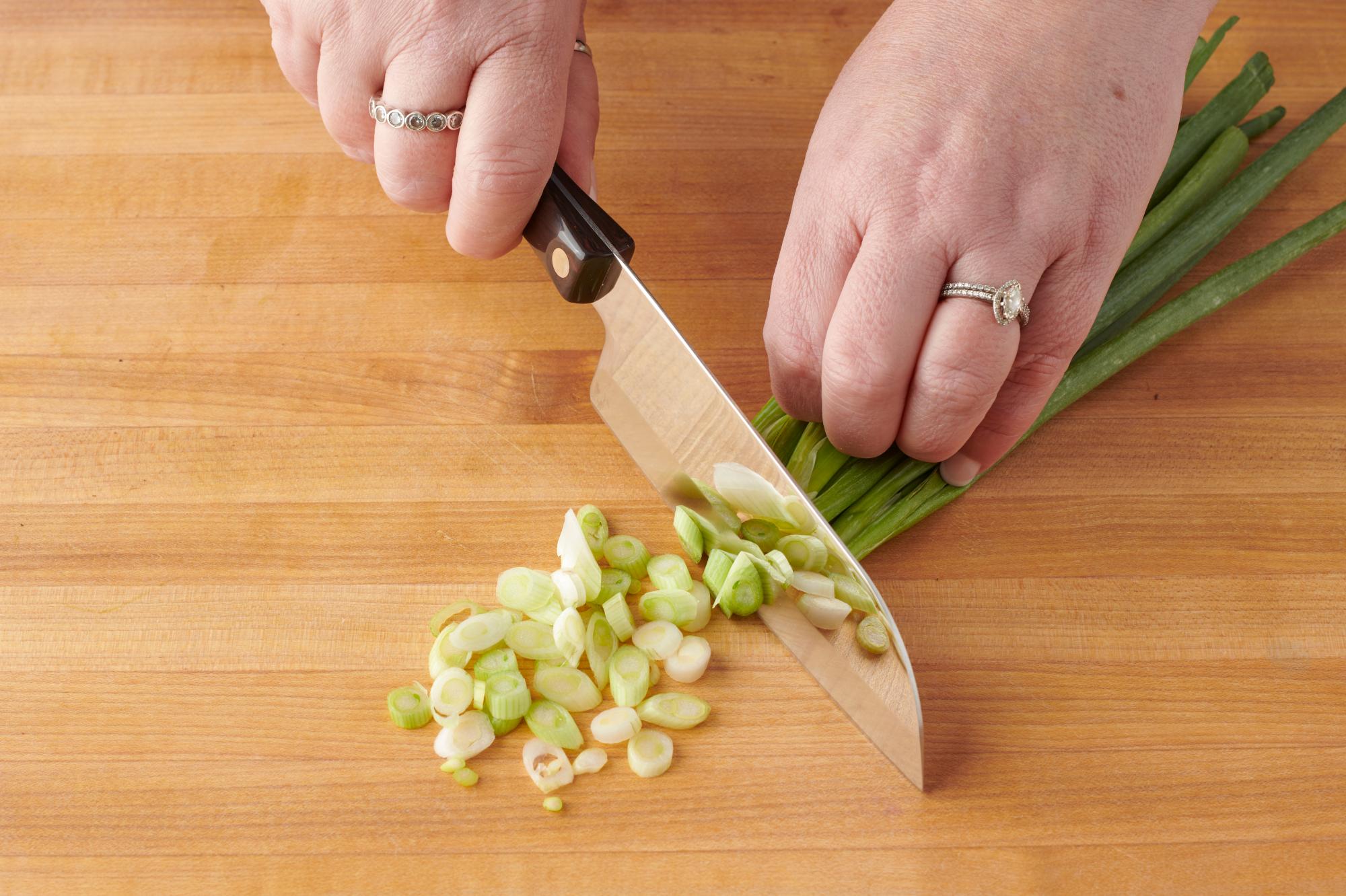 For chopping the mint you might want to switch to a knife with a more rounded belly that can rock over the leaves. Make sure they're dry before cutting and use a 7-5/8″ Petite Chef knife to chop.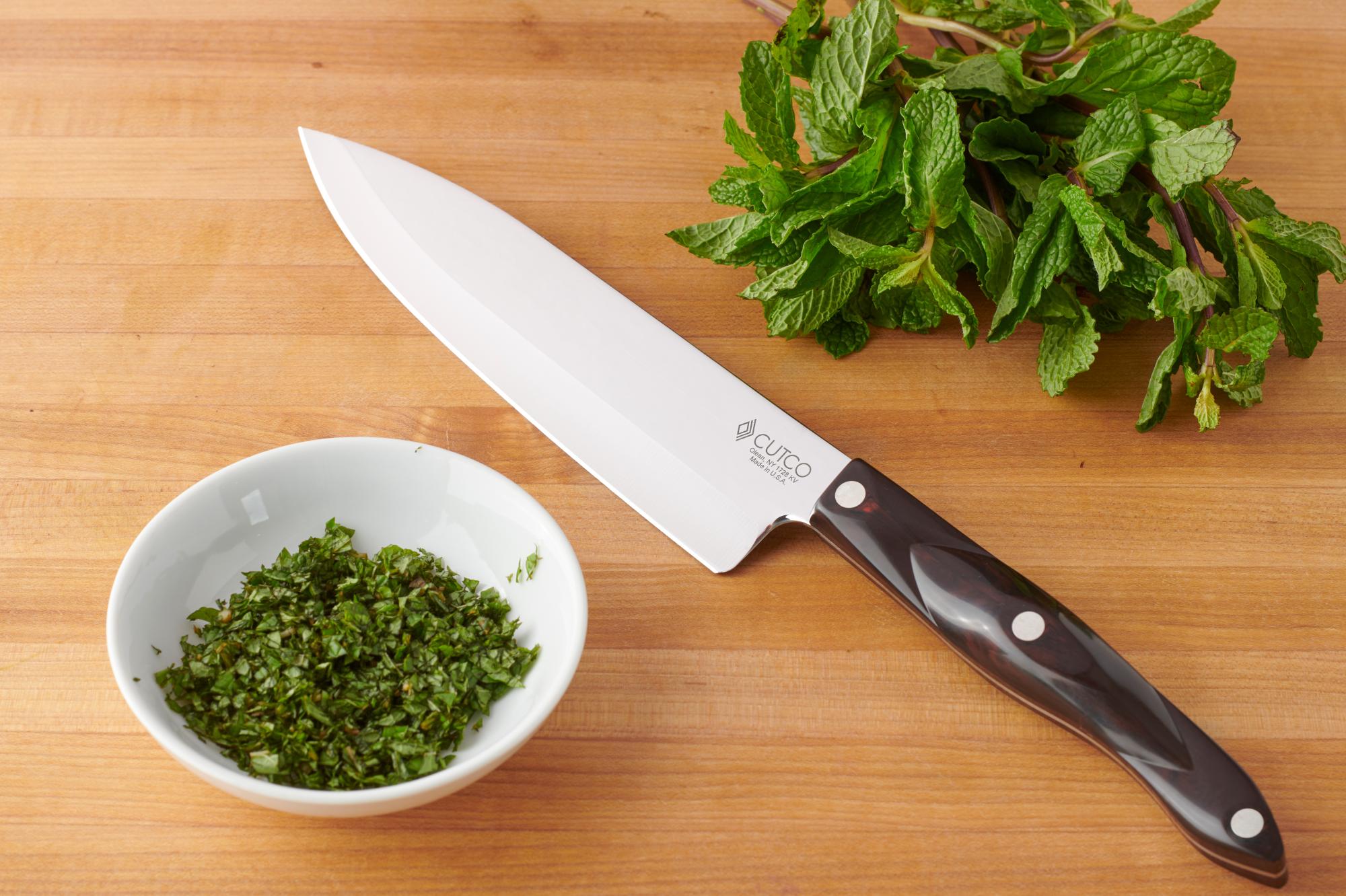 Another neat trick for cutting mint and other fresh herbs is to cut the leaves with kitchen shears, like Cutco's Super Shears. For tips on cutting fresh herbs, take a look at Cutco's guided tutorial.
The lemon flavor for this recipe comes from the zest. If you don't have a zester, don't panic, learn how to zest without a zester using Cutco's Vegetable Peeler and 7-5/8″ Petite Chef knife. Use the peeler to remove a thin piece of peel (avoiding the white pith). Lay the peel on a cutting board and use the chef knife to cut it in to thin strips. Rotate and cut again, then rock the knife over the peel until it's finely minced, into a zest.
The Flavor
Peas have a mild, nutty, and somewhat sweet flavor. Adding the slight peppery flavor of scallions, cool flavor of mint and tart lemon gives this simple salad complex taste.
Can you leave out the mint? Yes, but peas with mint is a long appreciated taste. If you are using dried mint, reduce the amount to 1 1/2 to 2 teaspoons.
This recipe is easily doubled and tripled.
Ingredients
1 3/4 cups of frozen peas
2 tablespoons unsalted butter
4 large green scallions, thinly sliced
1/3 cup heavy cream
1/4 cup chopped fresh mint, optional
1 teaspoon fresh lemon zest
Salt and ground black pepper, to taste
Directions
Defrost peas and pat dry with a paper towel.
In a small saucepan over medium heat, melt the butter. Add scallions and cook for approximately 3 minutes, until softened.
Stir in cream, mint and lemon zest. Bring to a boil and cook until a wooden spoon drawn across the bottom of the pan leaves a trail. Add peas then add salt and pepper to taste.
Garnish with mint (optional) and serve immediately.
Recommended Tools