How to Mince Fresh Herbs in 4 Steps
1030 days ago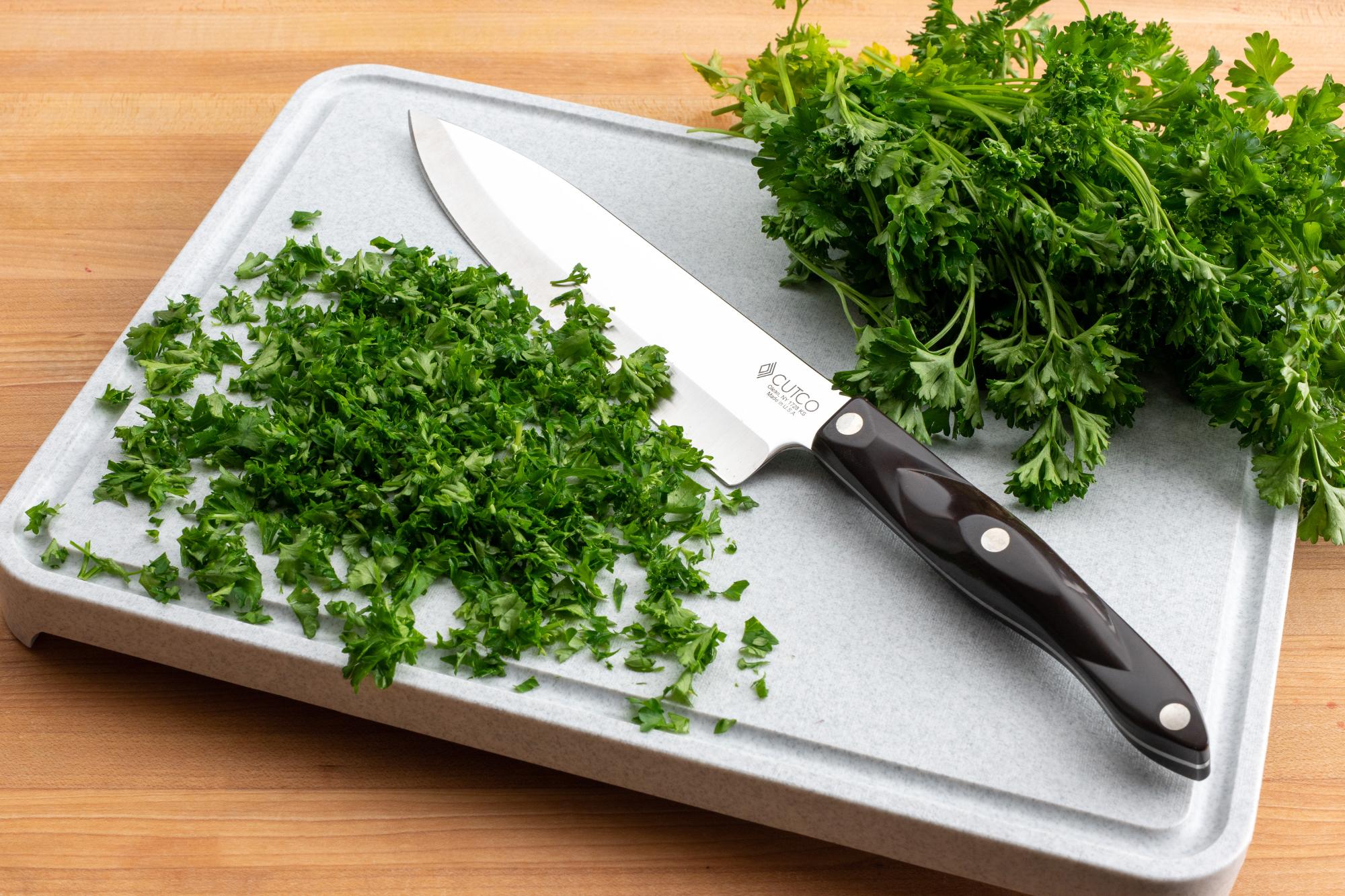 Fresh herbs brighten up any dish, both savory and sweet. To make sure they taste the best they can, learn how to mince them the right way.
Recommended Knife
Use a sharp, straight-edge knife, like a chef knife so that you're making clean cuts through the tender herbs without bruising them.
How to Mince Fresh Herbs
Before you start to mince fresh herbs, rinse them in cold water and pat them dry. Make sure they're completely dry before you start. They cut easier when dry and won't stick to the knife or the cutting board.

Gather the bundle of herbs into a pile in the center of a cutting board.
Holding the pile together with your guide hand, use a 7-5/8" Petite Chef knife to cut the herbs, keeping the tip of the knife in contact with the cutting board. Use a forward and down motion.

Repeat the motion, continuing to gather the herbs into the center of the board until you've cut them to the desired size.

To mince the herbs, gather up chopped herbs into the middle of the board and set the knife on top of the pile. Rest your opposite hand flat on top of the blade and rock the knife over the pile moving the knife across the pile.
Quick Tip
Clean, sharp kitchen shears, like Cutco's Super Shears, can be used to snip herbs directly from the bundle into whatever you're using them in.
Cooking with Fresh Herbs
Not all herbs are created equal. When substituting fresh herbs for dried herbs in a recipe, plan on using three times as much of the fresh variety.
Not a fan of cilantro?
Use parsley.
Out of mint?
Use basil.
No rosemary?
Use thyme.
Get started cooking with fresh herbs with these recipes:
Using fresh herbs in your recipes brightens the dish up and they also provide better nutrients than dried herbs. Along with adding flavor, they can also be used as a garnish. Sprinkle chopped herbs over soups and salads or use whole leaves alongside a platter of meat for a decorative touch.