Pan Fried Venison Tenderloin
Published 182 days ago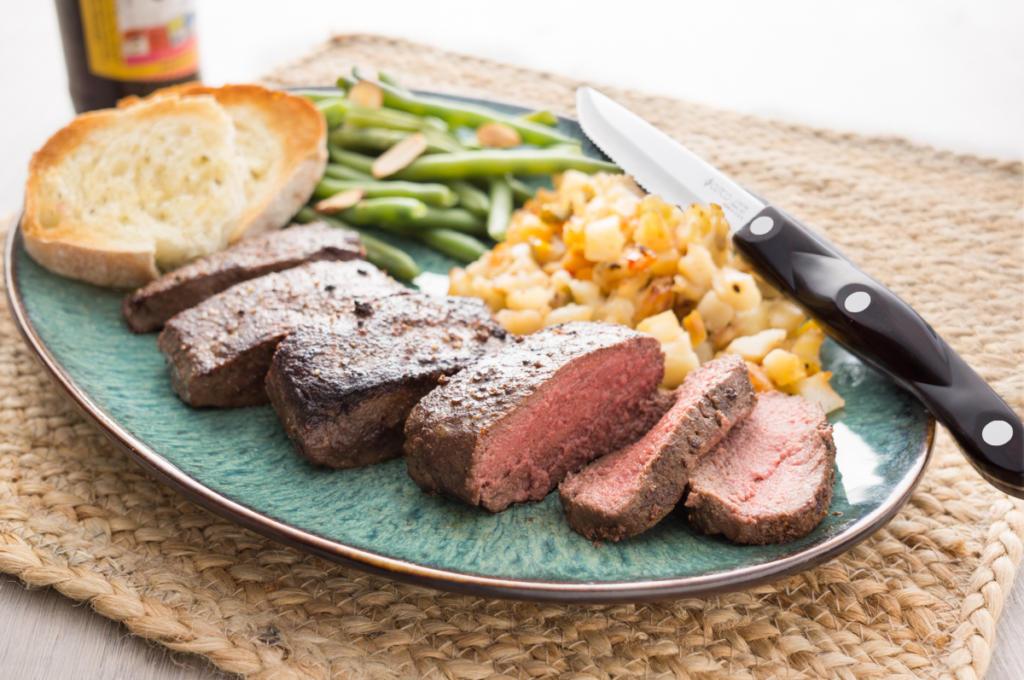 We had a guest join us in the kitchen this week. Carey Litteer, executive vice president of Cutco Cutlery, stopped by to share his recipe for Pan Fried Venison Tenderloin. Carey oversees manufacturing, product development and engineering at Cutco. He is also, as you may have guessed, an avid hunter.
Carey and his wife, Cindy, who is a Cutco retiree, have been close friends of mine for many years. During a dinner we recently shared, Carey mentioned we should do a venison recipe and offered to cook some tenderloin. How could I pass that up? I couldn't get him in the kitchen fast enough.
He brought in 3 pieces of venison – tenderloin and two other cuts called the backstrap, which is similar to tenderloin. He used the sharp, flexible Boning Knife to easily slice the venison into perfect rounds, ready to be seasoned and cooked.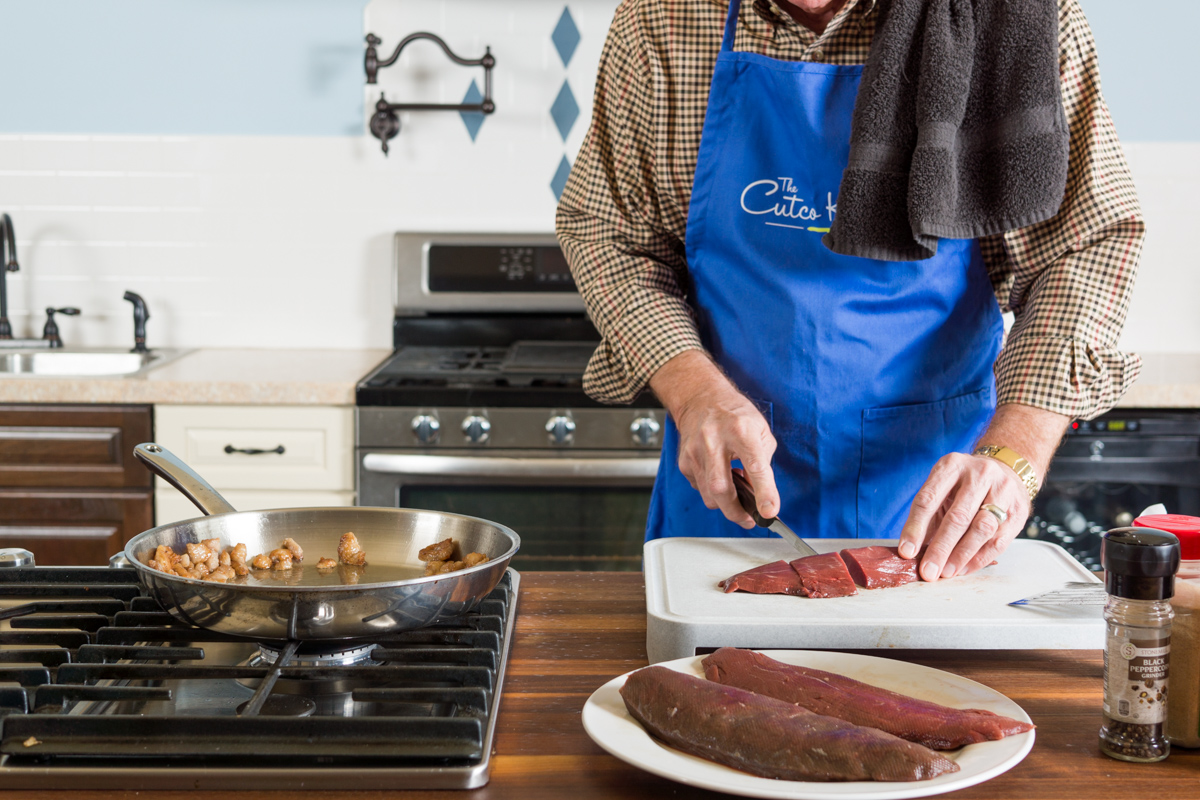 Carey used only salt, pepper and garlic powder to season the meat. His venison recipe also calls for beef suet sautéed in butter, which adds to the flavor (you can ask for beef suet at your local butcher or meat counter). Cooking the venison over medium-high heat locked in the moisture and seasonings.
The key to keeping the venison moist and tender is not to overcook it, according to Carey.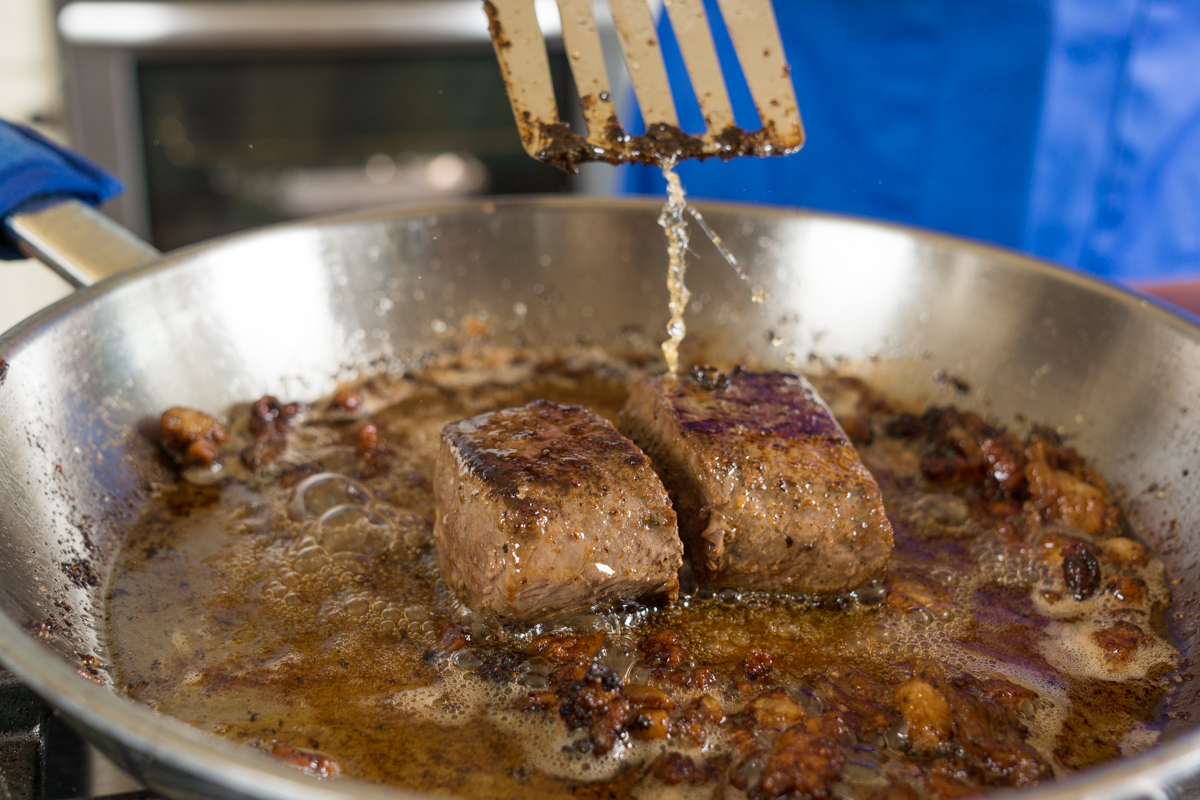 Make sure the pan is hot and cook the venison filets until slightly brown on the edges. Flip them over using the Turning Fork and cook the other side.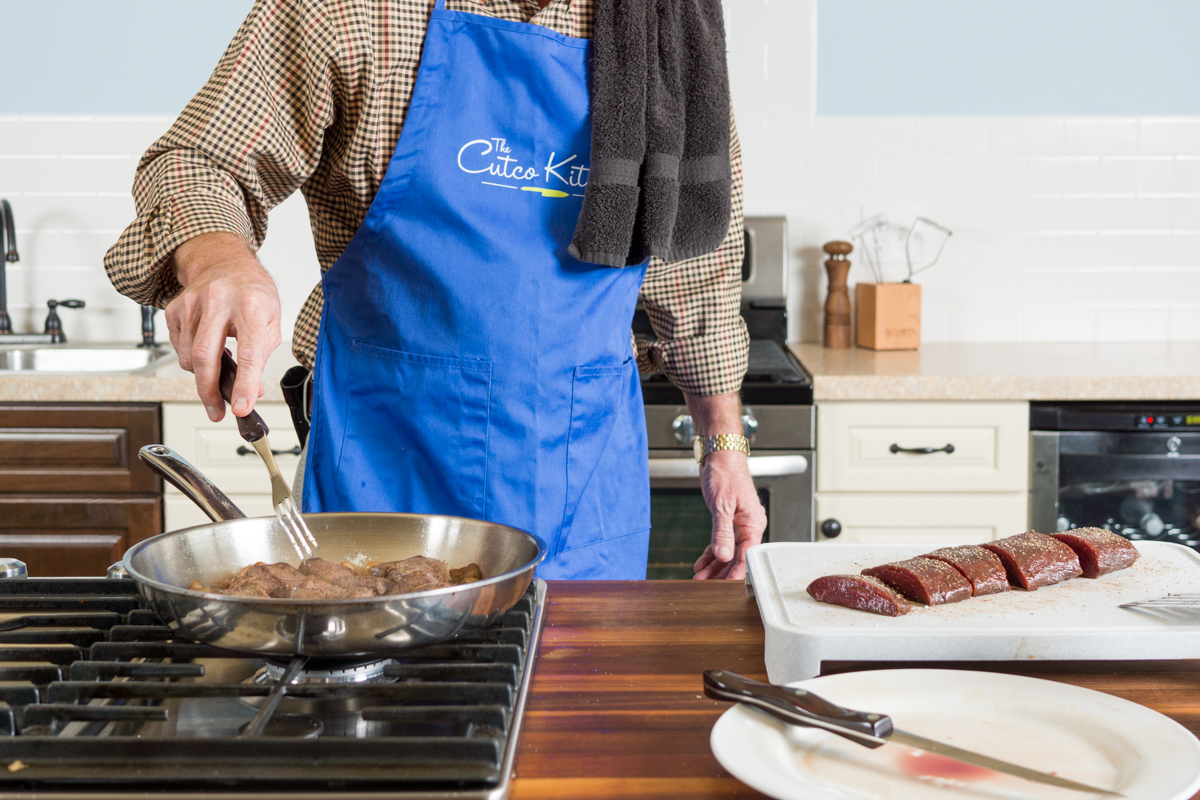 I am not kidding when I say this Pan Fried Venison tasted like a prime cut of beef. It was also obvious from the reaction of everyone else who tasted it. There were no leftovers.
Ingredients
1 pound venison tenderloin or backstrap, thawed if frozen and brought to room temperature
Salt and pepper
Garlic powder
2-3 tablespoons of beef suet cut into half inch pieces
4 tablespoons butter
Directions
Cut the venison into slices and liberally season both sides with salt, pepper and garlic powder.
Melt butter in a regular skillet (not non-stick) over medium high heat. Add the beef suet and cook until slightly melted and crisp. You can either remove the pieces of suet from the pan or leave them in, it's up to you.
Add the slices of meat to the pan. Cook until the edges of the meat are browned but the center is pink. Flip and cook the other side the same. Do not overcook. The meat will lose flavor and dry out.
Once cooked, depending on your taste, you may want to add more salt, pepper and garlic powder.
NOTE: Tenderloins and backstraps are both tender cuts of meat. The names for these parts of the deer are used interchangeably. We actually cooked 1 tenderloin and 2 backstraps, each about a pound. Beef suet can be purchased in the meat department of your local grocer. If there's none in the case, ask the butcher to cut and package a piece. It is very inexpensive and the amount needed can probably be purchased for less than $1.
Recommended Tools