How to Cut a Mango
610 days ago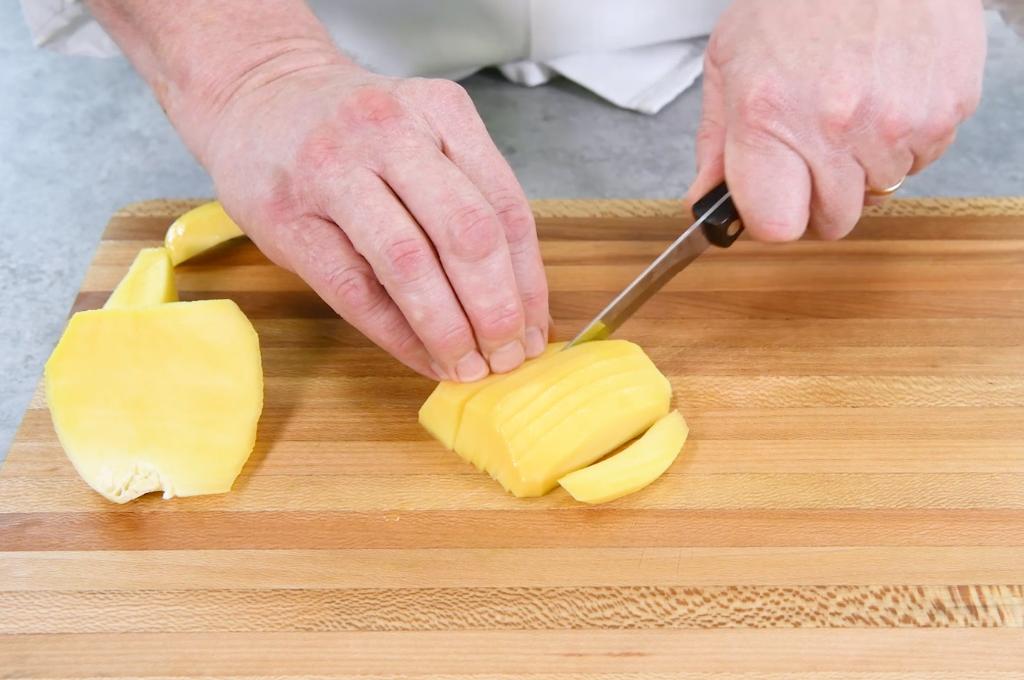 Become a mango master with this easy How to Cut a Mango video tutorial. As with most cutting techniques, using a sharp knife that's comfortable to hold is a key to success. Cutco's utility knife, the Trimmer, fits that bill.
Mangoes can be tricky to cut because of the oblong seed in the middle of the fruit. The Trimmer's sharp Double-D® edge allows you to maintain control while cutting and is easy to maneuver around the seed. Its comfortable handle also aids in guiding the knife where it needs to go.
A key step for cutting mangos is to trim off the ends first so they can sit upright and flat on the cutting board. It will help keep the fruit steady when trimming off the skin.
While the skin of a mango is edible, it's known to be a bit unpleasant to eat, so removing it is recommended.
Here is our friend, Alfred State College Culinary Arts program instructor and chef Keith Glover's easy technique for cutting mangos.
How to cut a mango:
Using a Trimmer, trim off the ends of the fruit and stand it up flat on the cutting board.
Trim off the skin around the mango from top to bottom.
Slice off the fruit from top to bottom down one side of the oblong pit.
Rotate the mango and cut the fruit off along the other side of the pit.
Keeping the mango standing up on the cutting board, continue to cut off the remaining pieces around the pit.
Lay the mango pieces flat on the cutting board and slice into strips.
Rotate 90 degrees and cut crosswise to create a dice.
Now that you know how to cut a mango, try one of these recipes:
Salmon Poke Bowls With Fresh Flavor