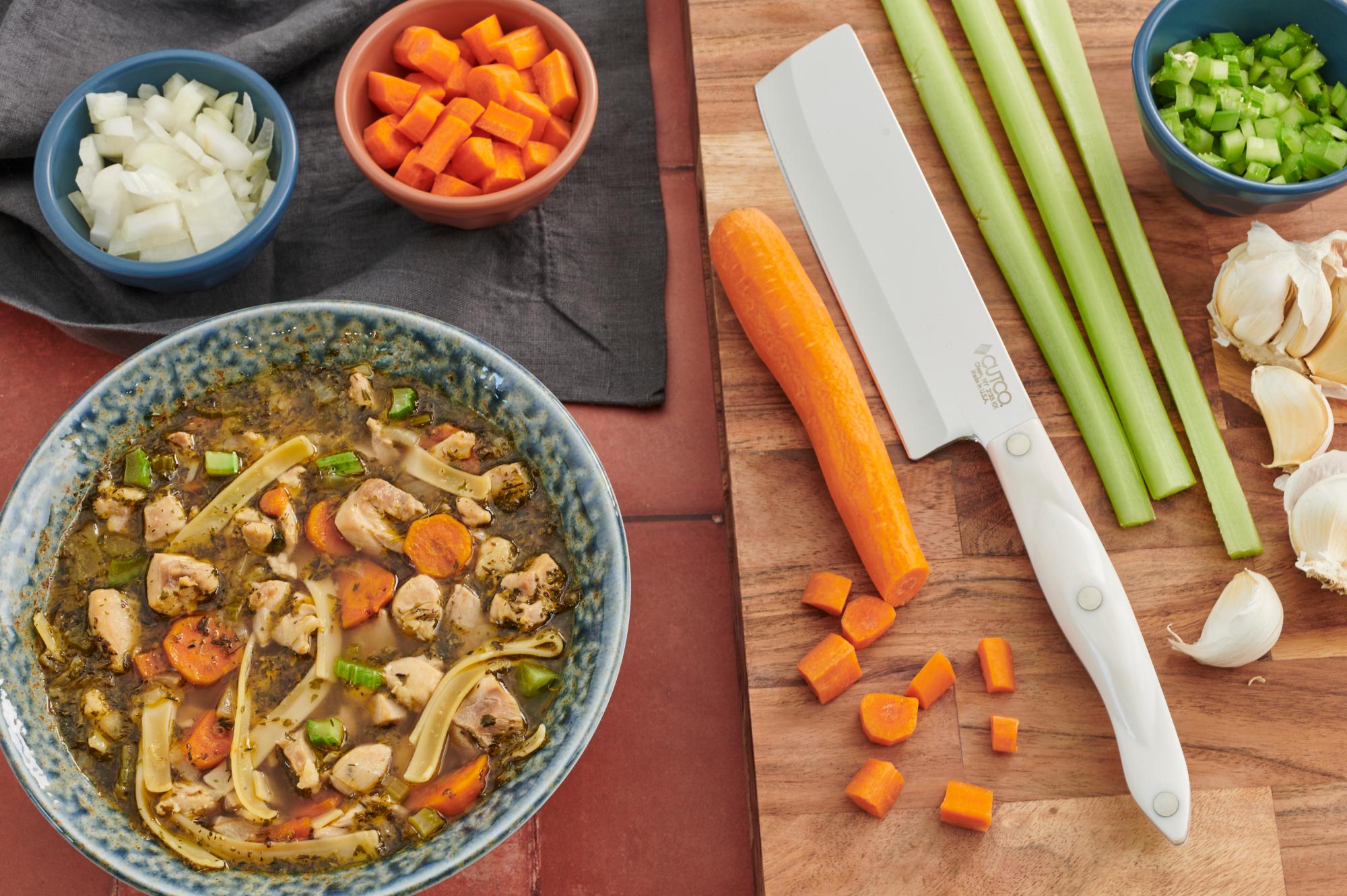 I've been making chicken soup forever. Then one Christmas season I came down with bronchitis, pneumonia, an inner ear infection and a middle ear infection. I was down for the count and loaded up with antibiotics.
I was bored with lying in bed and decided to take curing my ills into my own hands and made this soup. I'm not certain if it was the soup or all the medications, but I started feeling better soon afterward. For that reason, I call this recipe Cure-A-Cold Chicken Noodle Soup.
The Ingredients
Using boneless, skinless chicken thighs means you won't need to skim off as much fat or foam while the soup cooks. However, if you do want to use chicken with the skin on, that's fine and will add to the chicken flavor.
Carrots, onion and celery are part of the building blocks for this soup. The combination is called mirepoix in the culinary world. To slice the carrots and chop the celery, Cutco's 6″ Vegetable Knife is a good choice.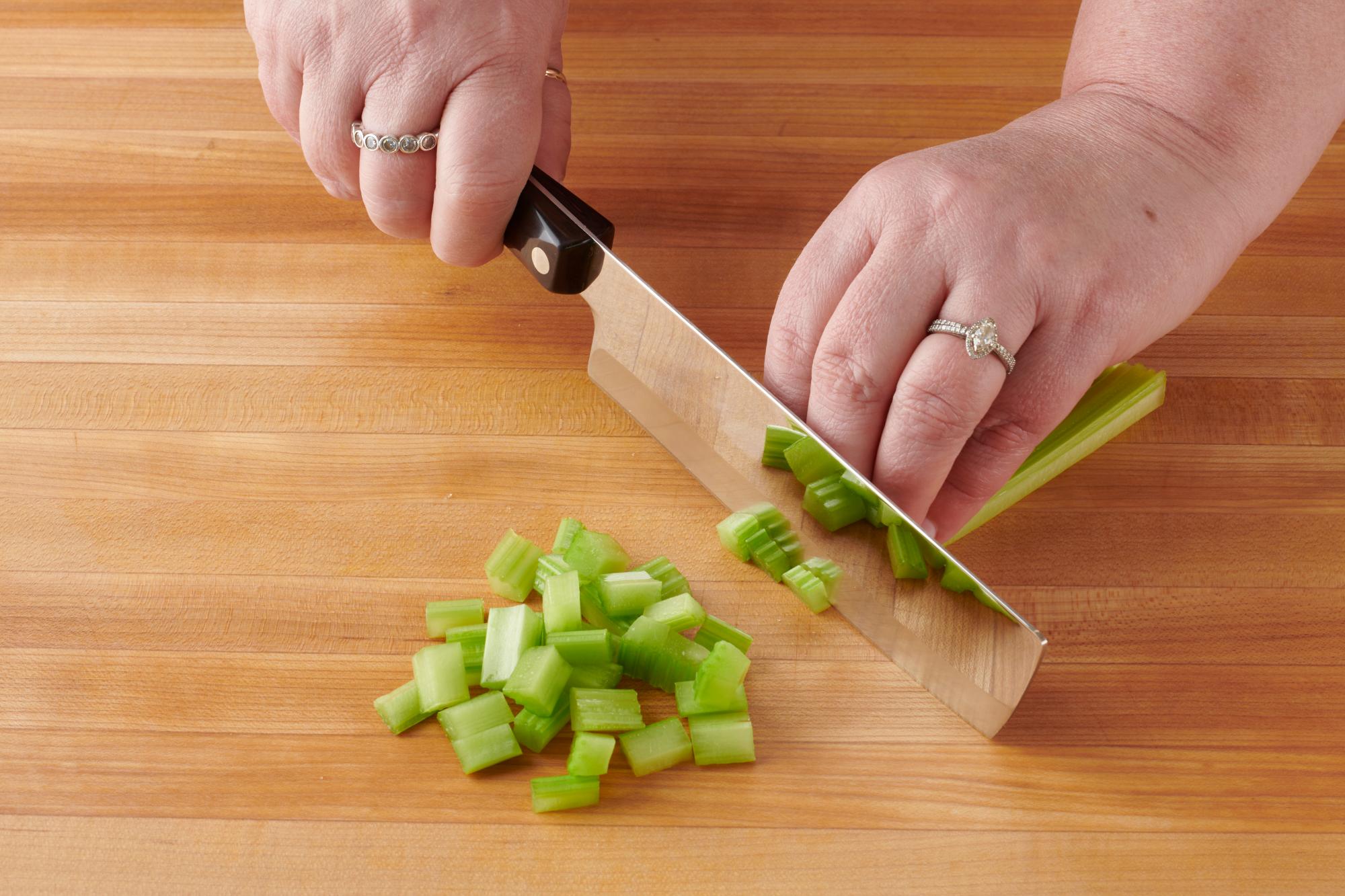 After cutting the vegetables you can use the knife's wide blade to easily scoop them up to transfer them to the soup pan.
The 7-5/8″ Petite Chef knife is a good onion-prepping knife. Its sharp blade easily slices through the cells of an onion, which helps prevent the release of the irritating chemical that can make you tear up.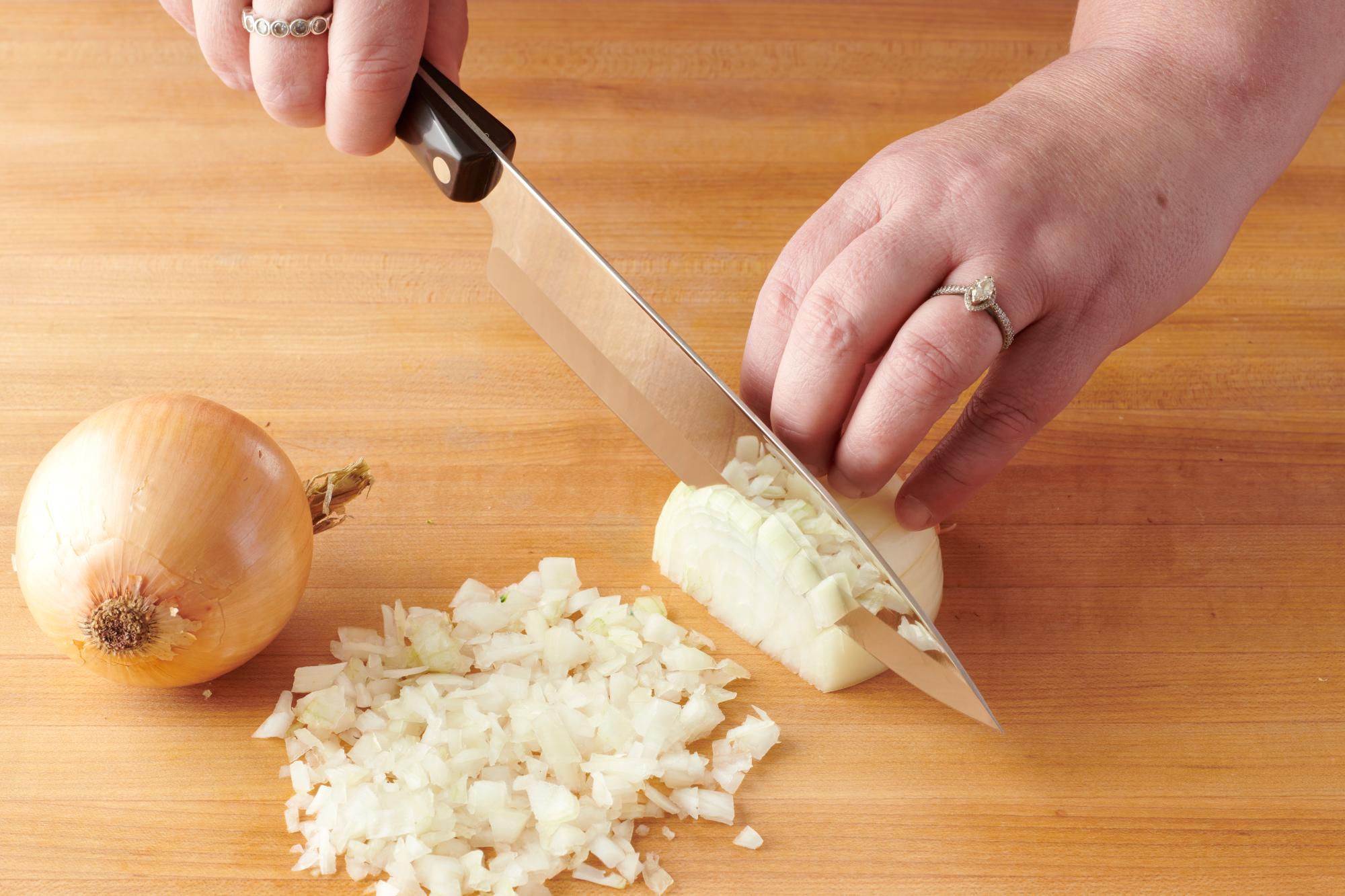 To add a nice punch of garlic flavor, I like to paste it before putting it in to sauté with the carrots, celery and onion. Peel the garlic cloves, mince them, sprinkle with salt and drizzle with a little olive oil. Then use the flat side of a chef knife to mash the cloves on a Cutting Board.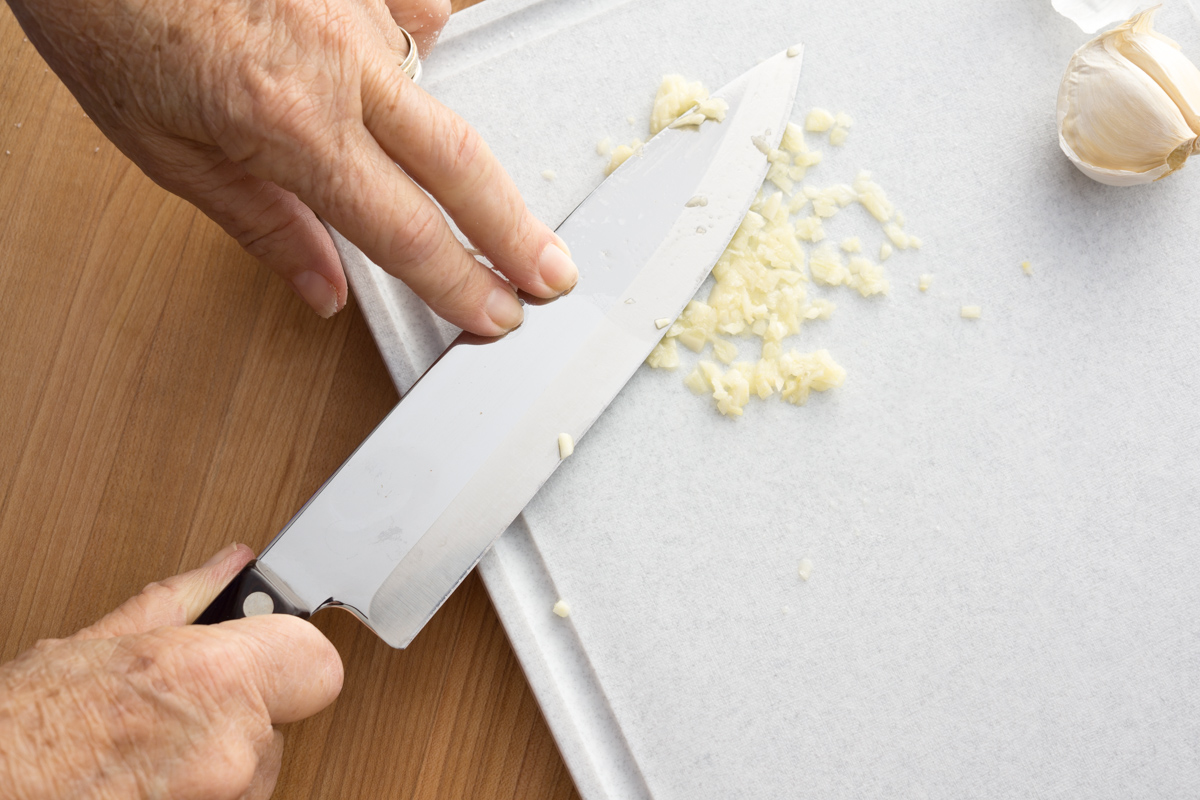 The recipe uses dried herbs, but if you prefer fresh herbs that fine. Just remember that dried herbs are more potent than fresh. One tablespoon of fresh herbs equals about one teaspoon of dried herbs, so you'll need to adjust the amounts to account for that.
Making the Soup
After melting butter and olive oil in a stock pot, add the carrots. They'll cook for a few minutes before adding the onion to cook and then the celery. The pasted garlic is added in at the end for about 30 seconds.
Once the vegetables are sautéed, pour in the chicken stock and some water. When it comes to a boil, add dried parsley, oregano and thyme, which will deliver great aromatic flavor to the soup.
The egg noodles are cooked separately so that they don't get mushy. When they're done, add them to the broth with the chicken to allow them to get heated through and serve.
This hearty and heart-warming Cure-A-Cold Chicken Noodle Soup makes my house smell extra-homey and I love the noodles.
Cozy up and enjoy!
Marianne Brand, chef and former restauranteur, is the director of food and beverage education at New York Kitchen in Canandaigua, a center that showcases New York State's agriculture through cooking classes, beverage pairings and other programs.
Ingredients
2 tablespoons unsalted butter
2 tablespoons olive oil
2 carrots, peeled and sliced into rings
1 medium sweet onion, chopped
2 celery stalks, chopped
3 garlic cloves, pasted
6 cups chicken stock
10 cups water, divided
4 boneless chicken thighs, skins removed, diced
1 tablespoon dried parsley
1 tablespoon dried oregano
1 tablespoon dried thyme
1 tablespoon pink Himalayan salt
6 ounces egg noodles
Salt and pepper, to taste
Directions
In a large soup pot over medium heat, melt butter and add olive oil. Add the carrots and sauté for 5 to 6 minutes. Add the onion and sauté for 5 minutes more or until onions are lightly caramelized. Stir in the celery and cook for 3 minutes. Add the garlic and cook for 30 seconds.
Add chicken stock and 4 cups of water to the pot. Bring to a boil then add chicken and the herbs. Boil partially covered for 20 minutes.
In a separate saucepan, bring to boil 6 cups of water with Himalayan salt. Add noodles to water and boil according to directions.
Scoop out the noodles and add them to the soup pot. You want some of the pasta water to come with the noodles. Let chicken and noodles heat through before serving.
Season soup with salt and pepper to taste.
Recommended Tools