Chopped Chicken and Seven Vegetable Salad
1373 days ago
Skip to recipe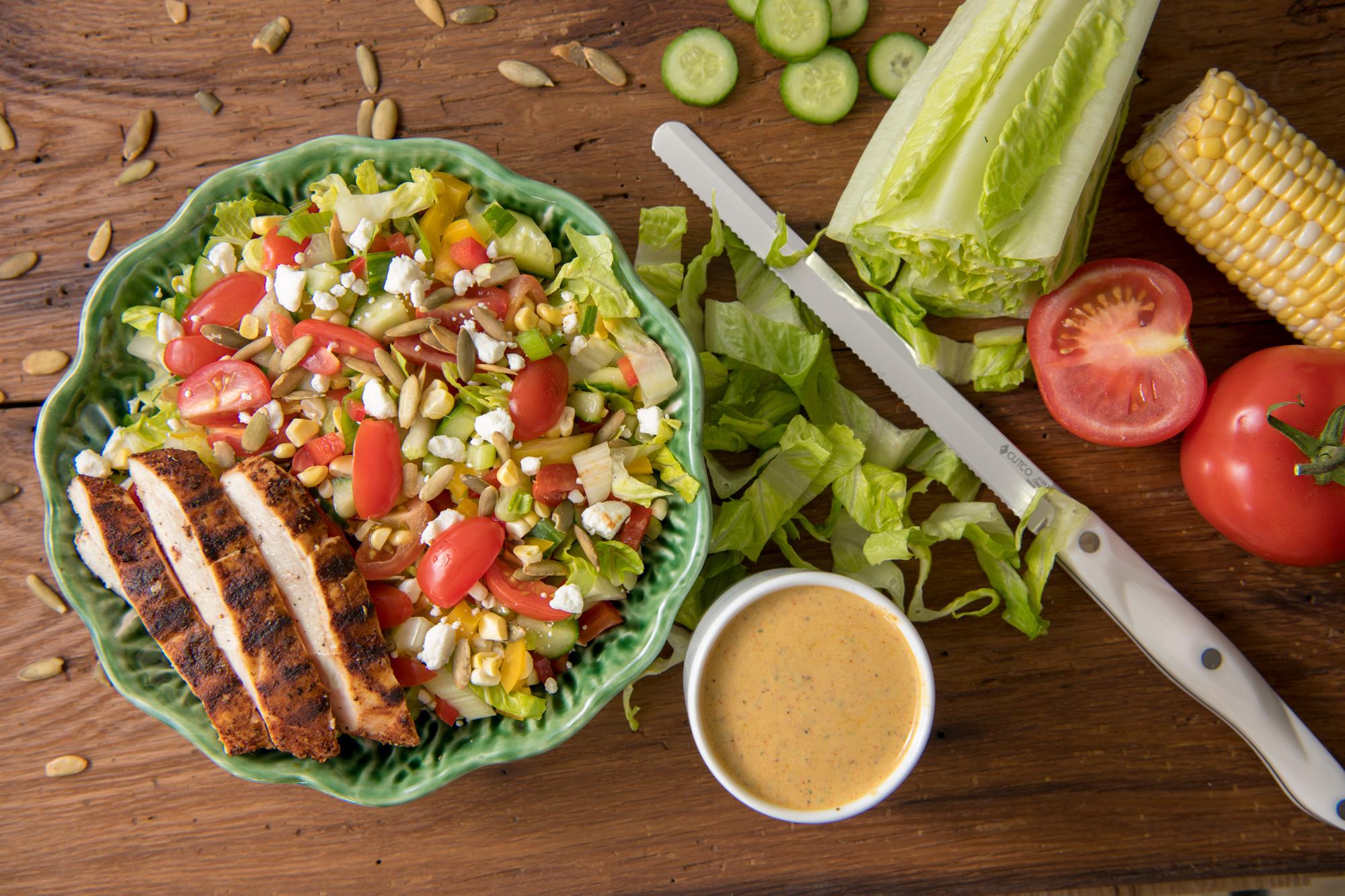 Growing up in the South, I was raised on BBQs, potlucks and Sunday suppers – and, together with deviled eggs, a Seven Layer Vegetable Salad was ever-present. This Chopped Chicken and Seven Vegetable Salad is a modern take on the classic. It celebrates the freshest best from the garden and farmers markets – sweet corn, tomatoes, yellow and red peppers, green onion, lettuces, and cucumber or zucchini (or both). Really, any choice of fresh veggies (even fruits) will do. Think blueberries instead of tomatoes (so good with the corn), or avocado instead of the green onion. Or add all and turn it into a "nifty nine"!
The classic salad was meant to be assembled the night before and the layers were to protect the salad greens and veggies from wilting. This chopped salad can easily be constructed in a layer-by-layer way – making the grilled chicken the last layer, topping it with the Icebox Buttermilk Dressing, and refrigerating, covering tightly with plastic wrap. Either way, toss right before serving.
Oh, and a word (or two) about the Icebox Buttermilk Dressing, made with P.S. Flavor!™ Creole Kitchen and Smokey Southern: DELICIOUS! CRAVEABLE! It's destined to become a new favorite – particularly for fans of thick and creamy dressings. I like to make it in a mason jar to store in the refrigerator – just give it a good shake to mix everything together before serving.
Shred the Romaine lettuce for this recipe with Cutco's 7-3/4" Petite Slicer. It's Double-D® recessed cutting edge make nice ribbons of lettuce without ripping or tearing.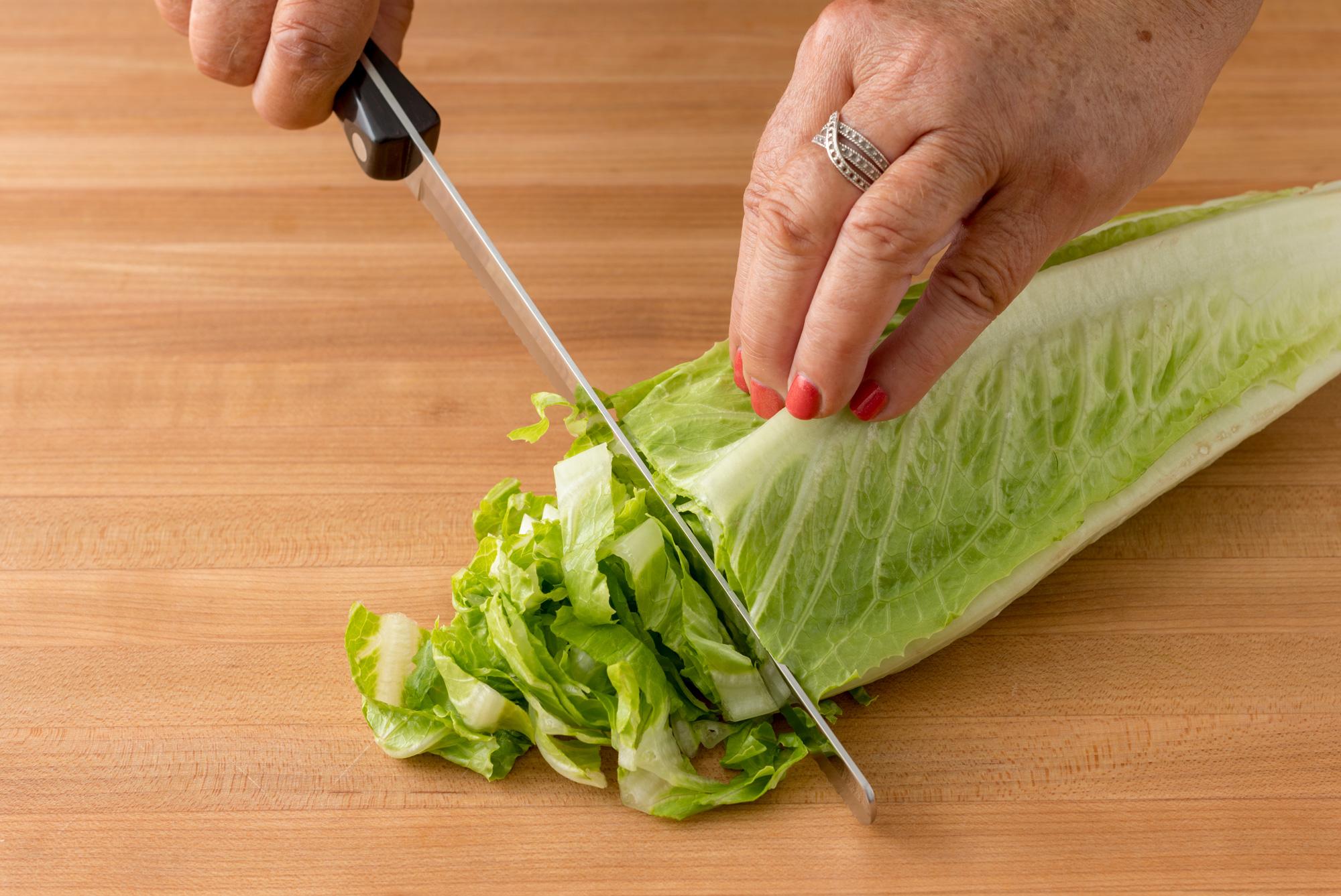 For slicing the other veggies, a good chef knife does the trick.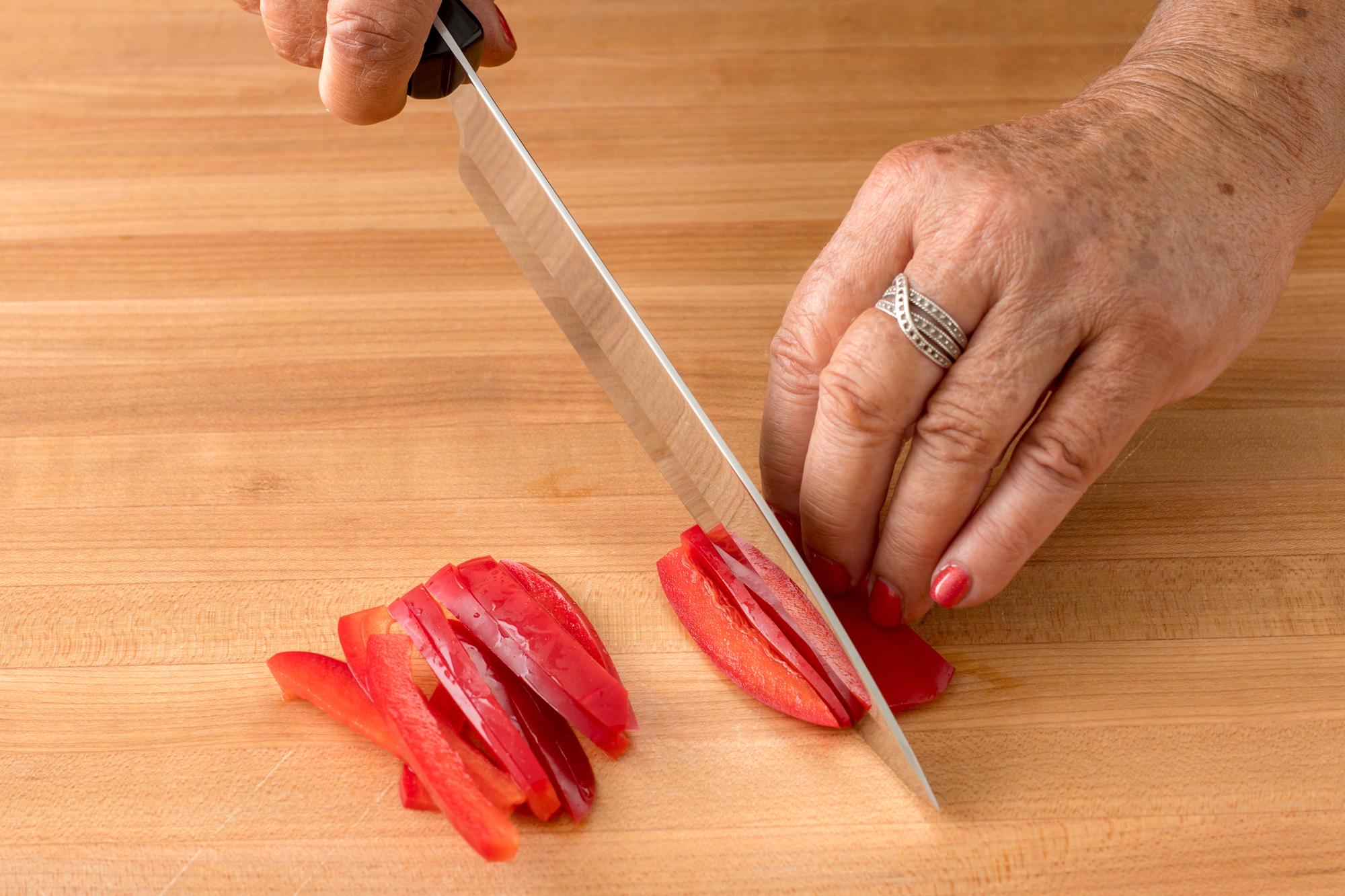 Ingredients
Icebox Buttermilk Dressing
1 cup nonfat plain Greek yogurt
1 cup buttermilk
1/4 cup Dijon mustard
1/4 cup apple cider vinegar
2 tablespoons chopped fresh parsley
2 tablespoons thinly sliced green onion
2 tablespoons chopped fresh basil
2 tablespoons chopped flat leaf parsley
2 teaspoons honey
1 teaspoon favorite hot sauce, such as Cholula or Sriracha
1 teaspoon P.S. Flavor!™ Creole Kitchen, or kosher salt and cracked black pepper to taste
1/4 cup P.S. Flavor!™ Smokey Southern, or kosher salt, smoked paprika and black pepper to taste
1/2 cup extra-virgin olive oil
Chopped Chicken and Seven Vegetable Salad
4 cups shredded romaine lettuce
1 cup fresh celery, sliced
1 cup cucumber or zucchini, seeded, 1/4" dice
1 cup each red and yellow peppers, thin julienne cut
12 grape tomatoes, cut into quarters
1 cup fresh sweet corn kernels, cut off cob
1/2 cup green onion, thinly sliced
1 pound grilled or rotisserie chicken, chopped
1 cup diced feta cheese
1/2 cup toasted almonds
1 cup Icebox Buttermilk Dressing
Directions
For the dressing:
Whisk together all ingredients but the extra-virgin olive oil; slowly whisk in the extra-virgin olive oil to emulsify; adjust seasonings to taste. Store in refrigerator until ready to use.
For the salad:
Toss all ingredients together, serve immediately.
Recommended Tools