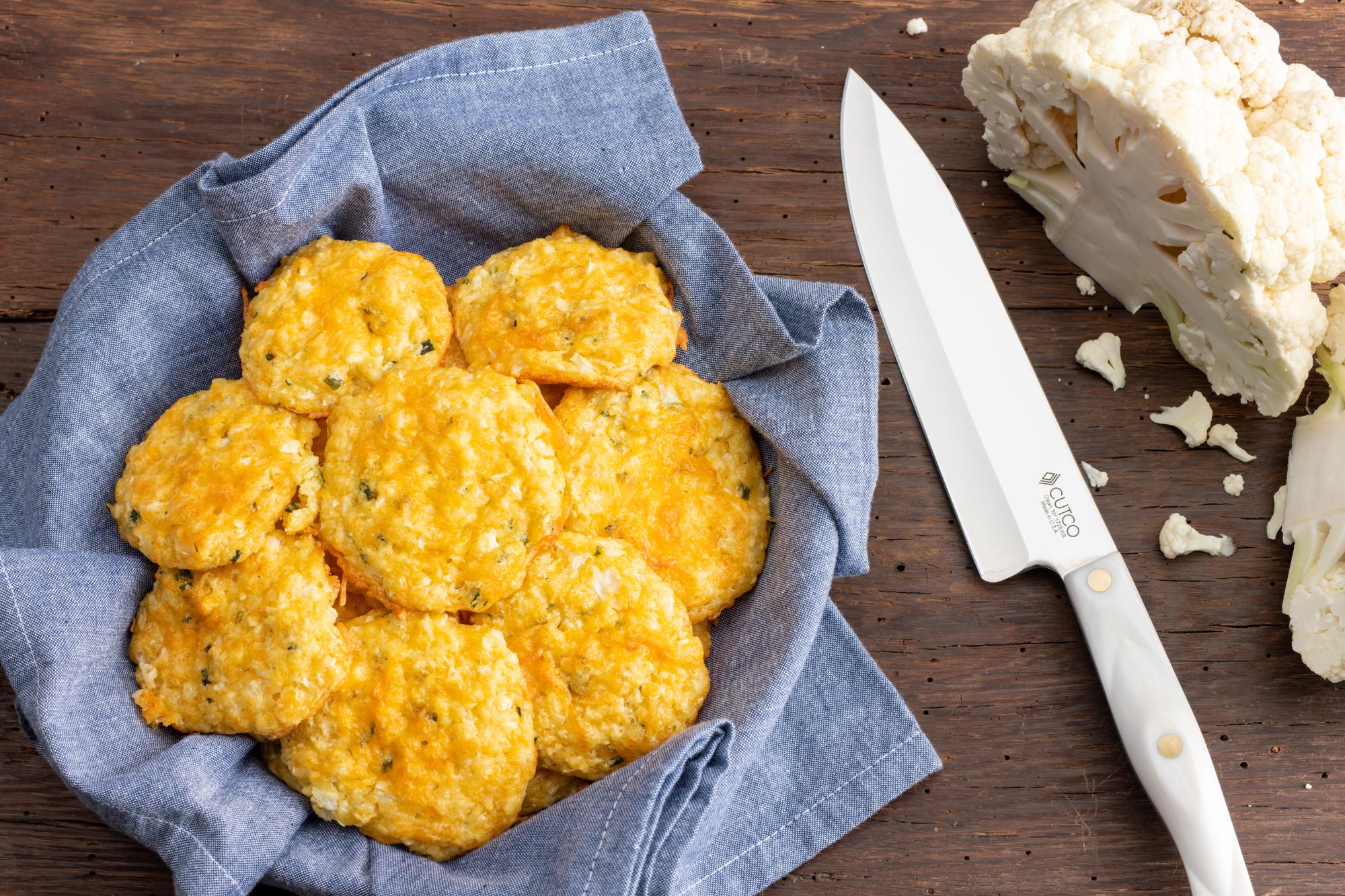 Have you noticed that substituting cauliflower into recipes is still a big thing? It's almost like cauliflower has become this super vegetable with the ability to transform into any dish you can imagine. Well, maybe not any dish but you get the idea. Don't get me wrong, I happen to love cauliflower. I've used it as a substitute for rice, mashed potatoes as well as in a hash and of course, as my pizza crust.
So why not try something a little different with cauliflower by putting it into a cheesy biscuit? I know it seems odd but what the heck, I'll give anything a try, including these Cauliflower Cheddar Drop Biscuits. It's difficult to replace the experience of the chewy goodness of a warm cheesy biscuit, fresh out-of-the-oven with some butter, but this adaptation actually has a lot going for it. This biscuit still uses flour since you need a binding agent, but not as much as in the traditional version. The cheese, along with the chives and garlic, gives them some really nice flavor profiles and I'm not kidding, you wouldn't know you're eating cauliflower.
To prepare this dish, I used the 7-5/8" Petite Chef knife to remove the cauliflower florets from the stalk and then set about ricing the florets.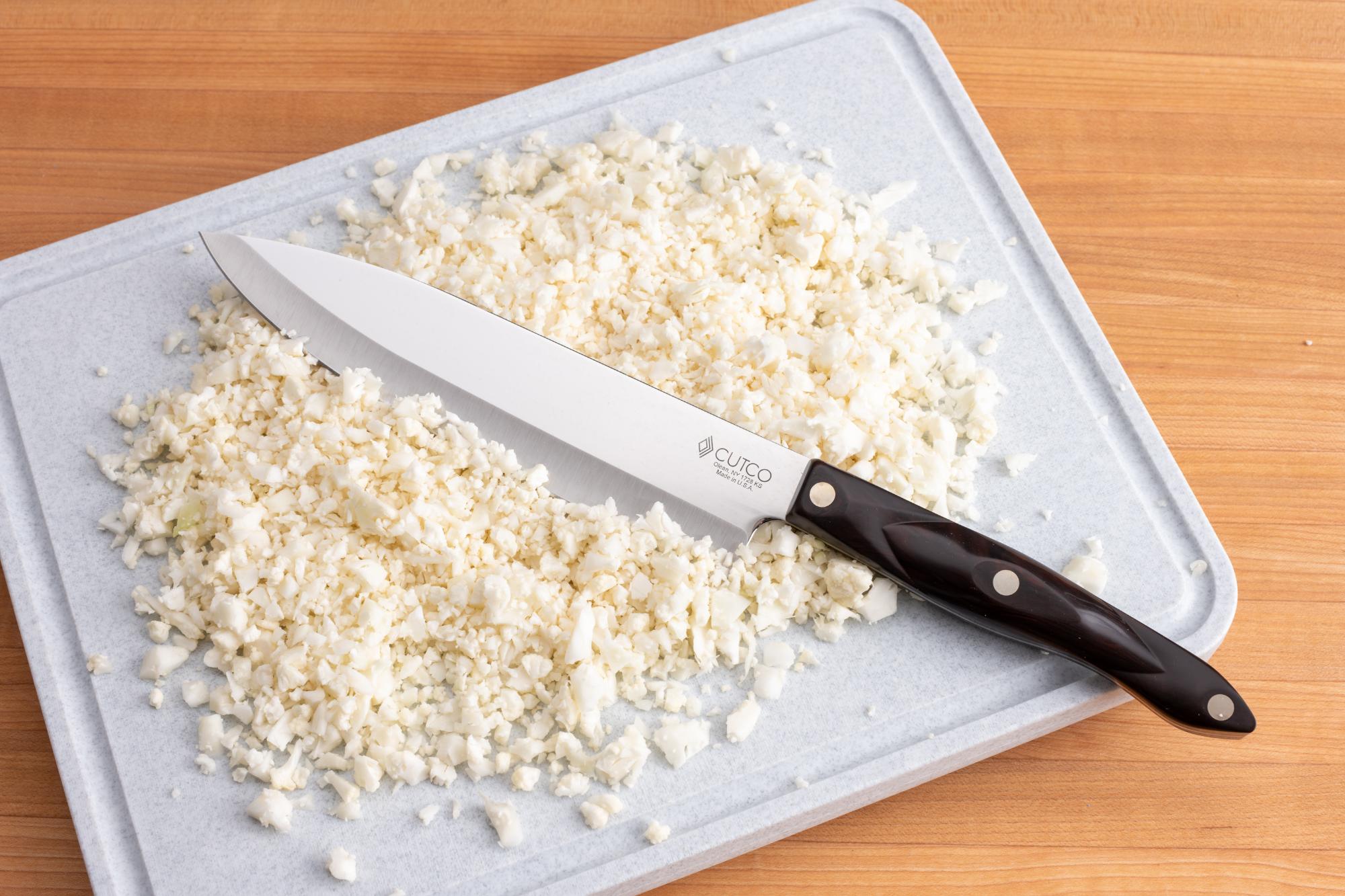 Have you ever noticed that cauliflower sticks to everything and gets in every nook and cranny of your kitchen? Our photographer Brett, mentioned that cauliflower is the Styrofoam of the kitchen and he is absolutely right! That said – it's worth it.
Once you have riced the cauliflower, it does need to be cooked prior to being added to the biscuit mixture. One essential step in this process is to squeeze out the excess moisture from the cooked cauliflower. We used a couple of paper towels and placed them over the cauliflower, pressing down to absorb any extra water.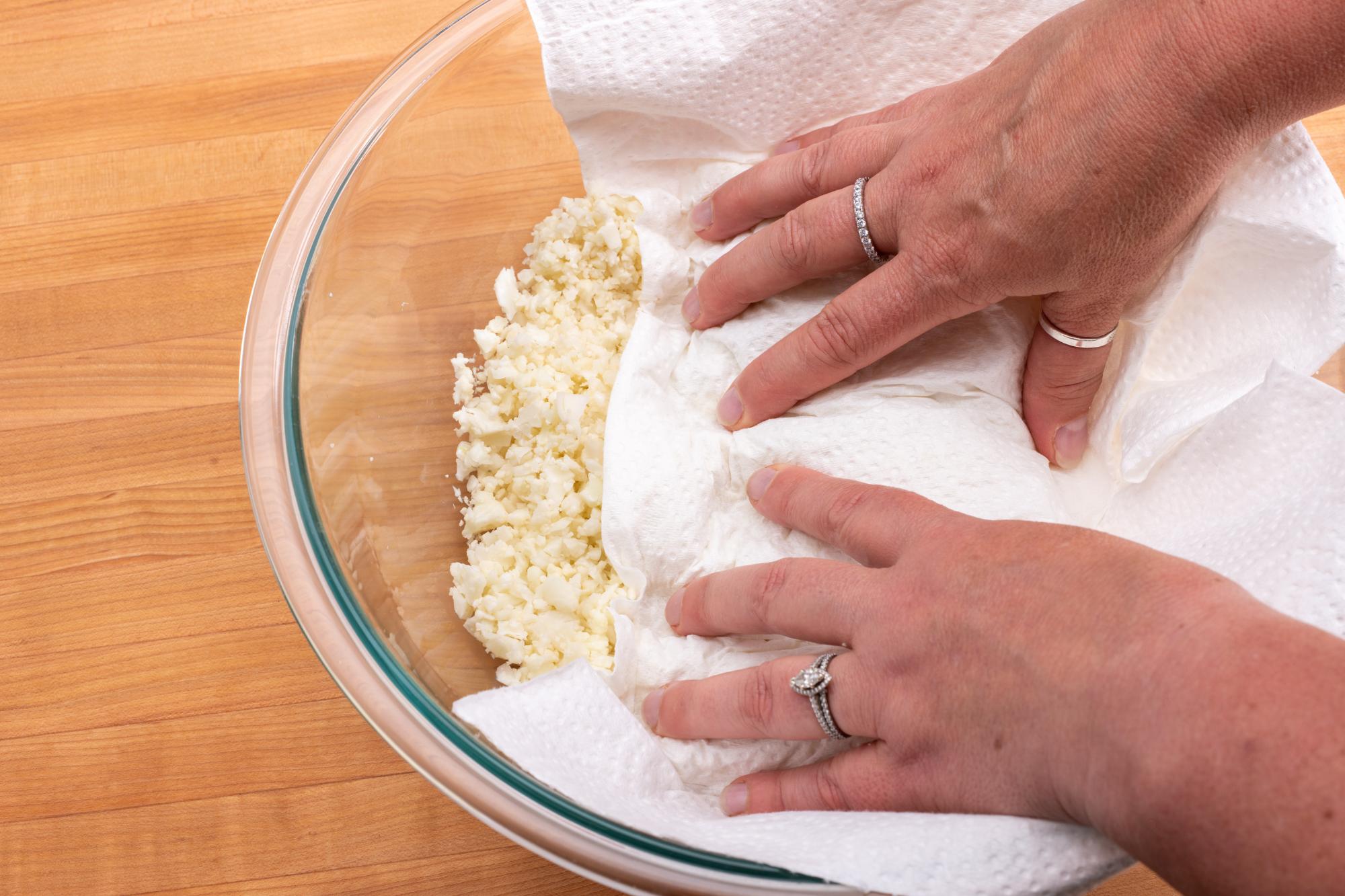 You want the cooked cauliflower to be as dry as possible, otherwise you'll end up with soggy biscuits. Alternatively, you could place the cauliflower in a tea towel and gently wring it dry. Choose whatever method works for you.
Here is a quick tip for dicing your chives. I used our Super Shears to snip the chives and they were perfect.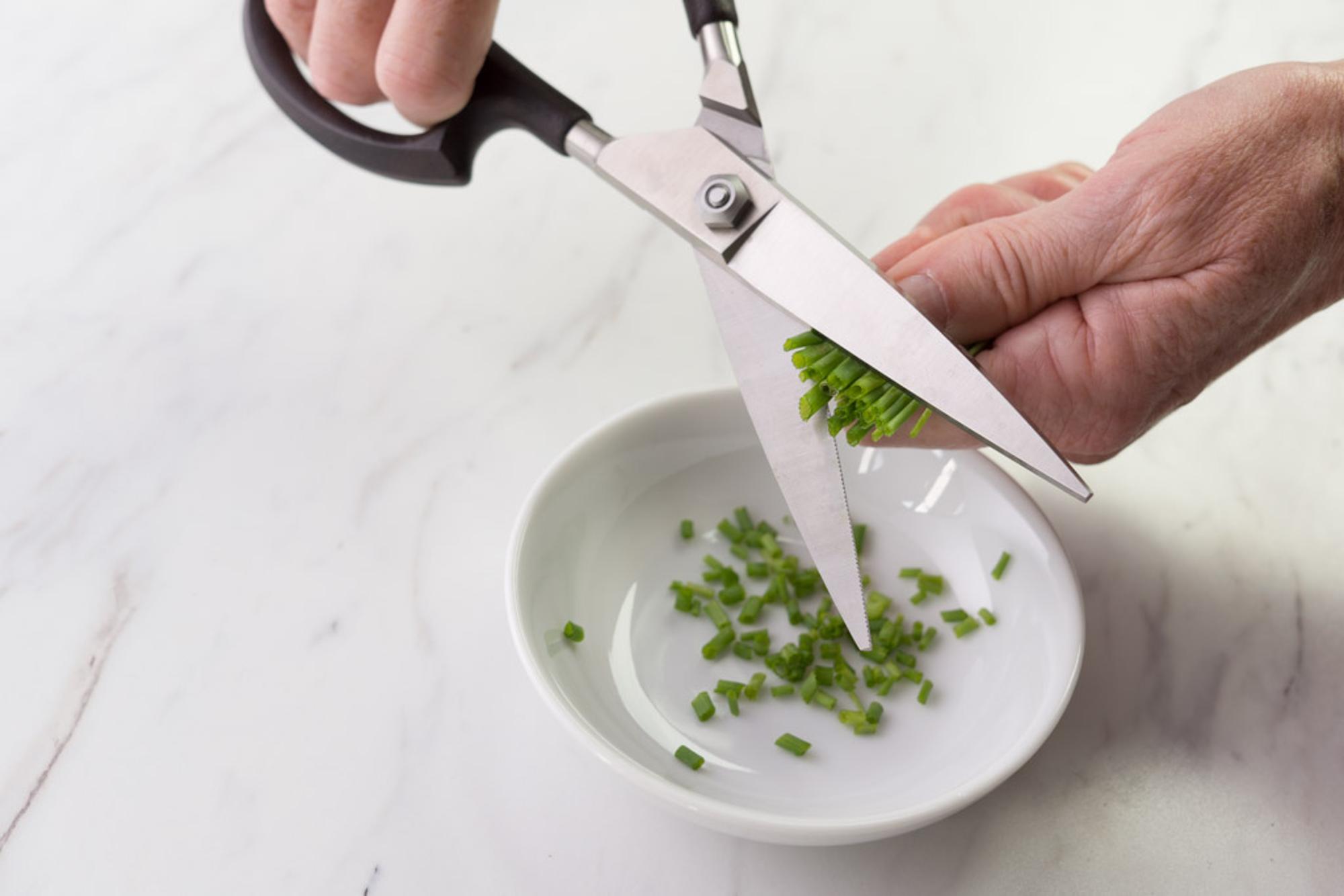 Like any baking endeavor, make sure not to overmix the ingredients. You want to mix until all the ingredients are just blended together. For scooping the biscuits, I used our Ice Cream Scoop and dropped the biscuits onto parchment paper. Sprinkling them with the extra shredded cheddar cheese is a must as it adds additional flavor.
We called these drop biscuits because while there is some flour in the mixture, the main ingredient is cauliflower so they're not going to rise like a traditional biscuit. They drop and flatten out a bit. That said, the taste was absolutely amazing and I do mean amazing. I wasn't expecting to like these as much as I did but something about the chives, garlic and cheddar cheese paired with the cauliflower just worked. There was so much flavor that I didn't miss the additional flour or the warm butter.
I think all of us in the kitchen were pleasantly surprised by these Cauliflower Cheddar Drop Biscuits. Give them a try and let us know what you think. They just may become a new favorite.
Ingredients
Cauliflower Cheddar Drop Biscuits
1 medium head cauliflower, leaves removed and riced (4-5 cups)
2 eggs
1 stick (4 ounces) unsalted butter, melted
1/4 cup Greek yogurt
2 cups cheddar cheese, finely shredded, divided
1/2 teaspoon salt
3 teaspoons baking powder
1 1/2 cups all-purpose flour
2 tablespoons chives, diced
1 garlic clove, minced
Directions
Heat oven to 400 F.
Line a baking sheet with parchment paper.
Place the cauliflower rice in a microwave-safe baking dish. Cover with plastic wrap and microwave for 3 minutes.
Remove from the microwave, carefully lift the lid or plastic wrap, and stir with a fork.
Place a paper towel over the cauliflower and gently squeeze out the excess moisture and allow to cool.
In a separate bowl, whisk the eggs, butter and yogurt together.
Add the cauliflower and 1 ½ cups cheese and mix until everything is combined.
In a separate bowl, mix together the salt, baking powder and flour. Add this mixture to your wet ingredients and combine gently.
Add the chives and garlic and mix gently (make sure not to overmix).
Scoop approximately 2 tablespoons of the batter and place it onto your baking sheet lined with parchment paper, making sure to keep space between your biscuits.
Sprinkle the biscuits with remaining cheddar cheese and bake for approximately 20 minutes or until the biscuits are slightly browned.
Place the biscuits onto a cooling rack and enjoy.
Recommended Tools