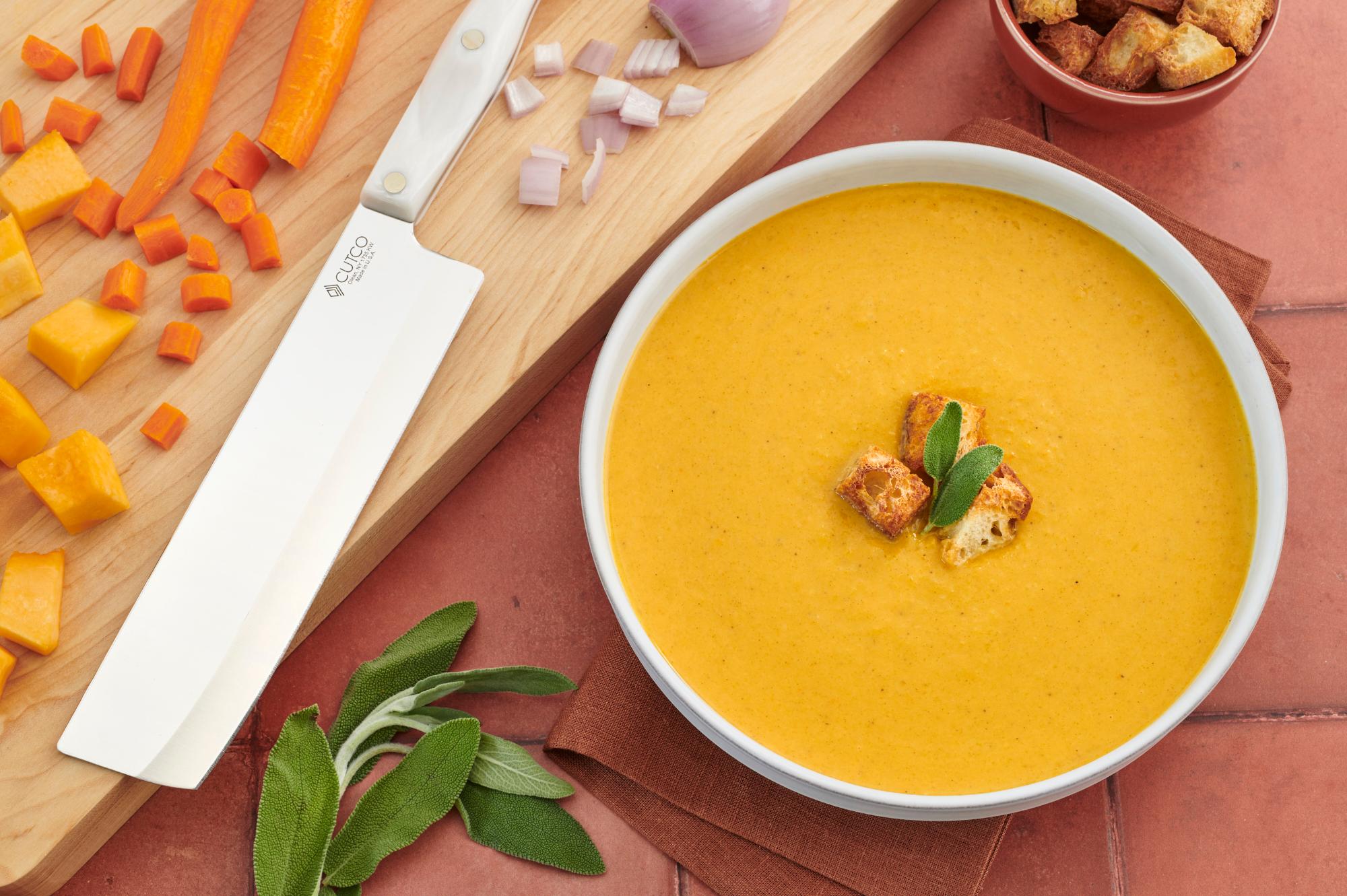 A version of this Butternut Squash Soup recipe was a family favorite for many years. But as fate would have it, it morphed into this recipe when I made it for a potluck/community building event that took longer than planned, and the soup sat in a crock pot for two hours. The result was this delicious, thick and smooth soup. My daughter declared, "Now this is how squash soup is supposed to be!"
It took me a few tries to perfect this without the two hours in the crock pot step. But, mission accomplished, this recipe is done in just under an hour.
Cutting Up The Ingredients
Don't worry about slicing and dicing everything uniformly as it will all be boiled and then blended at the end.
To prep the squash, consider piercing the outside in a couple of places with the tip of a knife and microwave for about four minutes to soften it a bit. Cut it in half at the neck, peel the halves with a Vegetable Peeler, cut them in half and scoop out the seeds. Then, using a 7-1/2″ Vegetable Knife, cube the squash.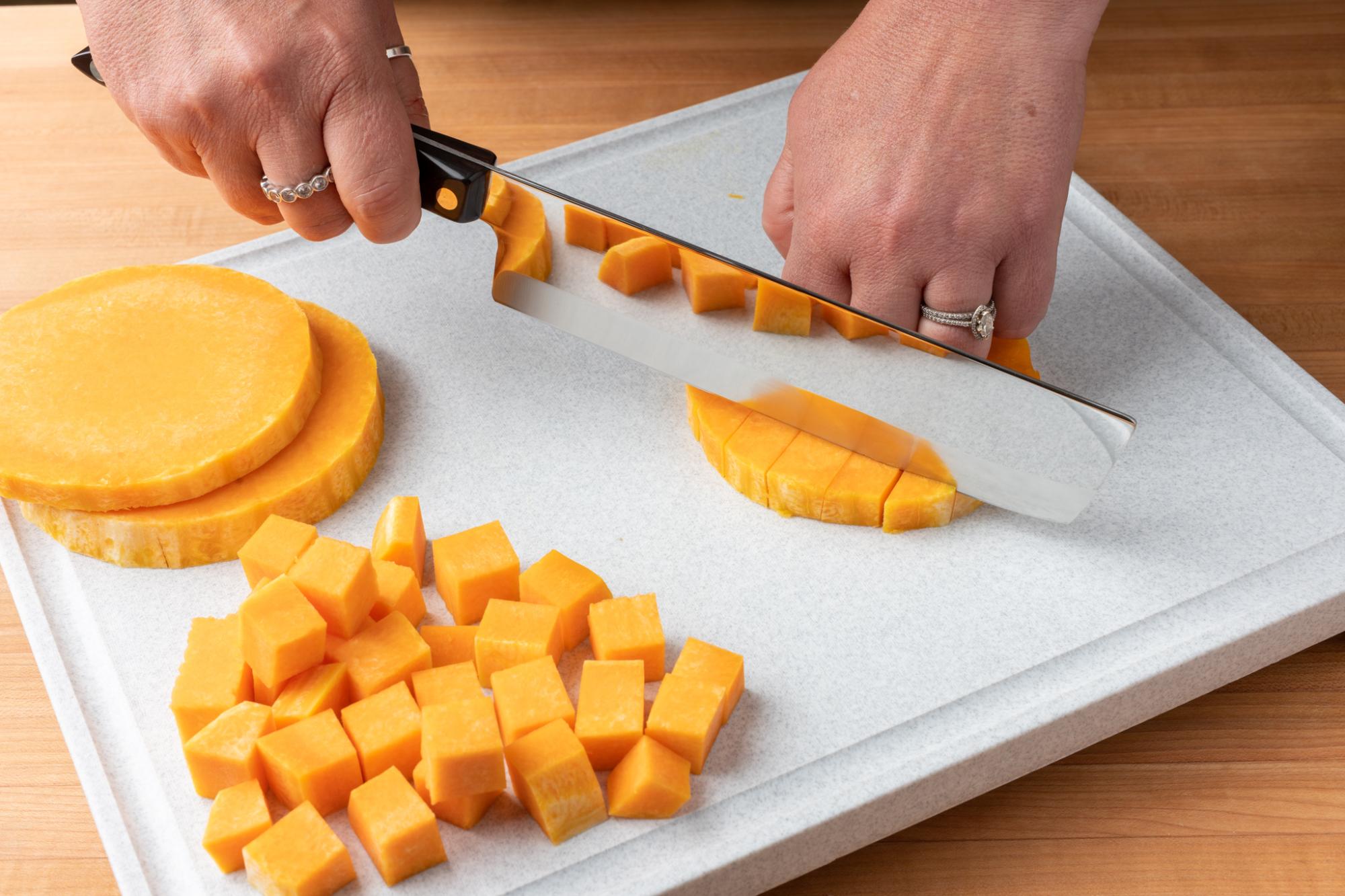 For step-by-step instructions on how to cube butternut squash take a look at Cutco's online tutorial.
The onion, carrots and shallot can all easily be chopped with the 7″ Santoku knife.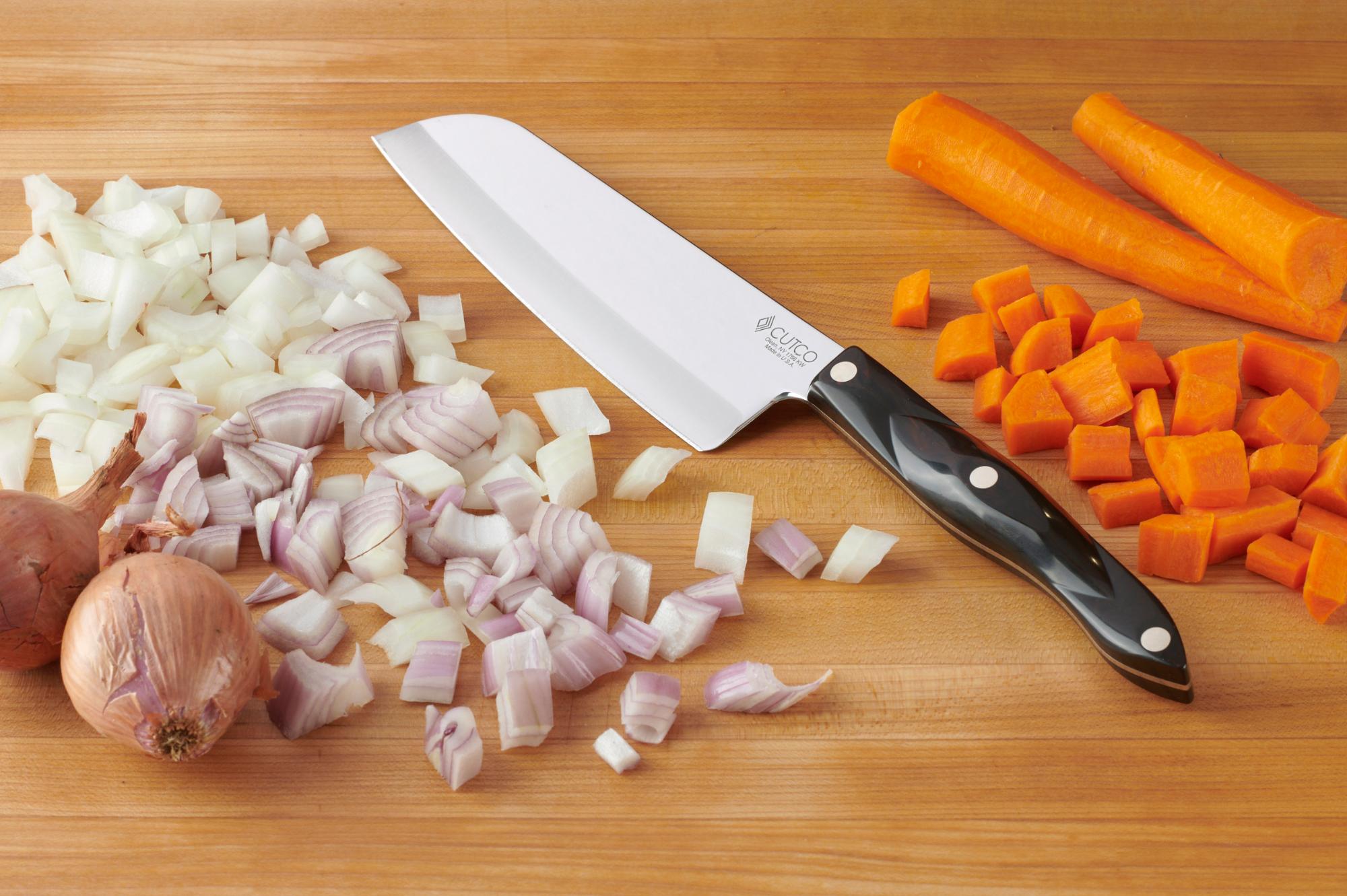 To make garlic paste, mince the garlic, drizzle with olive oil and then sprinkle it with salt. Use the flat side of a 7-5/8″ Petite Chef knife to smear the garlic across the Cutting Board until it forms a paste.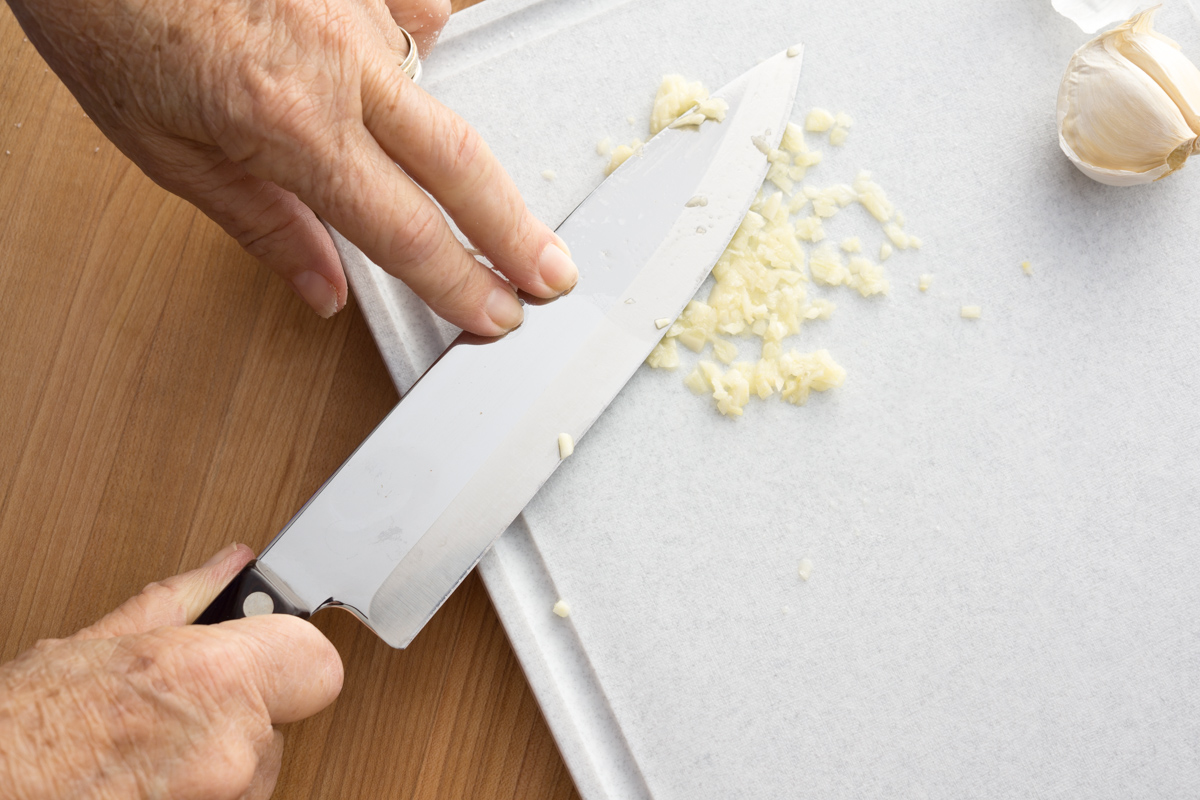 The seasoning for this Butternut Squash Soup is dried sage, salt and pepper. How simple is that?!
Putting it Together
This soup begins where many soups do, with sautéing some onions, carrots and shallots, and then garlic is added for the last minute of cooking. The vegetable stock and cubed butternut squash go in next and once it starts to boil, add the sage.
When the squash is tender, use an immersion blender to process the soup until smooth. Season to taste with salt and pepper, add in some light cream, and it's ready to serve.
If you would like to make a large batch and then freeze part of the recipe, do not add the cream. Wait until you thaw the soup and add it before serving.
What I like about this Butternut Squash Soup recipe is that it is smooth and creamy, and will warm you from head to toe. I also love that I can throw it all together in under an hour making it perfect for a busy weeknight. It also reheats really well.
Marianne Brand, chef and former restauranteur, is the director of food and beverage education at New York Kitchen in Canandaigua, a center that showcases New York State's agriculture through cooking classes, beverage pairings and other programs.
Ingredients
3 tablespoons room-temperature unsalted butter
3 tablespoons olive oil
1 large onion, chopped
2 medium carrots, peeled and diced
1 shallot, chopped
5 garlic cloves, pasted
6 cups vegetable stock
10-12 cups butternut squash, cubed (5-1/4 pounds)
1 tablespoon dried sage
Salt and pepper, to taste
1/4 cup light cream
Directions
In a large stock pot over medium heat, melt together butter and oil.
Add onion and carrots then cook until onion is soft, about 6 to 7 minutes. Add shallot and cook for another 3 minutes.
Stir in garlic and cook for 1 minute until fragrant.
Pour vegetable stock into pot along with the butternut squash and bring to a boil. Add sage.
Boil for 20 minutes or until squash is fork-tender.
Remove from heat and use an immersion blender to process until smooth.
Season to taste with salt and pepper.
Slowly add in light cream. Serve immediately with warm flatbreads or garlic croutons.
Recommended Tools