Baked Potato Soup
Published 1660 days ago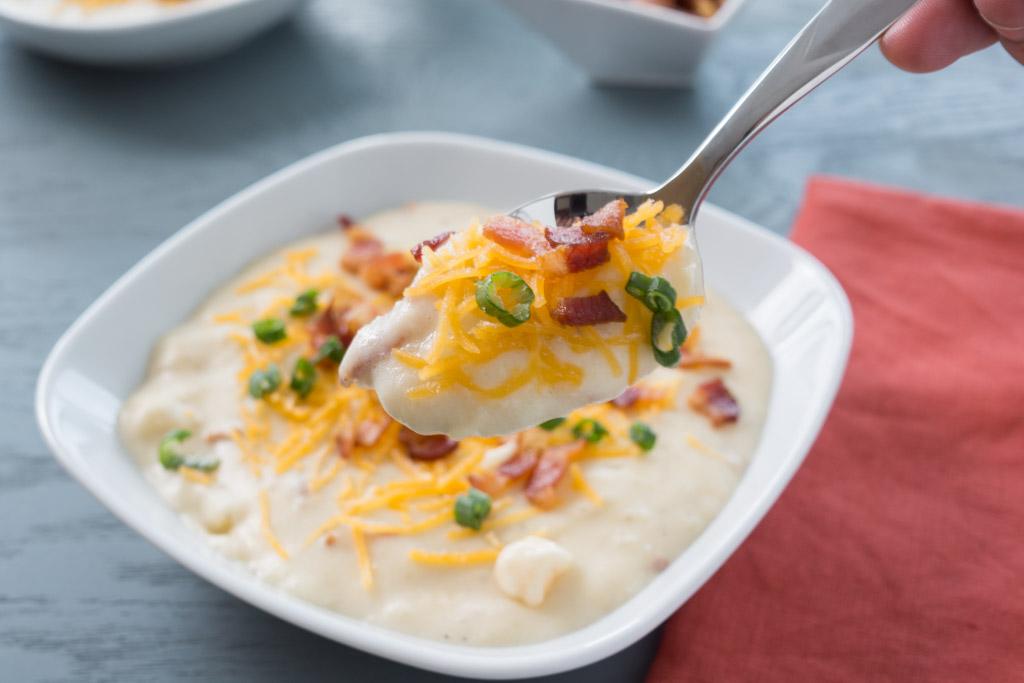 If you live in a cold climate, this is a perfect time of year for a hearty soup. Even if you live in a warmer climate, a bowl of soup is a satisfying lunch or dinner.
Here in western New York, we lucked out through the months of November and December with above normal temperatures and very little snow. But as all of us in the northeast know, we're gonna get it sooner or later. And now we have. By now you've probably seen the picture of the car, nicknamed the "carcicle", parked along Lake Erie in the Buffalo area that became encased in ice from the wind whipped water and below freezing temperatures. Skiers are hitting the slopes and snowmobilers are hitting the trails for some invigorating outdoor activities. If that isn't you, take a brisk walk, and then head indoors to enjoy a tasty, stick to the ribs soup.
The Baked Potato Soup we made this week is one of my very favorites. There are several recipes for similar soups but I absolutely like this one the best. I increased the amount of bacon and cheese simply because we like bacon and cheese. You can always cut back on both. Some recipes call for microwaving the potatoes or using frozen mashed potatoes. While this saves time, I think it sacrifices the consistency and flavor you get by baking the potatoes.
Ingredients
4 baking potatoes (preferably russet)
2/3 cup all-purpose flour
6 cups 2% reduced fat milk
2 cups reduced fat shredded extra sharp cheese, divided
1 teaspoon salt
1/2 teaspoon freshly ground pepper
1 cup reduced fat sour cream
1/2 cup chopped green onions
12 bacon slices, chopped, cooked until crisp, divided
1/2 cup snipped green onions, green part only*
Directions
Preheat oven to 400°F. Pierce potatoes with a fork, bake for 1 hour or until tender. Cool. Peel potatoes, coarsely mash.
Spoon flour into measuring cup, level with knife. Place flour in a large Dutch oven; gradually add milk, stirring with a Mix-Stir until blended. Cook over medium heat, until thick and bubbly (about 8 minutes). Add mashed potatoes, 1 cup cheese, salt and pepper. Stir until cheese melts. Remove from heat.
Stir in sour cream, chopped green onions and half of the bacon. Cook over low heat for 10 minutes or until thoroughly heated through. Do not boil.
This soup is quite thick. Add more milk, a little at a time, if you prefer a thinner soup.
Ladle into bowls. Garnish each bowl equally with remainder of cheese, snipped green onions and remaining bacon.
TIP: Use the Super Shears to snip the green onions
Recommended Tools