Ingredients
4 baking potatoes (preferably russet)
2/3 cup all-purpose flour
6 cups 2% reduced fat milk
2 cups reduced fat shredded extra sharp cheese, divided
1 teaspoon salt
1/2 teaspoon freshly ground pepper
1 cup reduced fat sour cream
1/2 cup chopped green onions
12 bacon slices, chopped, cooked until crisp, divided
1/2 cup snipped green onions, green part only*
Directions
Heat oven to 400 F. Pierce potatoes with a fork, bake for 1 hour or until tender.
Let cool, then peel the potatoes and coarsely mash them.
Spoon flour into measuring cup, level with knife. Place flour in a large Dutch oven; gradually add milk, stirring with a Mix-Stir until blended. Cook over medium heat, until thick and bubbly (about 8 minutes). Add mashed potatoes, 1 cup cheese, salt and pepper. Stir until cheese melts. Remove from heat.
Stir in sour cream, chopped green onions and half of the bacon. Cook over low heat for 10 minutes or until thoroughly heated through. Do not boil.
This soup is quite thick. Add more milk, a little at a time, if you prefer a thinner soup.
Ladle into bowls. Garnish each bowl equally with remainder of cheese, snipped green onions and remaining bacon.
TIP: Use the Super Shears to snip the green onions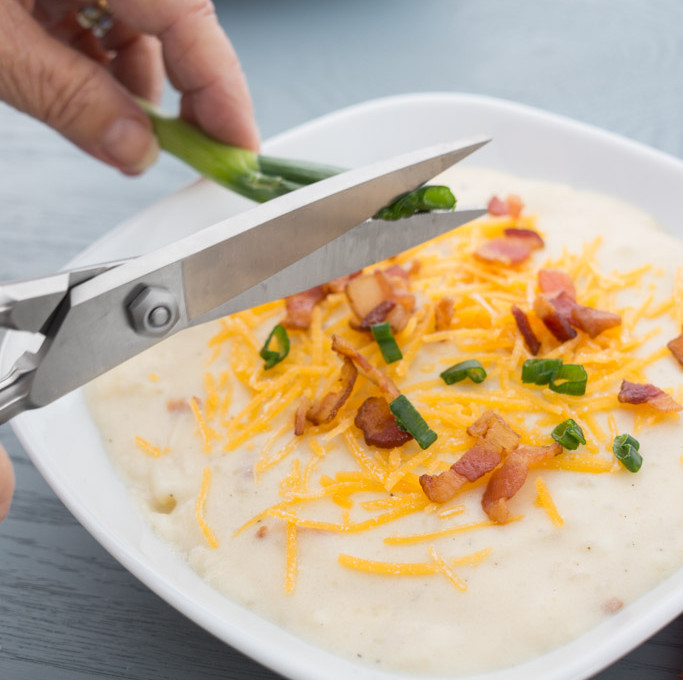 https://www.cutco.com/learn/baked-potato-soup