Winter Sangria With Apple, Pear, Orange and Lime
266 days ago
Skip to recipe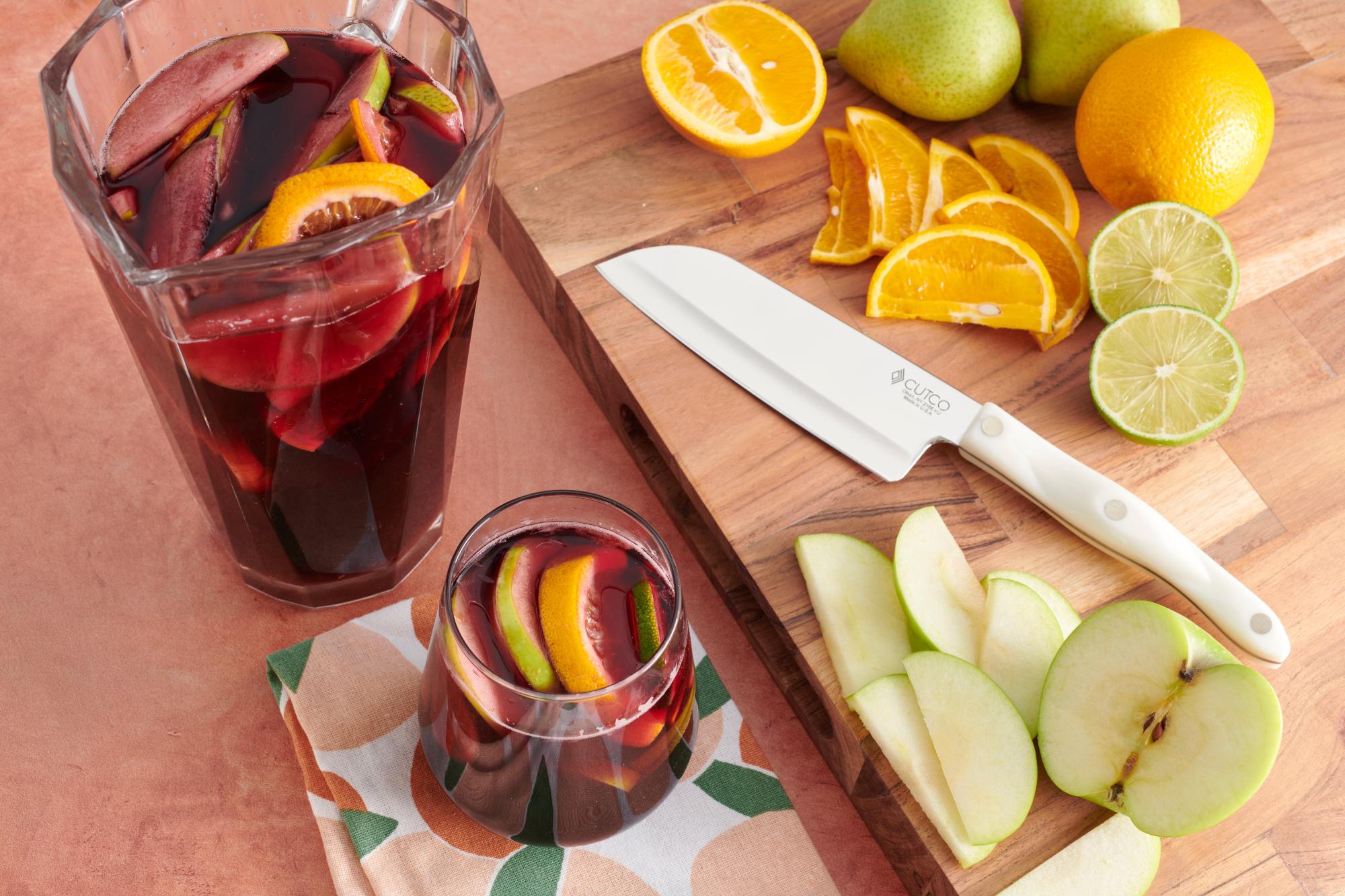 There's nothing like a nice drink to brighten up the holidays and toast the New Year. That said, I don't like anything too complicated or too sweet and my preference is for something I can make in advance. For the holidays, I also like something that presents nicely on the table. That's not too much to ask, is it?
This Winter Sangria with Apple, Pear, Orange and Lime checks all of my boxes. Sangria is always a favorite of mine, but typically in the summertime, as I find it light and refreshing. In this instance, we've added some fall fruit and sparkling apple cider and apple brandy. You can say we kicked it up a notch. While still refreshing, this sangria is a bit more robust and the cinnamon, sparkling cider and brandy give it warm undertones. Perfect for cool winter nights.
Prepping the Fruit
The most difficult part of making this delightful drink is preparing the fruit, and by difficult, I mean simple. All that is needed is to slice up the fruit to place in the large pitcher.
Start by using a 5" Petite Santoku knife to cut the apple in half and then into quarters. Slice out the core and then slice the apple with the skin still on (the skin adds a lovely color to the fruit in the drink).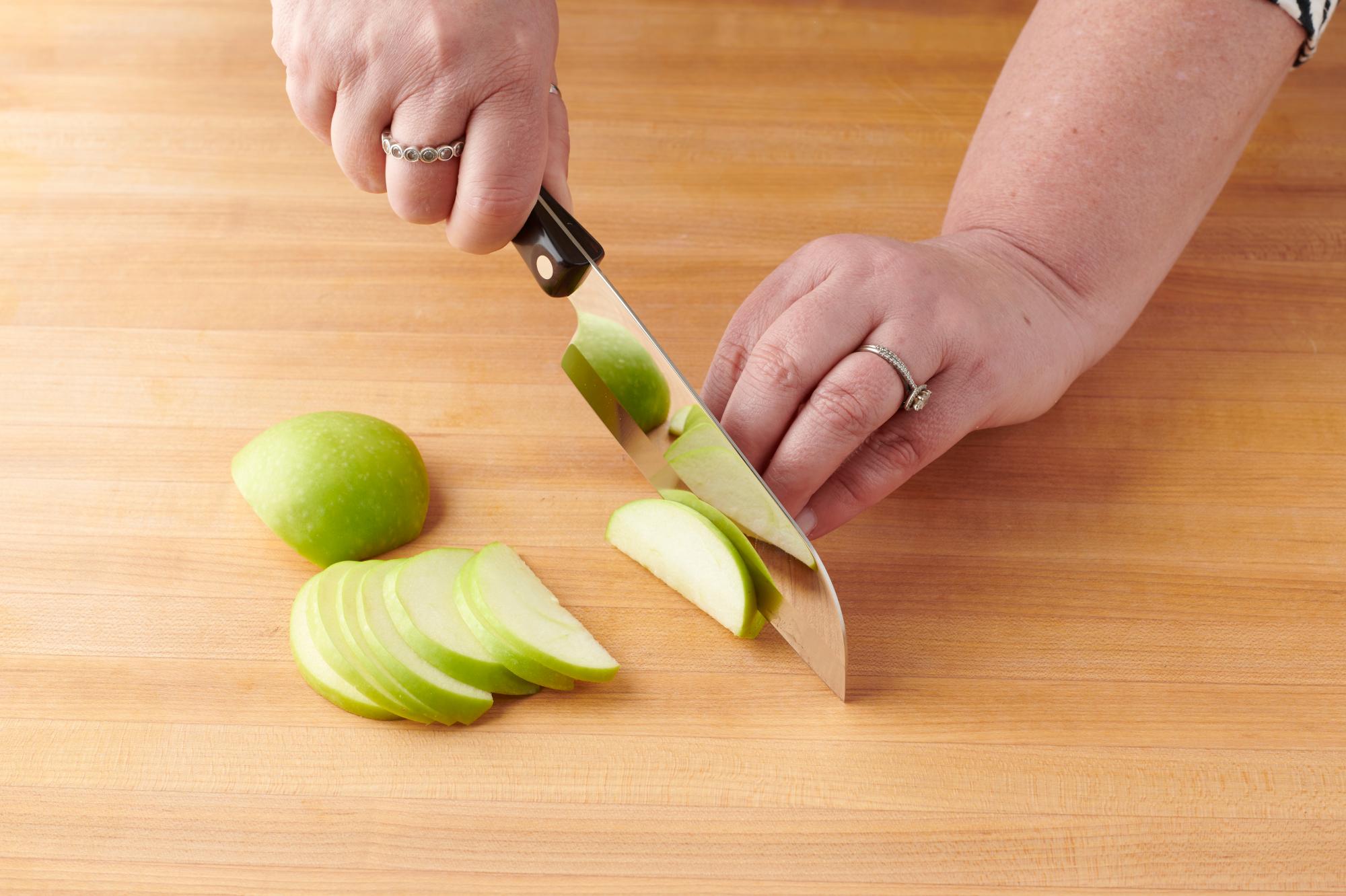 For the pear, use a 4" Paring Knife and again, leaving the skin on, cut the pear in half and then into quarters, cutting out the core from each piece. Then slice the pear and set aside.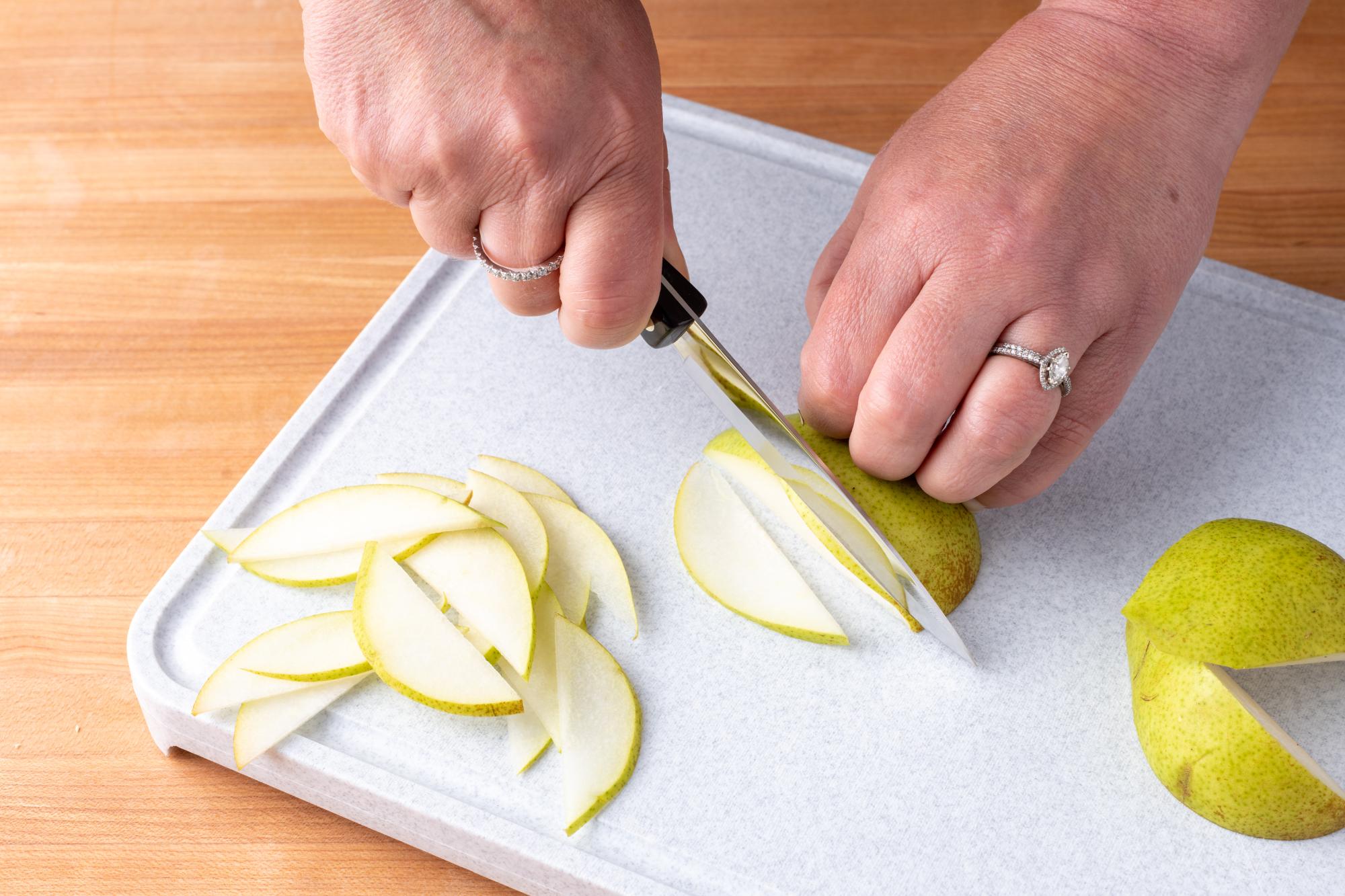 Using a Trimmer, cut the orange in half and slice with the skin still on into half moons. Still using the same knife, cut the lime in half and then slice.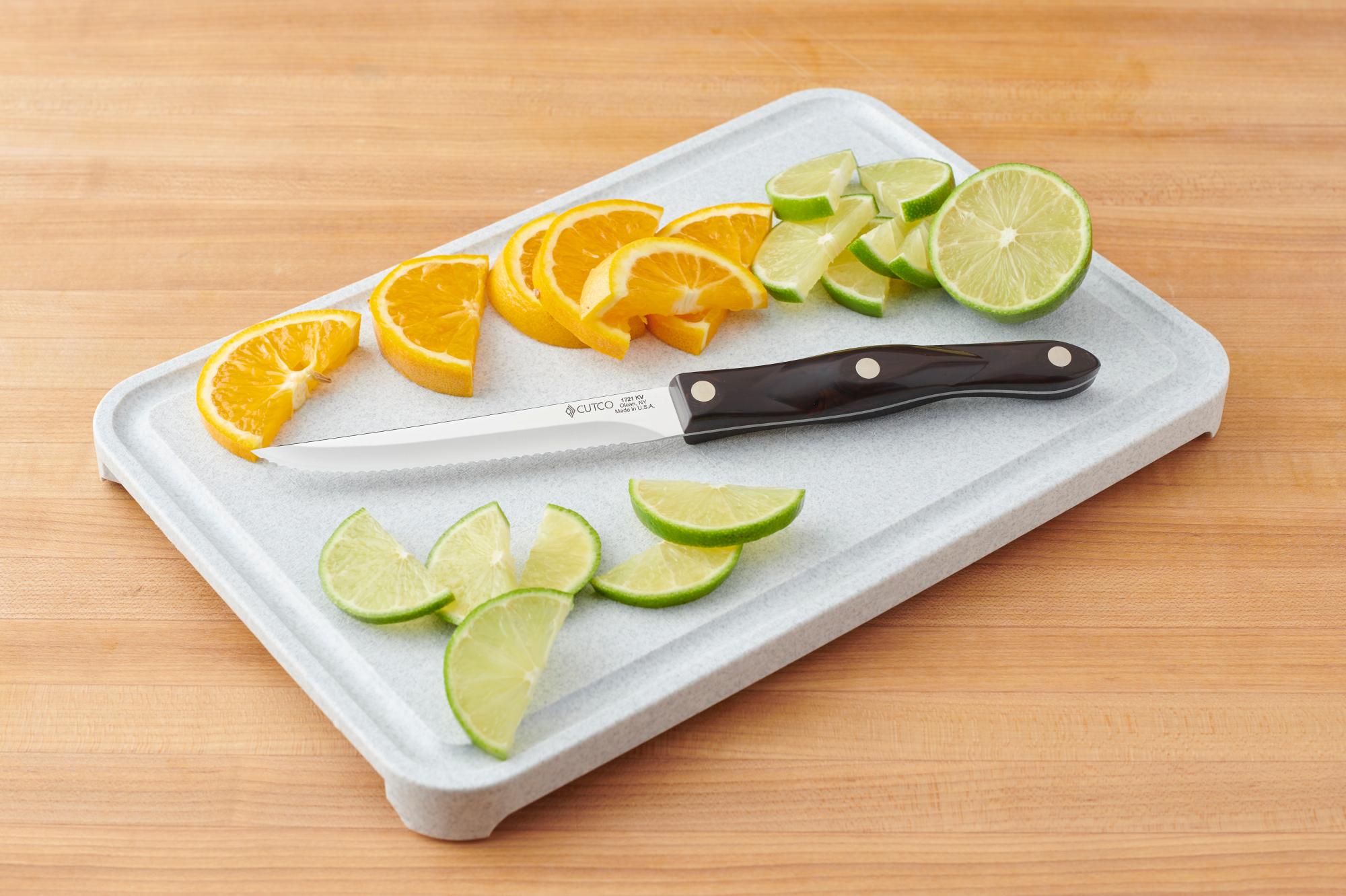 Final Preparation
Once your fruit is cut, place it all into a large bowl. Stir in the sugar and cinnamon and make sure all the fruit is coated. Put the fruit aside for at least one hour so the sugar and cinnamon can dissolve into the fruit.
Transfer the fruit directly into a large pitcher, along with any juices left in the bowl. Add the red wine, sparkling apple cider and brandy. A few notes here. The wine for this sangria needs to be a dry red wine and the apple cider needs to be sparkling. The sparkling cider gives this sangria a lift and helps to make it a festive drink. Finally, the apple brandy really does add a nice warm tone to the sangria. Start by adding a quarter cup and taste. If you want the brandy to be a bit bolder add another quarter cup.
Carefully stir the sangria with a large spoon in the pitcher, making sure the fruit is really mixed and all the liquids are blended.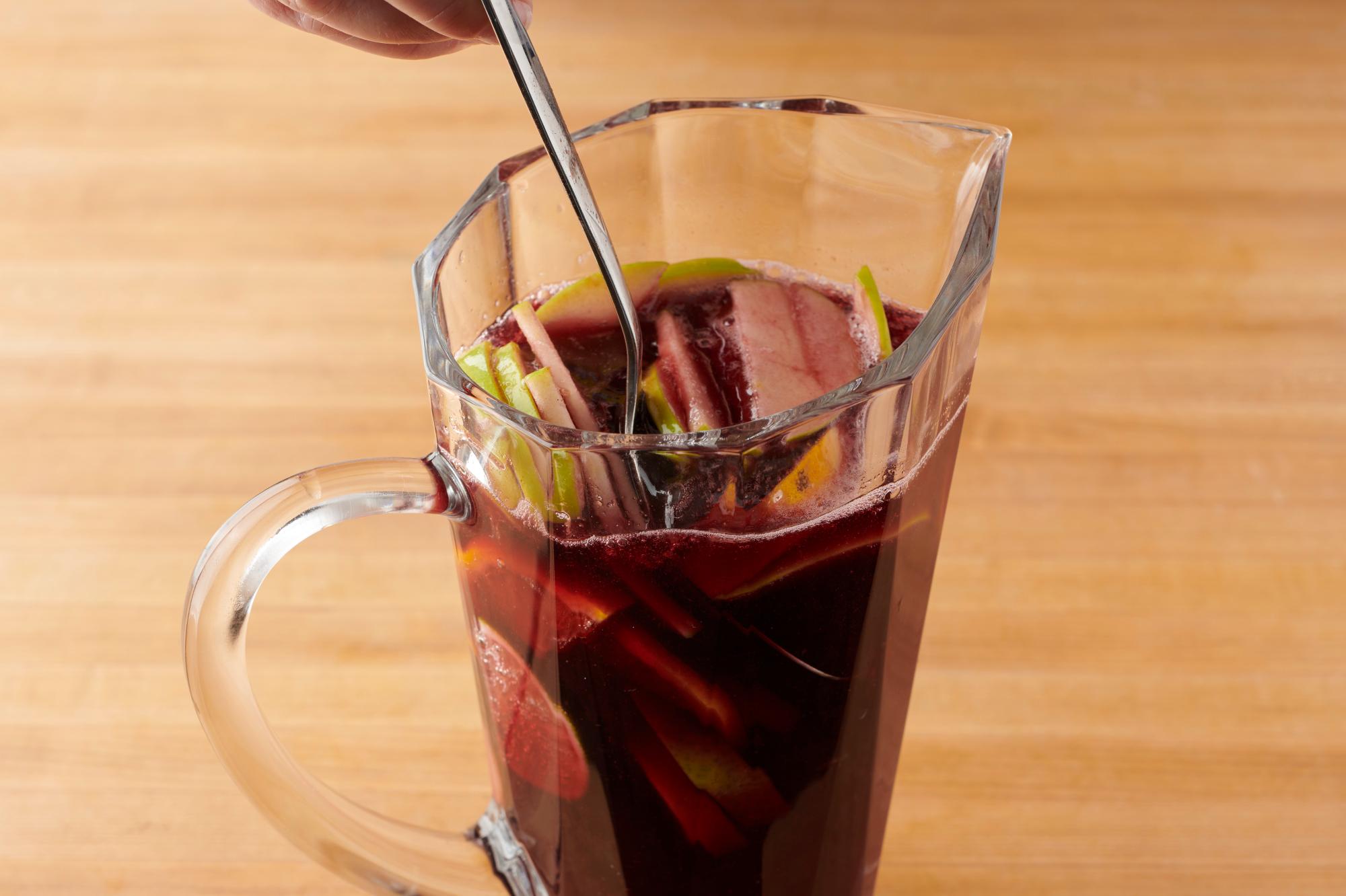 To serve, place ice in a glass along with some fresh fruit if you like and pour the sangria over the ice. You can garnish this drink with an orange or lime slice, or even a cinnamon stick.
Winter Sangria with Apple, Pear, Orange and Lime tastes like the holidays. It is refreshing but at the same time has warm flavors that pair perfectly with the cold weather. Different garnishes can make serving this drink truly festive and it's something a bit different for your friends and family. Cheers!
Winter Sangria With Apple, Pear, Orange and Lime
Print Recipe
Ingredients
1 green apple, cored and sliced
1 pear, cored and sliced
1 orange, sliced into half moons
1 lime, sliced into half moons
1/4 cup sugar
1/2 teaspoon cinnamon
1 750 milliliter bottle dry red wine, such as Rioja (Tempranillo)
2 cups sparkling apple cider
1/4 - 1/2 cup apple brandy
Optional garnishes: cinnamon stick, orange slice, lime wedge
Directions
Place sliced fruit into a large bowl. Stir in sugar and cinnamon until fruit is coated. Allow to sit for at least 1 hour.
Transfer fruit into a large pitcher and add the red wine, apple cider and brandy. Stir and chill for at least one hour.
Serve in clear glasses over ice. Garnish with desired fruit or a cinnamon stick.
Recommended Tools