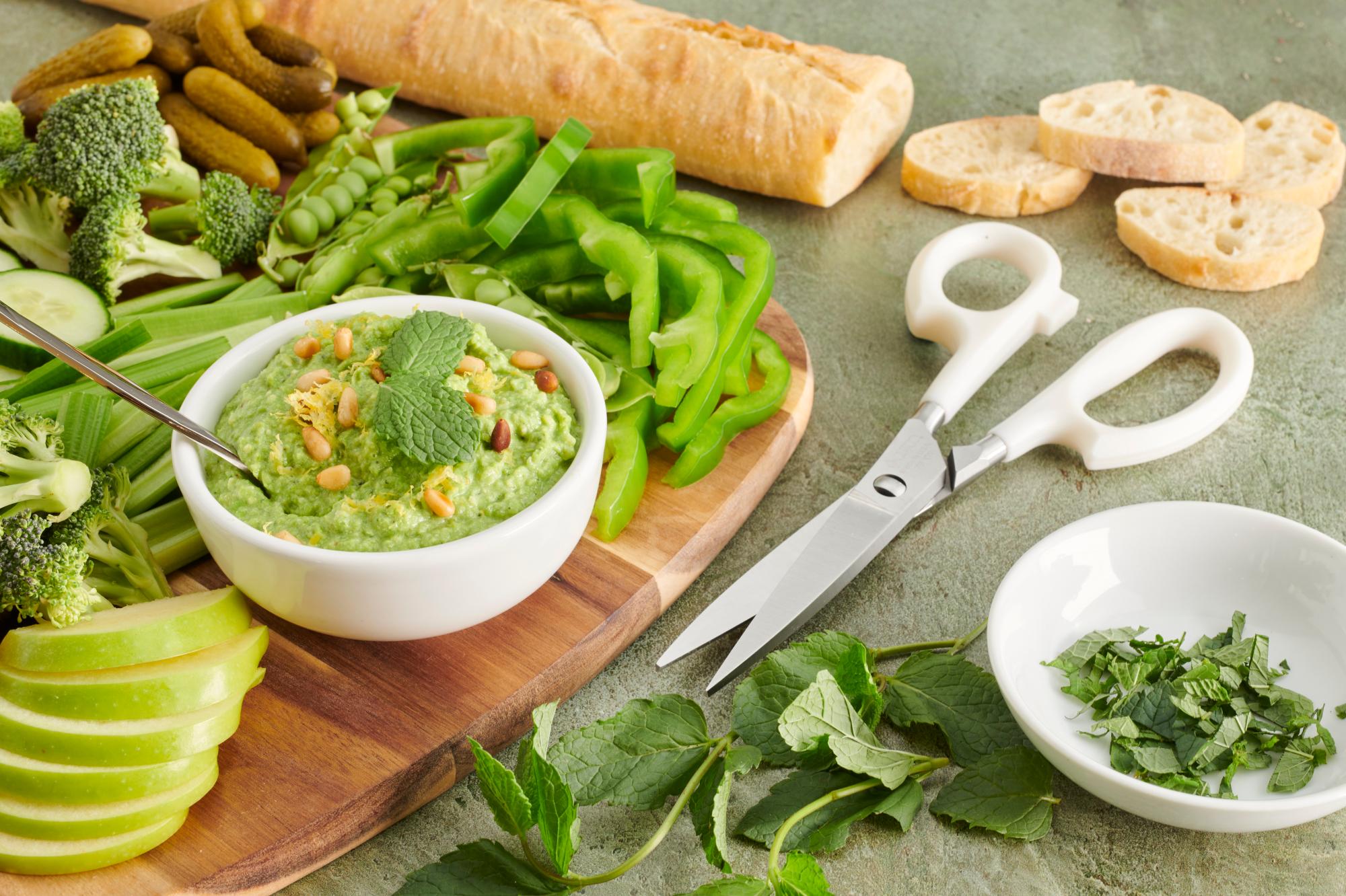 I always like searching for new ideas when making an appetizer, especially a dip. I recently came across an article that mentioned using sweet peas in an appetizer and that was a hard pass as I don't like peas. But as I began to think about it, my issue with peas is the consistency, or what I would term as the mushiness of this vegetable once it has been cooked. The taste is quite nice, which is probably why I can eat peas when they're with other things. I like the flavor, not the consistency.
Keeping that in mind, the thought of making a sweet pea dip that used other flavors to accentuate the taste was appealing. That is how Sweet Pea, Lemon and Parmesan Dip came about and, let me just say, this is a light, flavorful and refreshing appetizer. The peas are paired with lemon and Parmigiano-Reggiano cheese resulting in a sweet, crisp and salty flavor. The addition of ricotta cheese makes it creamy, and some fresh mint brightens the dish. The secret ingredient in my opinion is the nuttiness we added with toasted pine nuts, which is the perfect topper to this surprising dip.
Prepping the Ingredients
This recipe comes together quickly as the bulk of the work is done by the food processor. To prep the ingredients, start by snipping your mint into small pieces using the Super Shears. It's a quick way to chop fresh mint.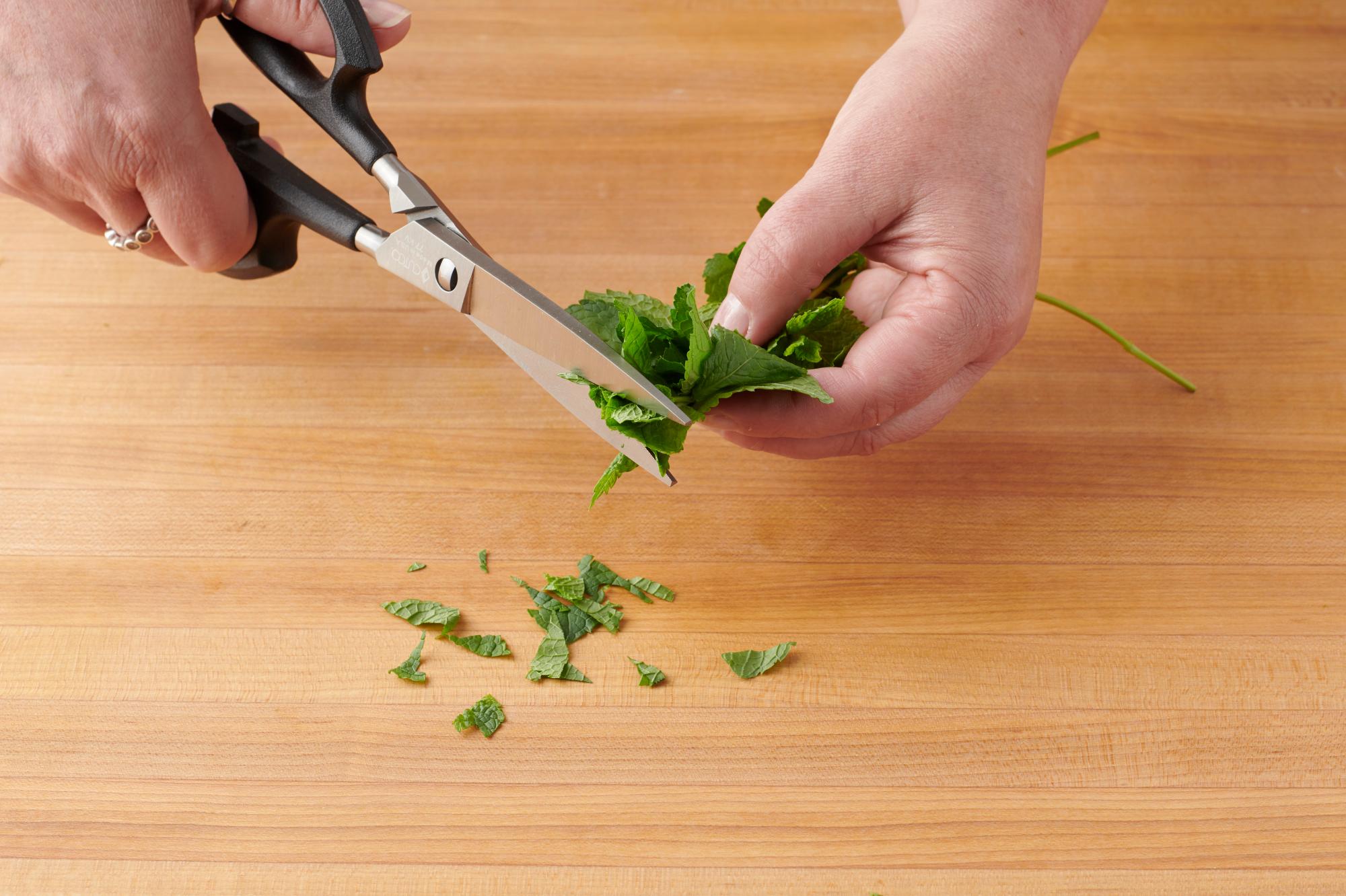 The zest of two lemons is needed for this recipe, which you can of course accomplish by using a zester. However, if you don't have a zester readily available, it's easy enough to zest a lemon with a Vegetable Peeler and a sharp knife, such as the 5" Petite Santoku or the 7-5/8" Petite Chef knife. For more information on how to do this, check out our helpful post on how to Make Lemon Zest Without a Zester.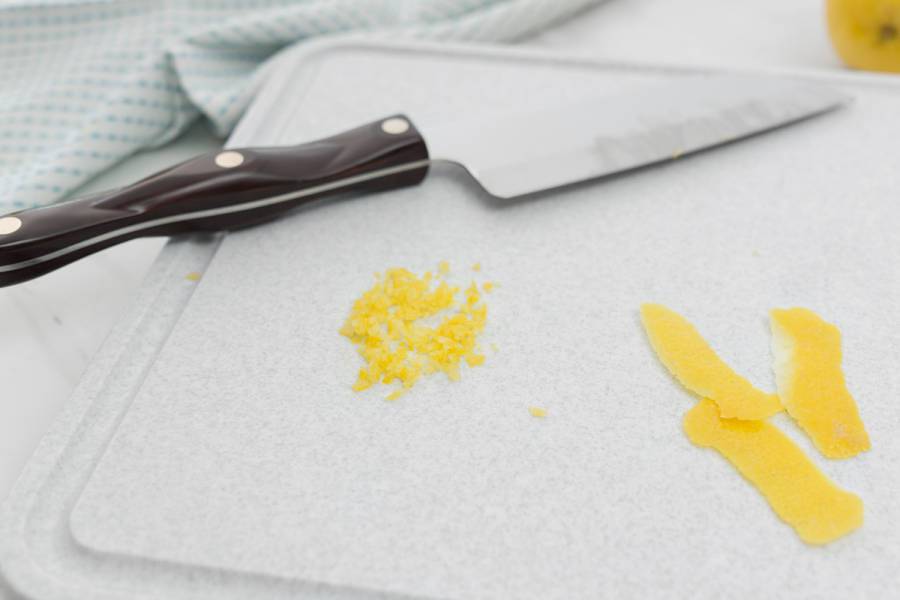 Using a 7" Santoku knife, mince the one clove of garlic.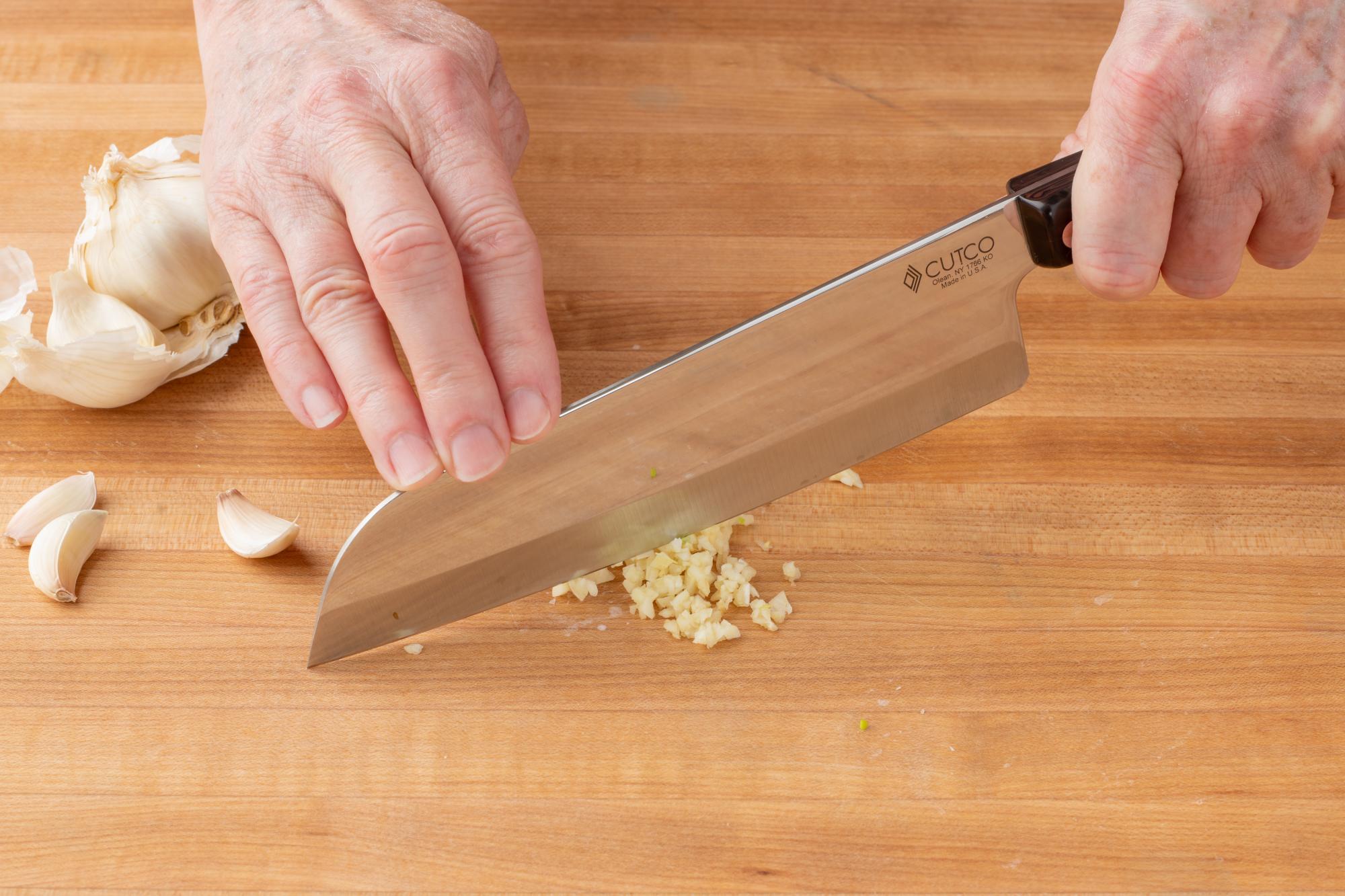 Final Steps
Once you have prepped your ingredients, place the defrosted sweet peas, ricotta cheese, Parmigiano-Reggiano cheese, zest of one lemon, fresh lemon juice, two tablespoons of extra-virgin olive oil, chopped fresh mint, minced garlic, kosher salt, and black pepper in a food processor and process until smooth. If the mixture is too thick, add a little olive oil at a time until you reach your desired consistency. Transfer the dip to a serving bowl and set aside.
Place a small skillet over medium-low heat and toast the pine nuts, making sure to watch them carefully as they can go from golden brown to black in seconds. Once the pine nuts are toasted, sprinkle them over the dip and sprinkle the remaining lemon zest as well.
This dip works well with baguette slices that have been toasted. Using a 7-3/4" Petite Slicer, cut the baguette into slices, drizzle each slice with some olive oil and broil the slices until golden in color.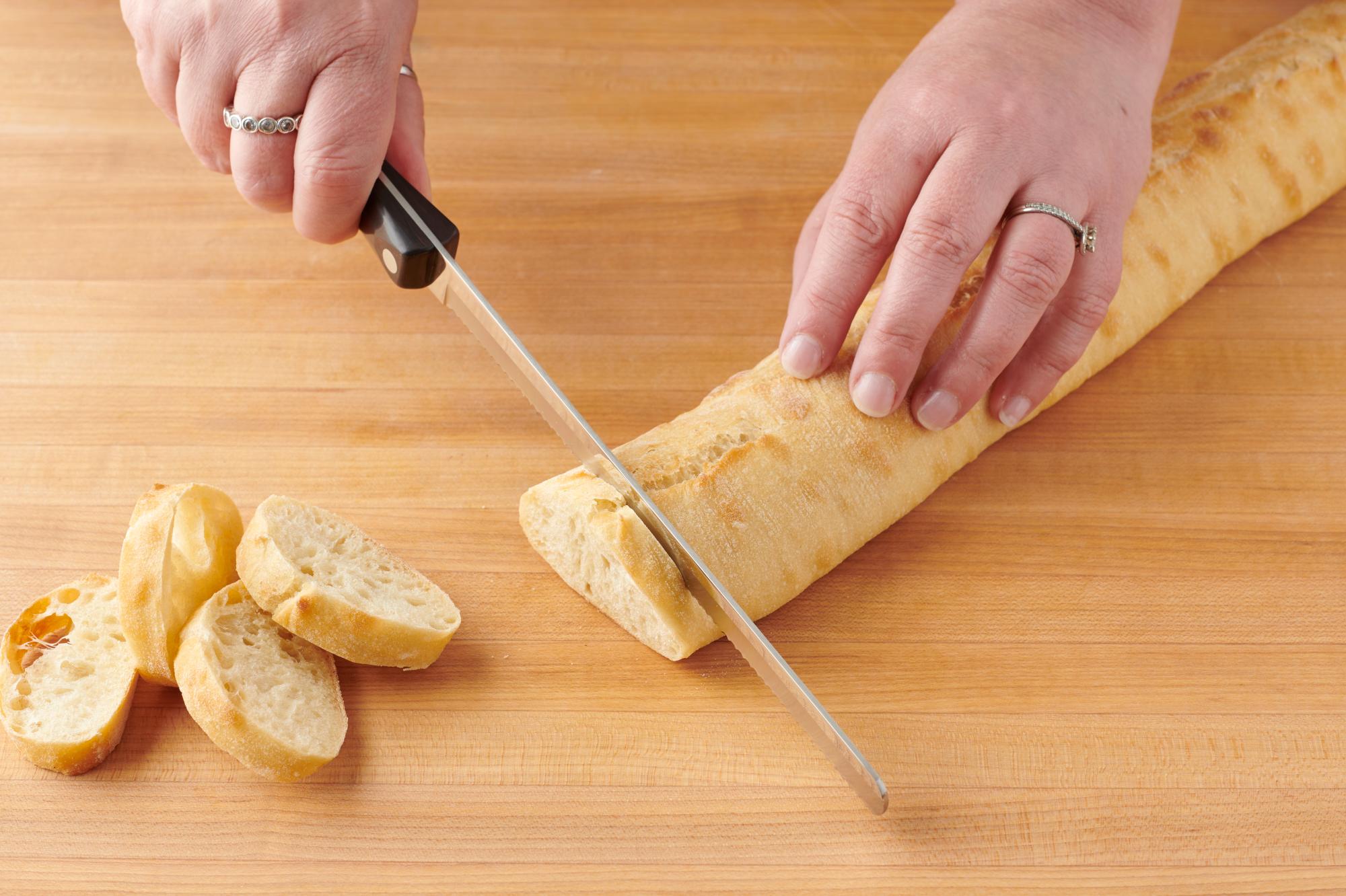 Light, fresh and so easy to make, this Sweet Pea, Lemon and Parmesan Dip will be a great appetizer to bring to your next party or family gathering. It has so much flavor and goes great with toasted baguette slices or crackers. Give this dip a try, you won't be disappointed.
Ingredients
4 cups frozen sweet peas, defrosted
3/4 cup ricotta cheese
1 cup shredded Parmigiano-Reggiano cheese
Zest of 2 lemons, divided
3 tablespoons fresh lemon juice
4 tablespoons extra-virgin olive oil, divided
2 tablespoons chopped fresh mint
1 garlic clove, minced
1/2 teaspoon kosher salt
1/4 teaspoon black pepper
3 tablespoons toasted pine nuts, roughly chopped
Baguette, sliced and toasted
Crackers
Directions
In a food processor, process until smooth the defrosted sweet peas, ricotta, Parmigiano-Reggiano, zest of 1 lemon, lemon juice, 2 tablespoons of extra-virgin olive oil, mint, garlic, kosher salt and black pepper.
If mixture is too thick, add 1 tablespoon olive oil at a time and process until smooth.
Transfer dip to a bowl. Sprinkle with toasted pine nuts and additional lemon zest.
Serve with toasted baguette slices or crackers.
Recommended Tools