Spinach and Blue Cheese Stuffed Flank Steak
Published 1549 days ago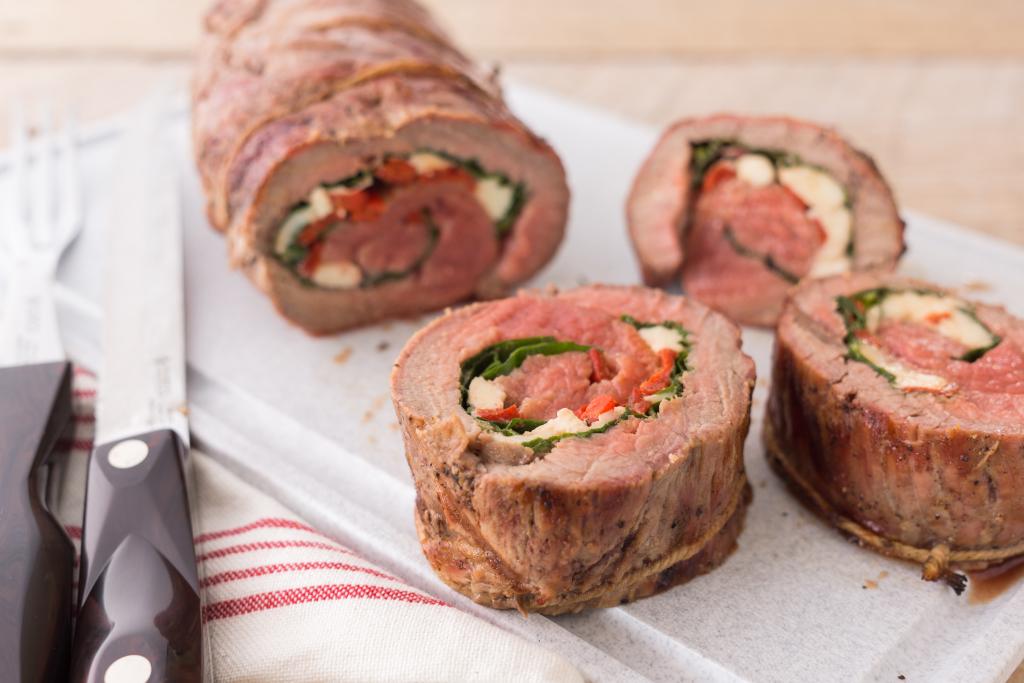 Flank steak is great for the grill because it's lean and flavorful. Sure, you can grill the steak after marinating and seasoning, but if you want to impress your dinner guests, make a stuffed version.
Butterflying the steak with a Boning Knife opens it up to all kinds of possibilities.
For this version, I stuffed the steak with fresh baby spinach, blue cheese crumbles and chopped roasted red peppers. The colorful ingredients make an eye-catching presentation once the rolled steak is cut into pinwheels.
Ingredients
Flank steak (2 pounds)
2 cups fresh spinach
5 ounces blue cheese crumbles
1/2 cup roasted red peppers, drained and chopped
Salt and pepper
Directions
Butterfly the flank steak with a Boning Knife. Season with salt and pepper to taste. Leaving a 1-inch border around the edge of the steak, layer on spinach, followed by blue cheese and roasted red pepper.
Roll the flank steak up lengthwise. Tie the roll with cotton twine that's been soaked in water, at 2 inch intervals. Season with salt and pepper.
Grill for about 12 to 15 minutes on each side on medium heat or until desired doneness. Use a meat thermometer for a more accurate temperature (130-135 degrees F for medium-rare, 145 degrees F for medium).
Let the steak rest for 15 minutes before slicing.
Other ideas for stuffing: Olive tapenade Pesto and provolone cheese Mushrooms, onions and peppers
Recommended Tools