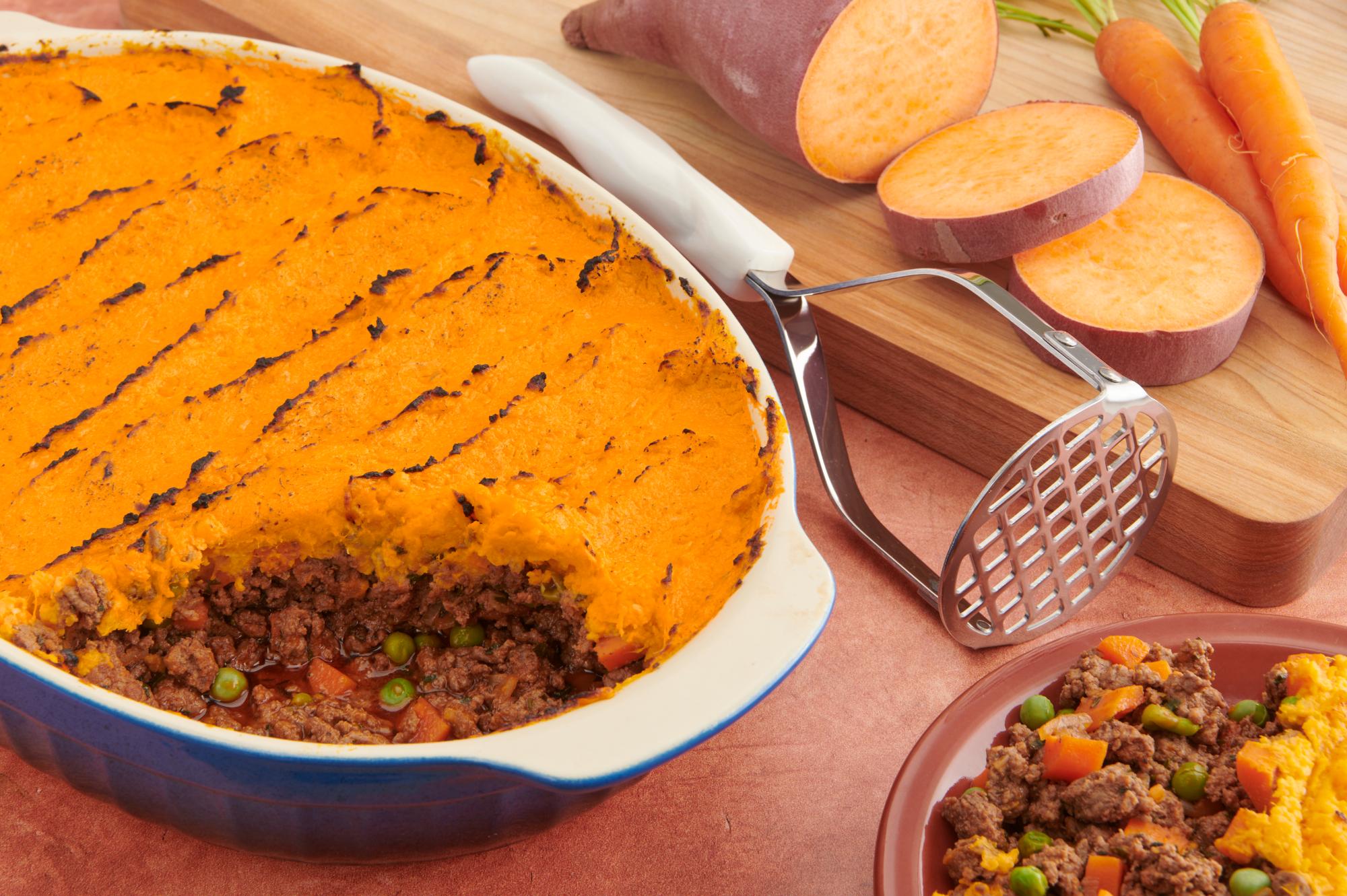 This recipe for Shepherd's Pie was created after I was asked to help out for my daughter Arianna's elementary school colonial day. After doing some research, I came up with this recipe, which I thought would be nice for the kids to be able to layer the meat and potatoes.
As far as comfort food goes, this recipe meets every criteria with its mashed sweet potatoes, and meat and veggie-packed filling.
The Prep Work
Traditional Shepherd's Pie calls for regular mashed potatoes, but I changed it up a bit and used sweet potatoes instead.
Cutco's Hardy Slicer knife is great for cutting potatoes of any kind, thanks to its hefty blade and sharp Double-D® cutting edge.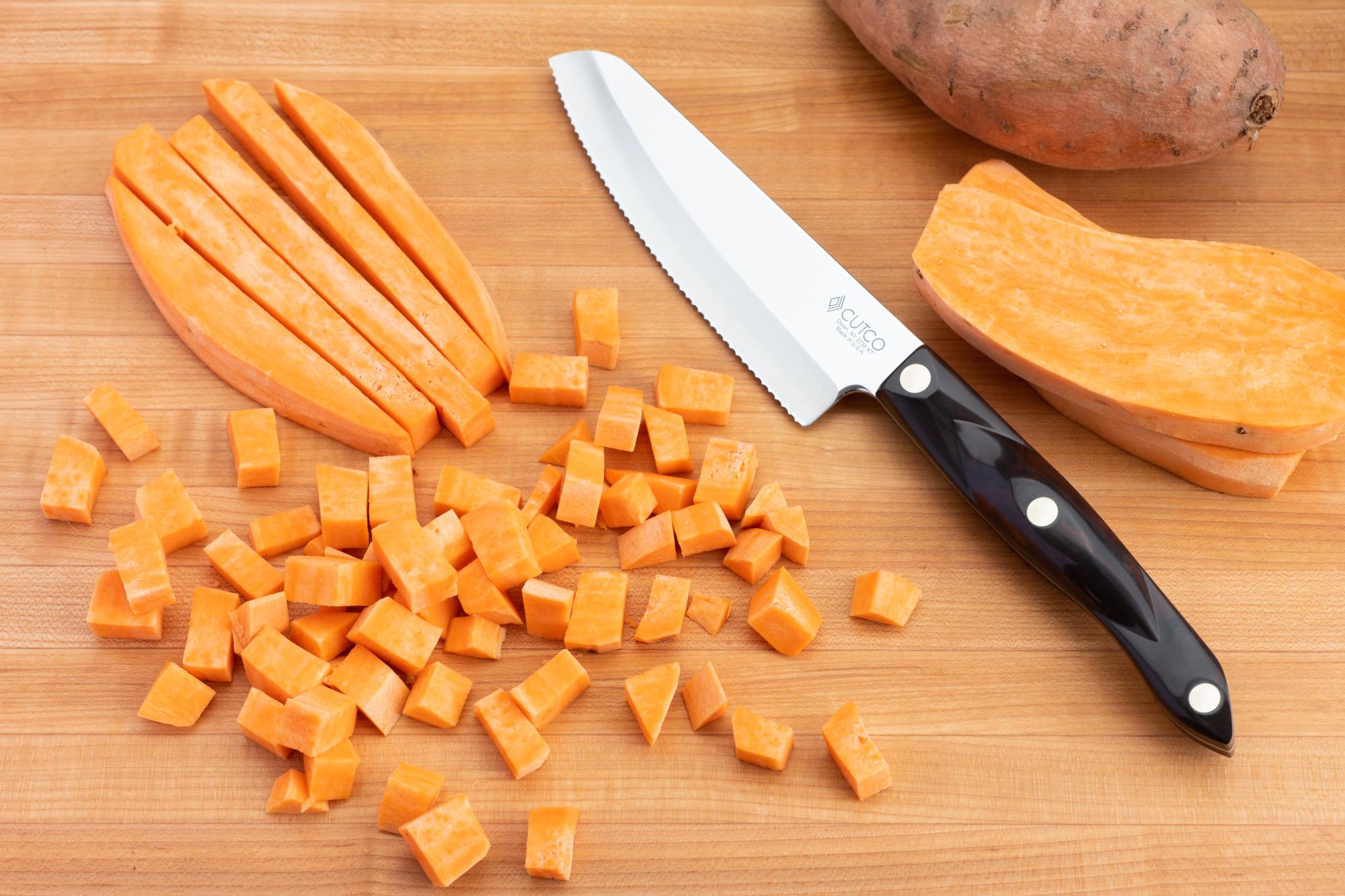 Once the sweet potatoes are diced, they're boiled and mashed, just as you would with regular potatoes. The sturdy construction of Cutco's Potato Masher powers through the cooked potatoes with little effort.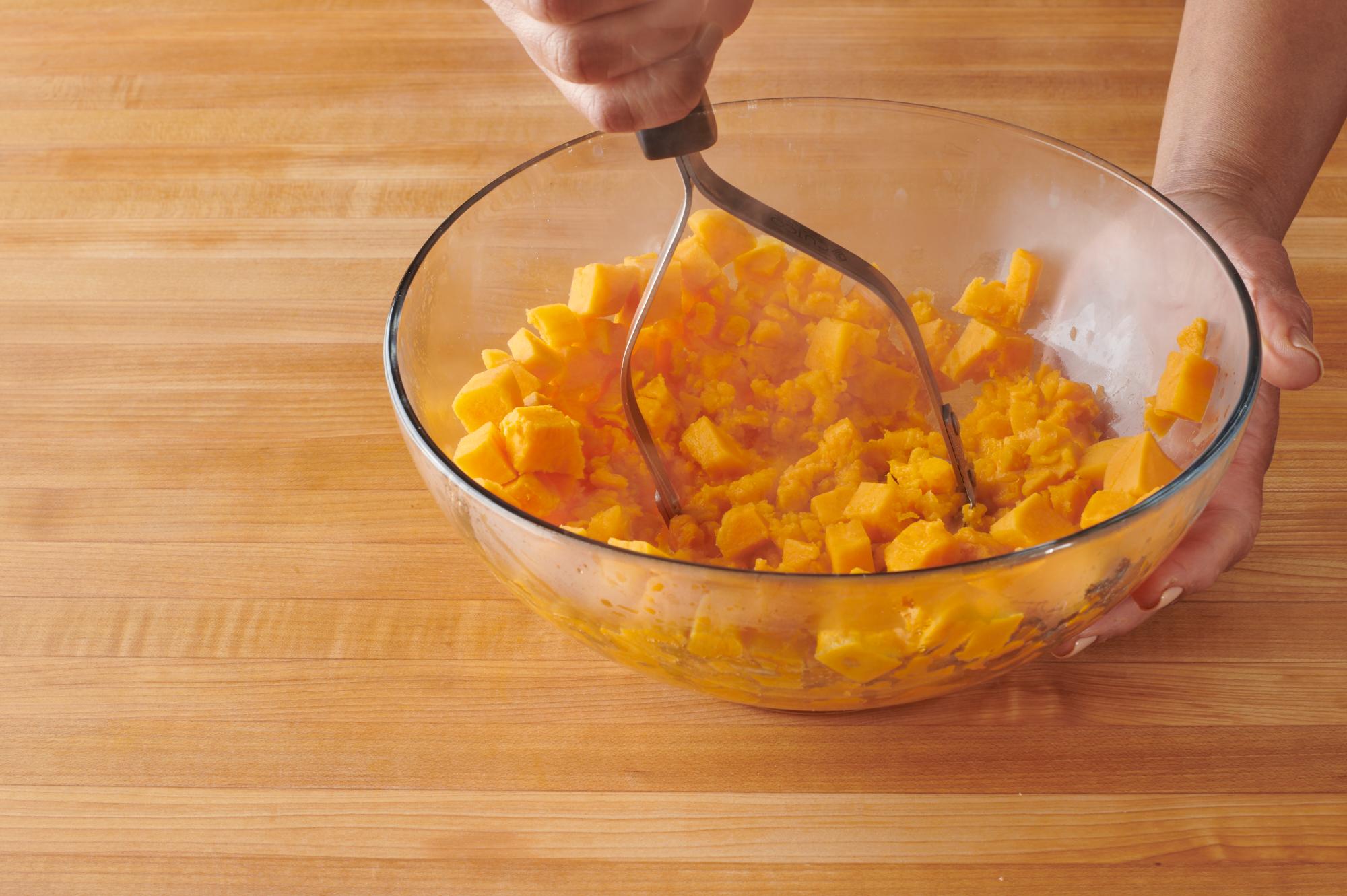 The mashed sweet potatoes are combined with roasted garlic, heavy cream, salt and pepper, making them creamy, a touch savory, and a whole lot of delicious.
If you've never roasted garlic before, it's a simple process. Take a look at Cutco's easy tutorial, How to Roast Garlic, for information on how it's done.
With any recipe, it's always a good idea to prep ingredients ahead before you start putting everything together. So, before cooking the ground meat, chop up your vegetables.
Use a 7-5/8" Petite Chef knife or other good prep knife to dice the carrots.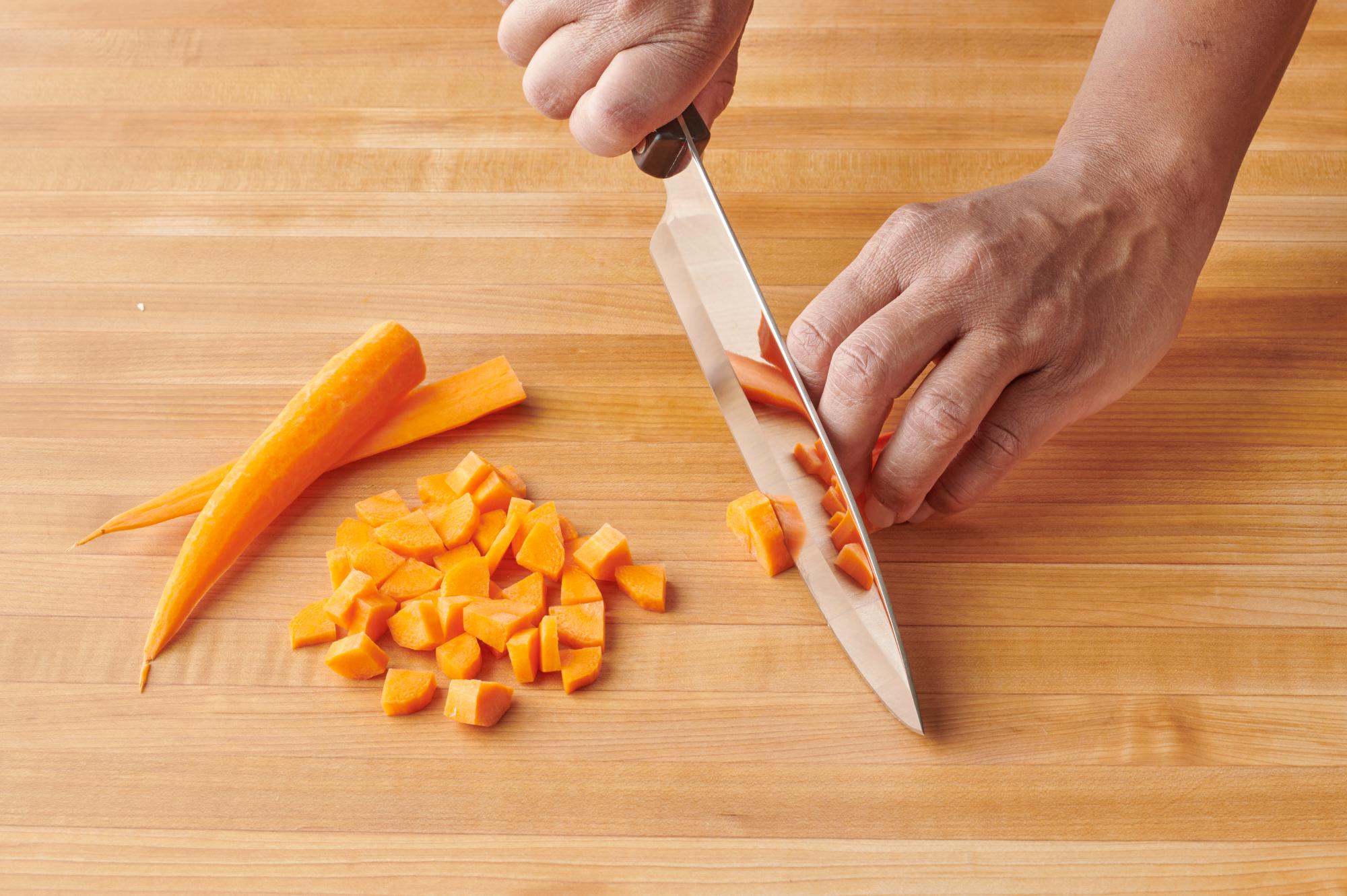 For the shallots, the smaller 5″ Petite Santoku is a good choice, since its blade is a bit shorter, matching the size of the shallots.
After all the chopping is done, measure out all the rest of the ingredients for the meat mixture so you can just toss them in as you go.
Assembling the Shepherd's Pie
To make the Shepherd's Pie, place the meat mixture in an even layer into the bottom of a casserole dish, making sure to spoon off any excess fat. Then, place the warm garlic mashed sweet potatoes on top, spreading them out in an even layer. You could also pipe them on for a decorative presentation.
If sweet potatoes aren't your thing, feel free to use regular potatoes instead.
To serve this deep-dish casserole, you may want to consider using Cutco's Basting Spoon for a nice heaping helping.
Ingredients
For the mashed potatoes:
1 1/2 pounds sweet potatoes, peeled and diced
4 cups water, salted
2 tablespoons unsalted butter
Whole bulb of roasted garlic, removed from skin and smashed
4 tablespoons heavy cream (at room temperature)
Salt and pepper, to taste
1 tablespoon olive oil
1 pound lean ground beef (or chicken)
1 pound ground lamb (or you can use all beef)
2 medium-sized carrots, peeled and chopped
2 shallots, chopped
1 cup beef stock (or vegetable stock)
1 teaspoon sweet paprika
1 teaspoon dried thyme
2 tablespoons tomato paste
2 tablespoons Worcestershire sauce
1/2 cup frozen peas
1 tablespoon fresh sage and parsley leaves
Salt and pepper, to taste
1 to 2 dashes hot sauce, optional
Directions
Boil the potatoes in salted water until tender.
Drain the water off and add the butter, roasted garlic and cream to the pot.
Mash until smooth and creamy.
Season to taste with salt and pepper.
Make the meat filling next. In a large pan over medium heat, add the oil and meat. Cook the meat until it is brown and crumbles.
Add in the carrots and shallots and continue to cook for an additional 5 minutes. Add the stock and stir.
Combine the paprika and thyme, along with the tomato paste and Worcestershire sauce and add to the pan.
After an additional 5 minutes or so, add the frozen peas and herbs. Remove from heat and add salt and pepper, to taste. You can also add a dash of hot sauce, if desired.
Pour the meat mixture into a casserole dish but be sure to spoon off any extra fat first. Cover with the warm garlic mashed potatoes – piping them on for a nice presentation.
Place everything under the broiler until lightly browned.