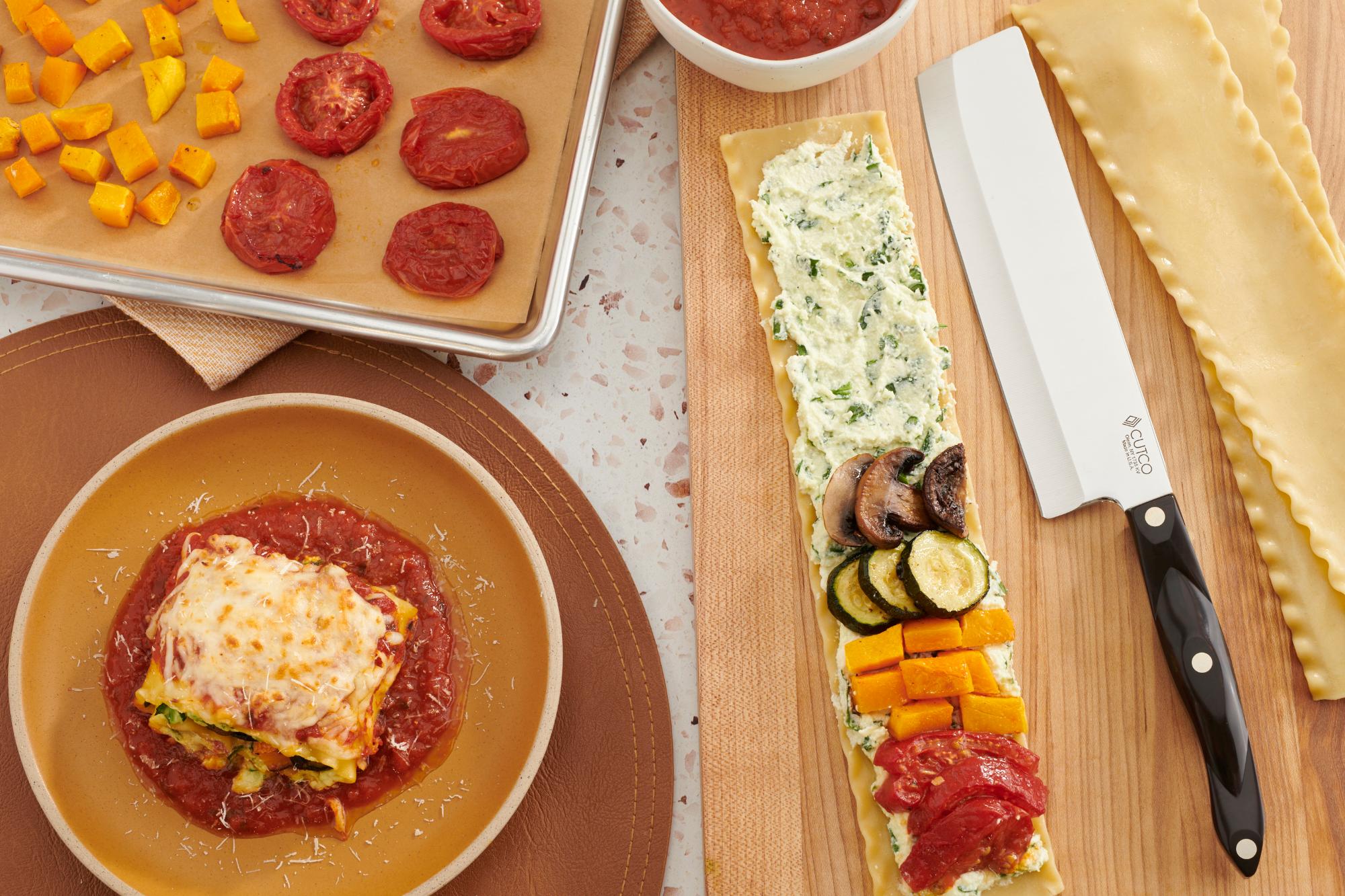 Sometimes, inspiration strikes at the right time and a delicious recipe is born. Such is the case with these Roasted Vegetable Lasagna Rolls. They were created on a whim to use up a bunch of roasted vegetables.
These are a nice departure from traditional meat lasagna. My kids and the kids in my cooking classes had a lot of fun rolling them up and they could also pick and choose which vegetables they wanted to include.
Preparing the Vegetables
For the butternut squash, use the tip of a 2-3/4″ Paring Knife to pierce the skin and microwave it for a few minutes to make it easier to cut. Use a 7-1/2″ Vegetable Knife to slice off the ends and then cut the squash in half at the neck.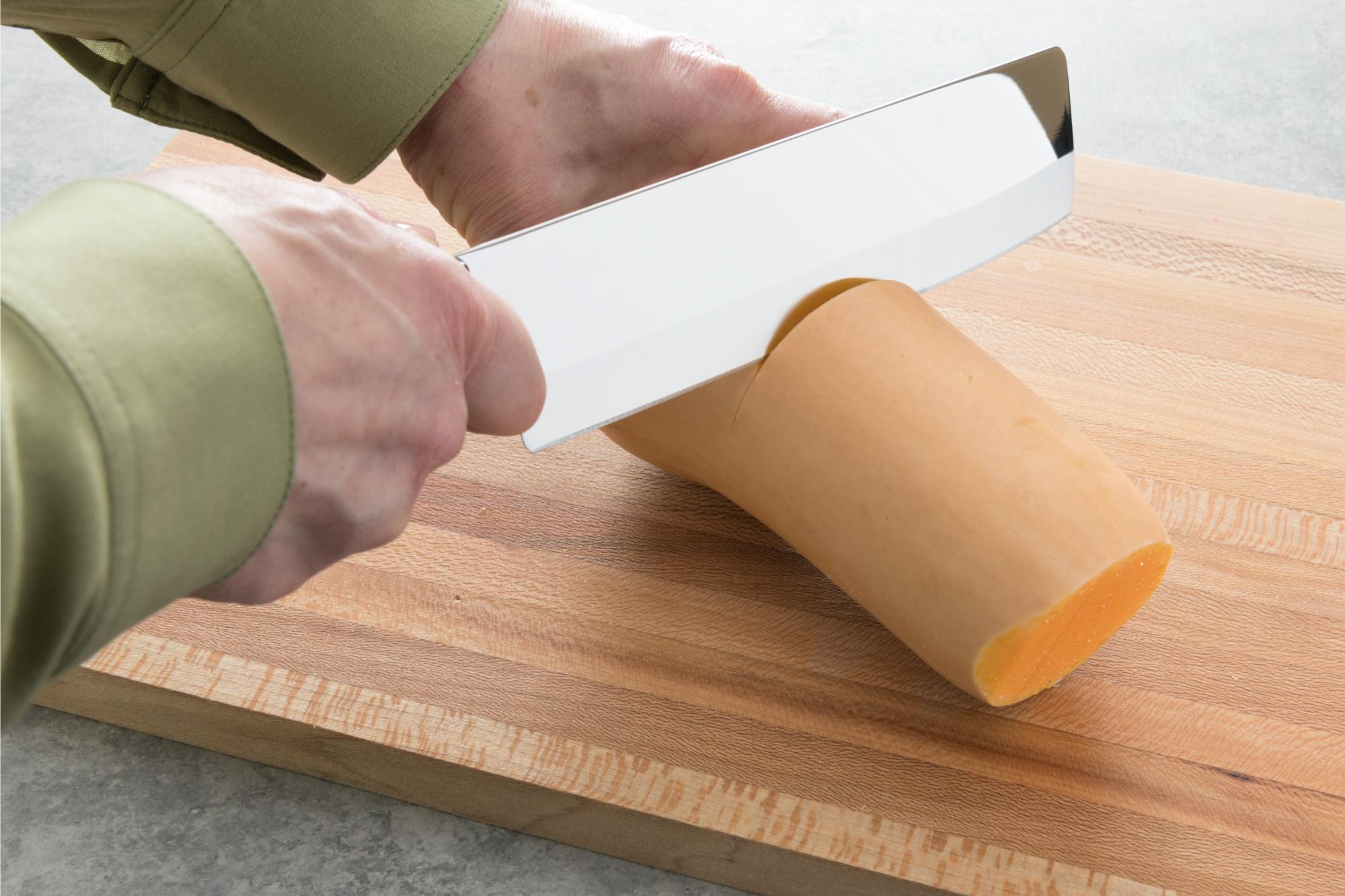 Peel each piece with a Vegetable Peeler or Paring Knife, remove the seeds from the round piece, and then slice and dice both pieces. Take a look at our How to Dice a Butternut Squash tutorial for step-by-step instructions.
The carrots and zucchini can be prepared with the same knife, but you might also want to try the smaller 6″ Vegetable Knife since you're working with smaller vegetables.
For the mushrooms, clean them with a damp paper towel and then use a 4″ Paring Knife to slice them in half.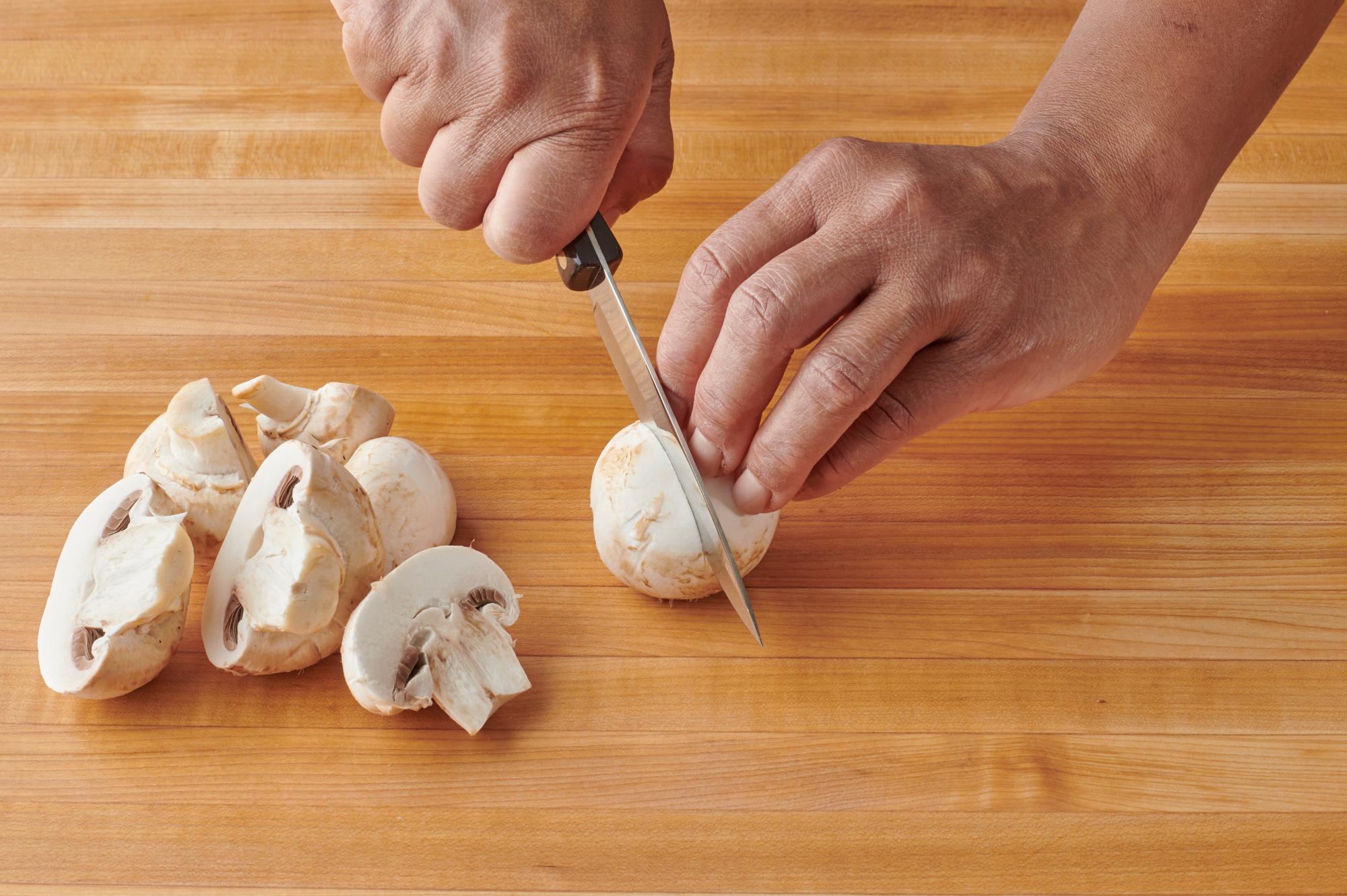 Once all the vegetables are prepped, they'll go into a hot oven to roast, which will coax out their sweet flavor.
There is a ricotta mixture that serves as the base for the rollups, which helps keep the vegetables in place when you roll them up. It is made with chopped baby spinach, ricotta, parmesan, egg and herbs.
Making the Lasagna Rolls
Now the fun begins. To make the rollups, lay out a lasagna noodle cooked al dente and spread on the ricotta mixture. Start to layer on the roasted vegetables.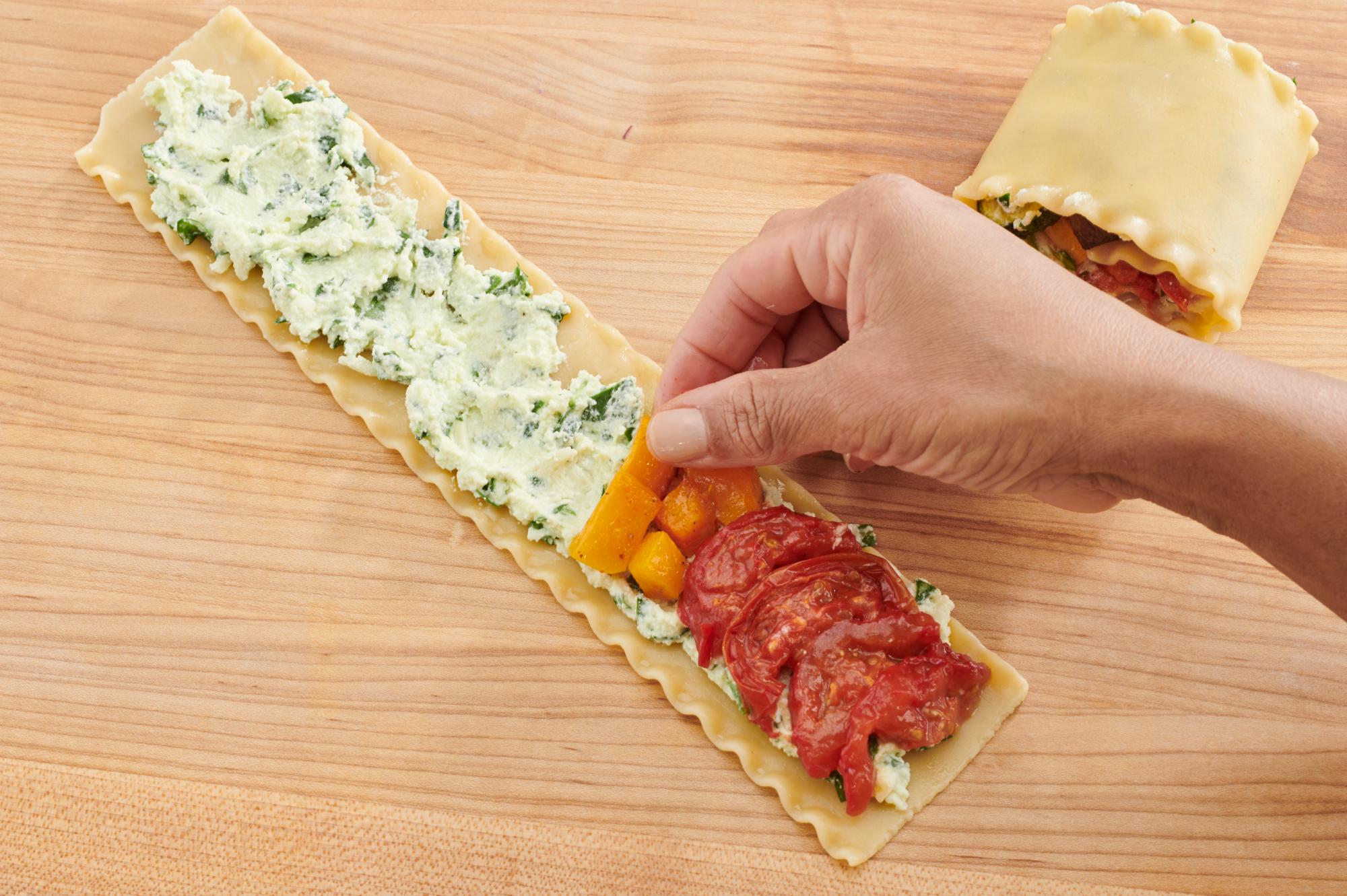 Carefully roll up the lasagna noodle and tuck the veggies inside as you go to prevent the filling from spilling out.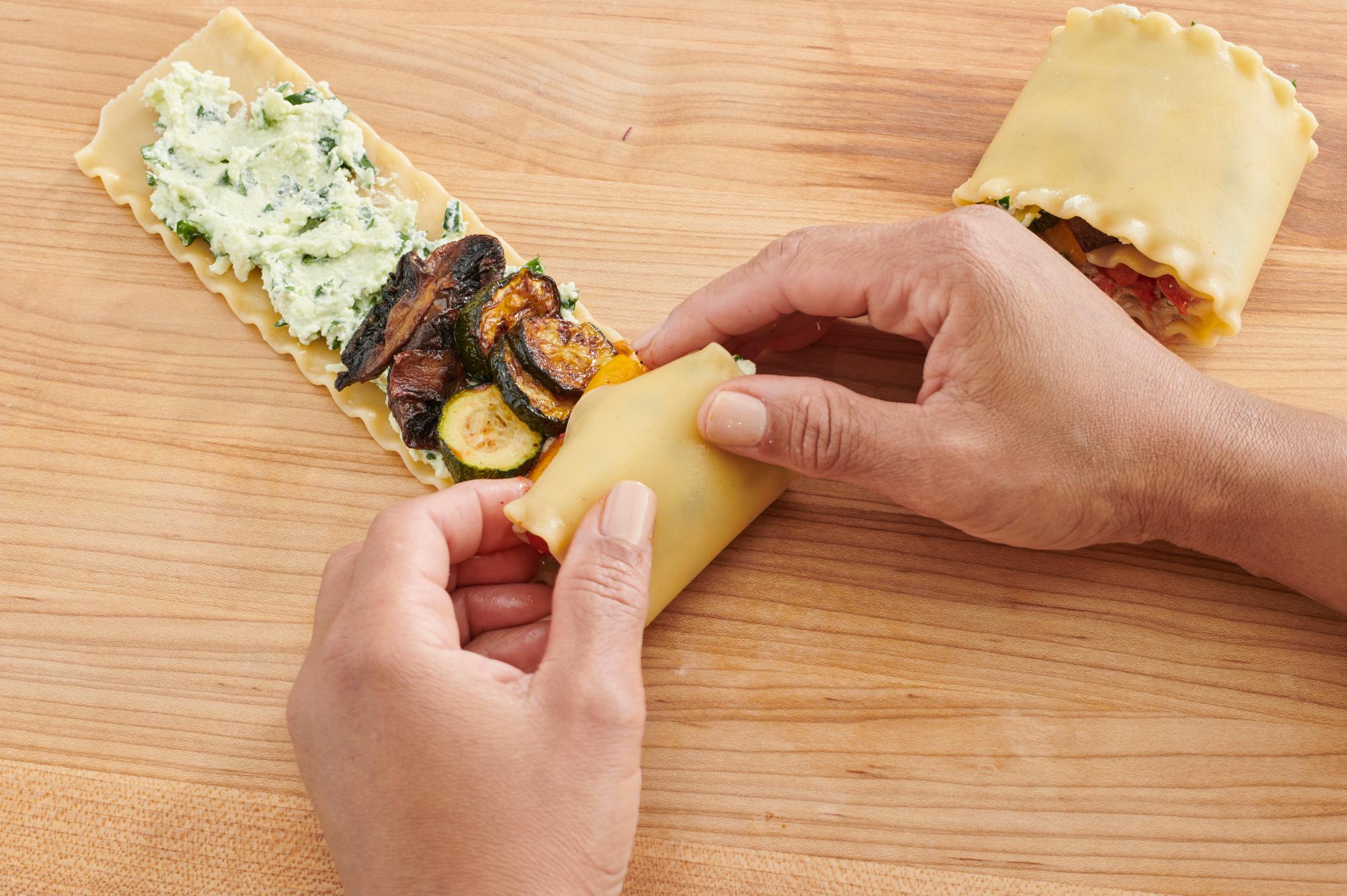 Place the rolls seam side down on a baking sheet, top with sauce and cheese before baking at 350 F for about 20 minutes.
Grab whatever produce is on its last leg in your refrigerator and use it for these Roasted Vegetable Lasagna Rolls. They are veggie-packed and full of flavor, a win-win.
Ingredients
1 small butternut squash, peeled and cubed
2 carrots, peeled and cubed
3 tablespoons olive oil, divided
Salt and pepper, to taste
2 zucchini, sliced thick
2 cups button mushrooms, sliced in half
6 plum tomatoes
2 cups fresh baby spinach, chopped
16 ounces part-skim ricotta cheese
1 cup shredded parmesan cheese, plus extra for serving
1 egg
1 teaspoon dried oregano and basil
4 cups red sauce of your choice, divided
1 pound box lasagna, cooked al dente
4 cups shredded mozzarella cheese
Directions
Preheat oven to 400 F.
Toss the butternut squash and carrots in 1-1/2 tablespoons of oil and season with salt and pepper. Place on a baking sheet and bake for 15 to 20 minutes or until fork tender.
Toss all other vegetables (except the spinach) in remaining oil, place on a separate baking sheet and roast for about 10 minutes.
While the vegetables are in the oven, combine the spinach, ricotta cheese, parmesan, egg and herbs in a bowl and mix well.
Season with salt and pepper.
Prepare a 9-by-13-inch casserole dish, by placing 1-1/2 cups of the red sauce on the bottom. Set aside.
Remove vegetables from the oven and begin to assemble your rolls.
Lay one pasta sheet out and add a teaspoon of red sauce.
Next, top with a teaspoon of the ricotta mixture.
Using a tablespoon, add a mixed layer of roasted vegetables and top with mozzarella cheese.
Carefully roll up your lasagna sheet and tuck in the sides as you go along to prevent the filling from spilling out.
Continue until you use all of your pasta sheets.
Place the rolls seam side down on a baking sheet and top with more sauce and mozzarella cheese.
Bake at 350 F for about 20 minutes and enjoy!
Recommended Tools