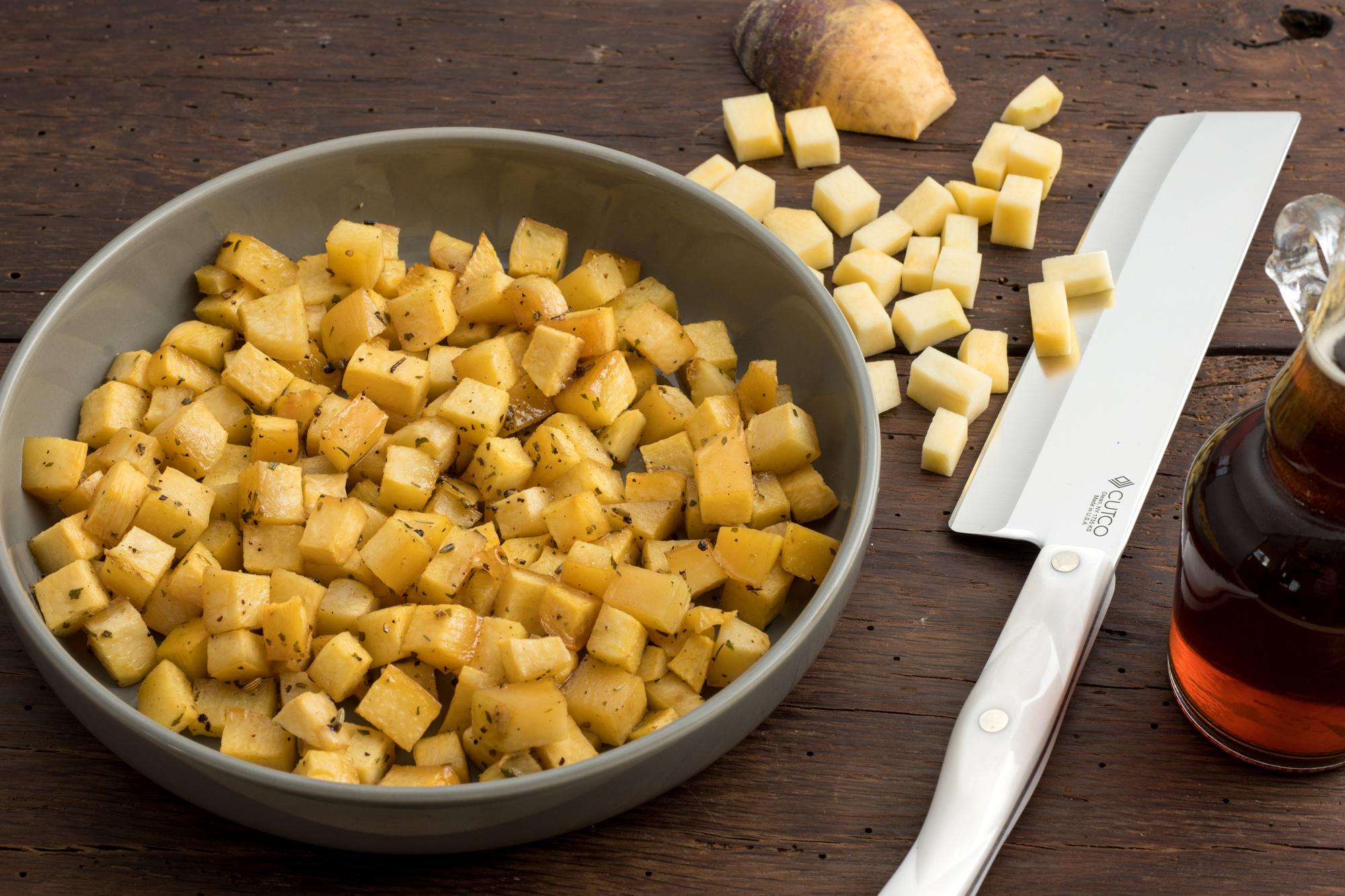 What exactly is a rutabaga? It's not a vegetable I grew up with or was familiar with, but I keep seeing it in my local grocery store. A rutabaga (also called a swede) is a root vegetable that originally was grown to be a cross between a cabbage and a turnip. The raw rutabaga tastes a bit milder than a turnip but when cooked, it turns sweet yet savory with a golden hue that is less starchy than a potato but equally tasty.
When cooking root vegetables, I typically default to roasting them. It's just so easy and flavorful. With very little prep time it's a perfect easy side dish for that weeknight meal. The rutabaga is very easy to prepare for any recipe – it just looks interesting. Check out our handy infographic, How to Cut a Rutabaga, and you'll be a pro in no time.
For this Roasted Rutabaga with Maple Syrup recipe, I chose to cut the rutabaga in half with Cutco's Vegetable Knife and then cut slices.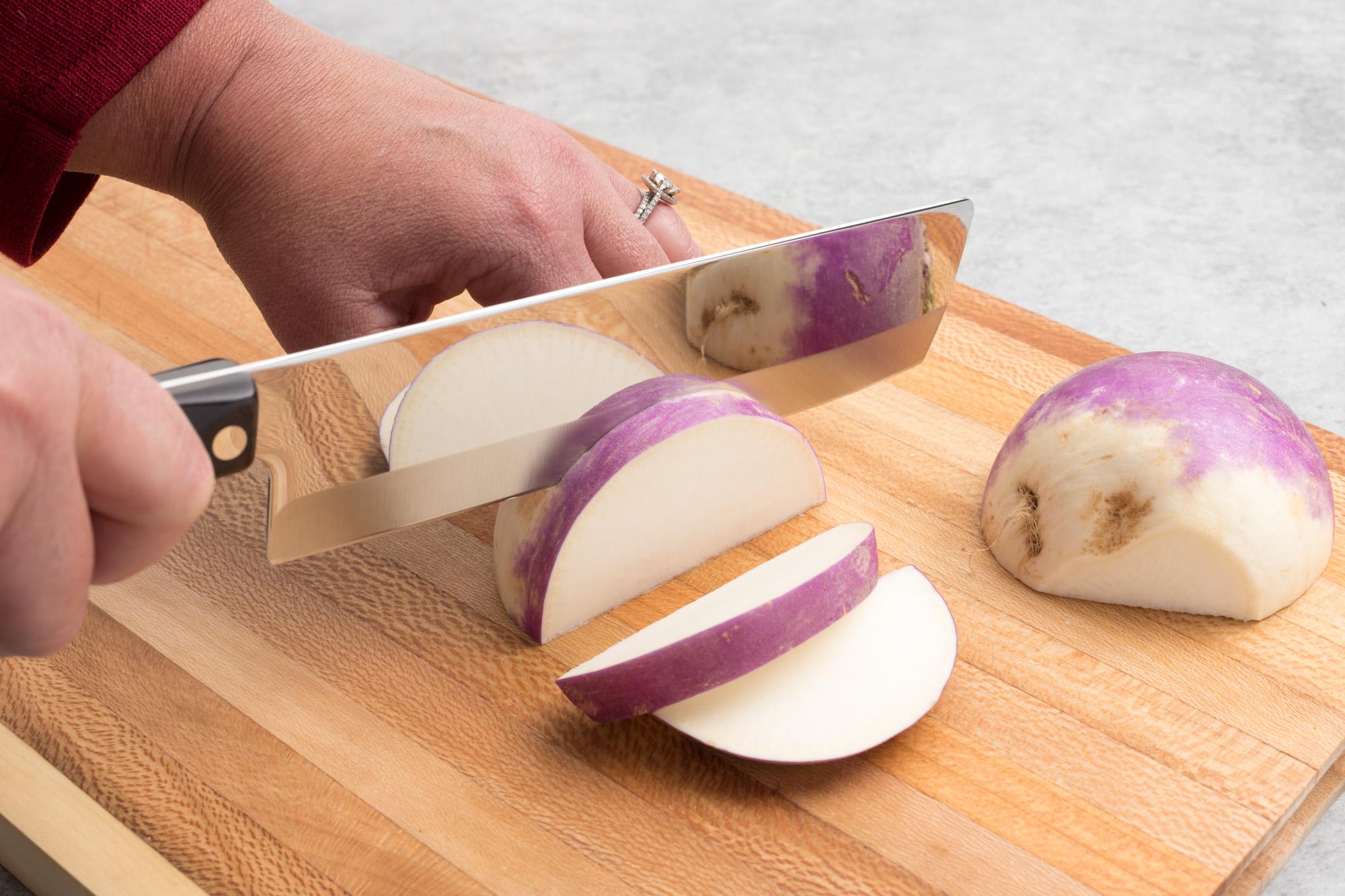 I then peeled the skin from each slice using a 2-3/4" Paring Knife. If you prefer, you can also peel the vegetable before slicing using a good, sharp Vegetable Peeler.
While I was prepping the rutabaga, I made sure to put my baking sheet in the oven while it was preheating. Tip for roasting vegetables: Always make sure your baking sheet is hot before you place your vegetables on the sheet. This allows for a quick sear of the vegetables, locking in flavor and immediately beginning the browning process.
For the dressing, I kept it simple as I wanted to enhance the savory and sweet elements of the rutabaga. So just a blend of olive oil, real maple syrup, Herbs de Provence, salt and pepper. If you don't have Herbs de Provence on hand you could always go with oregano or perhaps an Italian seasoning mixture.
That's it! None of us in the kitchen were overly familiar with rutabaga but we all agreed it was quite tasty. Give it a try and let us know what you think. I can say we didn't have any leftovers and that's always a good sign of success in the kitchen.
Ingredients
1 1/2 pounds rutabagas, large dice
2 tablespoons olive oil
3 tablespoons real maple syrup
1 teaspoon Herbs de Provence
1/2 teaspoon salt
1/4 teaspoon black pepper
Directions
Place the baking sheet in the oven and heat the oven to 400 degrees to heat up while you prepare the rutabaga (this allows the pan to heat up while you prepare the rutabaga).
Cut the rutabaga into a large dice.
Put the rutabaga into a large bowl and add the olive oil, maple syrup, Herbs de Provence, salt and pepper. Toss gently.
Using a Slotted Spoon, place the rutabaga on the hot baking sheet in a single layer – reserving the liquid in the bowl.
Roast in the oven for 20 minutes, then drizzle the remaining liquid mixture from the bowl over the rutabaga. Cook for an additional 20 minutes or until the rutabaga is crisp and brown.
Recommended Tools