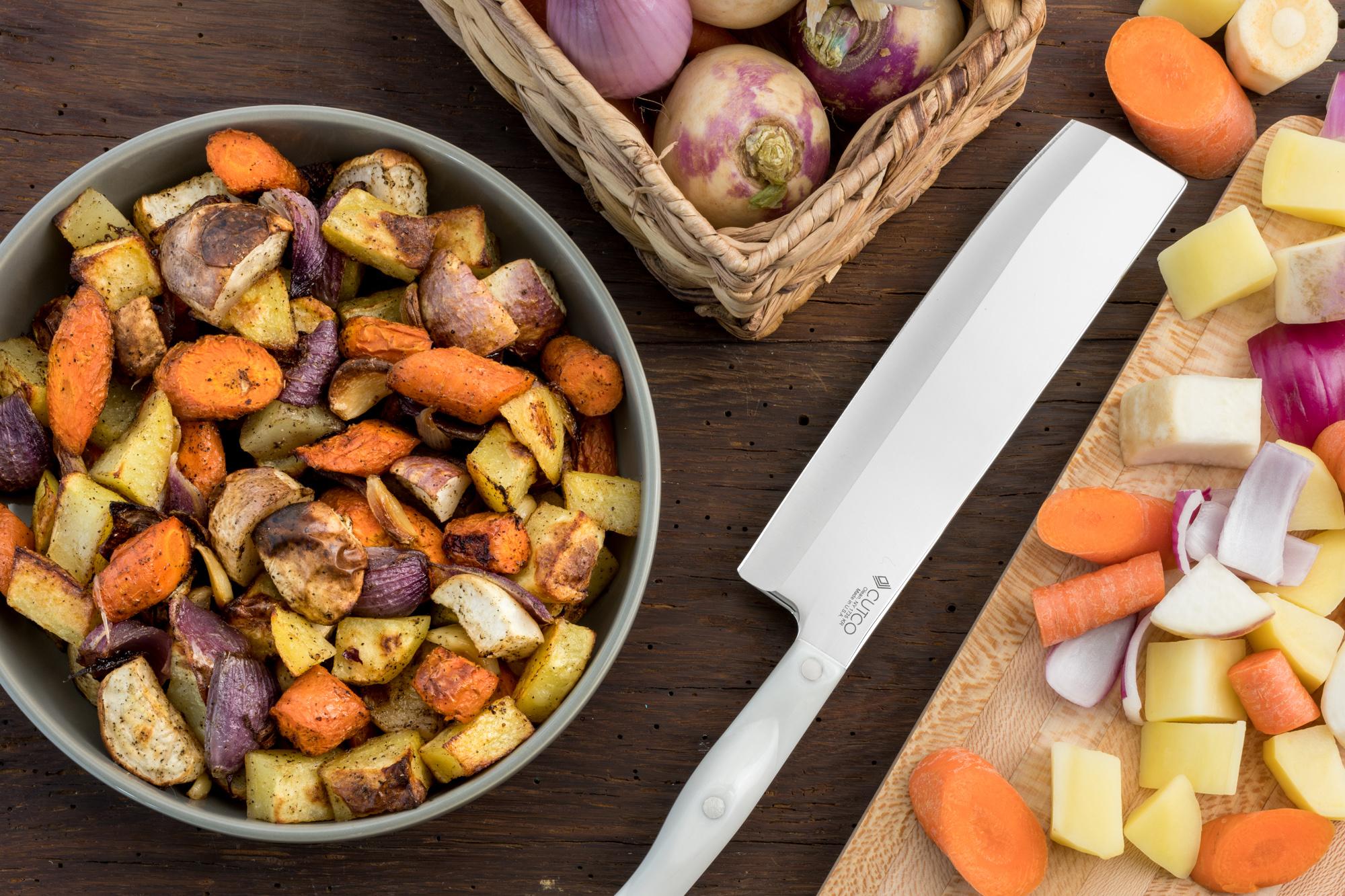 I am known for my roasted vegetables. Generally I use eggplant, zucchini, onions and many different colored bell peppers, but at this time of year I like to switch it up a bit and use root vegetables such as turnips, carrots, potatoes and onions.
When prepping the veggies, I used the Hardy Slicer to power through the turnip with its hefty blade and sharp Double-D® edge.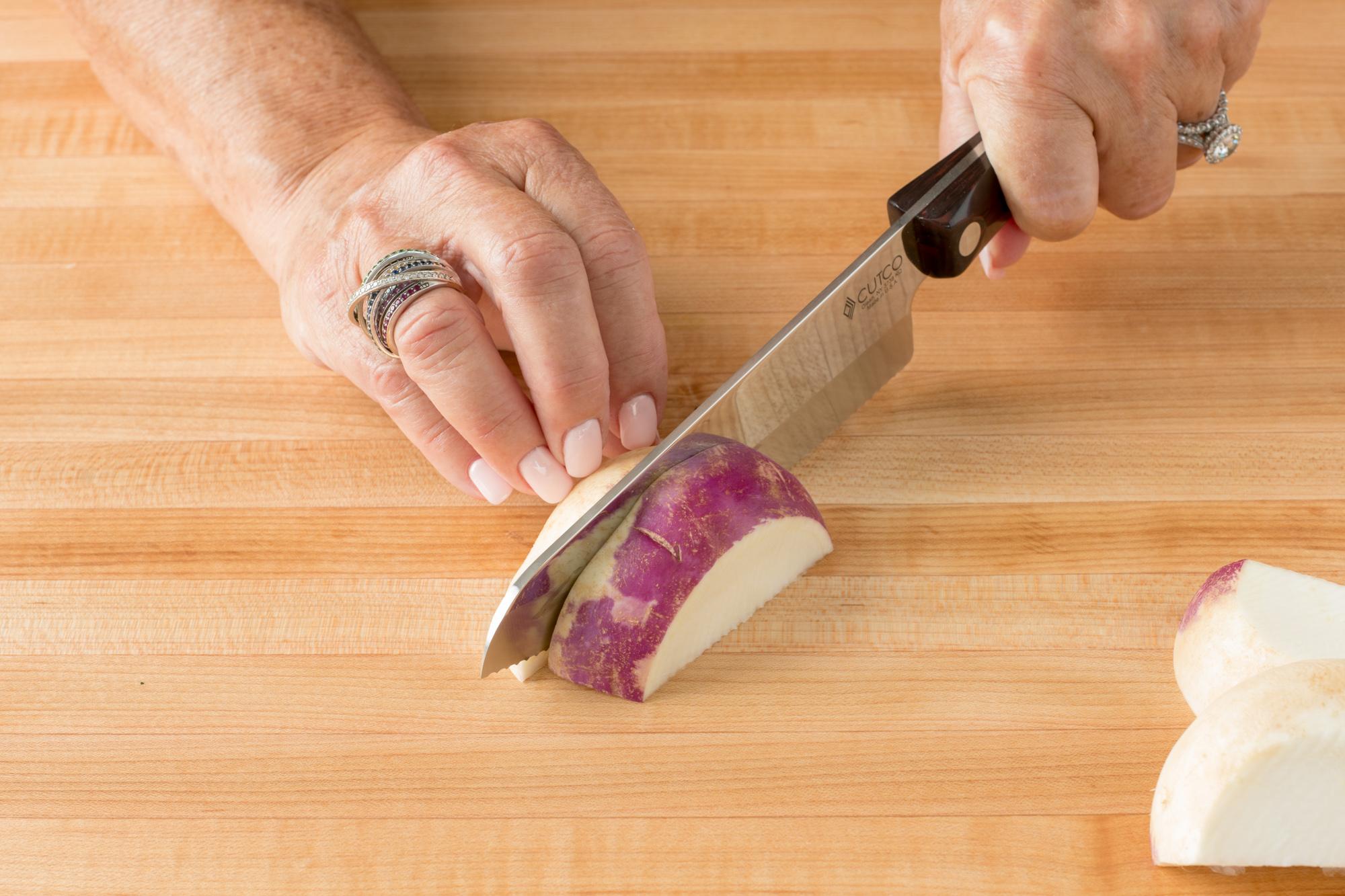 For the carrots, potatoes and parsnips the Vegetable Knife was my knife of choice.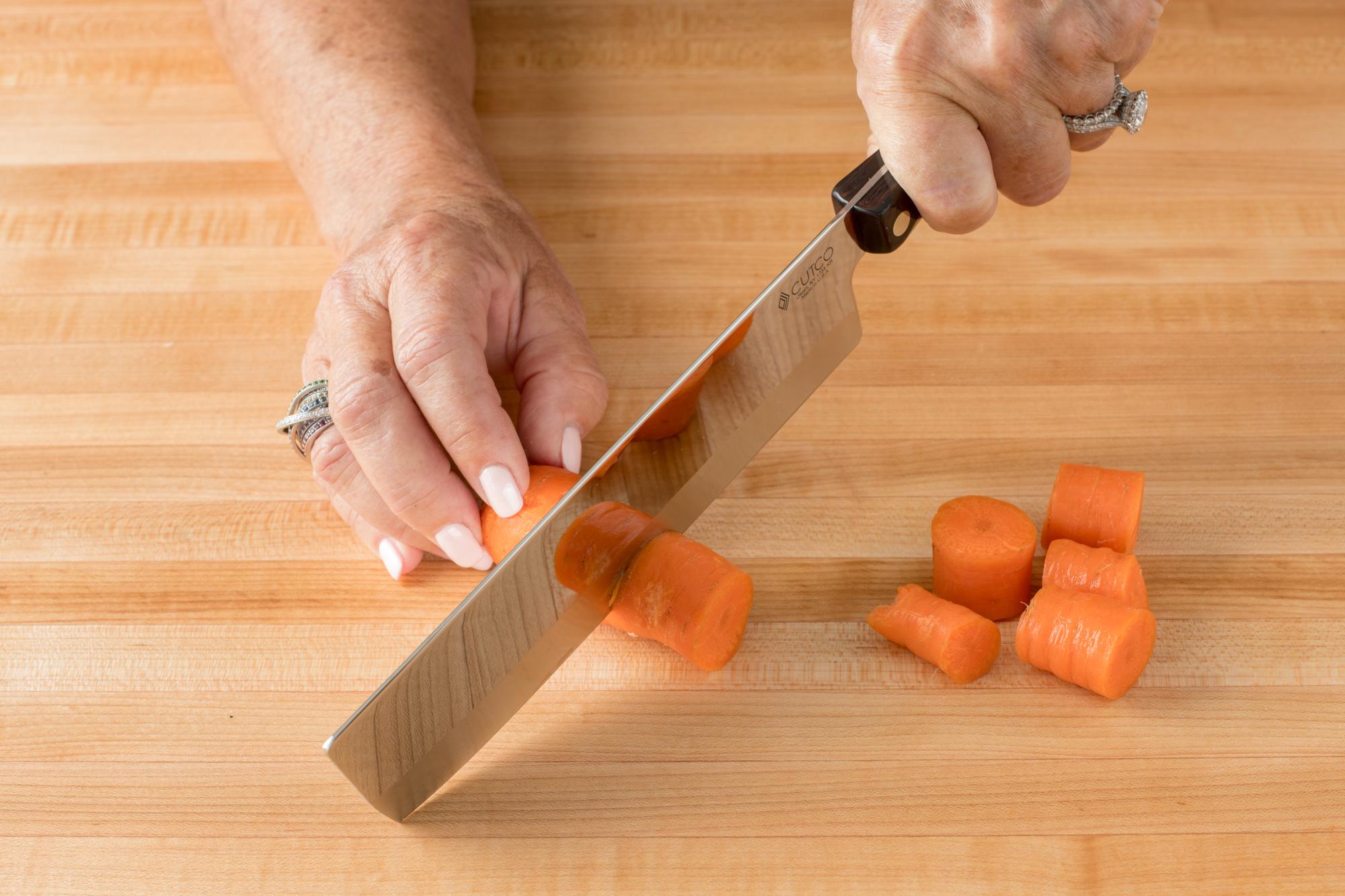 The sharp, wide blade works great on these veggies and, as a bonus, you can scoop everything up onto the wide blade to transfer to the bowl.
Whenever you roast vegetables it is important to keep them in a single layer in the roasting pan or baking sheet so they brown evenly. And most important, you need to make more than you think you will need. They are always a huge hit and your guests will want leftovers to take home.
---
Calories: 120, calories from fat: 20, total fat: 2.0 g, saturated fat: 0.3 g, cholesterol: 0 mg, sodium: 300 mg, potassium: 585 mg, total carbohydrate: 25 g, dietary fiber: 4 g, sugars: 4 g, protein: 3 g, phosphorus: 90 mg.
Reprinted with permission from the American Diabetes Association. Copyright 2013 by the American Diabetes Association
Roasted Root Vegetables with Garlic
Serving size 2/3 cup, 9 Servings
Print Recipe
Ingredients
1 large turnip (about 2 cups), scrubbed or peeled, cut into 1-inch chunks
3-4 carrots (about 1 cup), scrubbed or peeled, cut into 1-inch chunks
3-4 Yukon gold potatoes (about 2 cups), scrubbed, unpeeled, cut into 1-inch chunks
3-4 parsnips (about 1 cup), scrubbed or peeled, cut into 1-inch chunks
8-12 shallots (about 2 cups), peeled
1 tablespoon extra-virgin olive oil
1 teaspoon fine sea salt
1 teaspoon freshly ground pepper
1 head garlic, cloves separated and peeled
Fresh herb sprigs (for garnish)
Drizzle of balsamic vinegar (optional)
Directions
Heat oven to 425 F.
Place all prepped veggies in large bowl. Toss with olive oil, salt and pepper. You will use less oil by tossing them in the bowl as opposed to drizzling on the baking sheet.
Line baking sheet with parchment. You might need more than 1 baking sheet. Place cut vegetables and garlic on baking sheet in single layer.
Roast to desired doneness, approximately 40-45 minutes. Garnish with fresh herbs and drizzle of balsamic vinegar, if desired.
Exchanges 1 starch, 2 vegetable
Recommended Tools