Cookware Care
Tips and details for keeping Cutco cookware beautiful.
Daily Care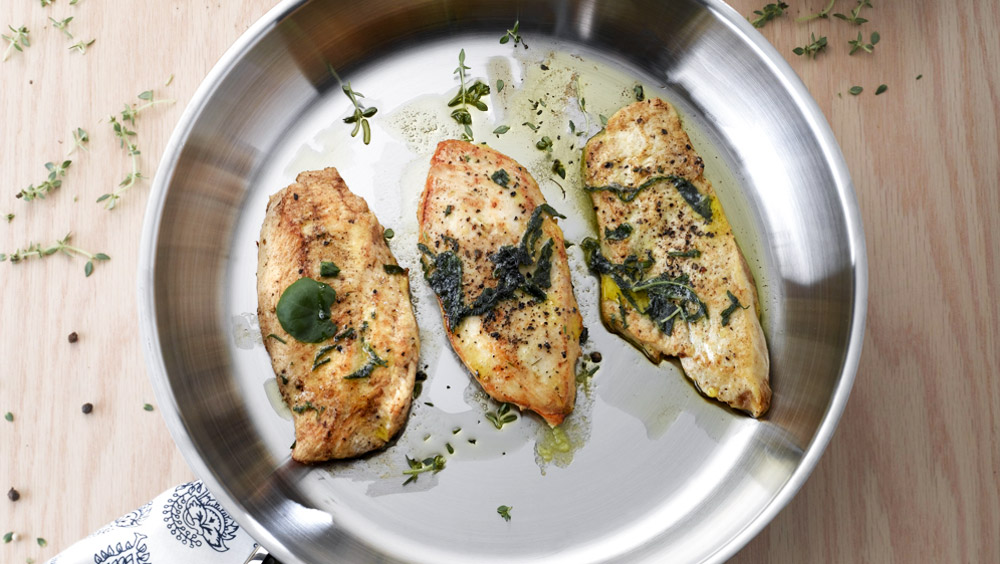 Wash Cookware in hot soapy water. Use a sponge or dishcloth, rinse thoroughly in hot water and dry promptly. Cutco Cookware is dishwasher safe, however, like all fine cookware, handwashing is recommended.
Clean thoroughly after each use. Food films left on the surface can cause discoloration when the cookware is heated the next time.
Avoid using excessively high heat. This can cause heat tints on stainless steel surfaces.
To remove heat discoloration, food stains and minor scratches: Use a cleaner such as Bar Keeper's Friend, or make a paste of water and a non-abrasive cleaner. Apply with a damp cloth or sponge and rub lightly in a circular motion. Rewash, rinse and dry promptly.
To remove burned-on or dried-on food: Let cookware cool, then fill part way with cold water and bring to a boil over medium heat. When food particles loosen, allow pan to cool and clean as usual.
DO NOT pour cold water into hot cookware. Extreme and sudden temperature changes can cause any metal to warp.
Cutco Cookware is designed for stove-top use. With the exception of the Gourmet Fry Pans and Griddle, we DO NOT recommend using your Cookware in the oven.
If food is left to cool in a covered pan after cooking, the cover may adhere tightly to the pan. Simply reheat to break the vapor seal.
Hanging loops offer a storage option. Take care when stacking your cookware to prevent scratching and marring.
Never
Use abrasive cleaners and scouring pads, oven cleaners or cleaners containing chlorine bleach.
Cut or chop food on the stainless steel surface.
Avoid hitting cookware with spoons, spatulas and other implements.