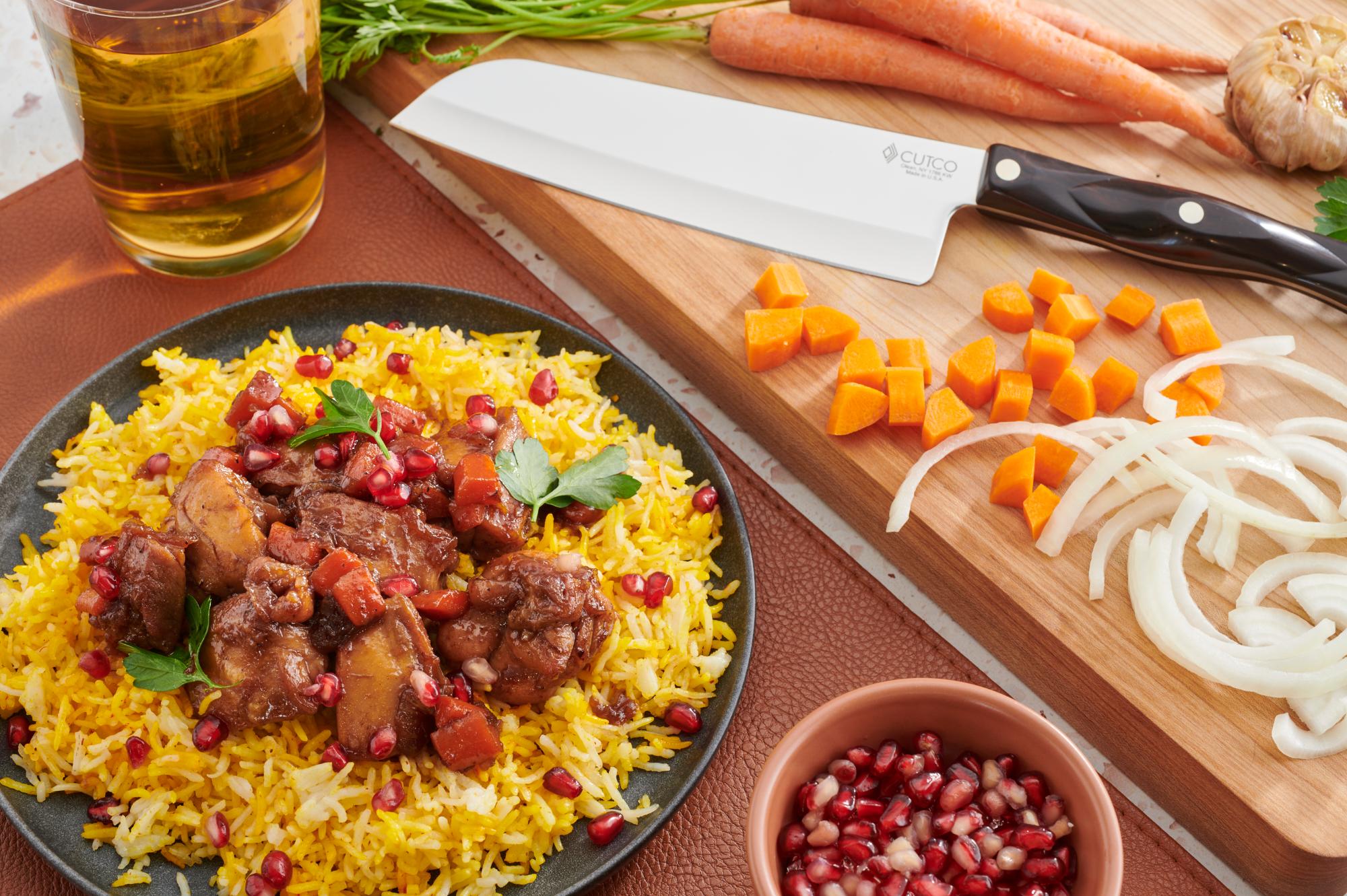 This dish is my spin on a traditional Iranian recipe called Fesenjan, which incorporates walnuts with pomegranate molasses to create a savory sauce. My son is allergic to tree nuts, so I created this version, called Pomegranate Chicken, which is nut-free so he can enjoy this family favorite meal.
Prepping the Ingredients
A sharp knife and a steady cutting board will have you prepping the ingredients for this dish in no time.
Use a 7-5/8″ Petite Chef to thinly slice the onion.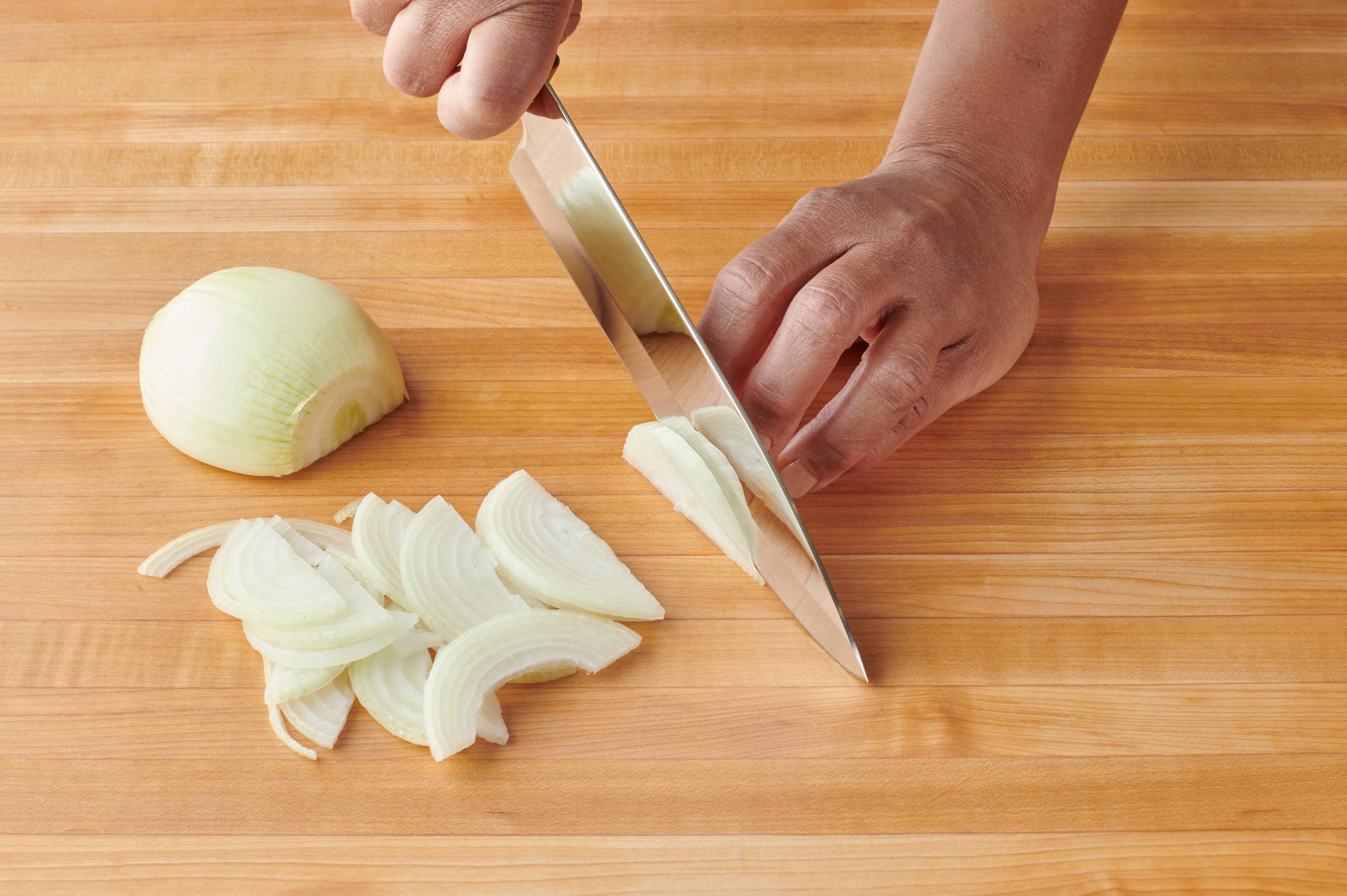 For the carrots, peel them with a Vegetable Peeler and then use the 7-5/8″ Petite Chef to dice them. Trim off the ends and then cut the carrot into three- to four-inch pieces so they're more manageable to work with. Cut the carrot pieces in half lengthwise and then into quarters. Cut crosswise to dice.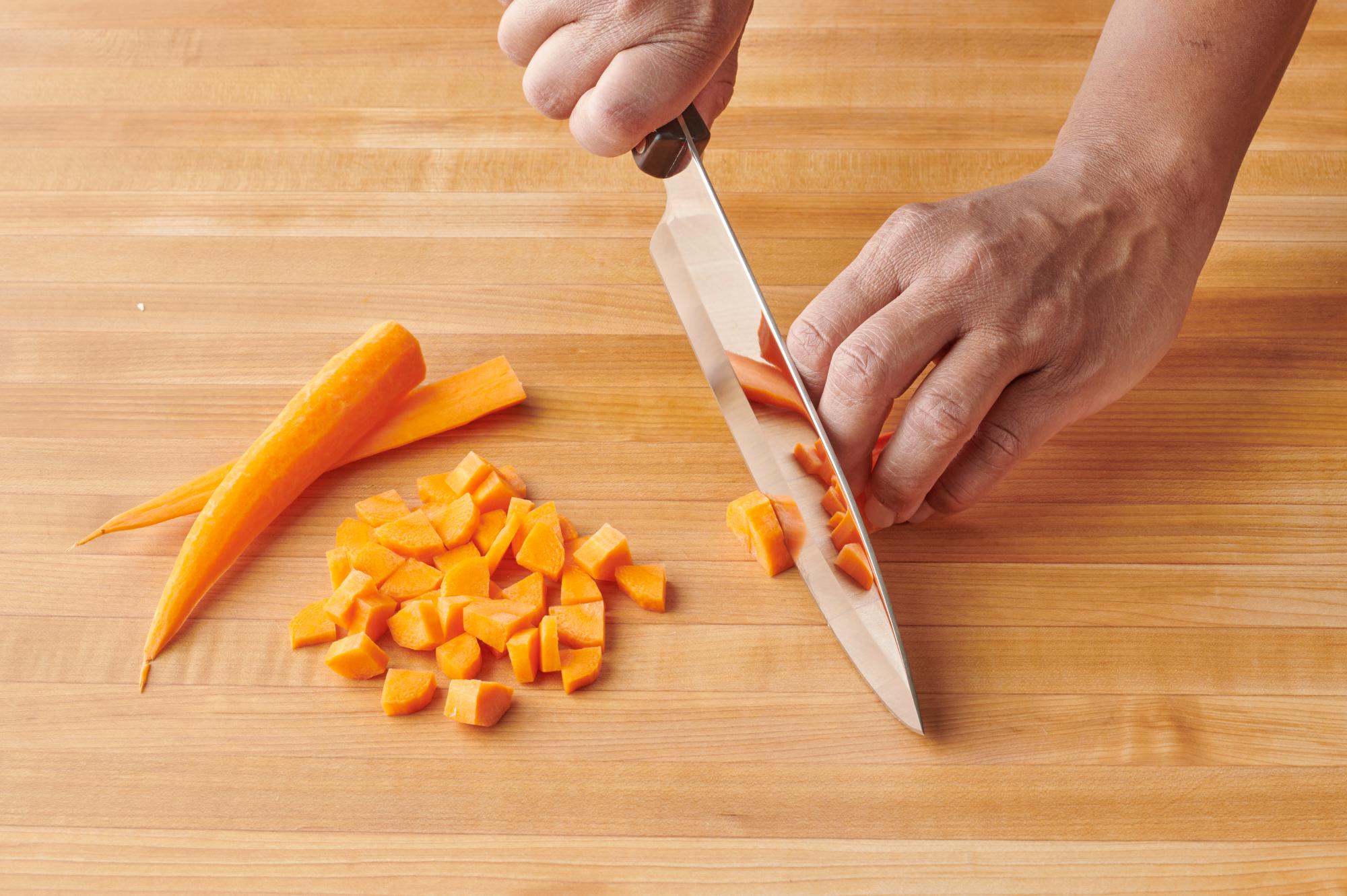 If you want to make a perfectly square diced carrot, take a look at Cutco's How to Dice Carrots step-by-step tutorial.
The garlic is roasted for this recipe and then smashed with the flat side of a 7″ Santoku blade.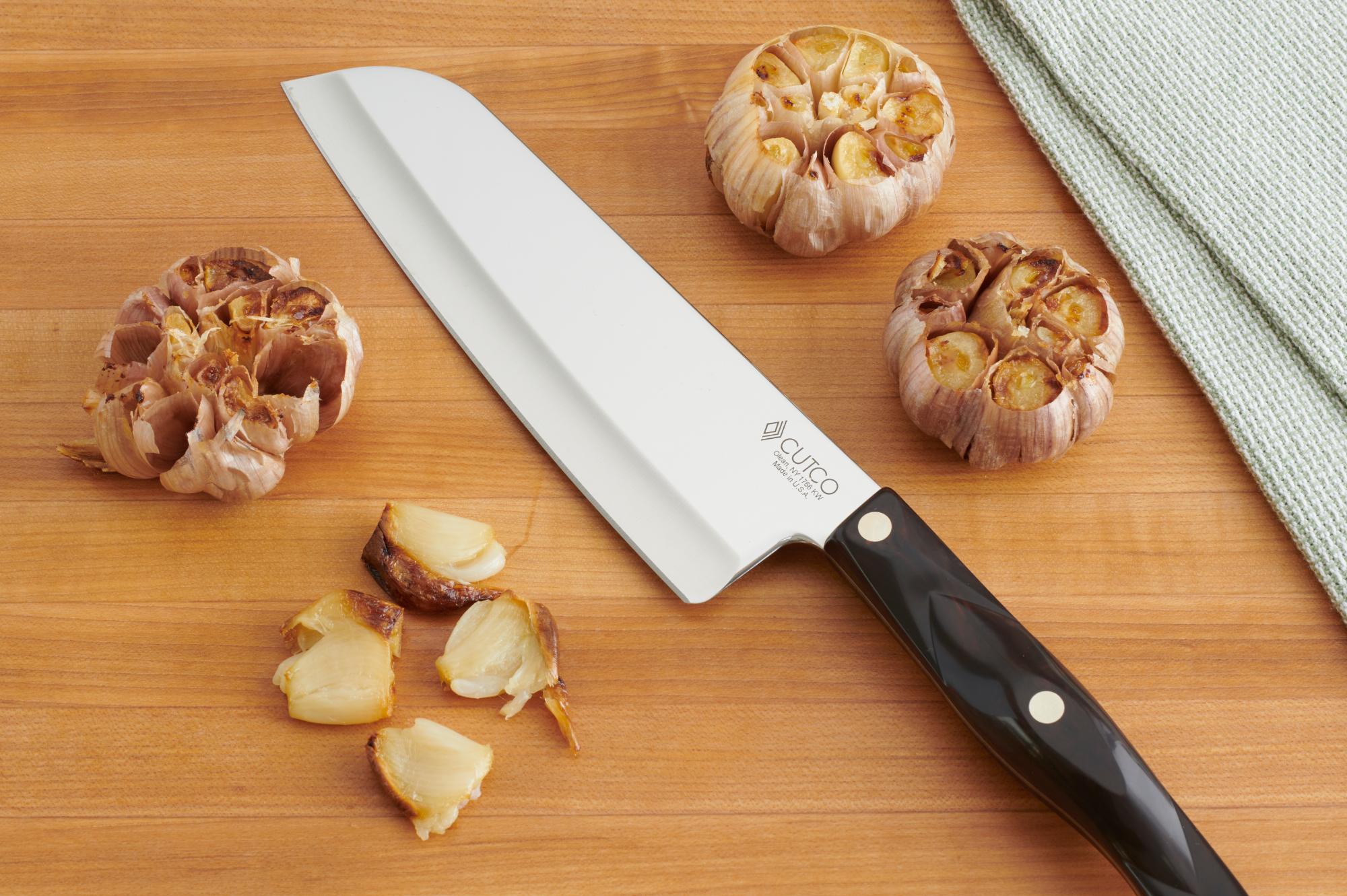 Roasting the garlic mellows it a bit as to not overpower the rest of the dish.
Putting it Together
What's great about this Pomegranate Chicken is that it is an all-in-one skillet meal. Everything is cooked in the same pan for easy clean-up.
It starts with sautéing carrots and onion to soften them, and then cubed chicken thighs are added to brown them. The rest of the ingredients are tossed in to make up the delicious pomegranate sauce. They include roasted garlic, pomegranate molasses, brown sugar or honey, chicken stock, saffron threads (if you're using them), salt and pepper. As it cooks, the sauce will thicken and coat the chicken and vegetables.
Pomegranate molasses is typically found in the international aisle of grocery stores. However, if you can't find it, you can substitute fresh pomegranate juice by bringing it to a boil and then simmer for 15 minutes to thicken.
The sauce can also be made on its own and goes well with grilled or baked salmon. Simply pour it on top once your fish is cooked.
When it's done, serve this sweet and somewhat tangy Pomegranate Chicken over cooked basmati rice and enjoy!
Ingredients
1 tablespoon olive oil
1 large onion, thinly sliced
1 cup diced carrots
1 pound boneless chicken thighs, cubed
4 roasted garlic cloves, smashed
1/2 cup pomegranate molasses
1-2 tablespoons brown sugar or honey (taste to see if sauce is too sour and adjust)
2-3 tablespoons chicken stock
1/2 teaspoon ground saffron threads, optional
Salt and pepper, to taste
2 cups cooked basmati rice, for serving
Directions
In a large sauté pan over medium heat, warm oil.
Add in onions and carrots then sauté for 5 to 7 minutes.
Place in the chicken and brown on all sides.
Add roasted garlic, pomegranate molasses and brown sugar (or honey).
Add chicken stock, starting with 2 tablespoons and adding more if needed (it is supposed to be on the thicker side.). Then add saffron threads (if using) and season with salt and pepper.
Bring to a boil.
Reduce heat to medium-low and continue to cook for 25 minutes.
Check to see if the sauce is too sour and adjust.
If the sauce is too thick, remove the chicken and use a hand blender to smooth it out and then add chicken back in.
Serve over rice.