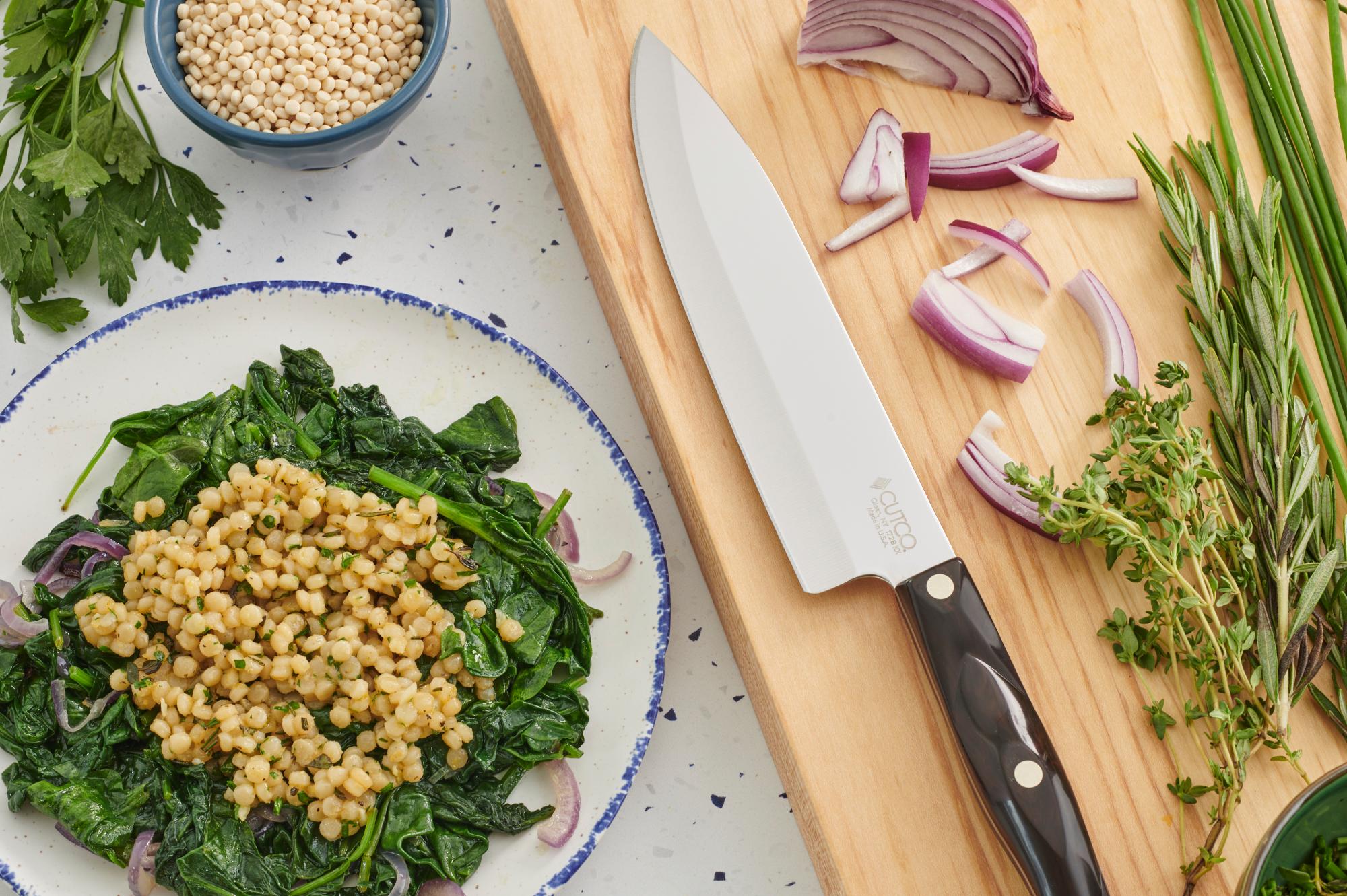 I had enjoyed couscous for years, but I clearly remember the first time I tasted pearlized couscous and it was a mind-blowing experience. The delicate pearls absorbed the flavors and I was converted.
This Herbed Pearlized Couscous recipe really spotlights the ingredient, and the fragrant fresh herbs deliver the perfect infusion of flavor.
Cutting the Fresh Herbs
A sharp knife is essential when working with fresh herbs. It allows the knife to cut through the delicate leaves without bruising them, letting their flavors really shine through.
This recipe calls for parsley, rosemary, thyme and chives. The 7-5/8″ Petite Chef knife is great for cutting most of the herbs. Use it to shave parsley leaves from their stems, gather them into a pile and then use a rocking motion to chop them.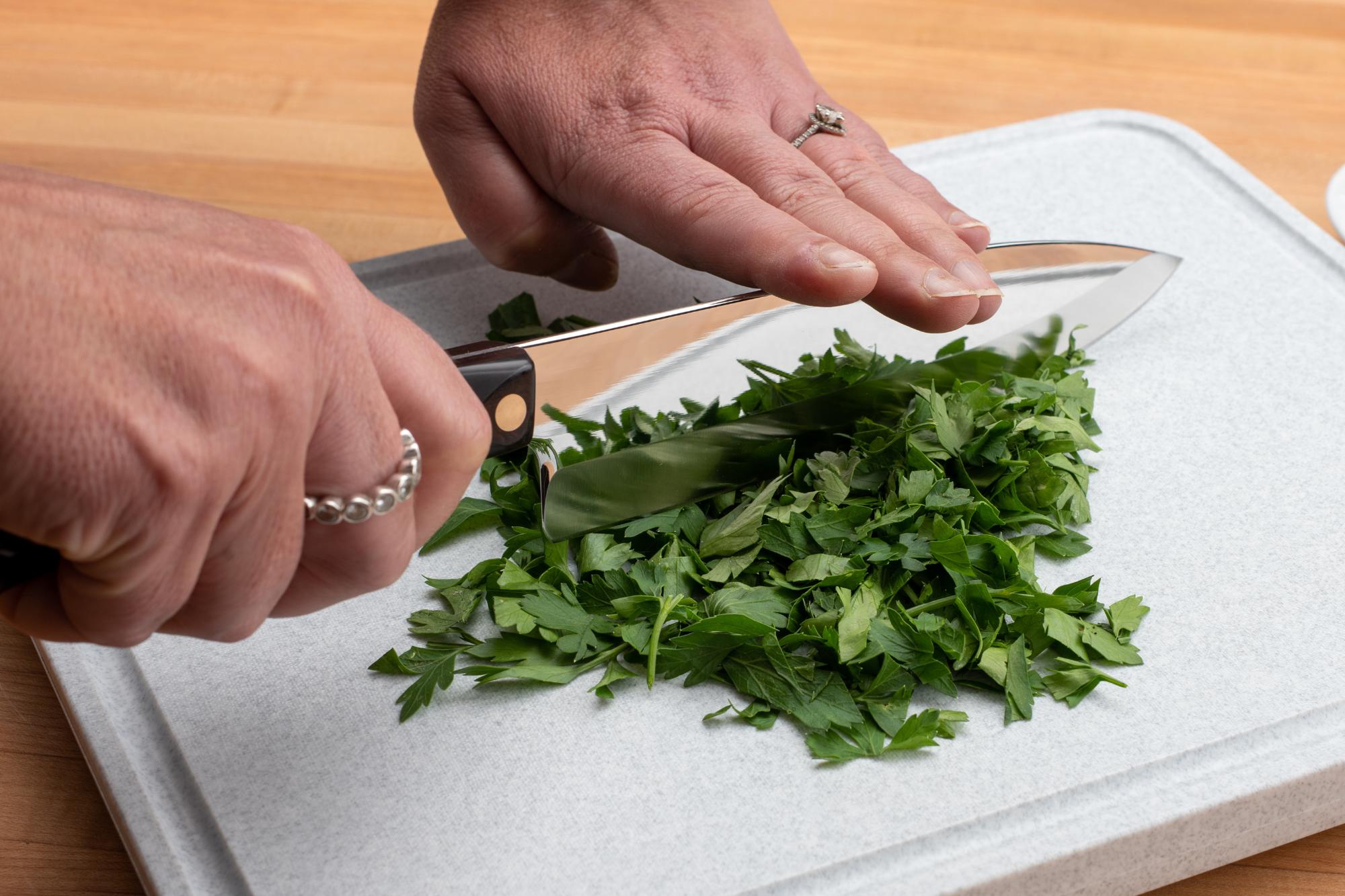 To chop the rosemary, remove the leaves from the stem, gather them into a pile on the cutting board and rock the knife over them.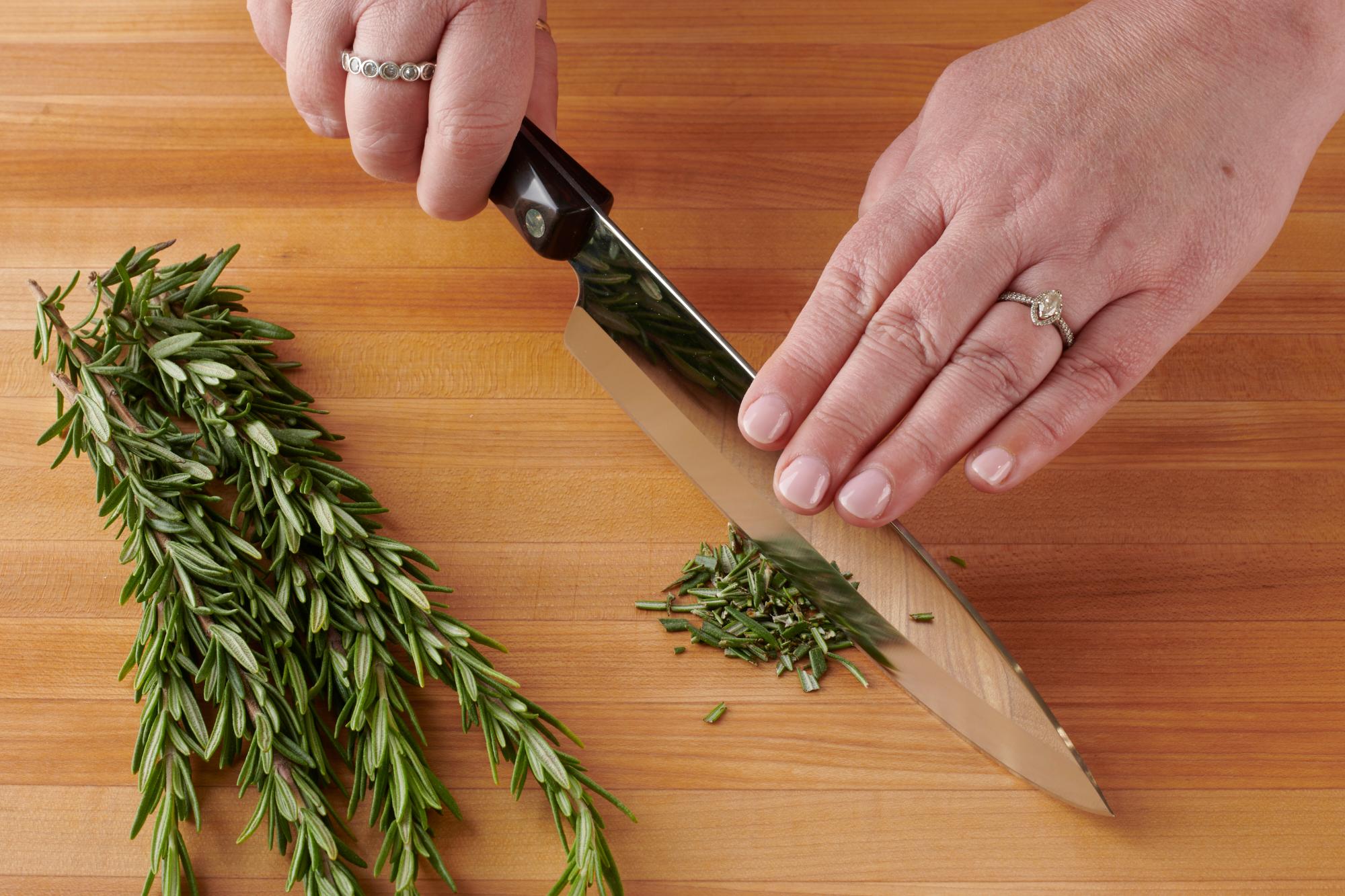 While I mentioned using a sharp knife so as not to bruise delicate herbs when working with them, there are exceptions. For example, in this recipe, the thyme isn't chopped, it is intentionally bruised to release more of its flavor. Strip the leaves from the stalk and then bend or press the leaves between your fingers to break down the cells inside.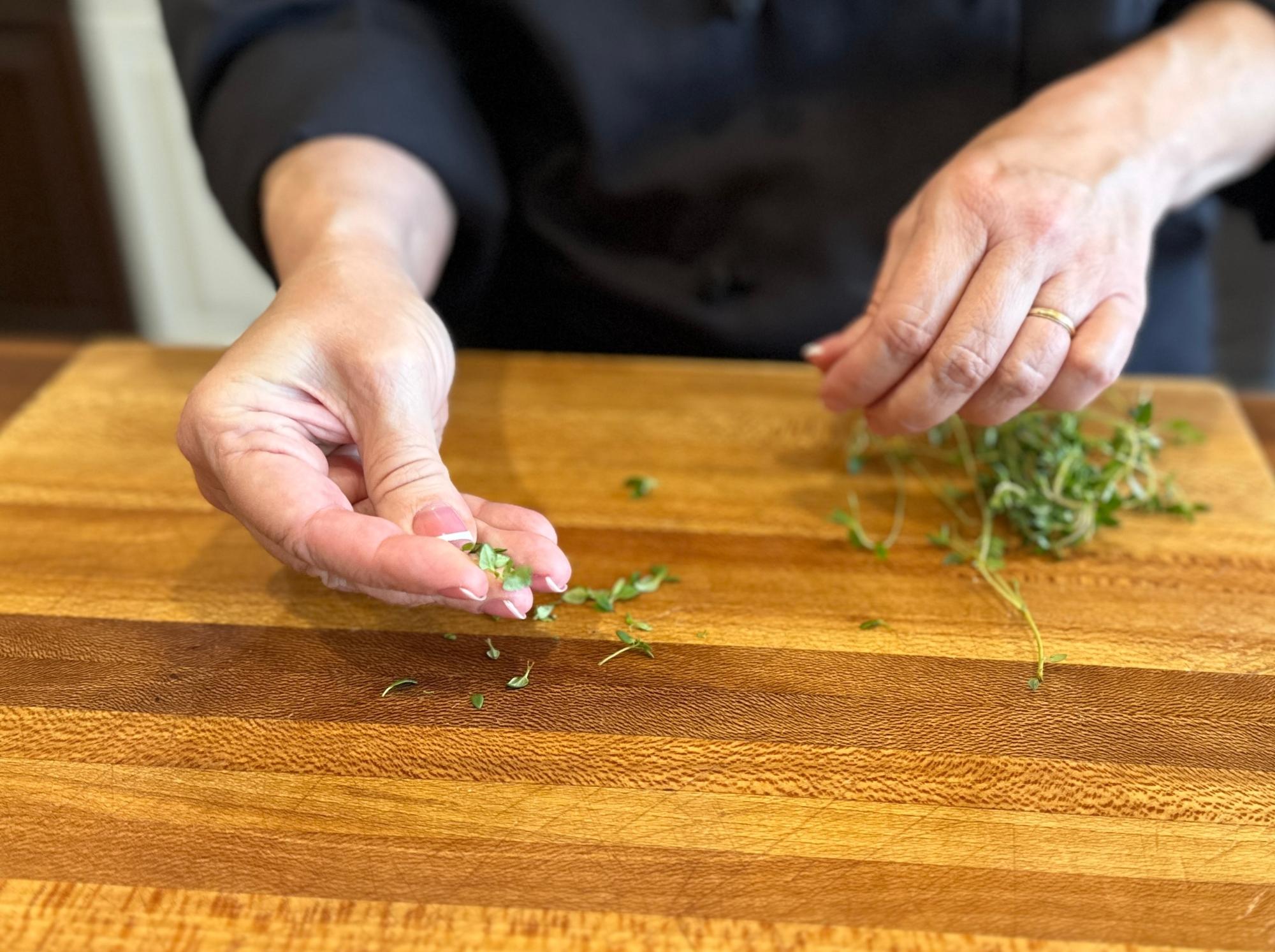 The chives are also easily chopped with the 7-5/8″ Petite Chef, but you could also snip them using kitchen shears, like Cutco's Super Shears.
Once the herbs are prepared, all that's left to cut is the red onion. Thinly slice it with the 7-5/8" Petite Chef knife.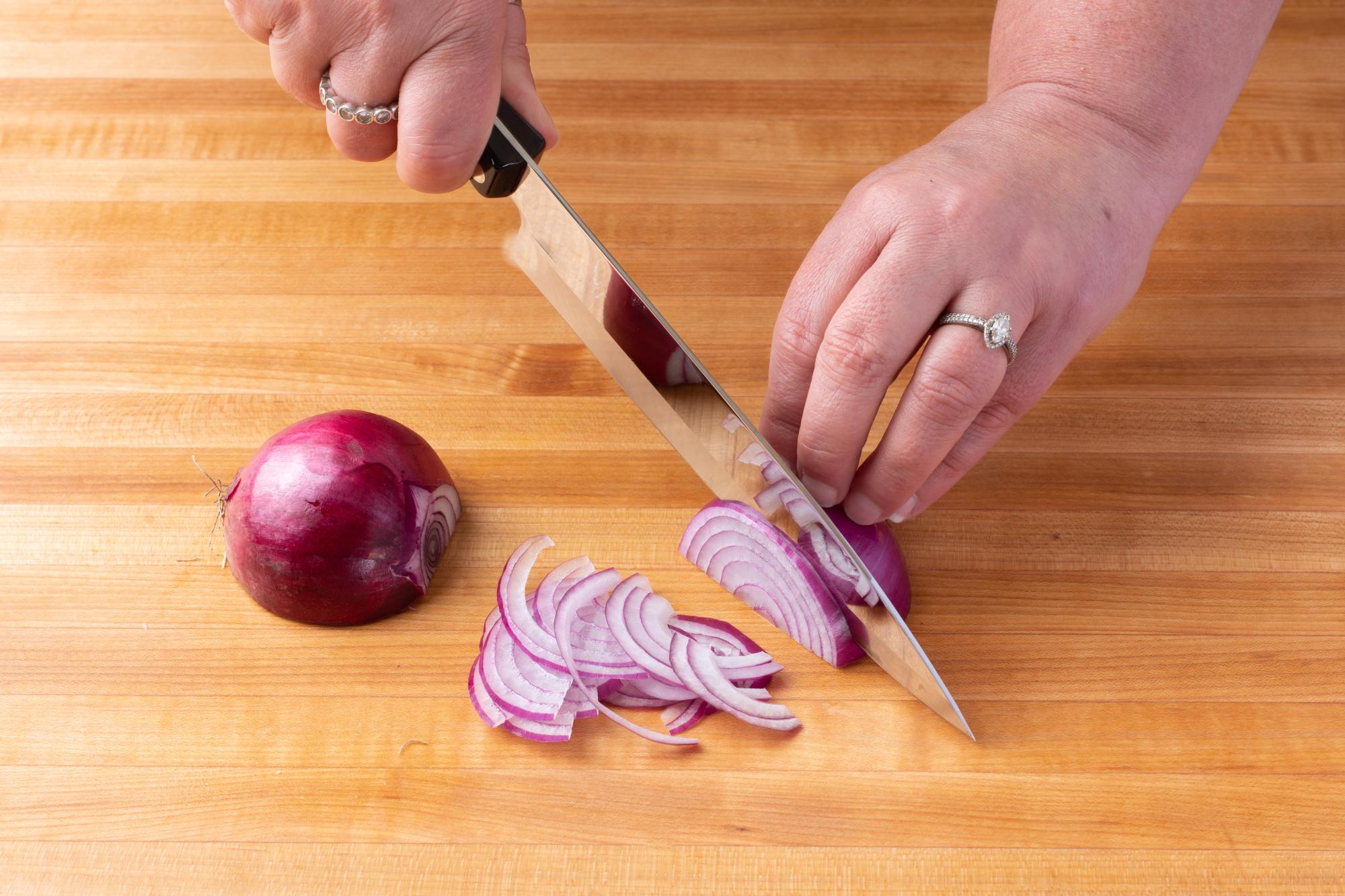 Making the Couscous
The recipe starts with heating olive oil and lemon zest over low heat for two to three minutes and then adding pasted garlic to cook about one minute. Only cook until you smell the garlic aroma, as you don't want it to turn brown.
Add the couscous to toast it for a couple of minutes before adding in chicken stock. The toasting process adds depth of flavor and a touch of nuttiness to the couscous.
Once the couscous is cooked, stir in the fresh herbs and season with salt and pepper.
To complete this Herbed Pearlized Couscous dish, sauté the red onions and a healthy amount of fresh baby spinach. Layer it on a plate, spoon the prepared couscous on top and be prepared for an herb explosion!
Something important to note. You must use fresh herbs for this recipe as they make a huge difference in the flavor. And, take my advice, make a triple recipe because everyone will want seconds and thirds.
I love the smell of this dish when it is cooking. My one daughter searches for the pearls that have clumped together. It is her favorite part!
Marianne Brand, chef and former restauranteur, is the director of food and beverage education at New York Kitchen in Canandaigua, a center that showcases New York State's agriculture through cooking classes, beverage pairings and other programs.
Ingredients
For the couscous:
2 tablespoons extra-virgin olive oil
1 lemon, zested
1 garlic clove, pasted
1 cup pearlized couscous
1 1/2 cup chicken stock
2 tablespoons chopped flat-leaf parsley
2 teaspoons chopped fresh rosemary
1 teaspoon fresh thyme, stripped and bruised
1 tablespoon chopped chives
Salt and pepper, to taste
For the vegetables:
2 tablespoons olive oil, divided
2 tablespoons vegetable oil, divided
1/4 red onion, sliced thinly
1 pound baby spinach
Directions
Make the couscous:
In a medium saucepan over low heat combine the olive oil and the lemon zest and let cook for 2 to 3 minutes. Add the garlic and cook for 1 minute or until you smell the garlic. You do not want the garlic to brown.
Add the couscous and stir everything together for about 2 minutes.
Pour in 1 cup of chicken stock. Season with salt and pepper. Bring to a simmer and cook, covered for 7 to 9 minutes. Check the couscous for texture and add more broth if needed.
Fluff with a fork. Stir in the fresh herbs and season with salt and pepper to taste.
Make the vegetables:
Preheat a large sauté pan over medium heat. Drizzle in 1 tablespoon olive oil and 1 tablespoon vegetable oil. Allow to heat up.
Add in the sliced onion then lower heat and cook until caramelized.
Move onions to one side of the pan and on other side of pan, drizzle in remaining oils.
Add the spinach in handfuls, cooking until wilted and moving to the side of the pan with the onions. Repeat until all of the spinach has been added and wilted.
Serve topped with herbed couscous.
Recommended Tools