Grilled Pesto Chicken with Tomatoes
Published 340 days ago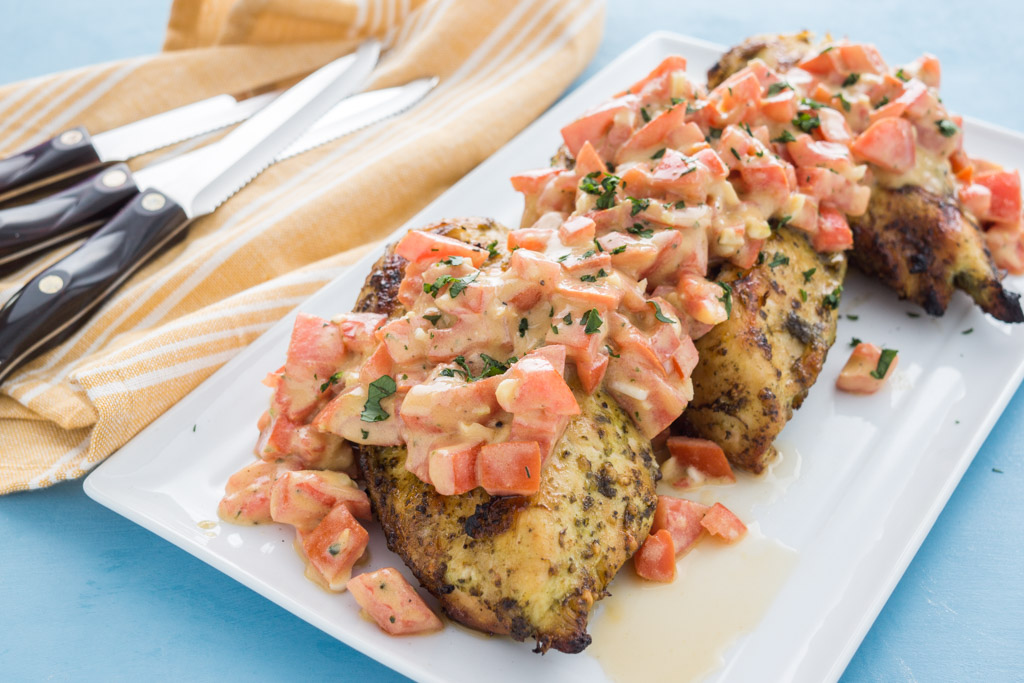 Looking for a way to dress up your grilled chicken this summer? Wow your family or barbecue guests with this simple and tasty recipe. The pesto and marinated tomatoes, add so much flavor, and are so easy to whip up.
Serve alongside a salad loaded with greens and seasonal veggies, and you have a dish screaming summer.
TIP: When grilling use barbecue tools with long handles to keep you safely away from the heat of the fire.
Nutrition info (per serving): 368 calories, 19.5g fat (3.5g sat), 136mg cholesterol, 169mg sodium, 3.4g carbohydrates, 0.7g fiber, 42g protein
Ingredients
1 cup fresh basil leaves
1 clove garlic
1/4 cup grated Parmigiano Reggiano
Kosher salt and fresh pepper to taste
3 tablespoon extra-virgin olive oil
4 large chicken breasts
3 tablespoons lemon juice, divided
4 ripe plum tomatoes
3 tablespoons extra-virgin olive oil (for tomatoes)
1-1/2 tsp. red-wine vinegar
1 clove garlic, minced
1 heaping teaspoon Dijon mustard
2 tablespoon chopped fresh basil
Directions
In a food processor pulse basil, garlic, cheese, salt and pepper until smooth. Slowly add the olive oil while pulsing, until smooth consistency.
In plastic bag, marinate, chicken, pesto, and 2 tablespoons lemon juice for at least 1 hour.
Using a utility knife, like the Cutco Trimmer, cut each tomato in half. Gently remove the seeds with your fingers, and coarsely chop and place in a bowl.
In a separate small bowl, use a whisk to combine the oil, vinegar, garlic, mustard, basil, the remaining 1 tablespoon of lemon juice, 1 teaspoon salt, and a generous amount of pepper. Pour this over the tomatoes and combine well.
Remove the chicken from the pesto, shaking to remove excess marinade, and sprinkle lightly with salt. Grill – turning once until golden on both sides and cooked through.
Top with marinated tomatoes and serve.
Recommended Tools