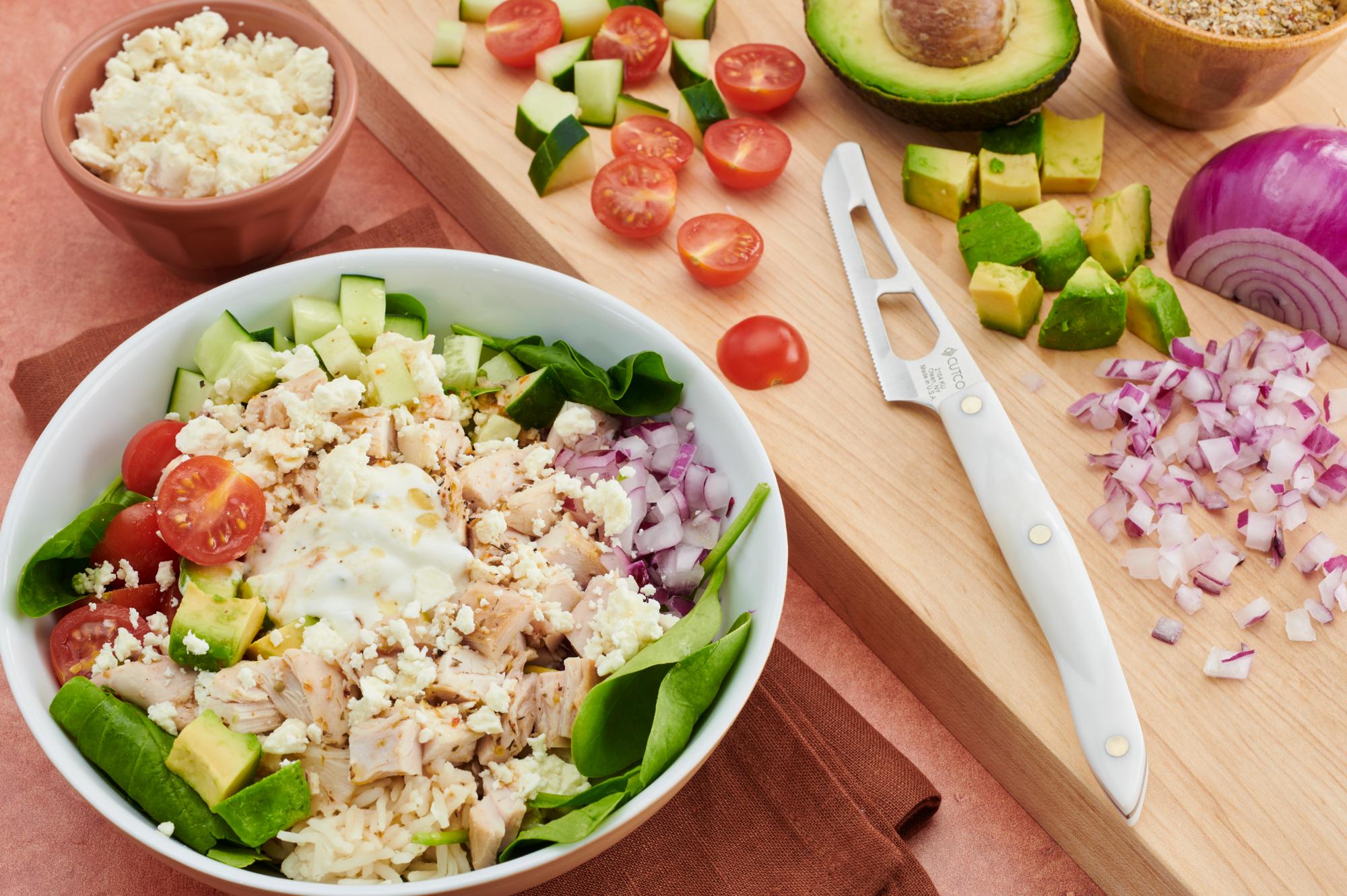 Do you ever feel like there is just not enough time in a day? Being a working, new mom, I can relate. Come dinner time you're tired and trying to wrap your head around what to make for dinner. Something that is easy, nutritious and everyone at the table will eat. That's when I decided to put together a power bowl.
A power bowl is an all-in-one meal that tastes delicious and provides abundant nutrition. This Easy Greek Chicken Power Bowl brings just that. You can easily substitute any of the ingredients to help satisfy everyone's taste. Once the prep work is done, putting the bowl together takes no time.
Make the Dressing
The dressing is really what gives this bowl so much delicious flavor. Using your Cutco Mix-Stir, whisk together olive oil, Greek seasoning, lemon juice, Dijon mustard and red wine vinegar. Once you try this dressing for the first time, you might find yourself using it for way more than just this recipe.
Prepping the Ingredients
Use the Mini Cheese Knife to halve the cherry tomatoes. You'll be surprised how great this little knife is for the task.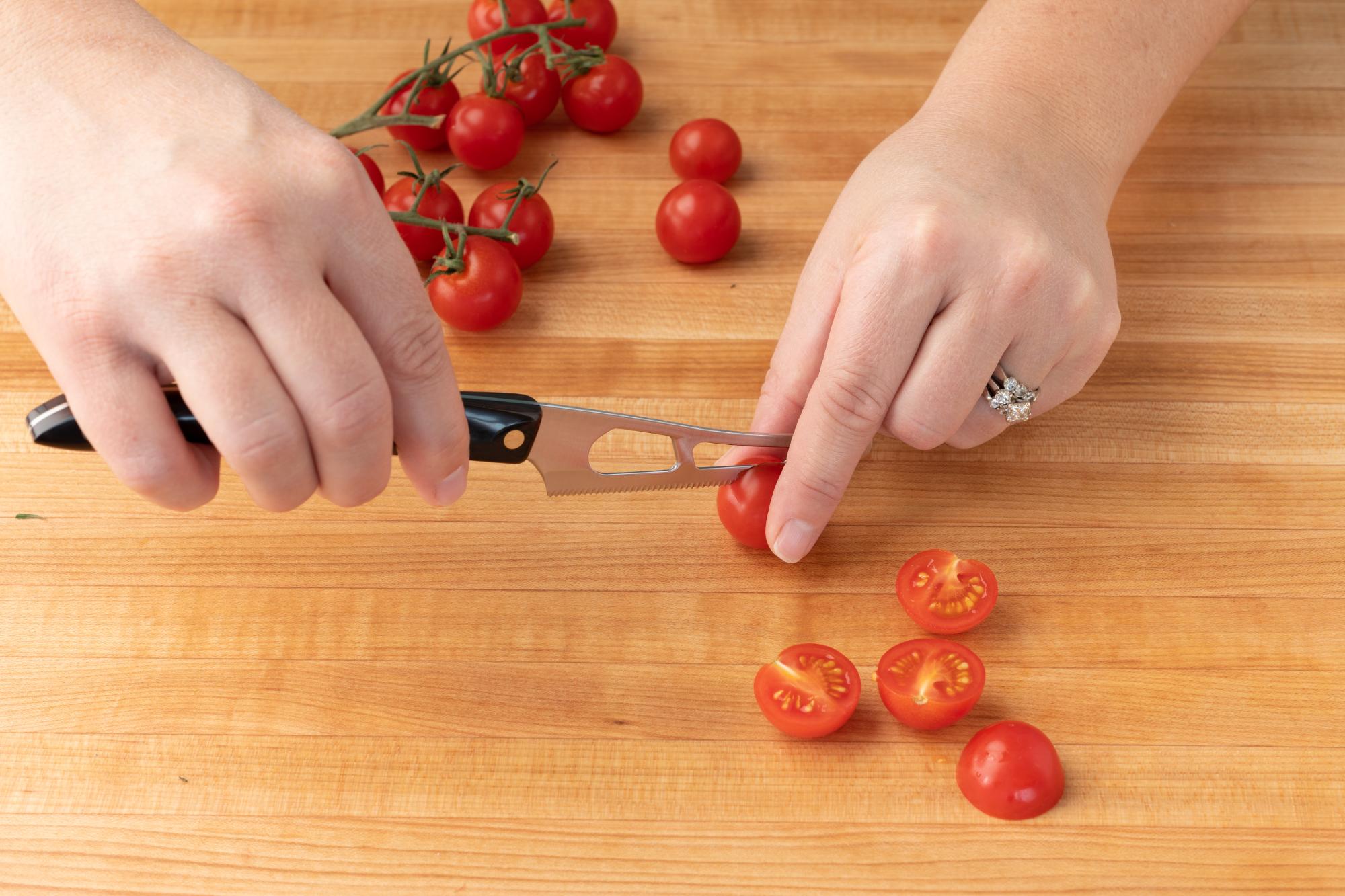 Next, use the 6" Vegetable Knife to dice the cucumber. Its blade length is ideal for cutting small- to medium-sized vegetables.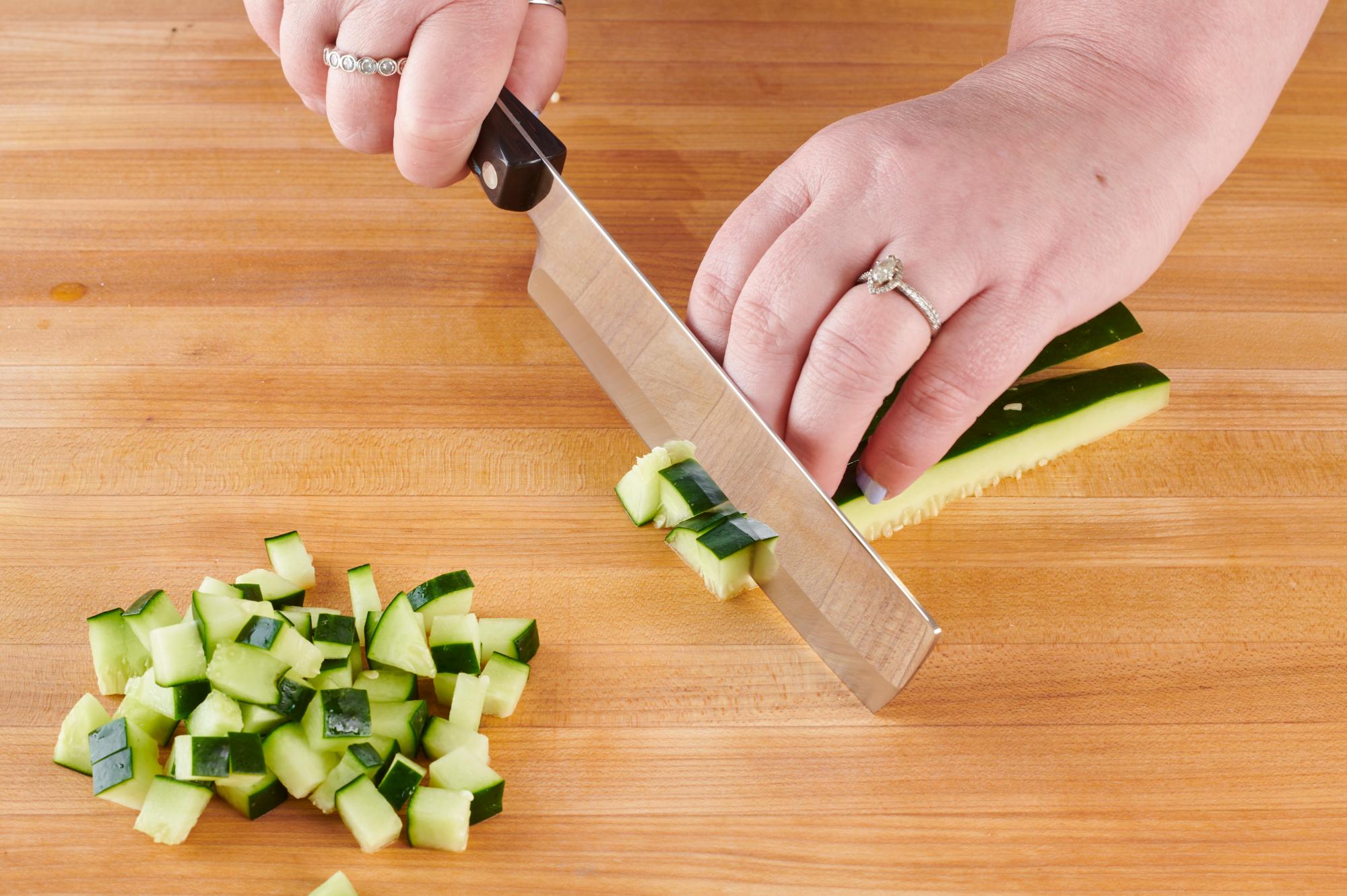 Dice the red onion using the 7-5/8" Petite Chef and use the 4″ Paring Knife to cut the avocado into cubes.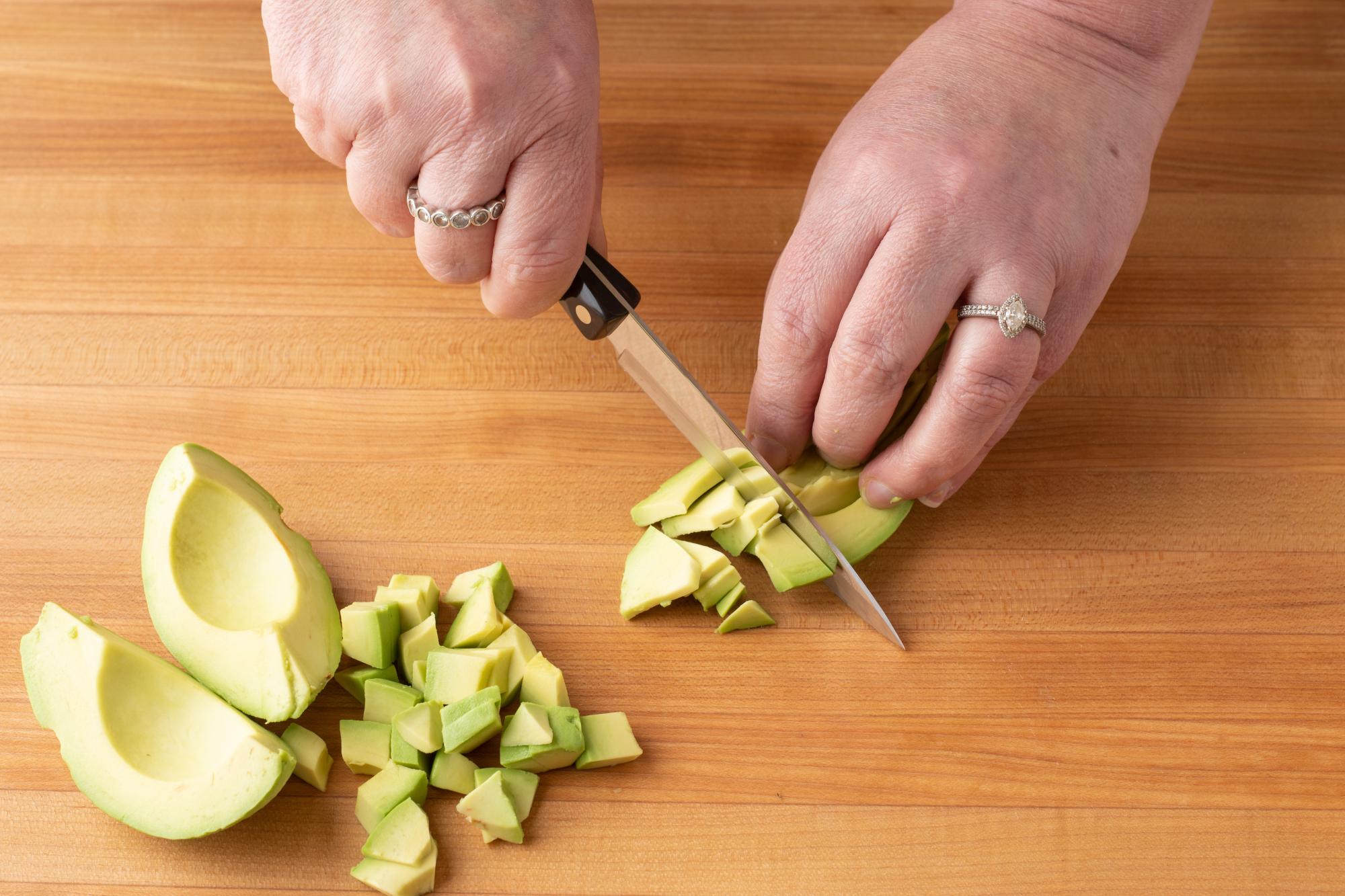 Putting the Bowl Together
I always start with my greens as my base. I used spinach, but you can easily substitute that with any green. In one corner I added the cooked rice. Then I added the cherry tomatoes, cucumber, red onion and avocado.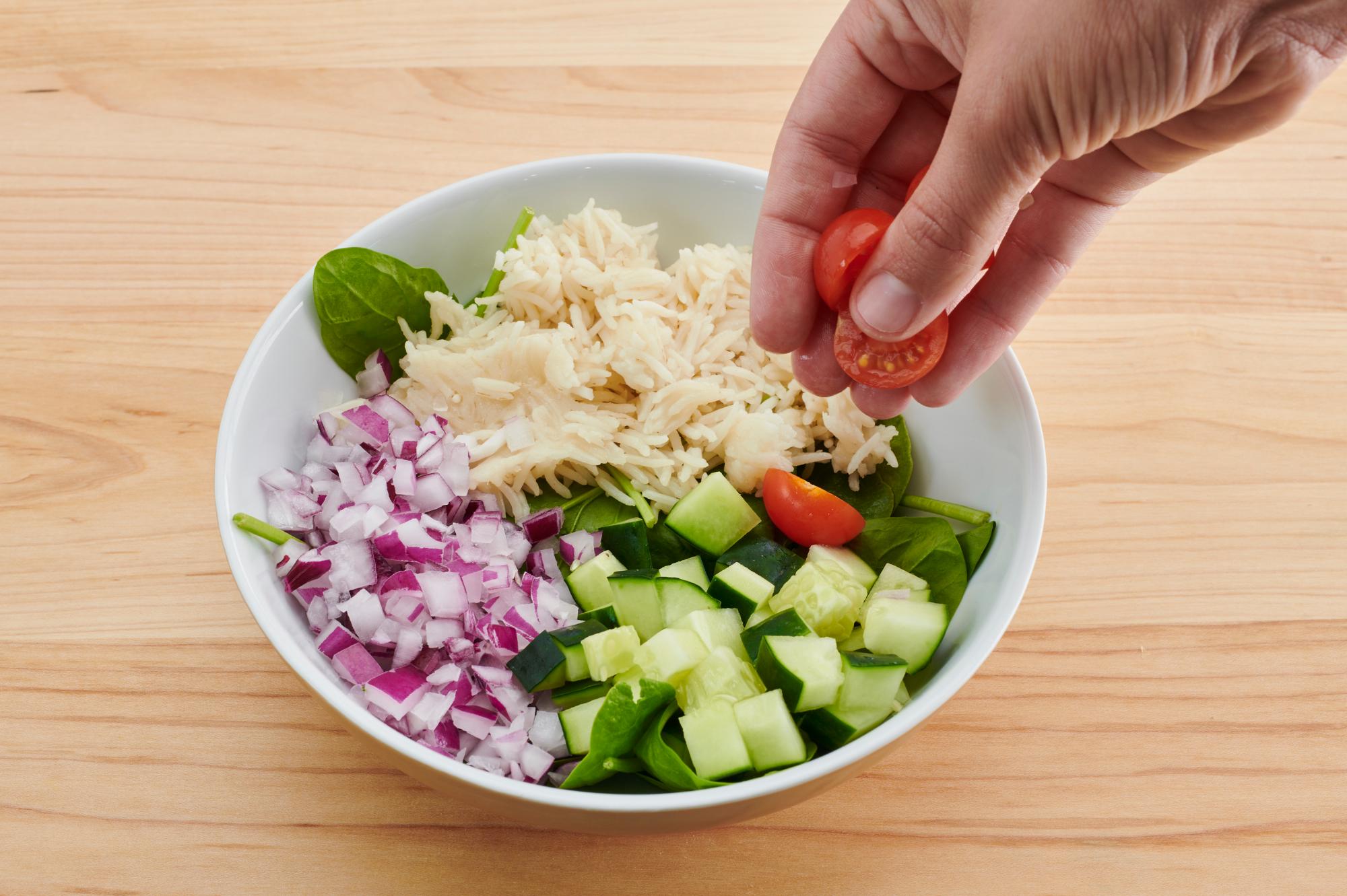 I topped the bowl with my shredded chicken, feta cheese and, last but not least, a spoonful of tzatziki.
The best part about this Easy Greek Chicken Power Bowl recipe is you can use any leftover ingredients to put together a couple of bowls for your lunch for the next few days. So while you're cooking dinner, you are also meal prepping. Win-win!
Ingredients
For the chicken:
1 rotisserie chicken, shredded
1 tablespoon Greek seasoning
For the dressing:
1/2 cup olive oil
1 tablespoon Greek seasoning
1 tablespoon lemon juice
1 teaspoon Dijon mustard
1/4 cup red wine vinegar
For the bowl:
4 cups spinach
1 package cherry tomatoes, halved
1 large cucumber, diced
1 medium red onion, diced
1 avocado, diced
2 cups cooked rice
1/2 cup feta cheese, crumbled
4 tablespoons tzatziki
Directions
Sprinkle Greek seasoning on chicken. Set aside.
In a large mixing bowl, whisk together olive oil, Greek seasoning, lemon juice, Dijon mustard and red wine vinegar. Set aside.
Divided equally among four small serving bowls: Place spinach on the bottom. Add cooked rice and top each bowl with desired amount of cherry tomatoes, cucumber, red onion, avocado and shredded chicken.
Sprinkle feta cheese on top and add a spoonful of tzatziki.
Drizzle desired amount of dressing over the bowl.
Serve with toasted pita bread.
Recommended Tools