Easy Apple Roses
Published 1357 days ago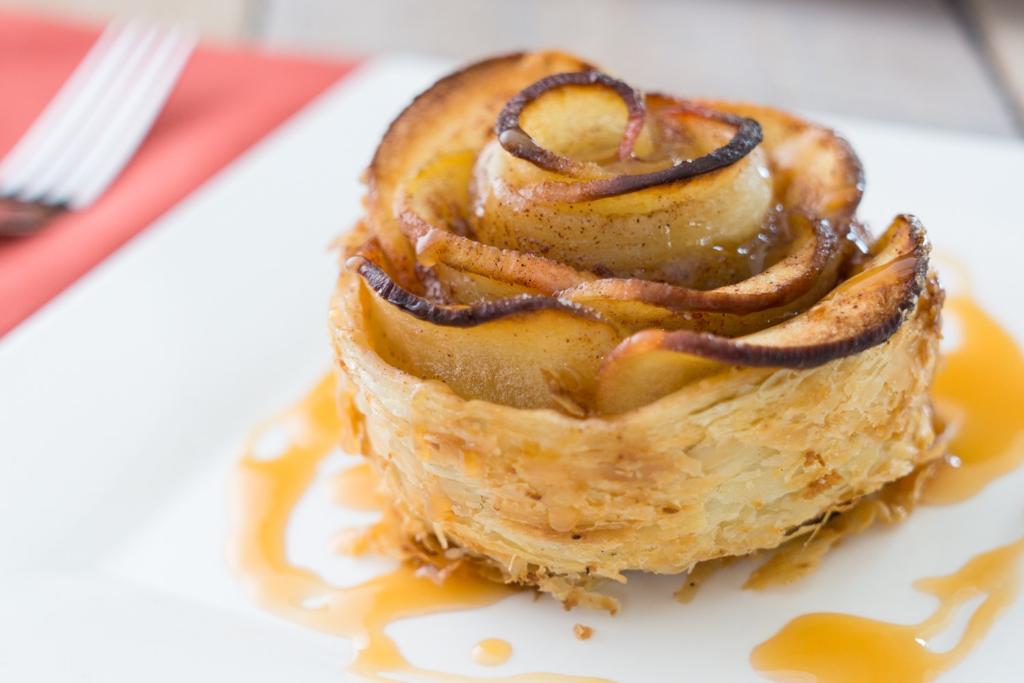 Have I mentioned how much I like this time of year? Only in every post, right? There are so many warm, spicy, nutty, tart, sweet recipes out there, it's hard to decide which one to cook or bake.
My husband loves apple pie. For all my years of cooking and baking, I'm not a great crust maker. On the other hand, my neighbor, who is a Cutco retiree, makes the best flaky crust I've ever tasted. Mine doesn't even come close. So in my quest to make an apple pie dessert without making crust, I came across a recipe using puff pastry to make adorable apple roses. They smell so good while baking I couldn't wait to get them out of the oven. The puff pastry bakes up light, airy and crispy and the cinnamon and sugar mixture envelops the apple slices.
We eat with our eyes first and these individual desserts will make you say "Yum." It's like having your own little apple pie.
Don't let the instructions deter you from trying these. They are actually pretty simple to make. Once you've done a couple, you'll find they come together quickly.
Ingredients
1 red apple (Honeycrisp, Pink Lady or any red baking apple)
1/4 cup granulated sugar
1 teaspoon cinnamon
1 sheet frozen puff pastry (follow directions on the box for thawing)
1/4 cup butter, melted
1 egg
2 teaspoons water
Additional butter and sugar for ramekins
Directions
NOTE: Generously butter the ramekins/ muffin pan or the roses will stick. Preheat oven to 400°F. Butter 2 ramekins (6 to 8 ounce) and sprinkle with sugar.
Core the apple, cut in half and slice thinly.
Place apple slices in a single layer on a plate and microwave on high for about 45 seconds to soften. Cover the plate with plastic wrap and a kitchen towel while rolling pastry. If you prefer, sauté the apples in a single layer in a skillet in a small amount of butter about 30 seconds per side to soften. Remove to a plate. Leave uncovered.
Mix sugar and cinnamon in a small bowl.
Roll puff pastry sheet to less than 1/8-inch thick. Cut two 3-inch by 12- to 14- inch strips, using a Pizza Cutter.
Brush melted butter over dough, sprinkle with cinnamon sugar mix.
Place the apple slices lengthwise on the long edge of the dough, about 1/4-inch above the edge of the dough and overlapped slightly.
Fold the bottom half of the dough over the apple slices with the rounded edges of the slices exposed.
Beat the egg and water in a bowl. Brush the surface of the dough with the egg wash. Sprinkle with cinnamon sugar mix.
Starting from the end, roll the dough to form a rose-shaped pastry.
Seal roll with end of the dough strip. Transfer roses to ramekins. Sprinkle with a little more cinnamon sugar.
Place ramekins on middle rack of oven. Bake about 45 minutes or until well browned. Remove from oven and place on a baking sheet and cool 5 to 10 minutes. Remove from ramekins and cool on a wire rack.
Serve warm or cool sprinkled with confectioners' sugar, drizzled with warm caramel topping or a scoop of vanilla ice cream.
Recommended Tools