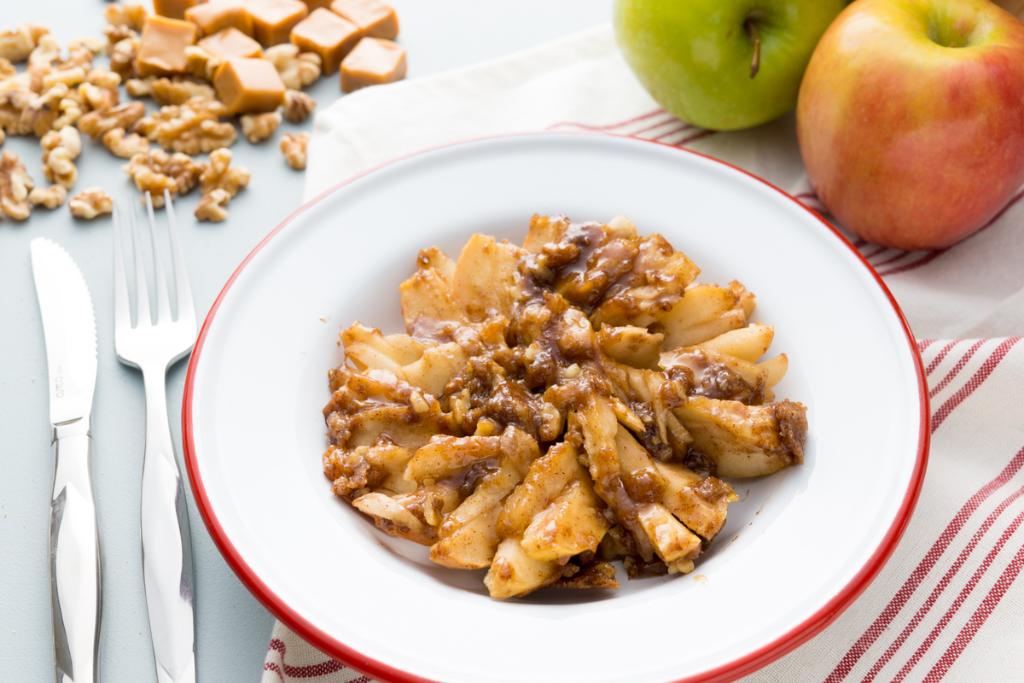 We've all heard of blooming onions and now we have blooming apples. This is an easy apple dessert with an ooey, gooey caramel center. Served with a scoop of vanilla ice cream and drizzled with caramel topping, it will be your new favorite way to enjoy one of the reasons we love fall so much.
I really like honey crisp apples but sometimes they are not readily available and can be quite pricey so I used granny smith and gala apples which worked fine.
Visit our apple guide to learn more about what apples work best for how you using them.
To Prepare the Apples
Having the right tools for cutting a blooming apple is essential. Having more than one paring knife in your kitchen makes prepping faster and easier. Use the 4" Paring Knife to cut off the top 1/4 to 1/3 of the apple. This allows the apple to open up a bit after it's baked and become the base for a generous scoop of vanilla ice cream and ribbons of caramel sauce.
The curved blade of the Bird's Beak Paring Knife allows you to make the deep circular cuts in the apple quick and easy.
The nice thing about this Blooming Apple recipe is that you can make as few or as many apples as you need by simply decreasing or increasing the filling ingredients.
For the caramel sauce, use an ice cream topping rather than syrup. I purchased caramel syrup and found it to be too thin. It seemed to disappear once drizzled on the ice cream. A caramel topping is much thicker and stays put when drizzled on the ice cream.
Ingredients
6 apples, such as honey crisp, granny smith, gala or other crisp apples
12 caramels
6 tablespoons butter
1/2 cup, plus 1 tablespoon brown sugar, packed
3 tablespoons flour
3 teaspoons cinnamon
1/4 cup chopped nuts (walnuts or pecan work well)
Toppings: vanilla ice cream, caramel sauce, cinnamon
Directions
Preheat oven to 375°F.
Slice off the top 1/4 to 1/3 of the apple. Scoop out the core of each apple with a spoon or melon baller. Using a sharp paring knife to make two deep, circular cuts around the center of the apple.
Turn the apple over and make narrow cuts all the way around the apple. Flip the apple back over and place in a baking dish. Put two caramels in the center of each apple.
Heat the butter and brown sugar in the microwave for 30 seconds, stir and heat for another 30 seconds. Remove from the microwave and stir in the flour, cinnamon and nuts. Divide the mixture over the top of each apple.
Bake the apples for 25 – 30 minutes or until tender. Remove from the oven and then use a large spoon to remove the apples from the baking dish into a bowl.
Top with a scoop of ice cream, drizzle with caramel sauce and sprinkle with cinnamon and serve immediately.
Recommended Tools