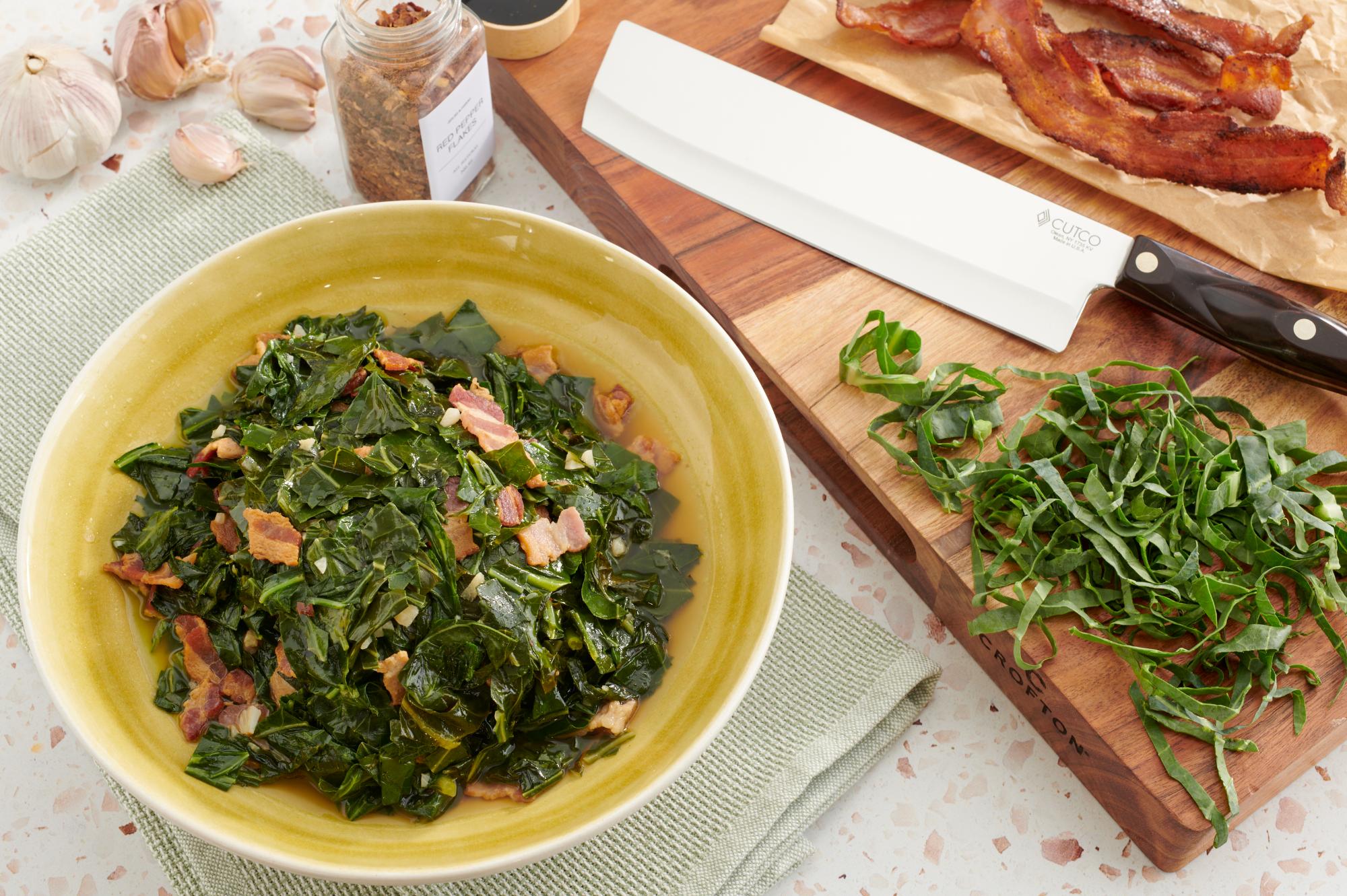 If you're looking for a true southern recipe, Collard Greens is it. My family grew up with them in our backyard and if there's one thing I learned at an early age, it's that the greens must be washed and double washed before cooking them.
Chopping the Ingredients
The greens for this recipe get a smoky, somewhat salty flavor from bacon. Use a sharp utility knife, like Cutco's Trimmer, to chop it up before cooking it.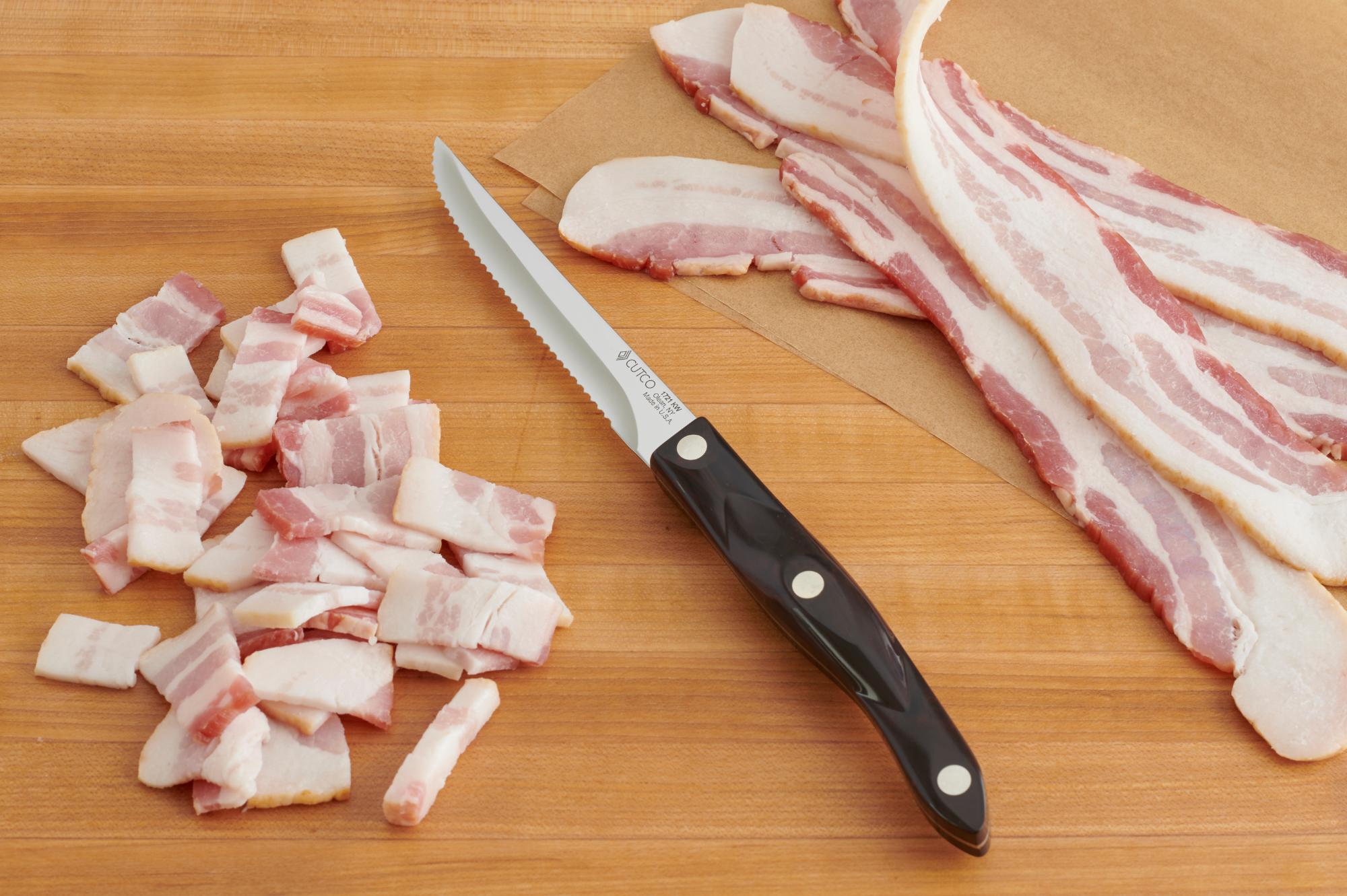 I have also made this recipe with a smoked turkey leg in place of the bacon. They can be found in most grocery stores, especially during the holidays.
Wash the collard greens in the sink or a large pan of water to remove any grit and then pat them dry. Fold the leaves in half lengthwise and use a 7-1/2″ Vegetable Knife to cut off their stems. Stack or roll the leaves up and then slice into ribbons or chop them.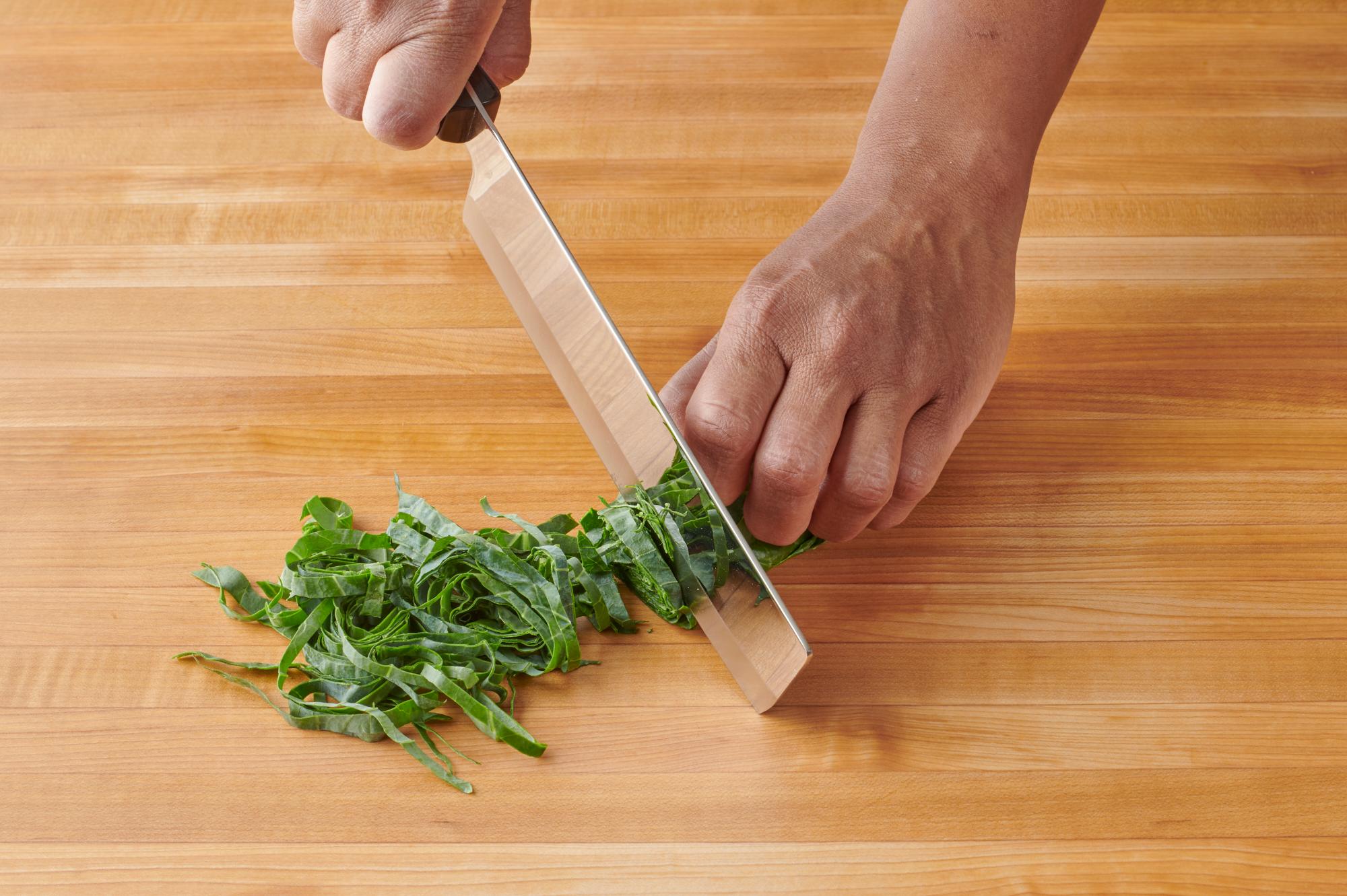 For tips on how to cut collard greens, take a look at Cutco's step-by-step tutorial.
Along with the bacon, garlic is another key ingredient for this dish. The recipe calls for six cloves, but you can adjust that amount to your liking. Mince it using a sharp 7-5/8″ Petite Chef.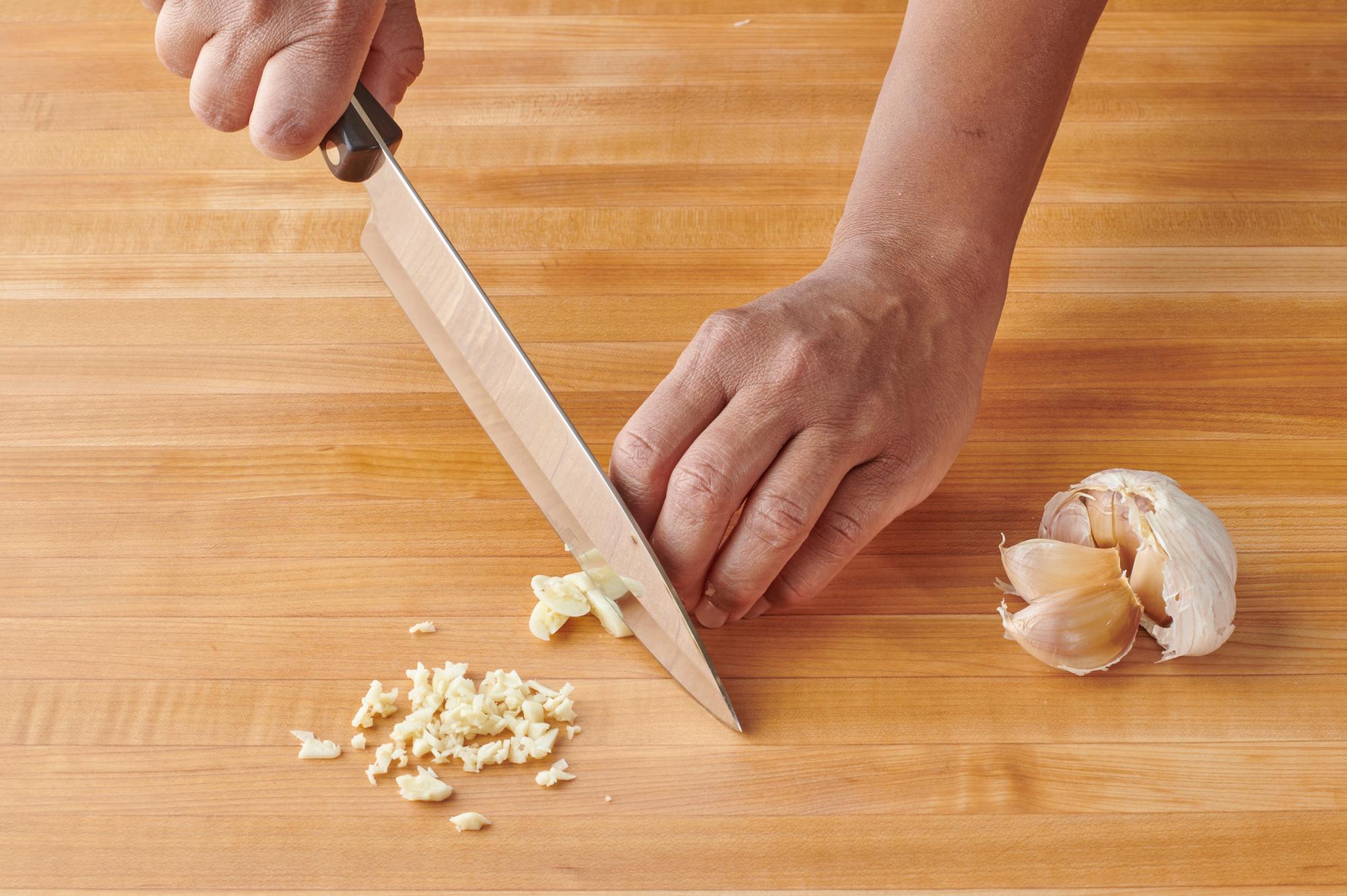 Brown sugar is recommended in this recipe to control the bitterness a bit, but you don't need to add it if you don't want to. As the greens cook they'll naturally become less bitter.
Cooking the Collard Greens
The greens are added to cooked bacon along with vegetable stock, garlic, brown sugar, red pepper flakes, salt and pepper, and will cook for about 30 minutes until they're tender, but not mushy. A finishing dash of hot sauce adds a nice kick to them.
These Collard Greens are savory with a touch of heat, perfect for serving alongside things like barbecue ribs, macaroni and cheese or ham.
Long gone are the days where the Collard Greens were simmered for hours upon hours. Just like their counterparts, spinach and kale, greens are more beneficial if they are processed in the minimum amount of time.
Ingredients
3 tablespoons olive oil
6 pieces pork bacon, chopped
1 large bunch (about 12 ounces) collard greens, washed, stems removed and chopped
4 cups vegetable stock
6 garlic cloves, minced
1 tablespoon brown sugar (optional, but controls bitterness)
Pinch of red pepper flakes
Salt and pepper, to taste
Dash of hot sauce to finish the dish
Directions
In a large stock pot over medium-high heat, warm oil then add bacon and cook until crisp, about 5 to 7 minutes.
Add the greens and stir until lightly coated in the oil.
Pour in vegetable stock. Add in garlic, brown sugar (if using), red pepper flakes, salt and pepper.
Reduce heat to medium and continue to cook for an additional 30 minutes until greens are tender, to taste.
Adjust seasoning and add a dash of hot sauce before serving.