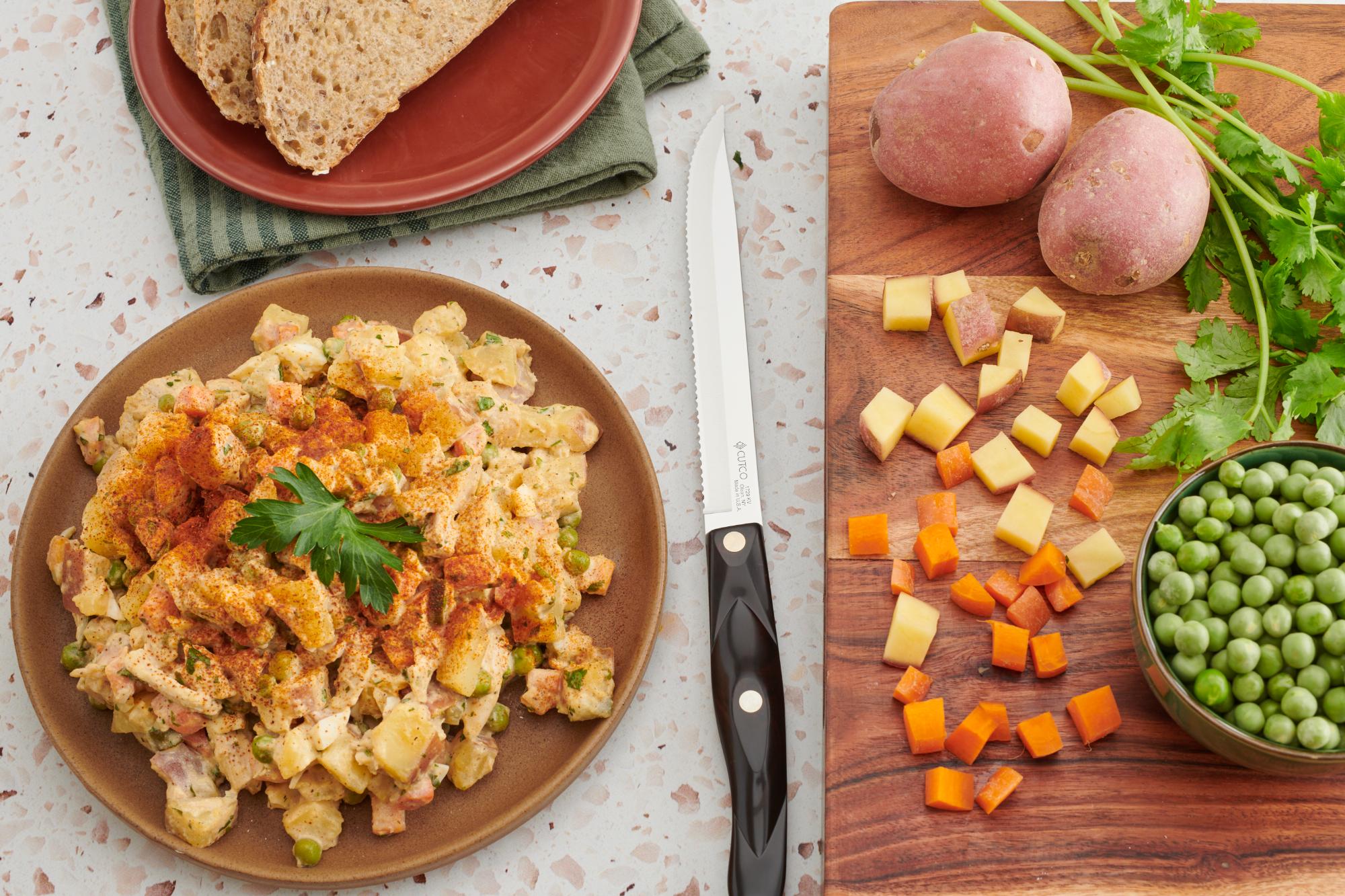 As a southern girl, I grew up on mayonnaise and mustard-based potato salad. So, when this Chicken Potato Salad was introduced to me as a complete meal instead of a side, I was sold.
This dish is traditionally served around the Persian New Year (around the first day of spring), but it can be served any time and, with the addition of roasted chicken, carrots and fresh peas, it can also help alleviate your winter blues.
Chopping the Salad Ingredients
This recipe uses red potatoes and I left the skins on. Dice them into bite-sized cubes with a Traditional Cheese Knife. The knife is great for potatoes, because the perforations in the blade prevent the starchy potato pieces from sticking to it.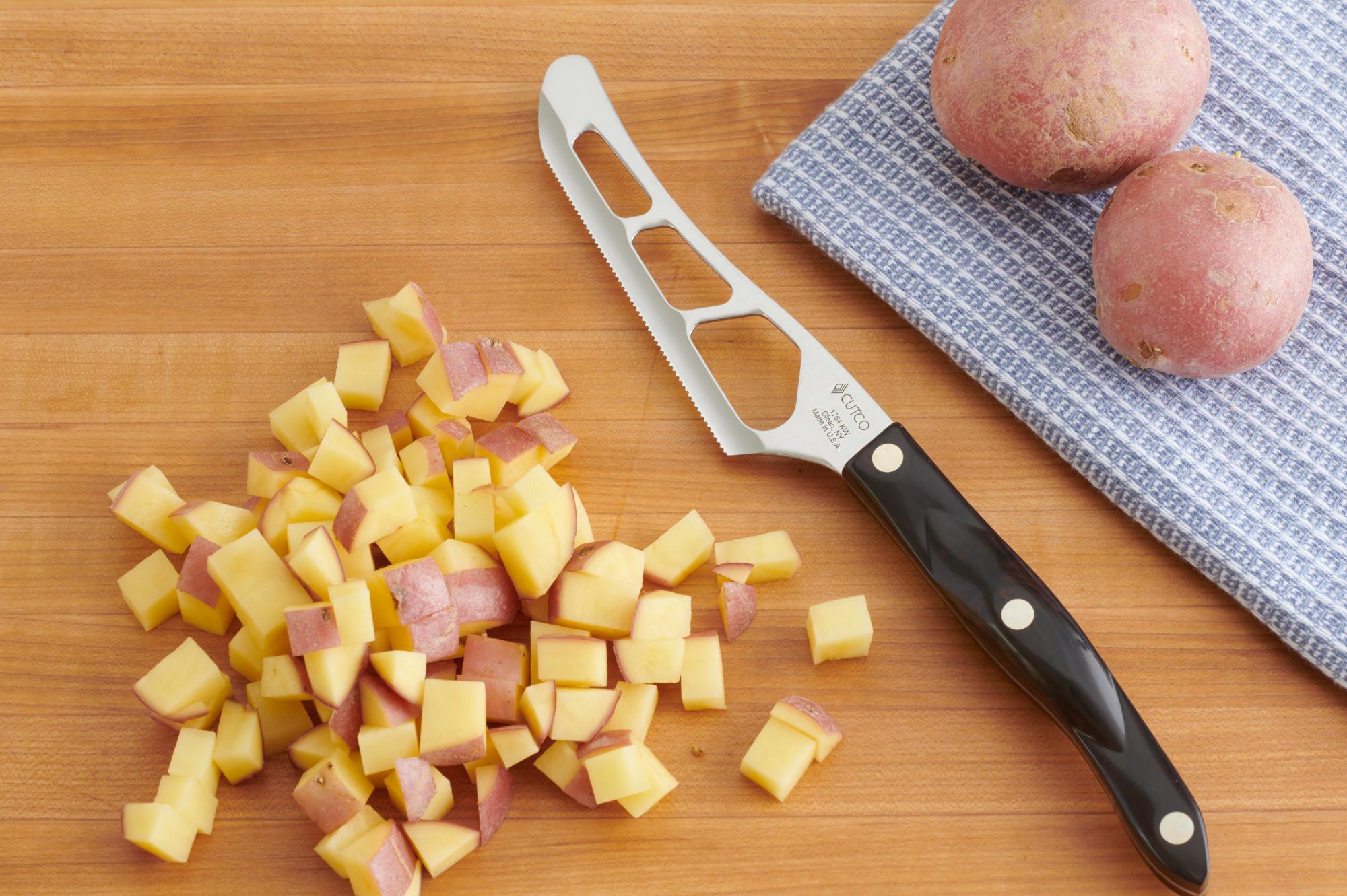 For the cooked chicken, you can cook it yourself or save a little time by buying a rotisserie chicken. Whichever you choose, Cutco's 6-3/4″ Petite Carver is a good choice for cutting it into cubes.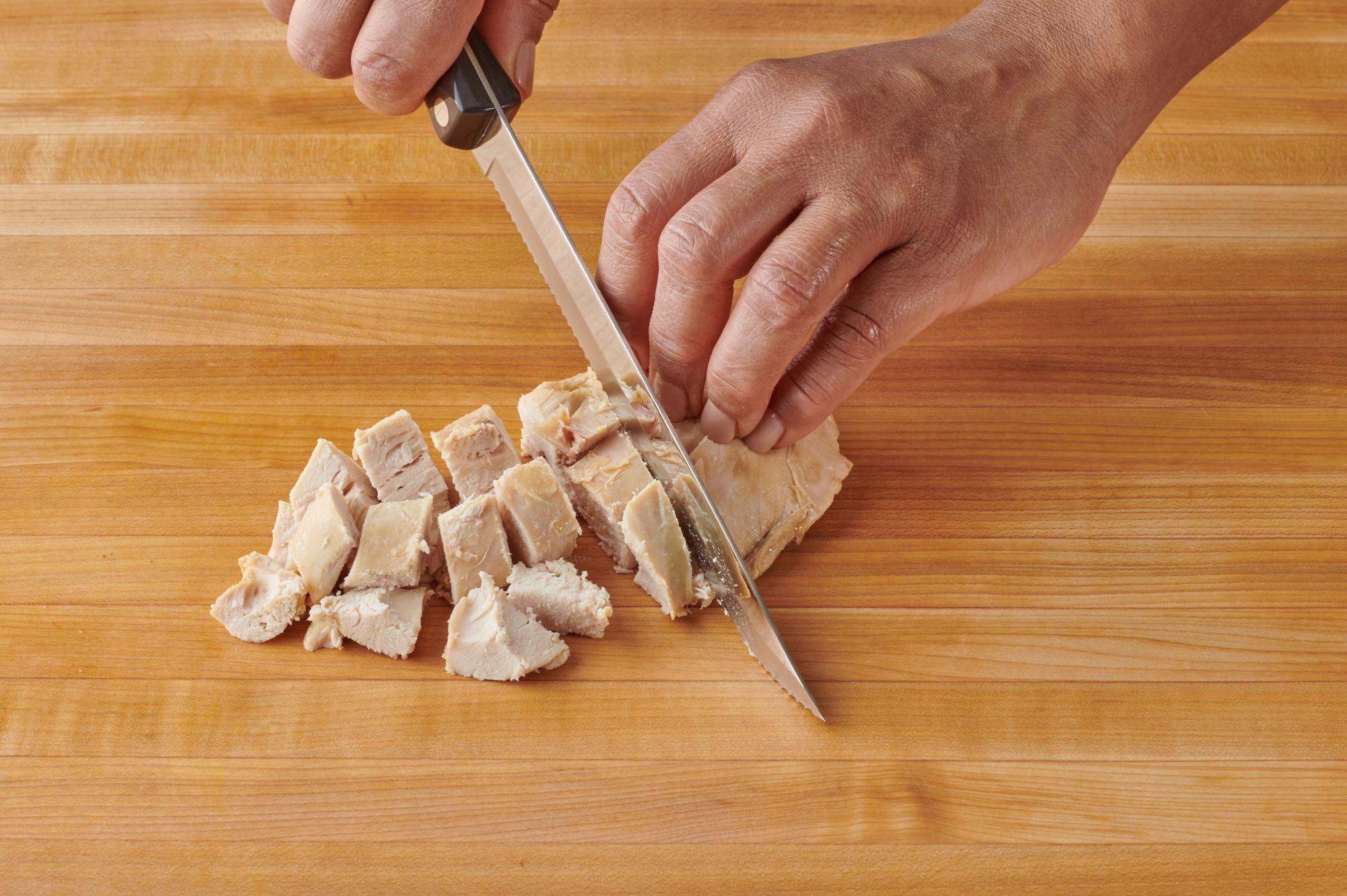 When it comes to chopping the hard-boiled eggs, reach for the Table Knife. Its smaller length and Double-D® edge blade easily cuts through the firm egg without wavering.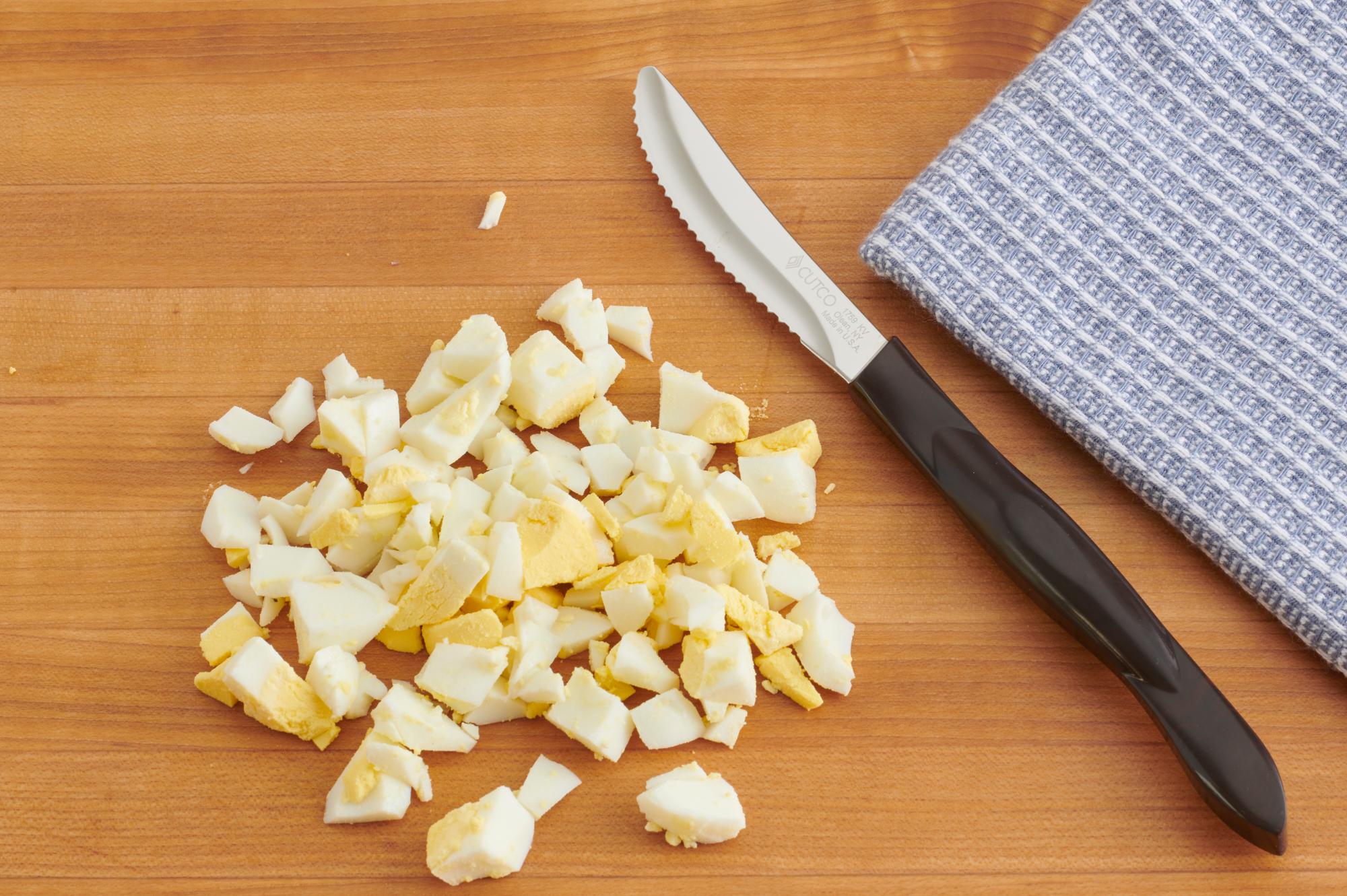 For dicing the pickles and mincing the cilantro, a good prep knife like the 7-5/8″ Petite Chef knife is a good choice.
Making the Salad
I am a big fan of saving time in the kitchen, so here's a trick to eliminate some of the pots you'll need. Halfway through the potato cooking time, add in your two eggs to boil and the frozen peas. Just remember to save whatever broth you have leftover, as some will be needed to make the dressing.
For the dressing, it's just a matter of whisking together mayonnaise, spicy mustard, olive oil, red wine vinegar, lime juice, the reserved water from the potatoes, garlic powder, paprika, salt and pepper. The dressing is a bit tangy, but not overpowering, and brings beautiful flavor to the potatoes and chicken.
This Chicken Potato Salad tastes great served with a warm baguette or on pita bread. Give it a try and it just might make it into your regular menu rotation.
Ingredients
For the salad:
1 pound red potatoes, cubed
4 cups of chicken broth
2 cups cooked chicken, diced (or a rotisserie chicken)
2 cups frozen peas and carrots (steamed for about 5 minutes)
2 hard-boiled eggs, diced
1/2 cup diced dill pickles
1/2 cup chopped cilantro (or parsley)
For the dressing:
1 cup mayonnaise
3 tablespoons spicy mustard
1/4 cup olive oil
1/4 cup red wine vinegar
3/4 tablespoons fresh lime juice
About 1/2 cup chicken stock (reserved from potato pot)
2 teaspoons garlic powder
2 teaspoons paprika, optional
Salt and pepper, to taste
Directions
Place potatoes in a stock pot and cover with 4 cups of chicken stock.
Bring to a boil until fork tender.
Drain the potatoes, reserving the excess broth.
Combine the potatoes and the next 5 ingredients in a bowl.
Fold gently to mix.
In a separate small bowl, whisk together the ingredients for the dressing.
Drizzle the dressing over the potato salad.
Cover and chill for about an hour.