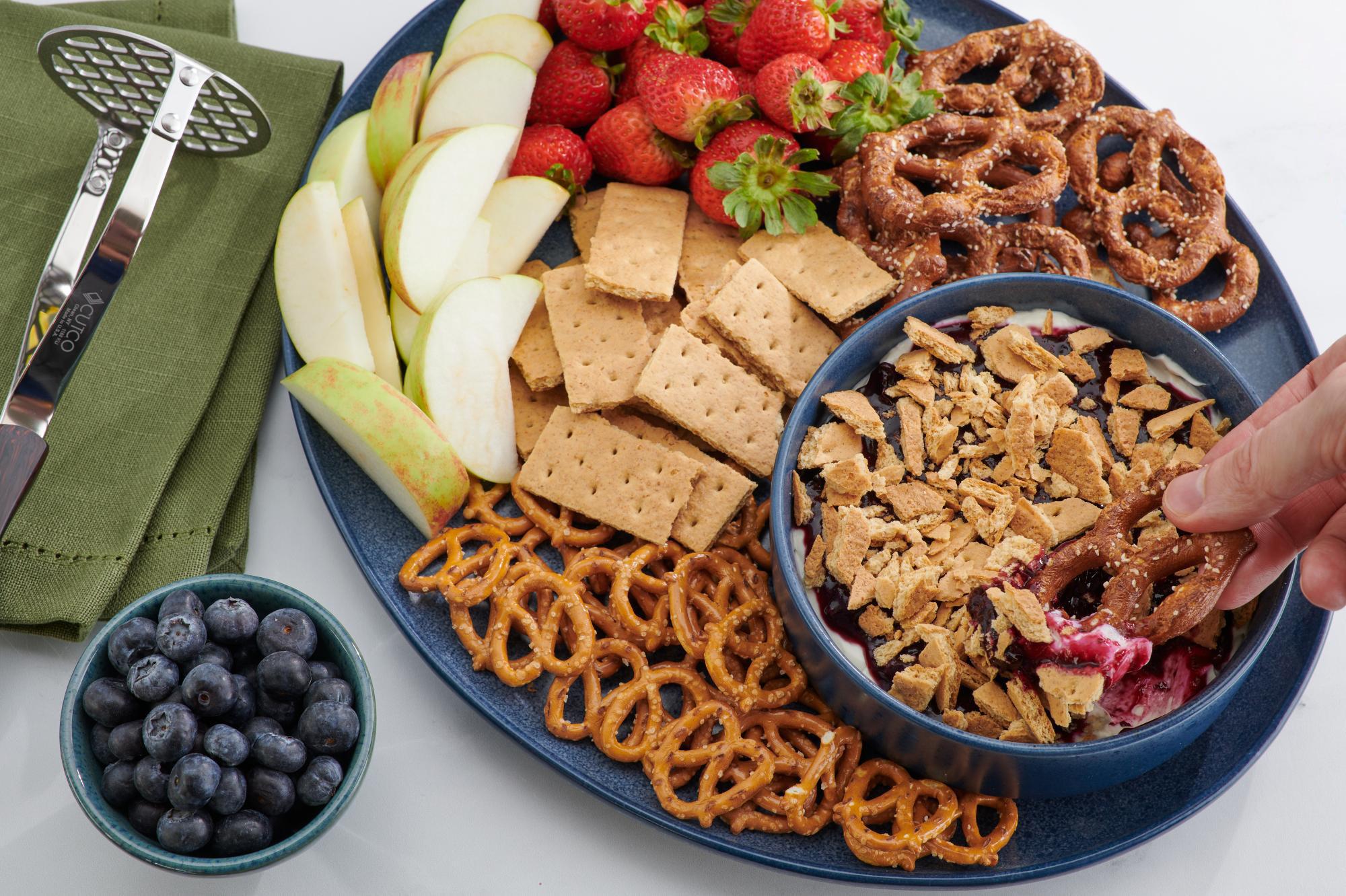 Spring is one of my favorite seasons here in Western New York. The days begin to warm up, green returns to the trees and grass, and my favorite fruits are plentiful.
I love any kind of berries and when I can include them into a recipe, I'll happily do it. Cheesecake is probably my favorite dessert of all time, unfortunately, it can be a very tedious and time-consuming to make. So why not make it into a dip, like this Blueberry Cheesecake Dip, that you can enjoy in 15 minutes or less.
It's light and fluffy, and the perfect balance of sweet from the blueberries and tart from the Greek yogurt and cream cheese.
Preparing the Blueberries
This recipe uses smashed blueberries as the topper. Cooking them really intensifies their sweetness and mashing them a bit releases their juice. Place the blueberries in a skillet with cornstarch and sugar to heat over medium-heat. While they're cooking, use a Potato Masher to gently mash down the berries and cook until they're bubbling.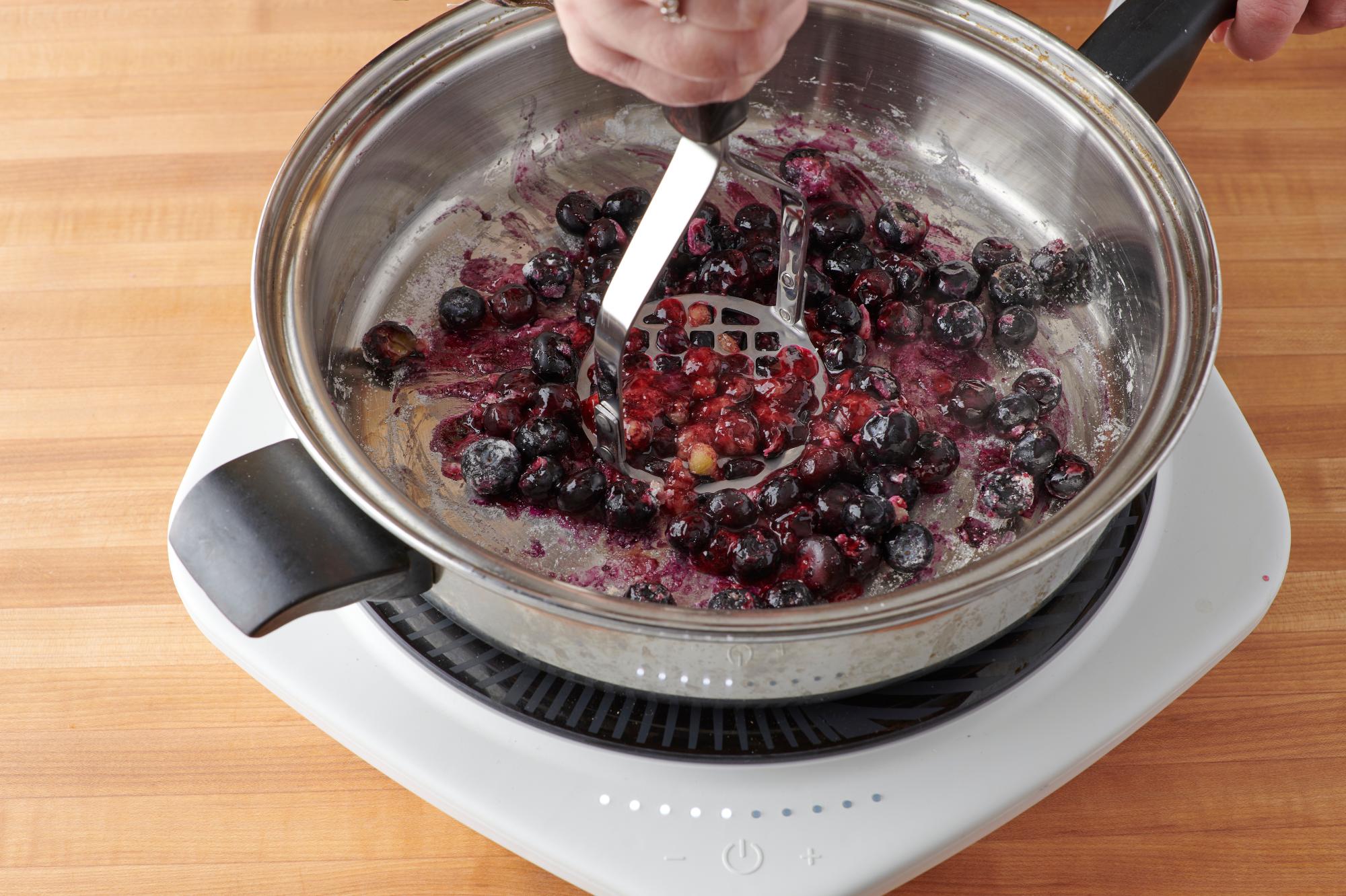 Remove the berries from the heat and let them cool.
Layering the Dip
While the blueberries are cooling, beat together light cream cheese, Greek yogurt, powdered sugar, vanilla and lemon juice to make the base for the dip. Spoon that into a serving bowl.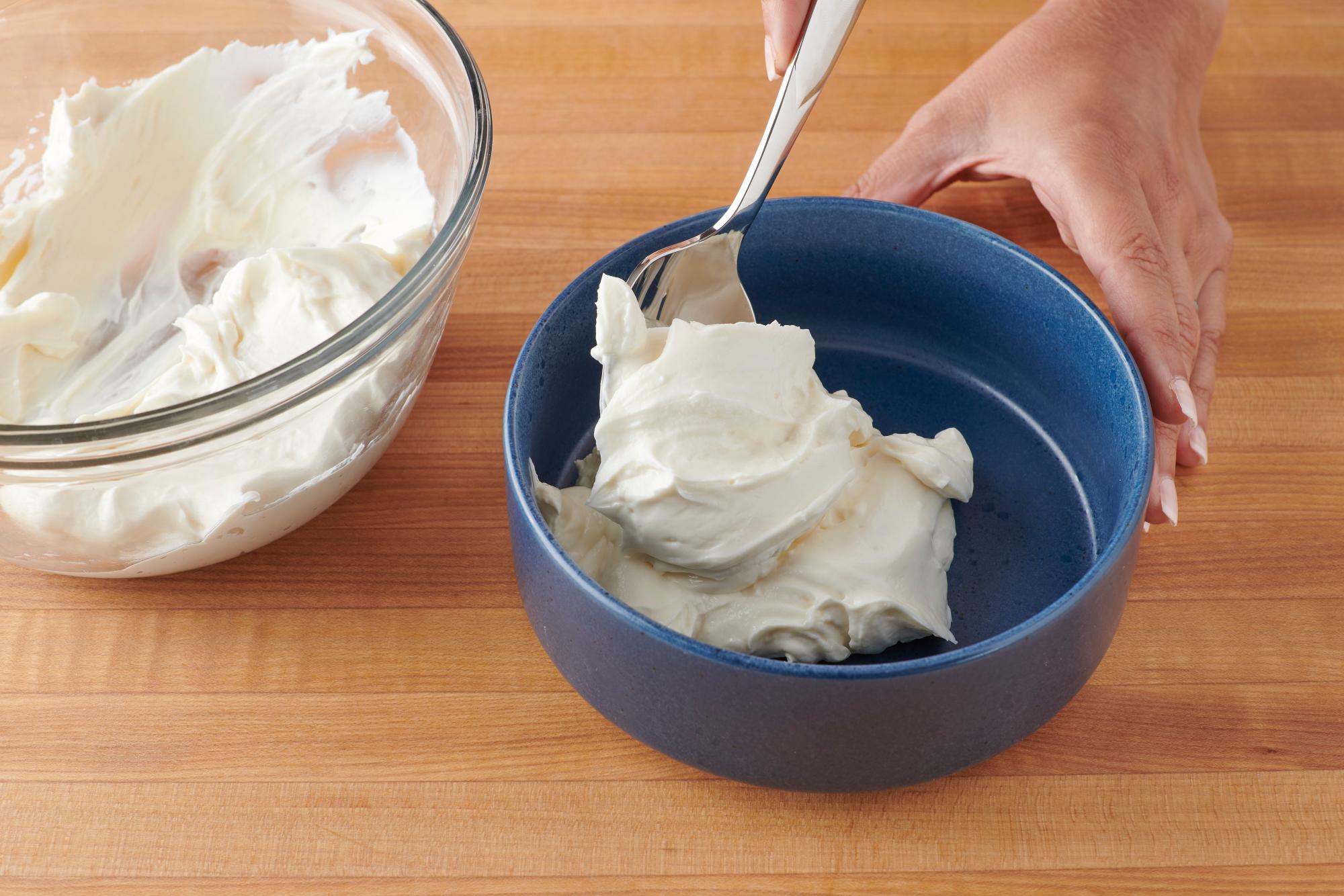 Spoon the mashed blueberries over the cream cheese mixture.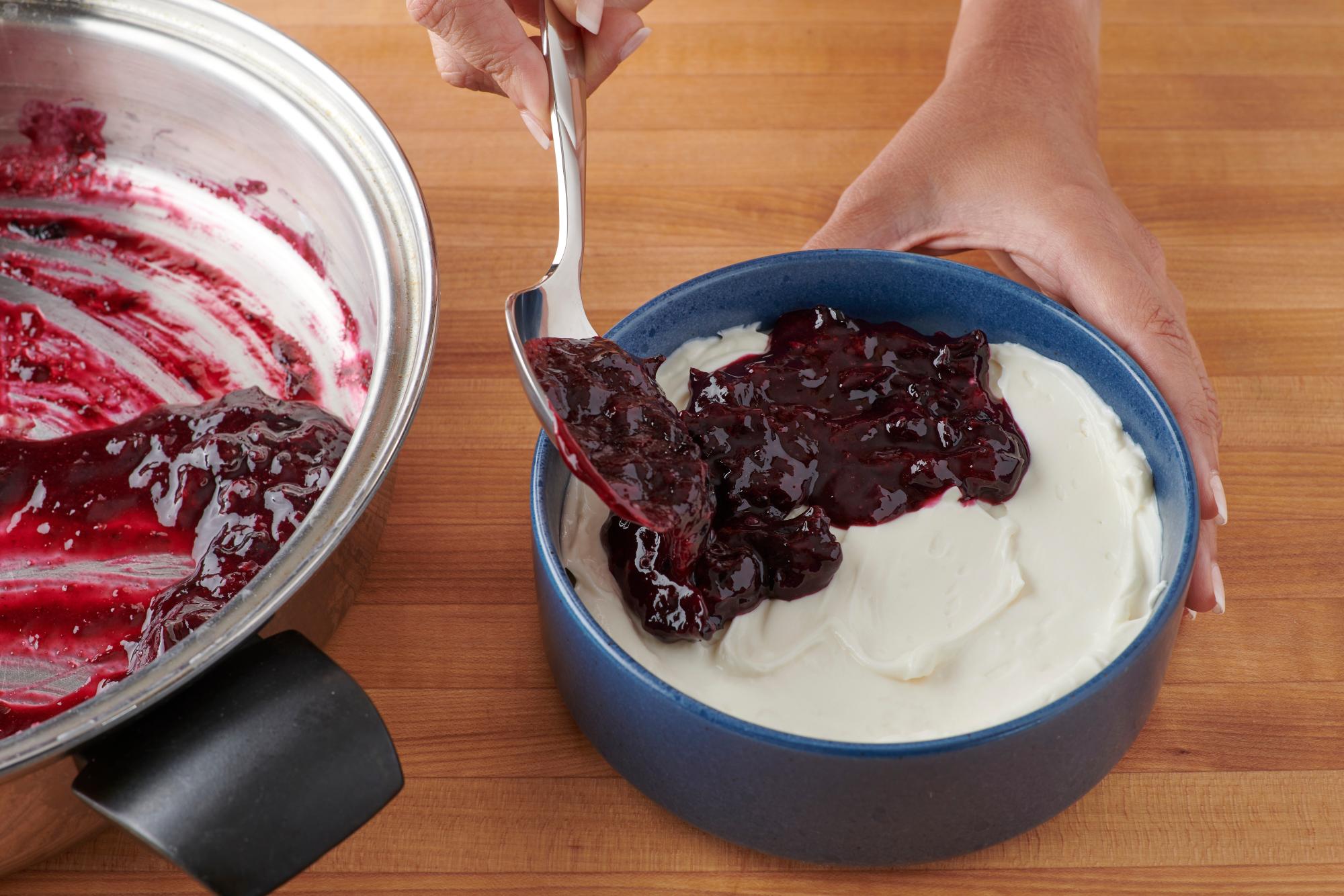 Chop some graham crackers with a 7-5/8″ Petite Chef knife to sprinkle over the top.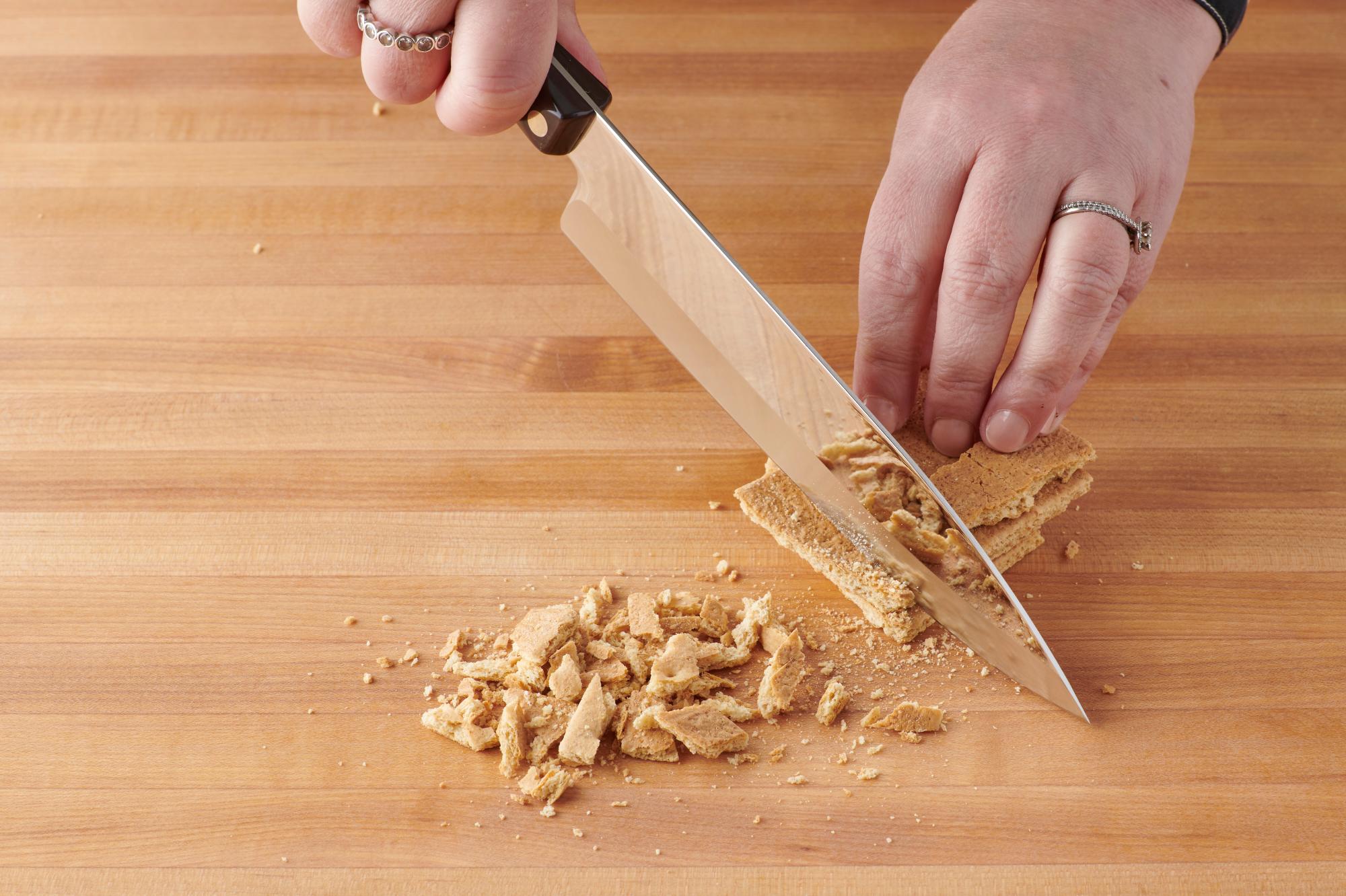 Serve with graham crackers, apple slices, strawberries and pretzels. Other great dippers would be vanilla wafers, animal crackers, biscotti, pear slices or whatever you think would taste good. Have fun choosing the dippers to make it kid and crowd friendly.
This delicious and easy-to-make Blueberry Cheesecake Dip recipe is perfect for parties, picnics or any time you're in the mood for something sweet and decadent, with a little boost of nutrition.
Nutrition per serving: 135 calories, 5.5 g total fat, 3.1 g saturated fat, 17 mg cholesterol, 95 mg sodium, 13.2 g total carbohydrates, 0.5 g fiber, 8.8 g protein
Ingredients
1 cup fresh blueberries
2 teaspoons cornstarch
2 tablespoons sugar
6 ounces light cream cheese
1/2 cup plain non-fat Greek yogurt
1/4 cup powdered sugar
1 teaspoon vanilla extract
1 teaspoon fresh lemon juice
2 graham cracker sheets, chopped

Dippers: graham crackers, pretzels, strawberries, apples
Directions
Place a skillet over medium heat and add the blueberries, cornstarch, and sugar. Using a potato masher, mash down berries as they cook until bubbling. Set aside to cool.
In a bowl, beat the cream cheese, Greek yogurt, powdered sugar, vanilla and lemon juice until smooth.
If you are not serving immediately, refrigerate the cream cheese mixture and blueberries separately. When ready to serve, scoop the cream cheese mixture into a serving bowl and top with the blueberries and chopped graham crackers. Serve alongside dipping items of your choice.
Recommended Tools