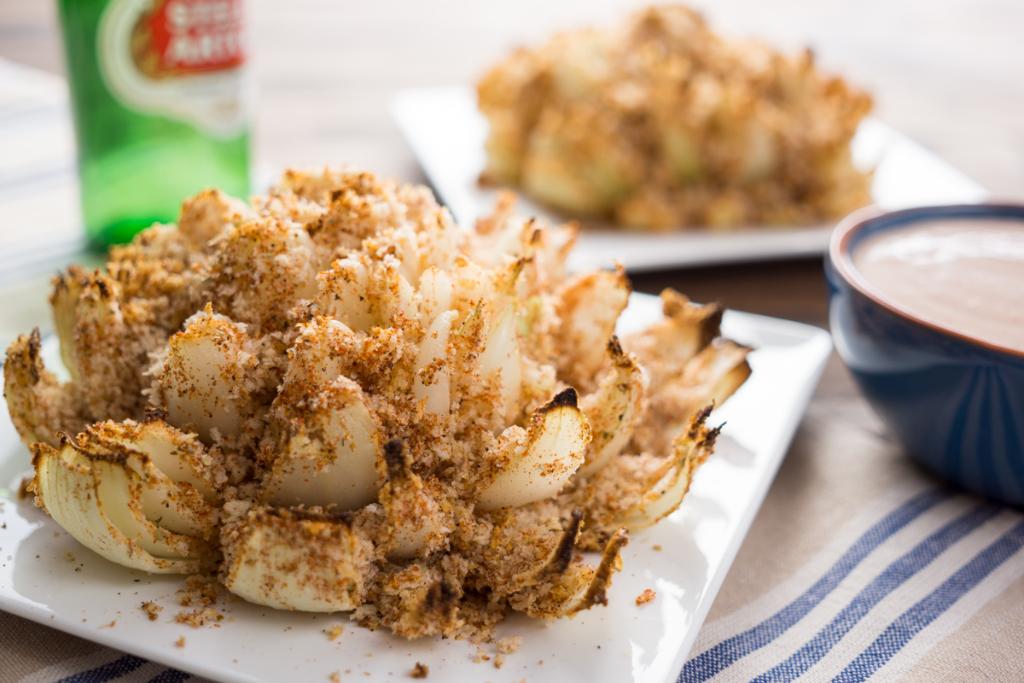 Unless you're an onion-hater, you've probably given in to the deep-fried sensation of the blooming onion prepared by that famous steakhouse. That creation, which, depending on what website you read, clocks in at between 2,000 and 3,000 calories and a whopping 134 grams of fat. That's even before you dip those fried petals into the mayonnaise-based dipping sauce.
Here's a recipe for a healthier, Baked Blooming Onion. Is it as good as the deep fried one? Not quite, but it does come close.
This recipe cuts calories to below 1,000 and fat to around 50 grams, based on the whole onion, not just one serving. This is my best guess from information I found on several sites.
The Cutco Trimmer, with its Double-D® edge, makes preparing the onion quick and easy. The tip of the blade easily inserts into the onion and the sharp blade moves smoothly when cutting the grid pattern into it.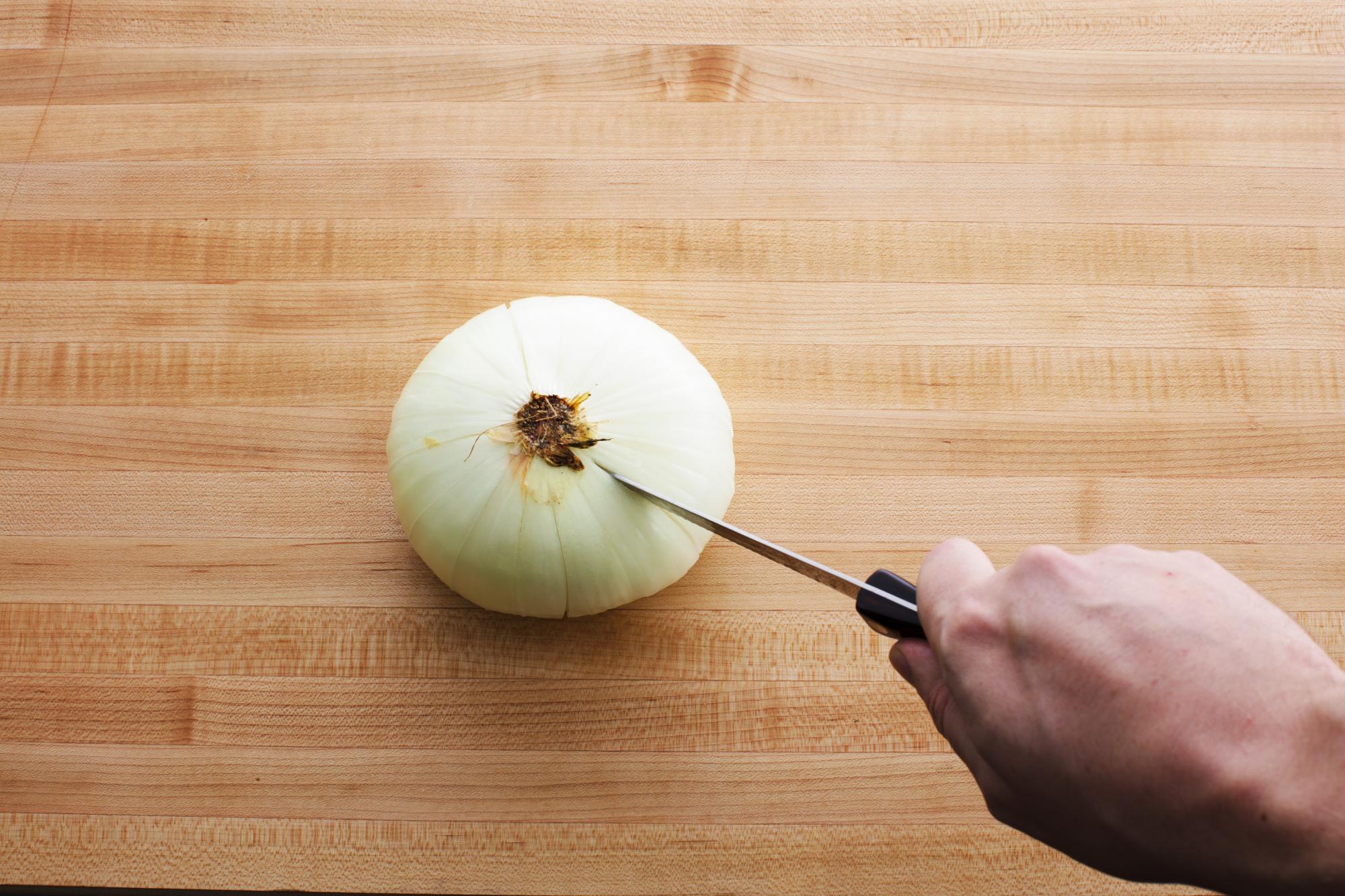 Refer to our infographic on How to Make a Blooming Onion for step-by-step instructions on how to do it, in just five easy steps.
Once it's done, the onion is ready to dip into an egg mixture.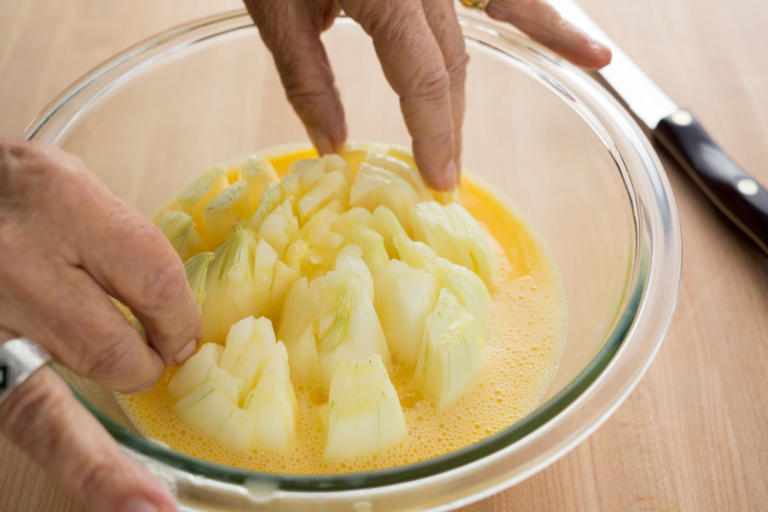 And then it goes into breadcrumb mixture, but as noted in the recipe, be sure to coat the petals fully.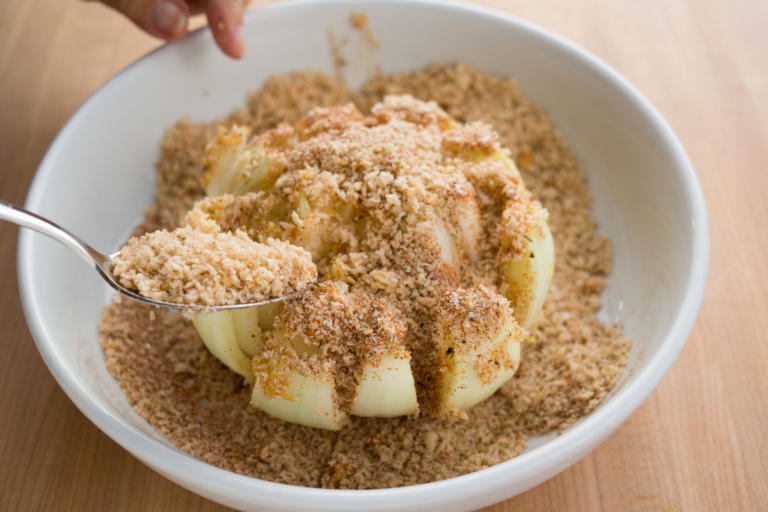 For the dipping sauce, feel free to use light mayo and sour cream to further trim the calorie count.
Consider using the dipping sauce on its own for a crudité platter filled with things like carrots, celery, bell peppers, cauliflower, or whatever vegetable you like!
Ingredients
For the Onion
1 large yellow (sweet) onion, cut into a grid pattern
3 large eggs
1/4 cup water
1 cup plain panko bread crumbs
2 teaspoons paprika
1 teaspoon garlic powder
1 teaspoon onion powder
1 teaspoon oregano
1 teaspoon kosher salt
1 teaspoon black pepper
For the Dipping Sauce
1/2 cup mayonnaise
2 tablespoons creamy horseradish
2 tablespoons ketchup
2 tablespoons sour cream
1/4 teaspoon lemon juice
1/4 teaspoon paprika
1/8 teaspoon cayenne pepper
1/4 teaspoon dried oregano
1/4 teaspoon kosher salt
Pinch of ground black pepper
Directions
For the Dipping Sauce
Whisk all ingredients together. Refrigerate until ready to use.
For the Onion
Heat oven to 400 F.
Cut the onion into a grid pattern as outlined in our How to Cut a Blooming Onion infographic.
Whisk the eggs and water in a medium bowl and set aside.
In another bowl, combine bread crumbs, paprika, garlic powder, onion powder, oregano, salt and pepper.
Dip onion into egg wash, using a spoon to coat fully. Place the onion in the bread crumb mixture and dredge, again using a spoon to coat fully.
If the onion does not seem well coated, carefully dip it back into the egg mixture, and then sprinkle with more breadcrumbs.
Place the onion on a baking sheet and lightly spray with non-stick cooking spray.
Bake until golden and tender, 18 to 20 minutes.
Serve with dipping sauce.
Recommended Tools