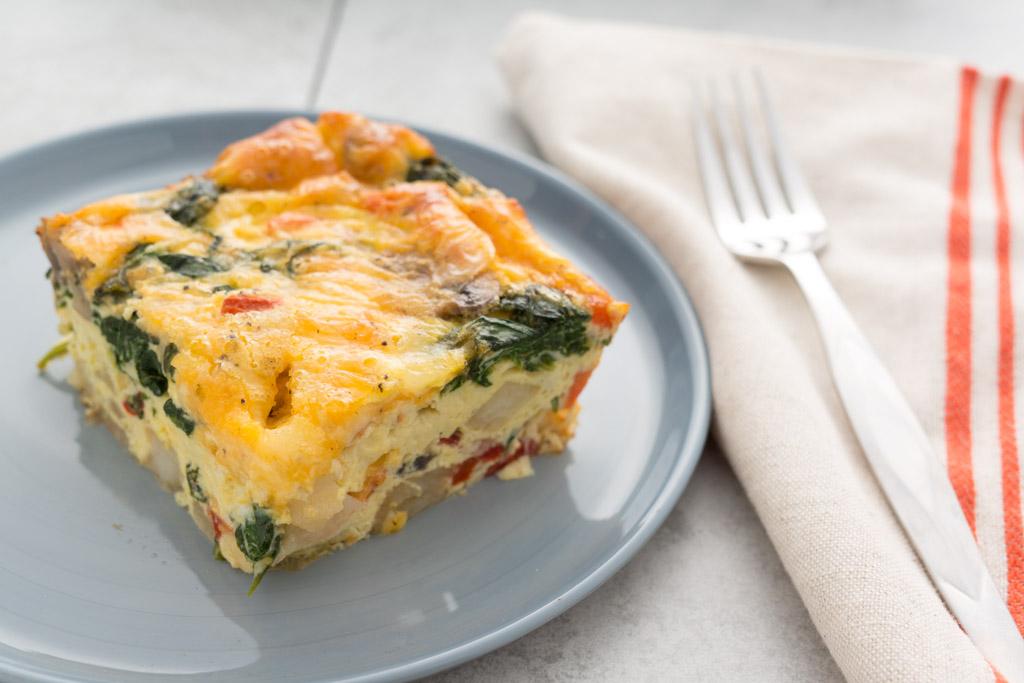 I've been on a breakfast/brunch binge lately when it comes to recipes. When you don't know what to have for breakfast, lunch or even dinner, some eggs and whatever else you might have on hand can be combined for a tasty and satisfying meal. Whether it's just you, you and your significant other, or a houseful, this Veggie Egg Bake recipe can fill the need.
Some egg bakes use cubed bread that soaks up the eggs and become heavy. This bake, however, has substance from the potatoes but is lighter and more soufflé-like in texture. Plus, with all the delicious vegetables, you don't even miss that there's no meat in it.
One Knife for Prep
Making this dish is easy and I only used one knife, the Trimmer, for slicing the mushrooms, carrots and roasted red peppers.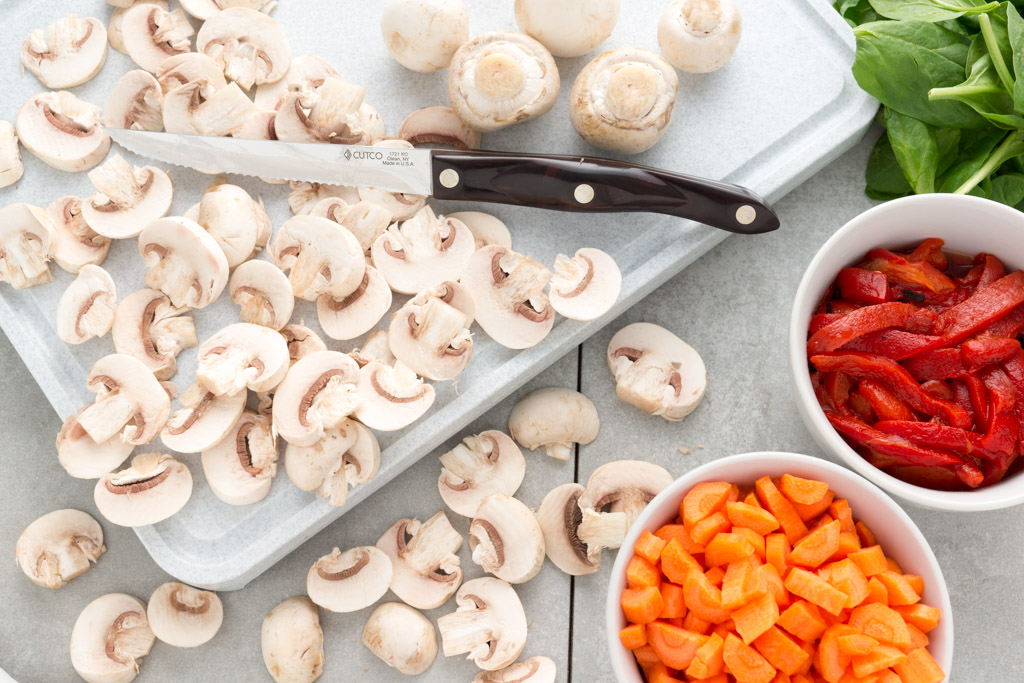 A quick tip for smoother food prep is to prepare all the ingredients ahead to save time. That way you can just add them as you go, instead of having to stop what you're doing to chop something up or measure out ingredients.
Putting It Together
The vegetables and potatoes are sautéed before they're placed into the bottom of a baking dish.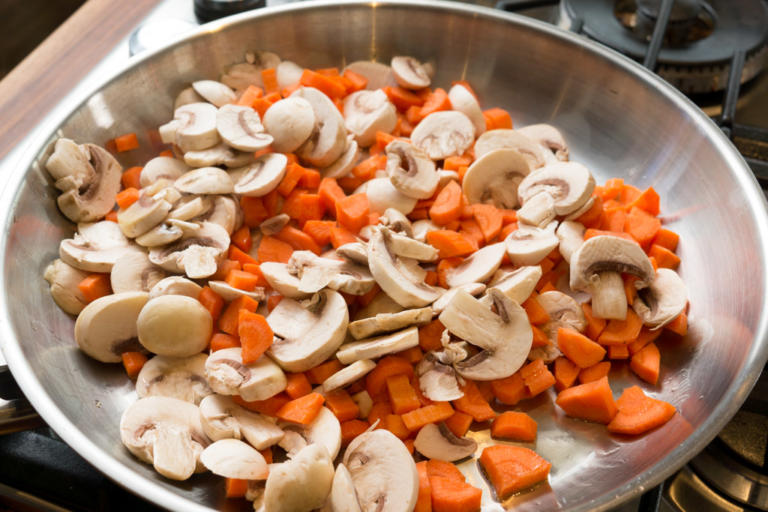 Cheese is added to the top of the vegetable mixture and then a mixture of eggs, milk, salt and pepper is poured over top.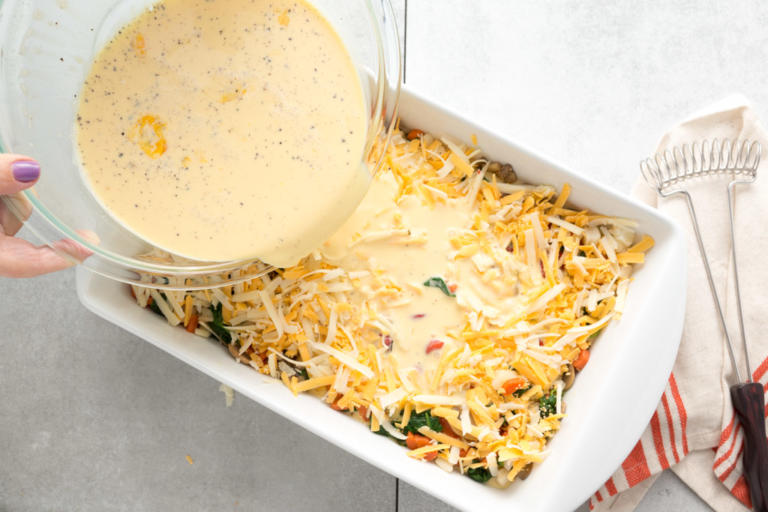 To beat the eggs, use Cutco's Mix-Stir. Its coil whisk is designed to quickly combine the egg yolks, whites and milk.
Once the Veggie Egg Bake is done, use a Spatula Spreader to cut and lift servings from the pan. The knife's sharp edge cuts cleanly through the bake and its flexible blade can slip under each piece to serve your guests.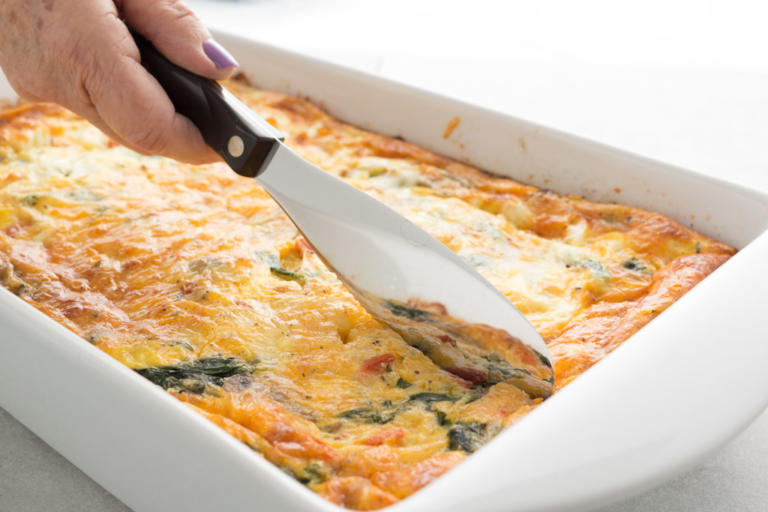 This is also a great make-ahead dish. You can put it all together and bake it immediately, or assemble it the night before and bake it the next day. You can also assemble it and put it in the freezer for up to three months before baking.
Notes:
The casserole can be assembled and chilled overnight before baking.
It can also be frozen unbaked. Cover tightly and freeze for up to three months. Thaw overnight in the refrigerator, then bake per instructions.
Leftovers can be stored in an airtight container in the refrigerator up to five days.
Originally published May, 4, 2017
Ingredients
1 tablespoon olive oil, plus more for the baking dish
8 ounces white button mushrooms or cremini mushrooms, sliced
2 cups chopped or thinly sliced carrots
5 ounces baby spinach (about 5 packed cups)
2 cups frozen diced potatoes, unthawed
1 cup jarred roasted red pepper strips
1 cup shredded sharp Cheddar cheese
1 cup shredded pepper jack cheese
12 large eggs
2 cups half and half
2 teaspoons kosher salt
1 /4 teaspoon freshly ground pepper
Directions
Place oven rack in the middle of the oven and preheat to 375 F.
Coat a 9-by-13-inch pan with olive oil; set aside.
In a large skillet over medium-high heat, warm 1 tablespoon of olive oil until shimmering. Add the mushrooms and carrots then cook until tender, about 5 minutes.
Add the spinach. Toss until wilted and almost all the liquid is evaporated, about 5 minutes. Remove from heat. Stir in the potatoes and pepper strips.
Spread in the baking dish as an even layer. Sprinkle with cheese.
In a large bowl, whisk the eggs, milk, salt and pepper together. Pour over the vegetables.
Bake until the top is golden-brown and a knife inserted in the middle comes out clean, roughly 50 to 55 minutes.
Cool for 5 minutes before slicing and serving.
Recommended Tools