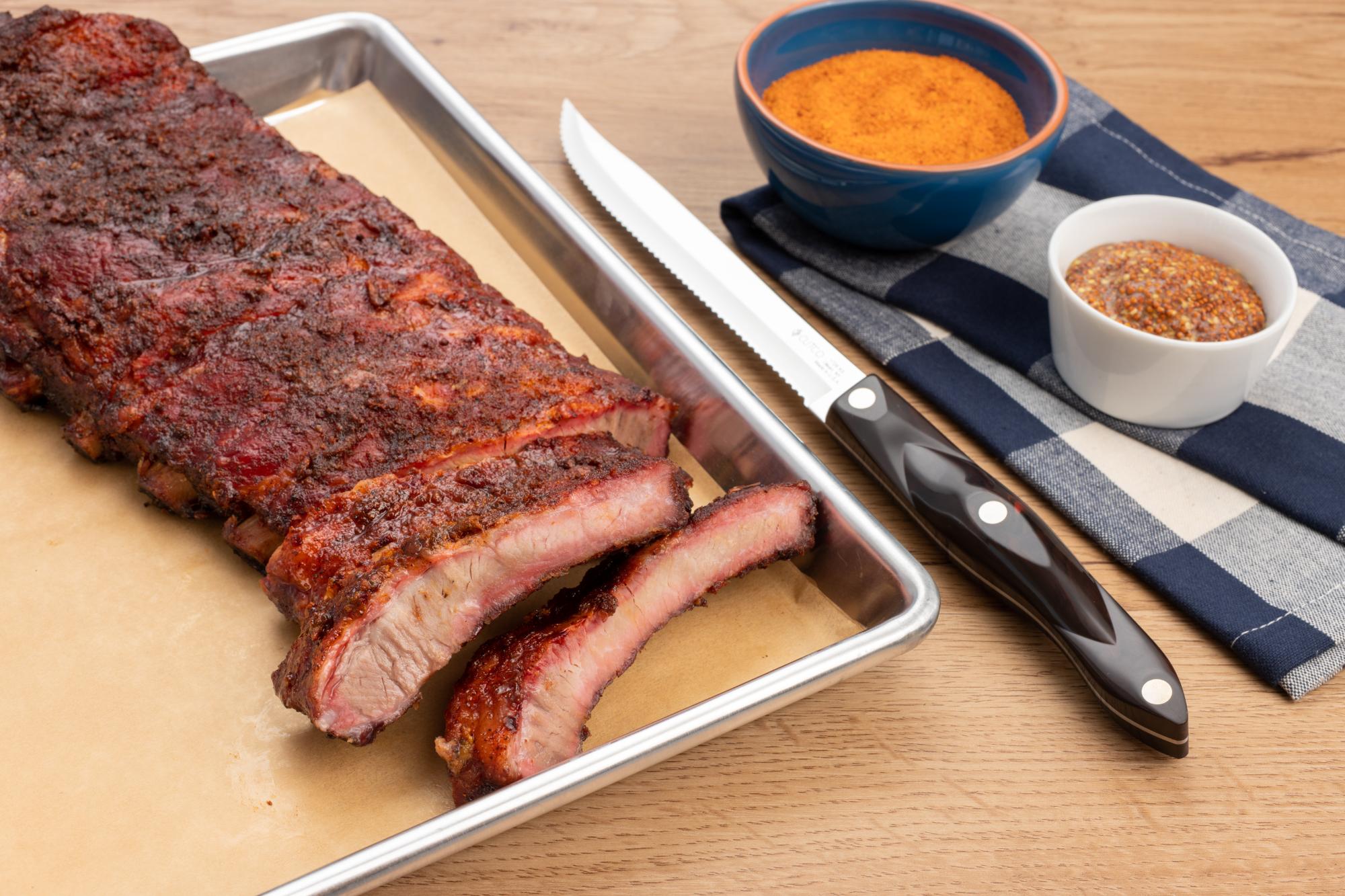 Just saying the word "ribs," I salivate. I. LOVE. RIBS. Spare ribs, baby back ribs, St. Louis ribs, saucy ribs, dry-rub ribs, fall-off-the bone ribs, little tug-on-the-bone ribs and whatever other kind of ribs that exist.
I've cooked hundreds of racks of ribs and I've narrowed it down to my favorite method that I share here. This method really allows the pork flavor to come through, but it's enhanced by the smokiness and rubs.
All ribs are not created equal so be picky when choosing them. You want the meatiest and most uniform in thickness. By picking out a fairly uniform rack, you'll ensure that you don't overcook/undercook sections of the ribs. I also figure about 3-4 bones per person when I'm trying to figure out how many racks to do. Of course you can always make much more than that because leftover ribs are never a bad idea.
Depending on what you want the final result to be, that will change the cooking method. If you want completely fall off the bone, I recommend wrapping them a few hours in to get a braising effect. For this recipe, there is no wrapping, just low and slow and light spritzing.
To know if they are done, I like to do the bend test which is where I use tongs to pick up the rack of ribs about three bones deep and let the rest of the rack hang. If it droops and the meat starts to spread in the bend, that's where I want my desired finish to be.
Many times your butcher will remove the membrane from the back of the ribs, but if it's intact when you get them, place the tip of a knife under the white membrane to lift it up (I used a Cutco Steak Knife, which worked great).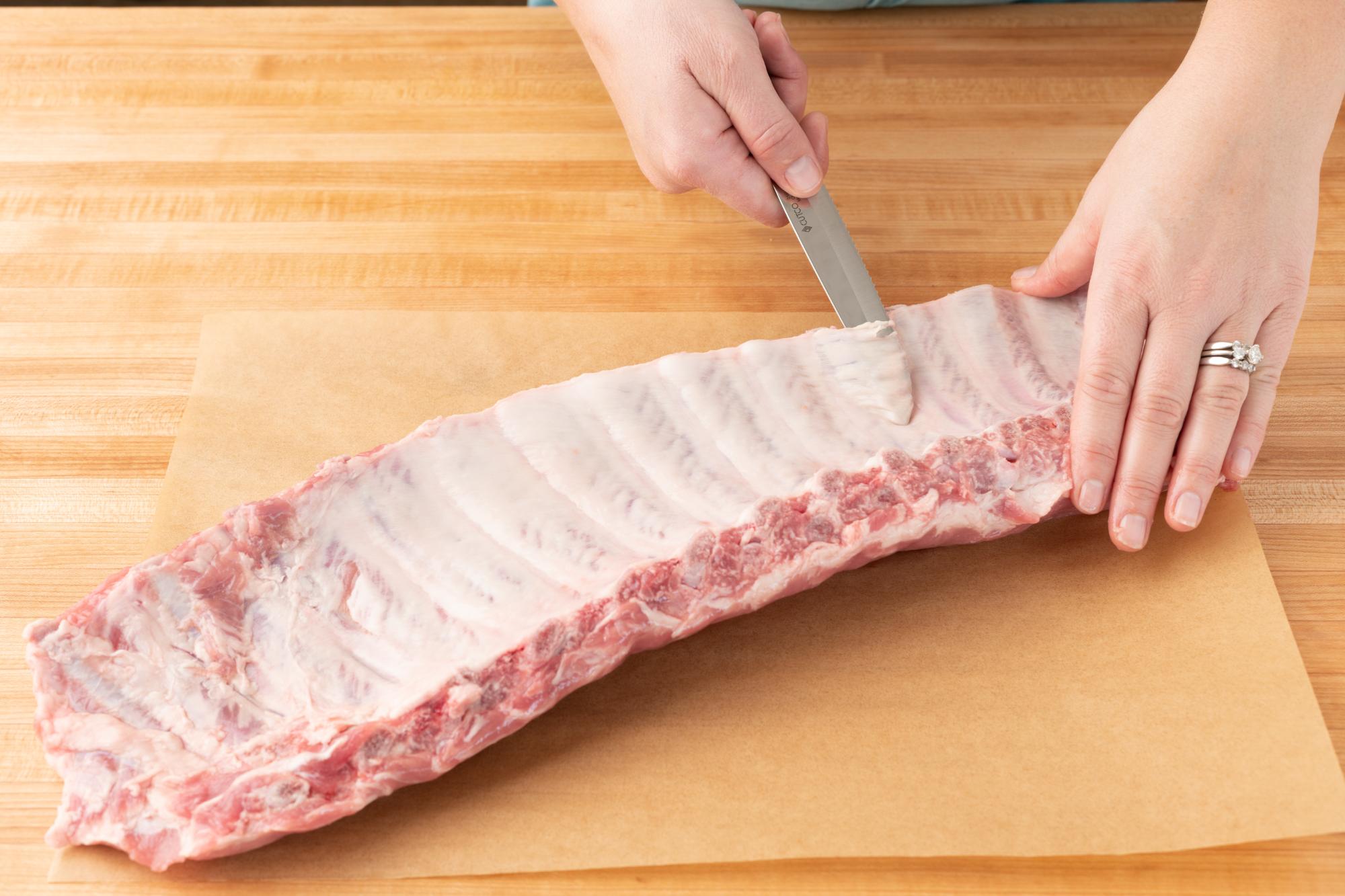 Then just grab ahold of the membrane with your fingers and pull it away from the ribs. You'll want to remove this in order to allow the meat to grab the flavor of the rub and for easier eating.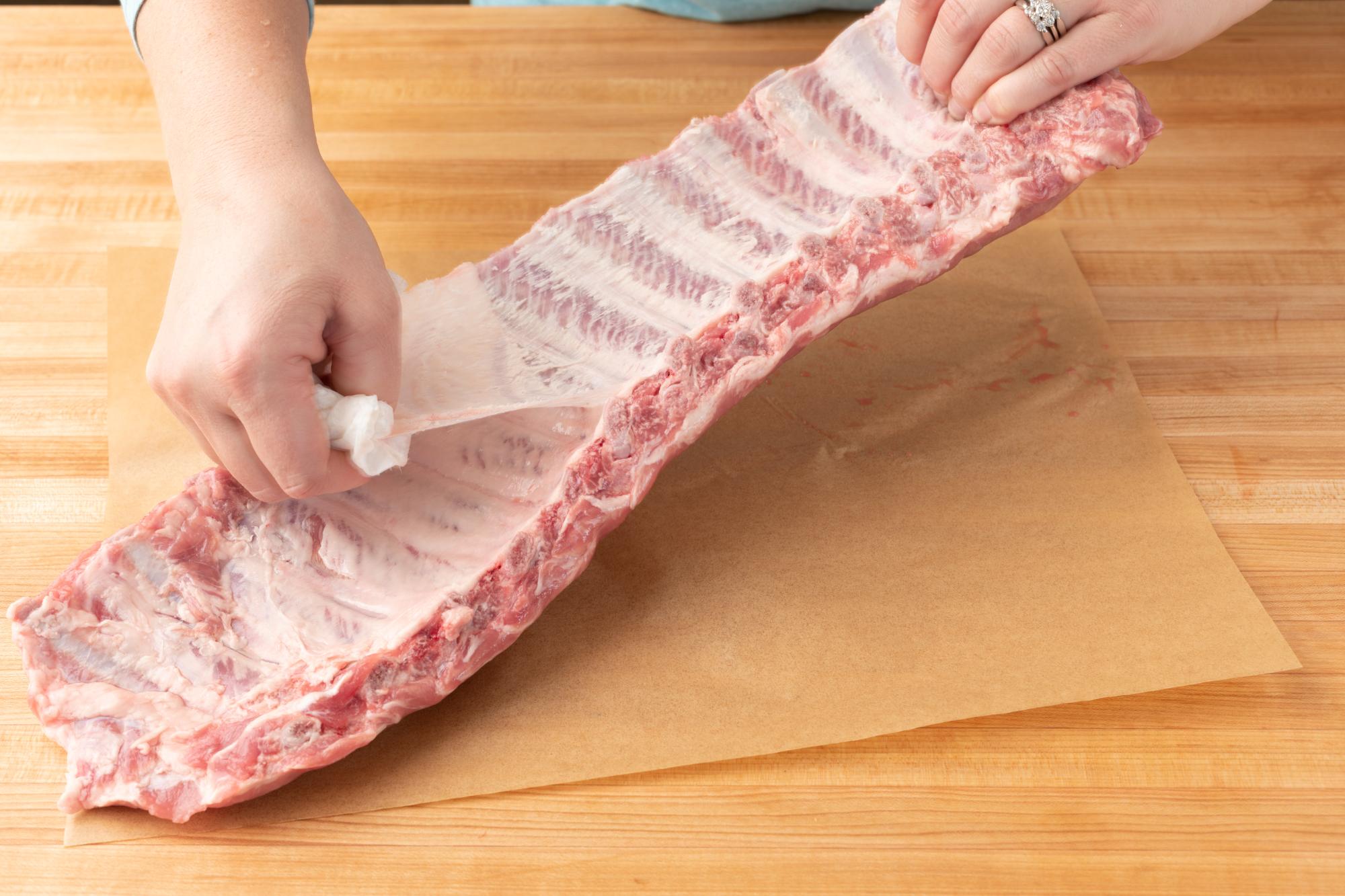 When they're done, stand the ribs up on their edge and slice between each bone using a small carving knife, like Cutco's 6-3/4" Petite Carver.
Enjoy those ribs and get messy! If you don't have flavor all over your hands and face when you're done eating them, then you're doing it wrong (or you're just much cleaner than me)!
Ingredients
1 rack ribs, St. Louis, baby back or spare
2 teaspoons kosher salt
1 teaspoon pepper
1/8 - 1/4 cup stone ground mustard, for coating
Seasoning (recommended: Three Little Pigs Touch of Cherry and KC Championship Barbecue Rub)
1/2 cup apple juice
1/2 cup apple cider vinegar
Directions
Upon removing the membrane, your ribs are ready for some seasoning. Sprinkle the kosher salt and pepper evenly over the entirety of the ribs (front and back).
Generously apply a stone ground mustard to the ribs. This will help the rib rub stick and also protect the meat.
Once the mustard binder is applied, sprinkle on the seasoning of your choice. We used both the Taste of Cherry and KC Championship Barbecue Rub from Three Little Pigs but it really is up to you.
Set the ribs into a smoker at a temperature of 225 F for 6 hours. Mix together the apple juice and apple cider vinegar in a spritz bottle. Every hour or so, spritz the ribs with this mixture.
When the bones are sticking out of the edge of meat, and you've achieved the desired tenderness, dig in.
To carve the ribs, stand them up on their edge and, using a carving knife, cut down cleanly between the bones.
Recommended Tools