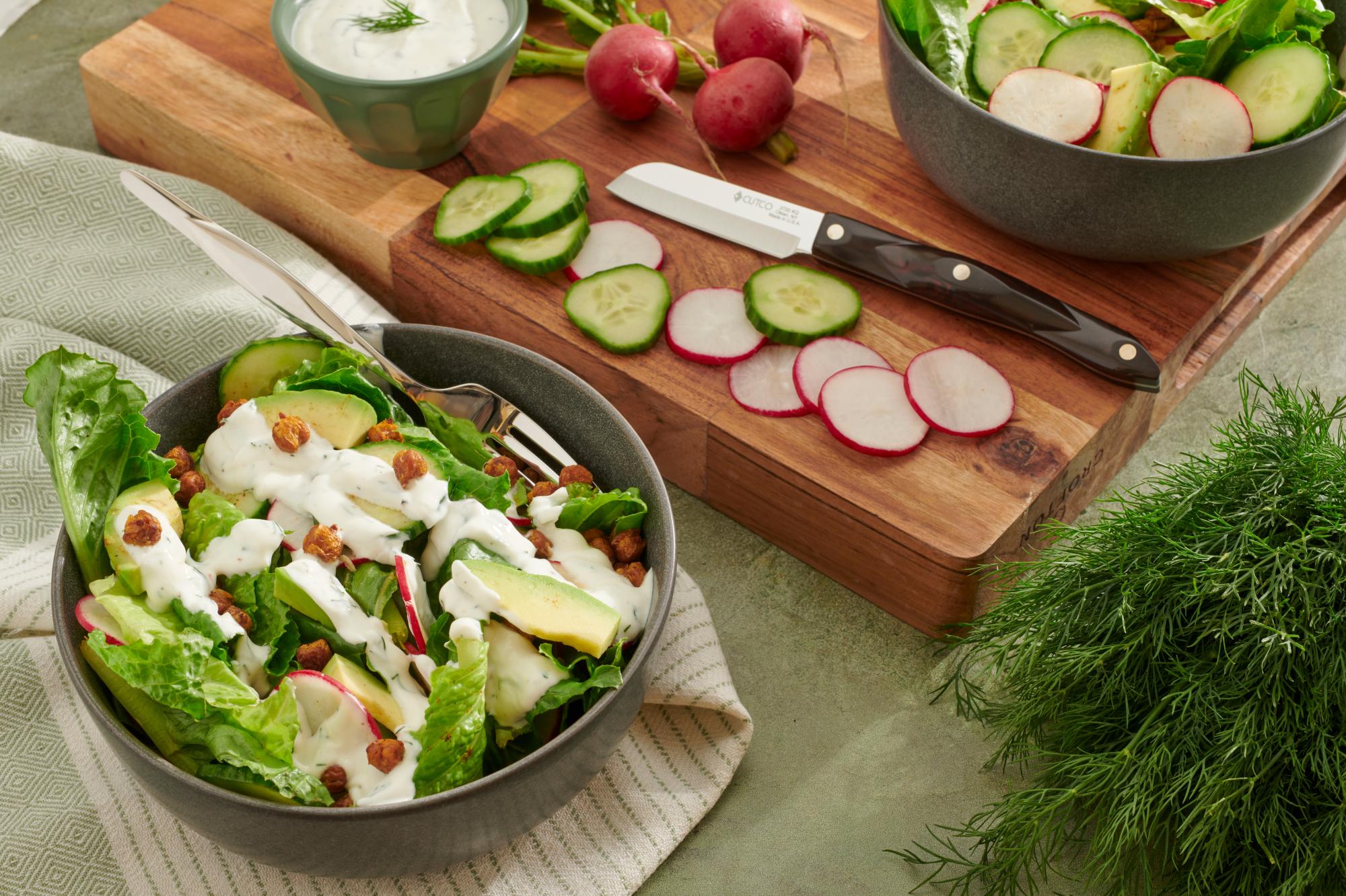 When I was a kid I thought radishes were just something mom threw in my school lunch when she was feeling gourmet. Now I know radishes can do much better than that. This Radish Salad With Yogurt Dill Dressing is a perfect example.
It celebrates just about every color of green in the produce bin. The mix of textures and colors makes this a good salad to serve with brunch or lunch.
Make the Yogurt Dill Dressing
In order to get the most from the dill dressing, make it before roasting the chickpeas. That way the dressing can chill longer in the fridge allowing the flavors to blend.
The only real knife work for making the dressing is mincing the fresh dill.
Use a 7-5/8" Petite Chef knife to cut the leafy fronds from the large stems of the dill. Gather the fronds into a pile and rock your knife over them to mince.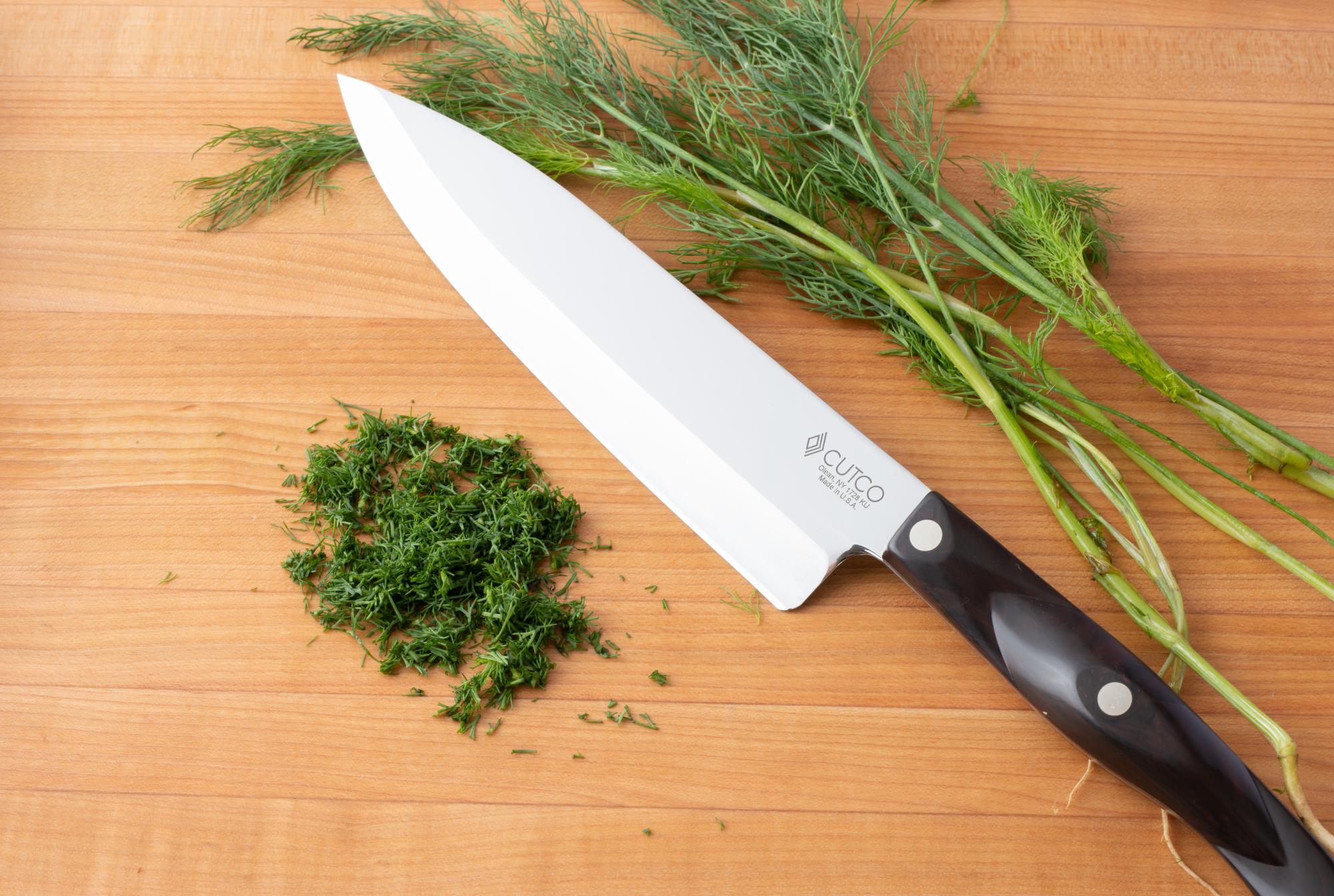 The recipe calls for a tablespoon of fresh dill, but you can use dried dill if you prefer, just note that you'll only need a teaspoon.
Preparing the Salad Ingredients
The mixture of vegetables in this salad really complement each other, and the crunchy roasted chickpeas add to the enjoyment of eating it.
Roasting the chickpeas is easy and doesn't take long, but there are some tricks to making sure they're crunchy and not squishy. Start checking them after 30 minutes, especially if you are using the convection feature on your oven. To help dry them out and to get the best crunch, the chickpeas will be removed from the oven to rest for approximately 10 minutes before being placed back in for an additional 10 to 15 minutes. Make sure to check them at the seven-minute mark to ensure they don't overcook. Taste one or two to make sure they are crunchy, otherwise they can return to the oven for another five minutes or so.
While the chickpeas are doing their thing in the oven, start prepping the vegetables.
The Santoku-Style 3" Paring Knife is a great choice for thinly slicing the radishes. Its blade profile is ideal for slicing on a Small Cutting Board.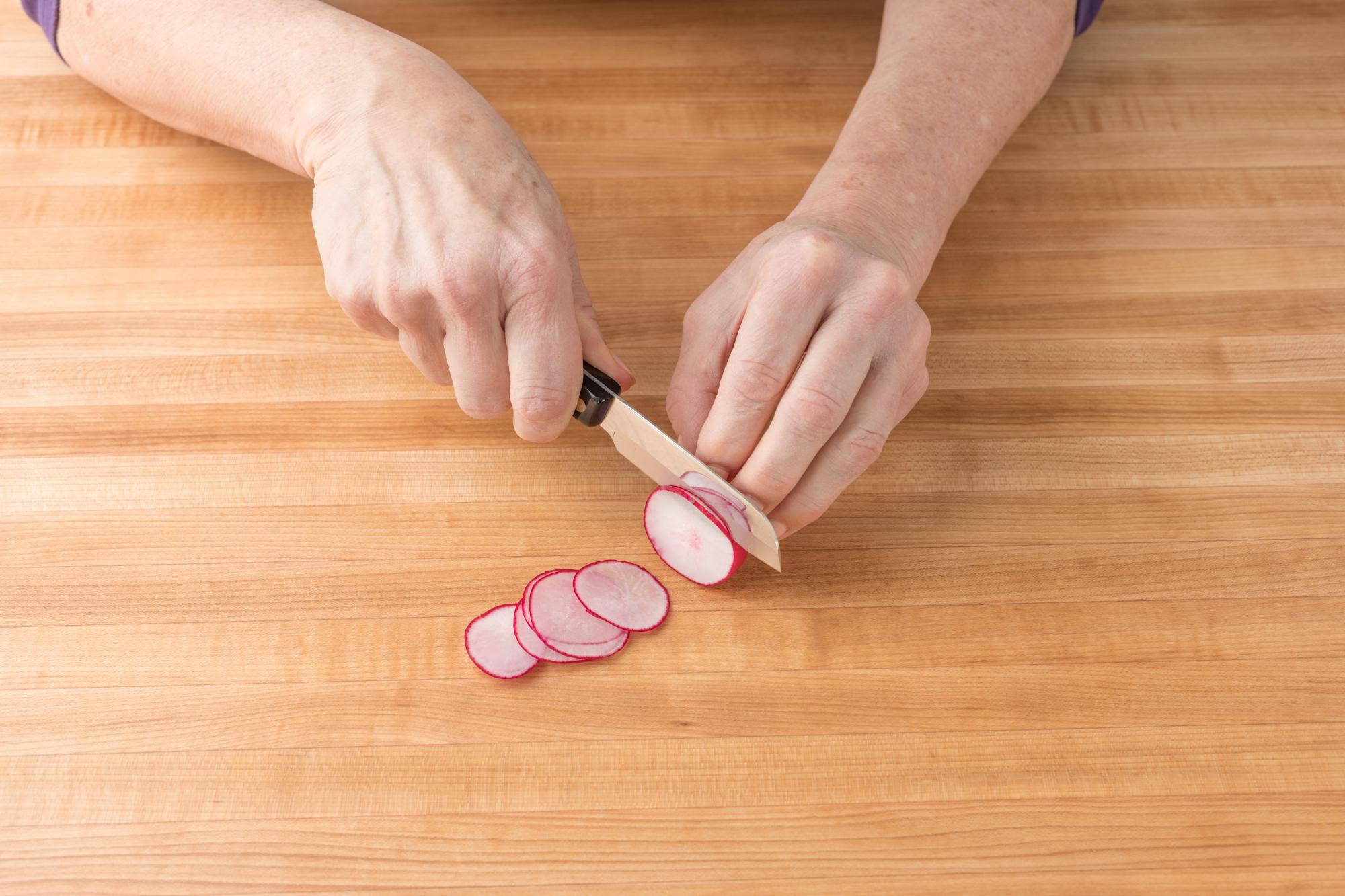 Next, thinly slice the English cucumber. Believe or not, the Cutco Traditional Cheese Knife is excellent for this purpose. Its sharp Micro Double-D® edge glides through the cucumber with no trouble at all and the holes along the blade prevent the slices from sticking to it.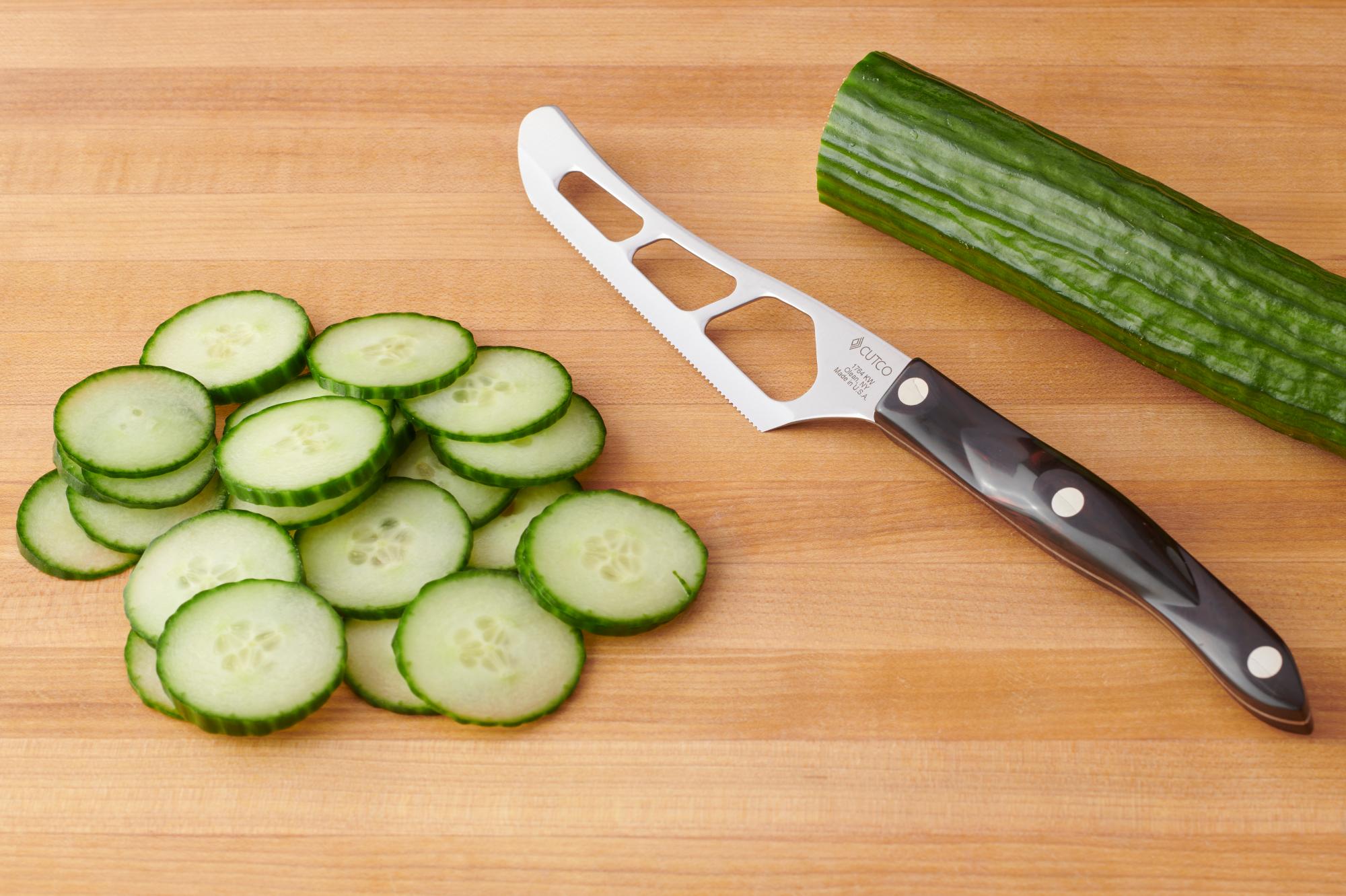 Avocado adds another element of flavor and texture to this salad. Use a 4" Gourmet Paring Knife to cut it into thin slices.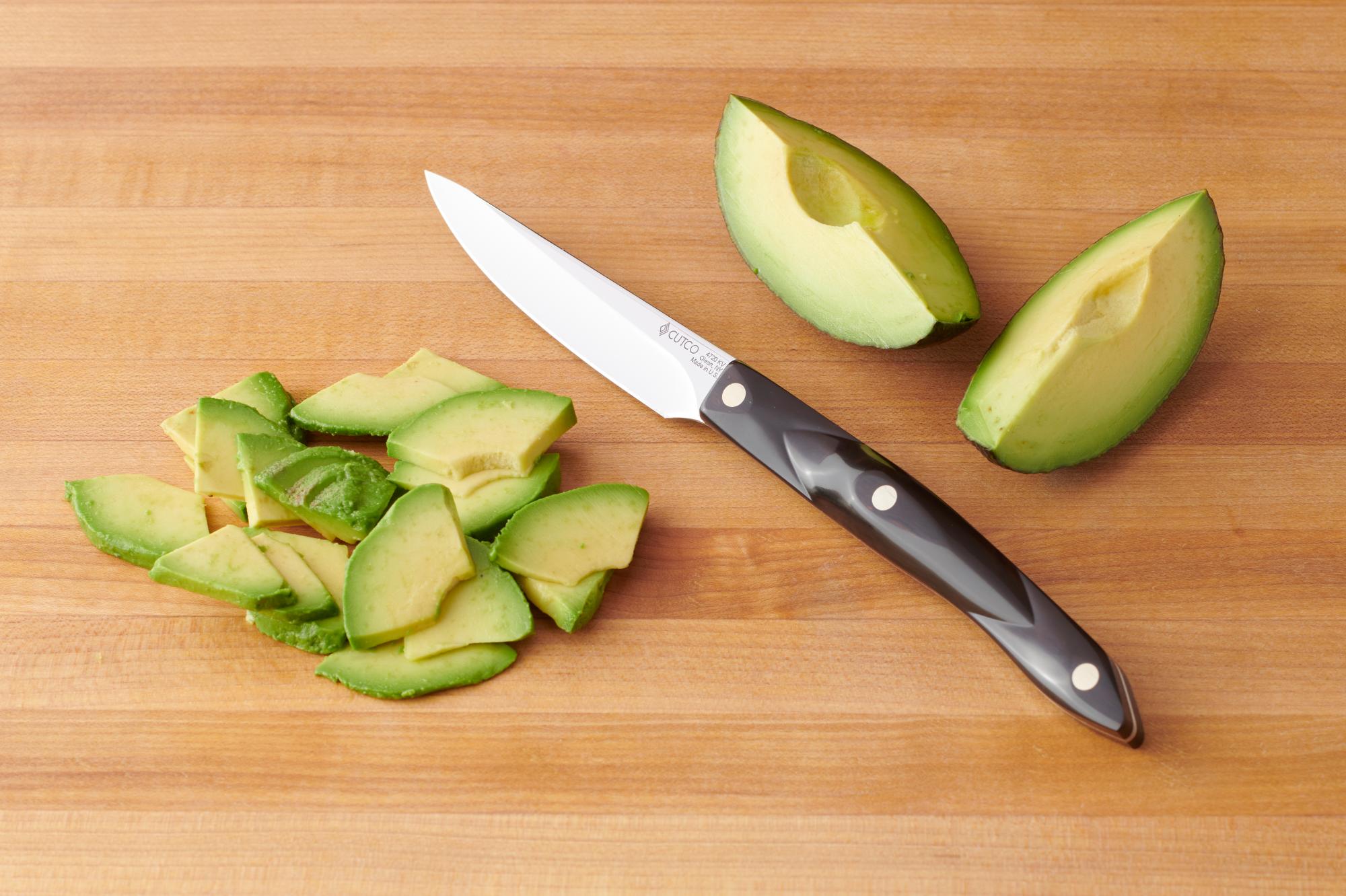 The only vegetable left to prep is the romaine lettuce. It can be sliced into shreds or you can just tear it into bite-sized pieces.
There are really three recipes here. I like to use the dressing recipe for other salads and the chickpeas can garnish other vegetables or be eaten as is for a healthy snack.
This Radish Salad With Yogurt Dill Dressing is a fresh, palate-pleasing salad I know you'll enjoy.
Ingredients
For the yogurt dill dressing:
3/4 cup plain Greek yogurt
1/2 lemon, juiced (2 tablespoons)
1 tablespoon apple cider vinegar
1 tablespoon minced fresh dill or 1 teaspoon dried dill
1/2 teaspoon kosher salt
1/2 teaspoon coarse ground pepper
For the radish salad:
1 can (15.5-ounce) chickpeas
2 teaspoons olive oil
1/2 teaspoon kosher salt
3/4 teaspoon smoked paprika, more if desired
1 small bunch romaine lettuce, washed and torn into bite-size pieces
6 radishes, thinly sliced
1 English cucumber, thinly sliced
1 large avocado, cut into wedges
Directions
Heat oven to 400 F.
Combine the ingredients for the dressing in a small bowl. Refrigerate covered until ready to use.
Drain and rinse chickpeas. In a bowl, place the chickpeas, olive oil, salt and paprika, and stir until chickpeas are covered in seasoning. Place prepared chickpeas on a parchment paper-lined baking sheet. Roast chickpeas in oven for 40 minutes. Take chickpeas out of the oven and let rest for 10 minutes. Shake the pan and place baking sheet back in oven for 10 to 15 minutes until crunchy. Check at 7 minutes to ensure the chickpeas do not overcook.
Place lettuce in a serving bowl, add radishes, cucumbers and toss. Add avocado, drizzle dressing to taste and top with roasted chickpeas.
Store extra dressing in refrigerator for up to 5 days.
Recommended Tools