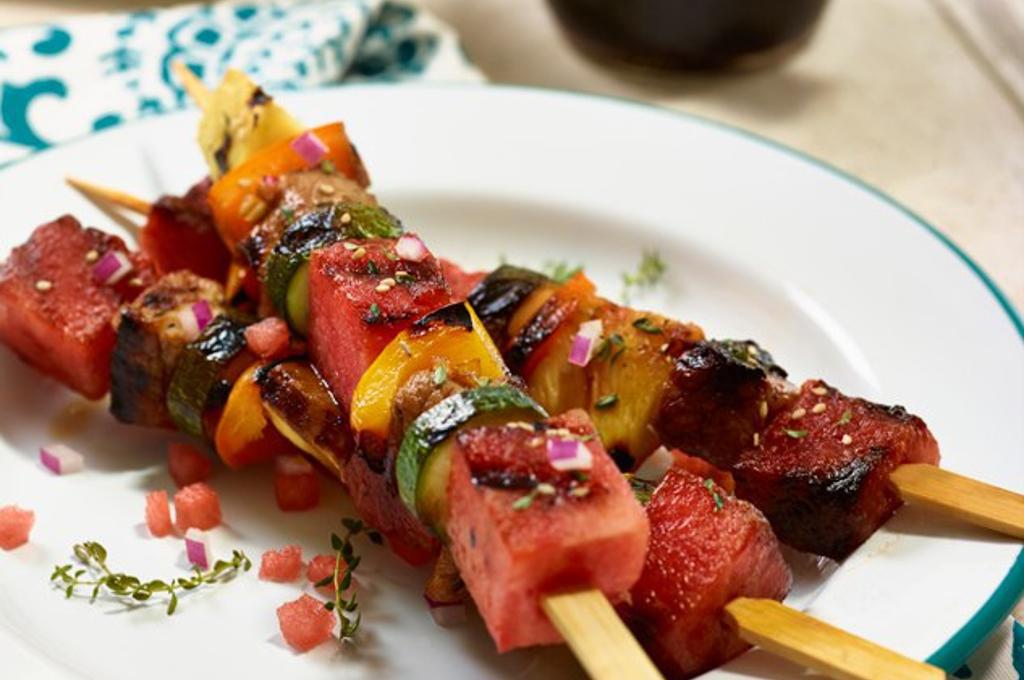 The best antioxidant defense comes from an assortment of colorful fruits and vegetables. These kabobs have it all: red, yellow, green and even orange. Easy and fun to make, guests can even build their own kabobs!
Ingredients
6 tablespoons brown sugar
6 tablespoons soy sauce
6 tablespoons red onion, diced
3 cloves garlic, minced
3 tablespoons lemon juice
1 tablespoon olive oil
1/4 teaspoon ground thyme
Pepper to taste
1 pound boned, lean pork chop, cut into 1-inch cubes (approximately 38 to 40 pieces)
32 (1-inch) cubes watermelon
16 to 24 (1/2-inch) zucchini rounds
16 (1-inch) pineapple chunks, fresh or canned
24 (1-inch) yellow and/or orange peppers
Cooking spray
Directions
Combine sugar, soy sauce, onion, garlic, lemon juice, olive oil, thyme and pepper in a mixing bowl. Pour into a resalable bag and add pork pieces. Seal bag, mix thoroughly and refrigerate for at least 1 hour, turning bag on occasion.
Remove pork from bag and reserve marinade. Thread 5 pork pieces, 4 watermelon cubes, 2 to 3 zucchini rounds, 2 pineapple chunks and 3 peppers on each of 8 skewers, alternating the order.
Spray cooking surface and prepare grill.
Place kabobs on grill. Grill for 12 to 15 minutes, depending on grill heat, or until done, turning and basting frequently with reserved marinade. Garnish with sesame seeds and chunks of watermelon.