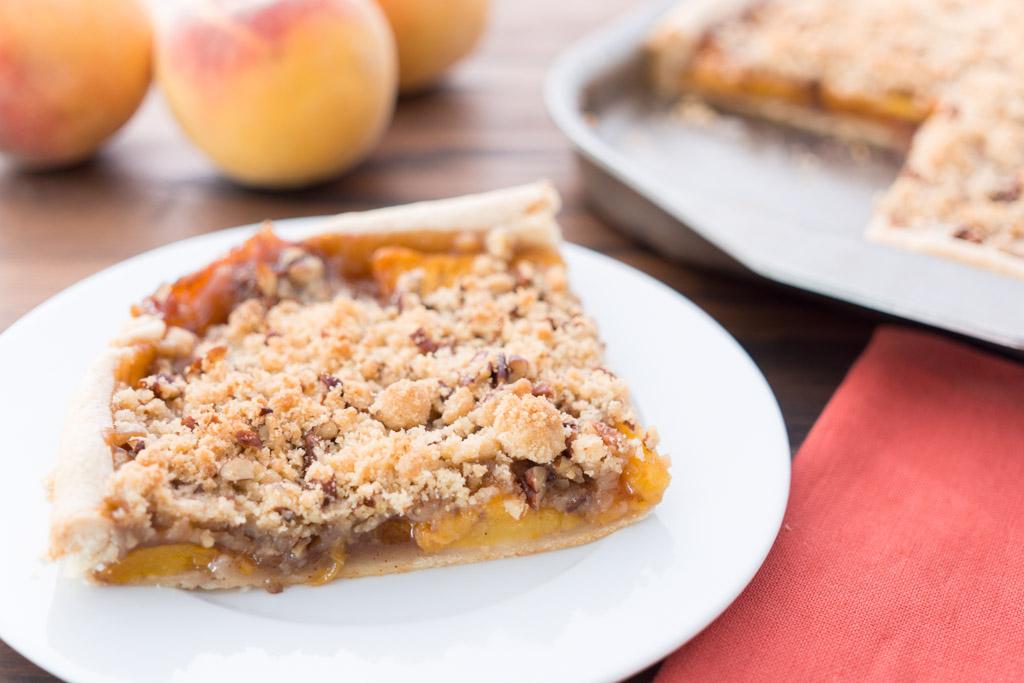 It's a wonderful time of year. The days are still warm and sunny, the nights are cool, and farmers markets are brimming with squashes, peaches, apples and grapes, and baskets of colorful mums.
Not to miss out, I headed down the street to a local farmers market and left with a large basket of picture-perfect, ripe but firm peaches for this Peach Slab Pie With Streusel Topping.
Preparing the Peaches
The thought of slicing peaches used to cause me anxiety, until I learned an easy way to peel off the fuzzy skin and cut around that pesky pit.
For this recipe, I blanched the peaches so that the skin would be easy to peel off. To do it, use a 2-3/4″ Paring Knife to make some cuts on the top of the peach by slicing across to form an X. This will allow the skin to separate a bit during the blanching process, making it easier to peel off.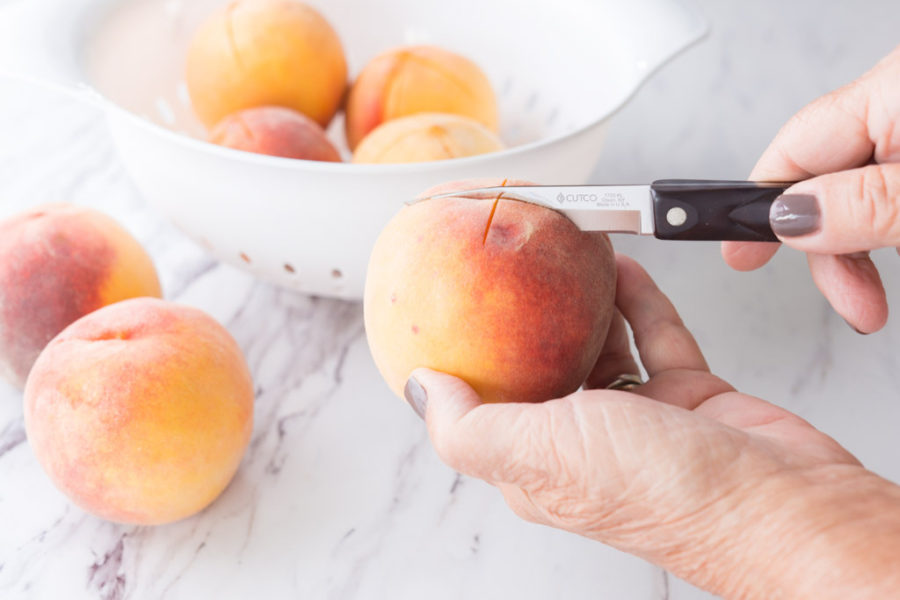 To see how to blanch a peach, take a look at our step-by-step How to Slice Peaches tutorial. If you prefer not to blanch the peaches, our video How to Cut Peaches also offers some good advice without blanching.
Once the skin is removed from the peach, cut the fruit in half around the pit with a 4″ Paring Knife. Use the tip of the knife to cut around the pit to remove it.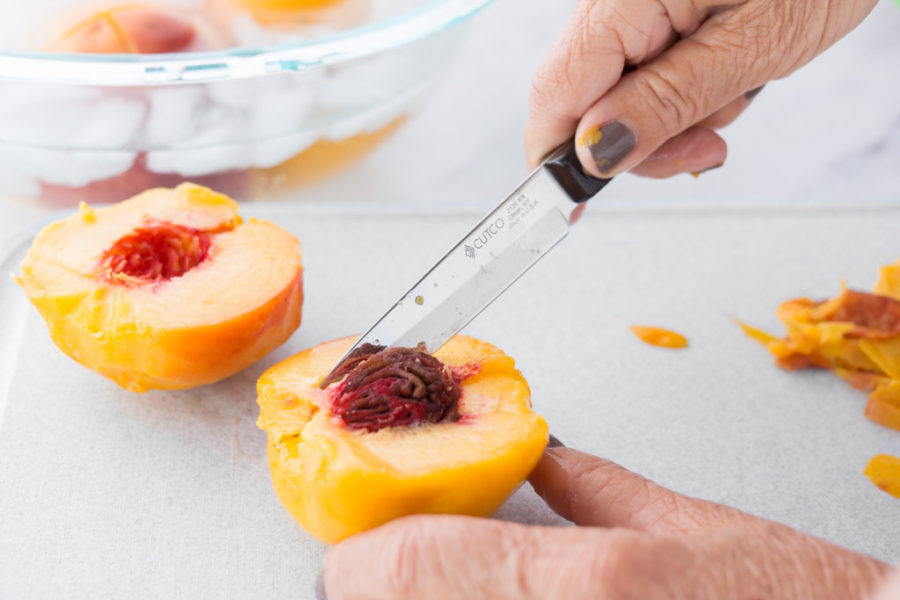 Once the pit is out, you can easily slice the peaches.
Slab pies can be made with just a single fruit or a combination of two or three fruits. Just make sure whatever you use has approximately the same cooking/baking time for doneness.
Making the Slab Pie
Toss the sliced peaches together with brown sugar, lemon juice, cornstarch, vanilla, cinnamon, salt and nutmeg in a large bowl. Once that's done, this recipe comes together easily with the convenience of refrigerated pie crust, which is spread out across a sheet pan and then loaded up with the peaches.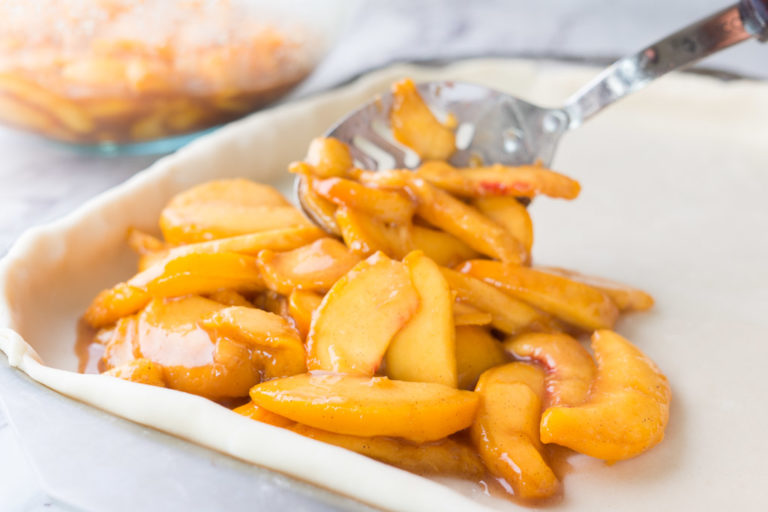 The streusel topping is the finishing touch and is easily made by combining flour, chopped pecans, brown sugar, unsalted butter and kosher salt. This crumbly mixture is sprinkled over the top of the peaches creating a mouth-watering crunchy topping.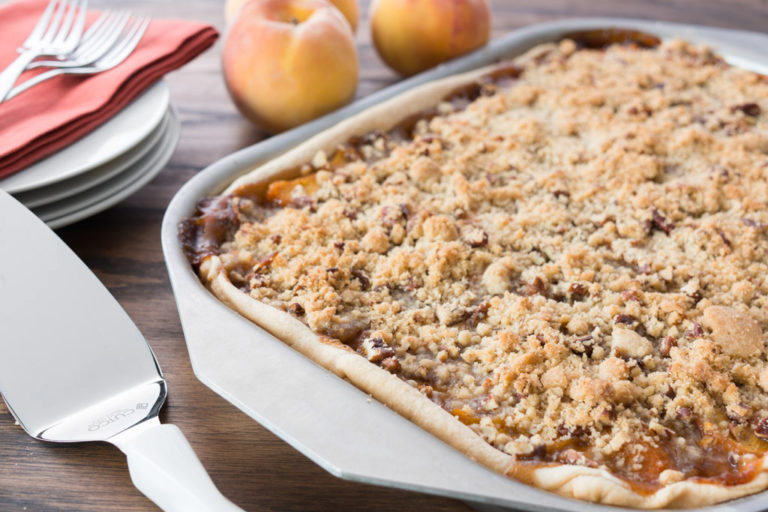 Fruity, sweet and slightly nutty, this Peach Slab Pie With Streusel Topping is perhaps the perfect summer treat, especially if you're looking to feed a crowd. While a regular pie can serve six to eight, a slab pie can easily serve 12 to 15.
Ingredients
Pie:
1 package refrigerated pie crust
Filling:
3 pounds ripe peaches (about 6 peaches), sliced
1 1/2 cups firmly packed brown sugar
Juice of 1 lemon
3 tablespoons cornstarch
2 teaspoons pure vanilla extract
1 teaspoon ground cinnamon
1/2 teaspoon kosher salt
1/2 teaspoon nutmeg
Streusel topping:
3/4 cup all-purpose flour
1/2 – 3/4 cup chopped pecans
1/2 cup firmly packed brown sugar
6 tablespoons unsalted butter, melted
1/4 teaspoon kosher salt
Combine all ingredients in a small bowl.
Directions
Combine all ingredients in a small bowl.
Toss the peaches, brown sugar, lemon juice, cornstarch, vanilla, cinnamon, salt, and nutmeg in a large bowl.
Lightly butter the bottom and sides of a rimmed 10-by-15-inch baking sheet.
Preheat oven to 375 F.
On a lightly floured surface, stack the pie crusts one on top of the other. Roll out to a 17-by-12-inch rectangle.
Fit the crust into the pan, folding the extra crust even with the edges of the pan. Spoon filling onto the crust and spread evenly.
Bake for 30 minutes. Tip: I put the prepared pie on another larger sheet pan before putting it in the oven to catch any juices that might bubble over.
Remove pie from the oven, sprinkle streusel evenly over the top.
Return pie to the oven and bake an additional 30 minutes until topping is golden brown and filling is bubbly.
Serve warm or at room temperature.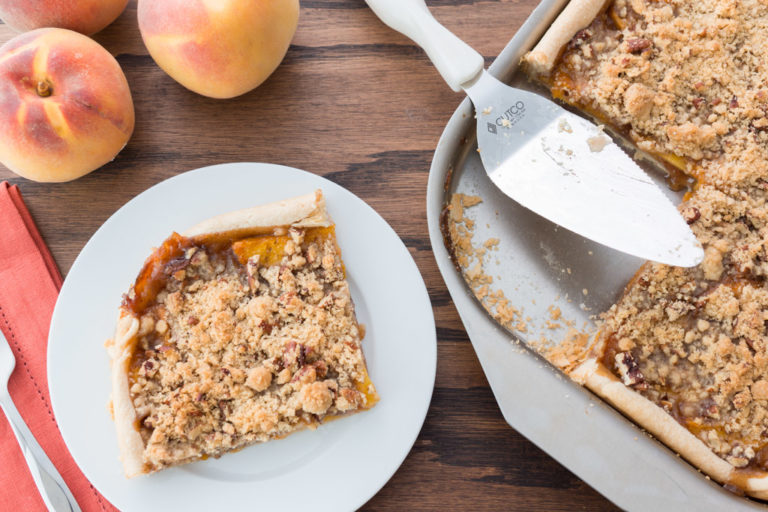 Recommended Tools