Oven Roasted Sausage With Peppers and Onions
804 days ago
Skip to recipe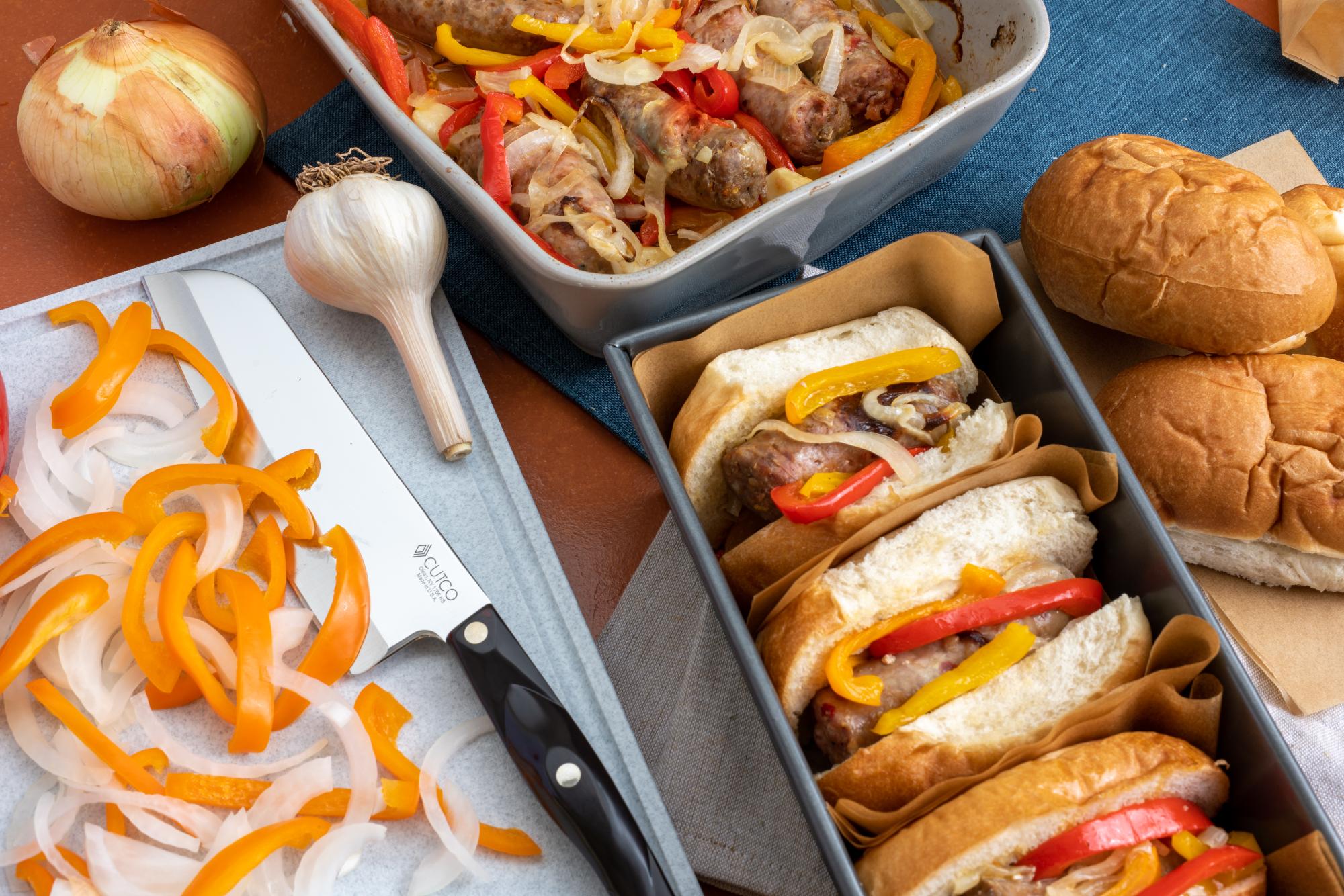 When I have to serve a lot of people and want something quick and flavorful, I turn to this recipe for Oven Roasted Sausage with Peppers and Onions. I serve it for many family gatherings.
This sheet pan version of sausage, peppers and onions comes together quickly. Serve it on its own or with crusty rolls. You choose the type of sausage you like based on your flavor preference. Use hot, sweet or even turkey sausage.
Preparing the Ingredients
For cutting the sausage into 3-inch lengths, use a good slicing knife like Cutco's Trimmer. Its sharp Double-D®-edge blade easily cuts through the skin of the sausage without tearing it.
For the peppers, treat them as if they were square. Slice down the four sides, along the core, and then lay the quadrants flat to slice to desired size, either in slices or chunks. The 7" Santoku is a good knife for this purpose.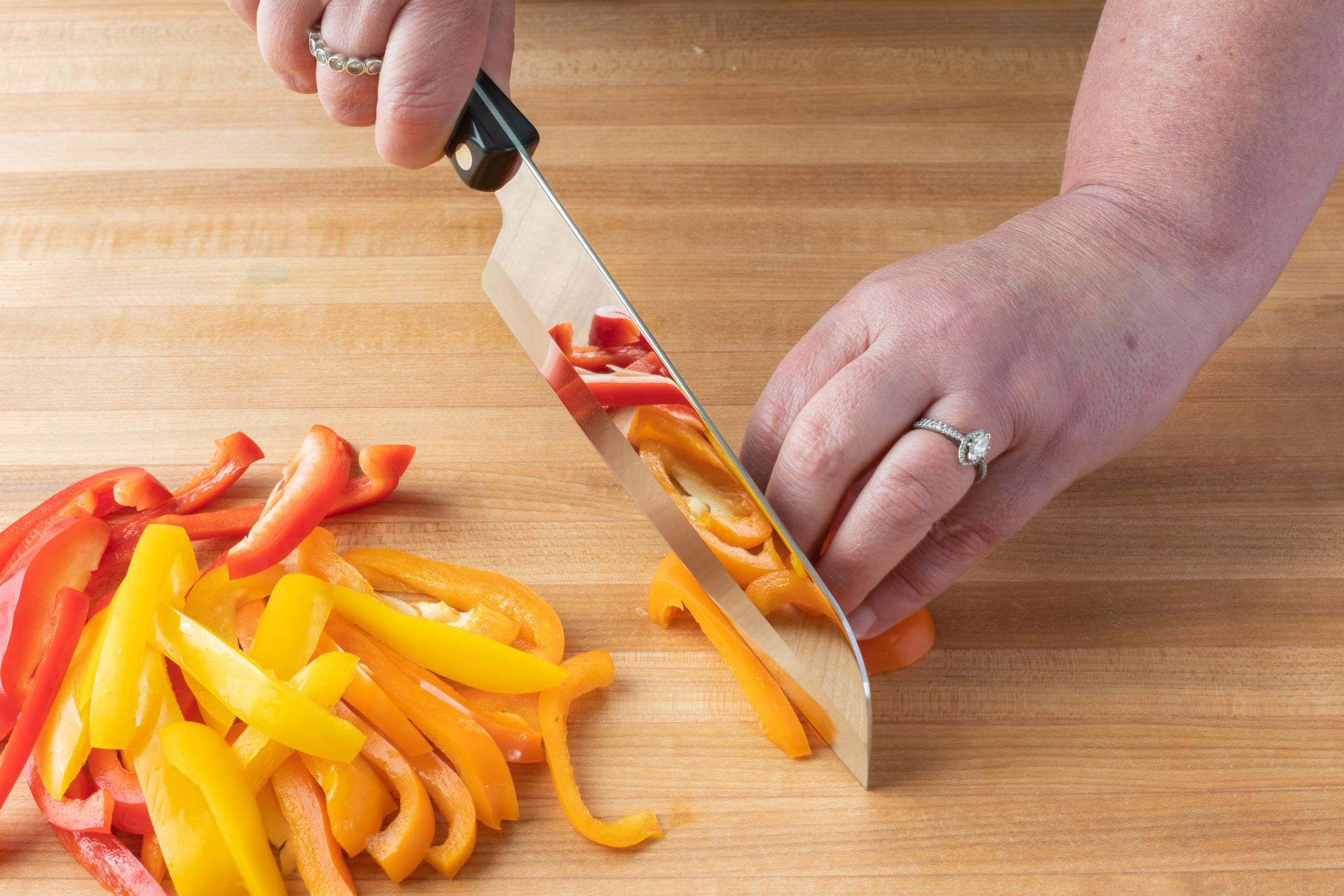 The garlic doesn't need much prep work at all since you'll be tossing in whole, peeled cloves. For help removing the paper from the cloves, lay the flat side of the Santoku knife on top of the cloves. Rest the heel of your opposite hand on the top of the blade a press down with light pressure to loosen the paper.
Slice some crusty sausage rolls in half using Cutco's 7-3/4" Petite Slicer.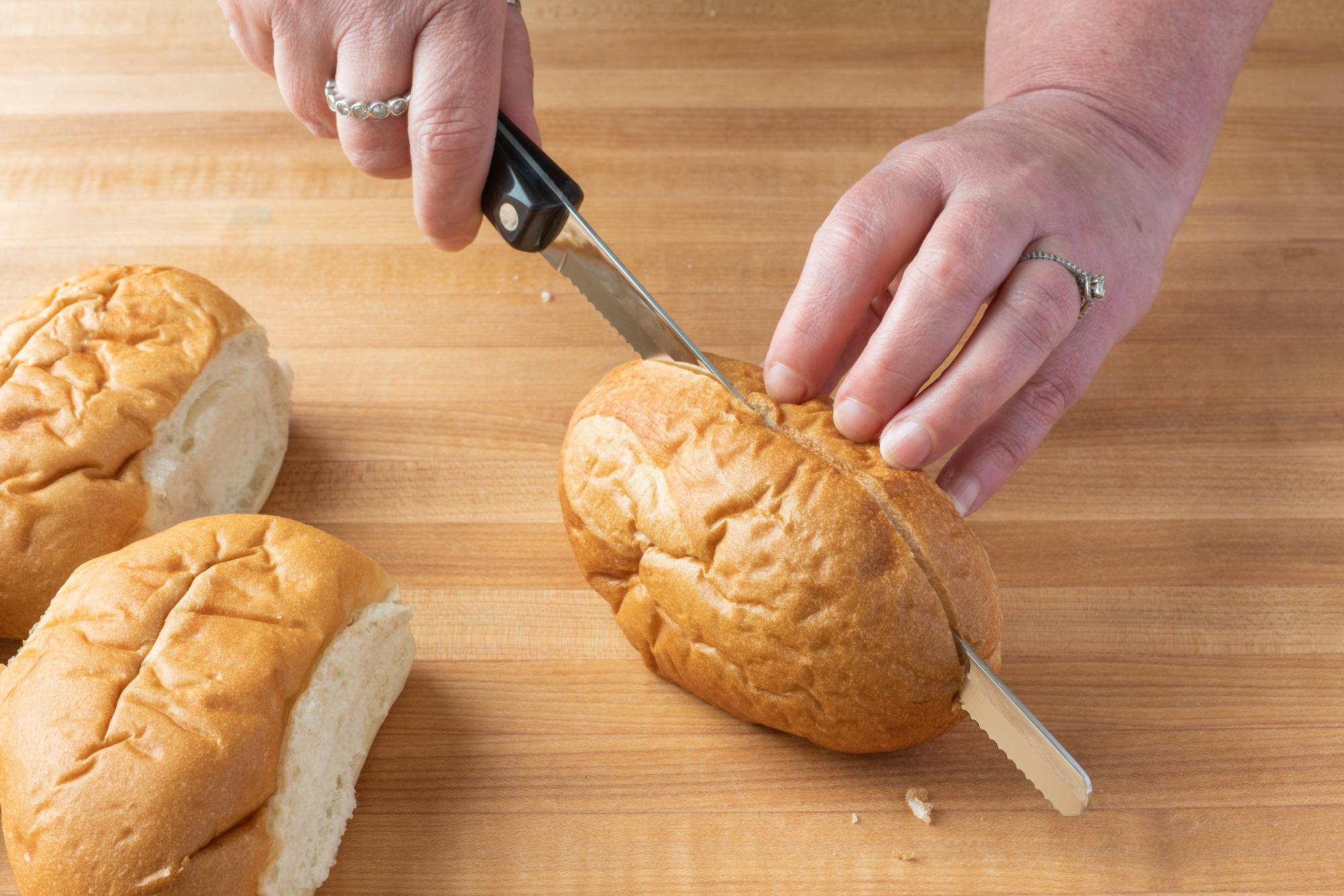 Place the sausage inside and serve with peppers and onions.
Preparation Alternatives
The beauty of this version of sausage with peppers and onions is that it can be prepared ahead, baked, cooled and frozen. To reheat, just defrost in the refrigerator and heat in a 300 F oven for about 30 minutes.
You can also toss the roasted sausage and veggies with pasta or just eat it on its own if you don't want to eat it as a sandwich.
Try tossing the roasted sausage with onions and peppers with tomato sauce for another variation.
Ingredients
1 pound Italian sausage, hot, sweet or turkey, cut into 3-inch lengths
4 large bell peppers, assorted colors, sliced
2 large sweet onions, sliced
4 cloves garlic, peeled
Extra-virgin olive oil
1 teaspoon fine sea salt
1/2 teaspoon freshly ground pepper
Rolls
Directions
Heat oven to 400 F.
Place cut sausage into a large baking dish.
Place peppers, onions and garlic into baking dish. Toss with enough olive oil to lightly coat. Season with salt and pepper.
Roast for about 45 minutes.
Serve on crusty rolls or long loaves of Italian bread or toss with pasta.
Cook's Tips: To cut peppers – treat them as if they were a square. Cut each of the four sides and then slice into desired size, slices or chunks.
This dish can also be prepared ahead, baked, cooled and frozen. To reheat, defrost and heat at 300 for 30 minutes.
Recommended Tools